Montreal Gazette - April 14, 1980
Valentine's 10th inning homer gives Expos first season victory
By Ian MacDonald of the Gazette
PHILADELPHIA – Ellis Valentine wears the hero's cape today and Elias Sosa is confirmed once again as the official bullpen stopper after the Expos needed extra innings to get their first win of the season. But save a few kind words for Stan Bahnsen and Billy Almon.
The performances of Bahnsen and Almon were the nine-inning highlights – make that eight-and-a-half – before the Expos incredibly threw away a three-run lead.
That's when Valentine creamed a three-and-one pitch from the Phillies' fourth pitcher Lerrin LaGrow to lead off the 10th and Sosa closed the door. The 5-4 Expos win salvaged the final game in the weekend series of three for the Expos who play in New York tomorrow and Wednesday before heading home for Friday's opener.
Bahnsen and Almon shared the hero role with Andre Dawson after the 'Hawk' made his first hit of the season a two-run homer. But Larry Parrish let a soft liner which represented the final out of a 4-1 Expos' victory get through his glove and the Phillies went on to score three unearned runs to send the game into extra innings.
Abscessed tooth
"Everybody on the team was ecstatic with Ellie's home run," explained Almon, who started at shortstop when Chris Speier reported in difficulty with an abscessed tooth.
"LP is going to have a lot more good games than he does bad so it is good that somebody took him off the hook this time."
Manager Dick Williams had kind words for all of his pitchers and admitted that it would "have been a terrible shame to lose on three unearned runs. Nobody felt worse than LP."
Parrish, last year's player of the year, said: "They picked me up today. I certainly feel better now. Another day, I'll pick them up."
Valentine had the green light to swing away on the three-and-one pitch and he admitted that at that time he was thinking home run.
"I wasn't thinking that way at first," Valentine said, "but at 3-1, 1 figured he would try to come in with a fastball."
The homer was ample justification for the sleeping cleanup hitter and Williams, as well, for that matter. Saturday, relief pitcher Ron Reed came on and threw eight straight balls. Valentine then swung at the first pitch and bounced out.
"I gave him the green light that time as well," Williams said. "So, we're one and one in that regard."
Missing bats
Valentine had still another theory.
"We couldn't find my bats for the first two games." Valentine said. "I was using LP's bats and Andre's. Then somehow today, I found one."
Almon had four straight hits and made one sensational play which may have saved the game during the Phillies' three-run ninth inning 'rally'.
Greg Luzinski led off Bahnsen's fifth inning with a single and Bob Boone followed with another. Larry Bowa then hit a sharp bouncer up the middle and Almon made a great play to stop the ball and then leaped back to second to tag Boone.
"Strangely, that was just the second ground ball hit to me," Almon explained. "The ball was further up the middle than I expected and it was going much faster. At first I thought I had a certain double play but the ball was much too fast."
Almon was made aware that he would likely be starting early in the day.
"Chris told me on the bus that he had the abscess. I came to the park thinking that I would play. It is much better to think you are playing and then sit on the bench than to think you are not playing and get the call."
Family on hand
Almon's parents and his brother were on hand for the third four-hit game of his career.
All spring as he fought to have his contract renegotiated, Bahnsen played on the theme that the Expos needed him because he was their most reliable middle inning reliever.
"Yea, I guess this proved a point." Bahnsen chuckled after his four-and-two-thirds innings of stellar work should have given him a win.
"I would like to have had the win because they are hard to come by as a middle reliever. But, I feel I did well and the main thing is we won."
Williams asked catcher Gary Carter and Bahnsen how the latter was throwing after his third and fourth innings and both felt that the "ball was still popping."
Young Scott Sanderson went only four innings in this final official test before he pitches Friday's home opener at the Big 'O' but there were extenuating circumstances.
"Sanderson has been fighting diarrhea for several days." Williams said. "They thought they had it stopped but he was weak. He had lost eight pounds."
Ron LeFlore scored two runs after being walked. Dawson drove him home in the first with a ground out and then again in the fifth with, his home run. Dawson was zero for nine when he connected.
"The first win always seems to be the toughest." Williams said, "and this was no exception. It would have been a heart-break to lose."
Even aside from the crucial blunder when he first thought that Greg Gross had hit the ball a little harder and then lost it for a second in the white shirts behind the plate, Parrish did not have a good day.
Alter that miscue and with Woodie Fryman on the mound, Pete Rose bounced a ball to the left side and it evaded both Parrish and Almon. LP was nothing-for-five at the plate with a lazy opposite field fly to right the only time he got the ball out of the infield.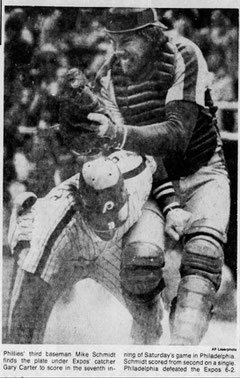 LeFlore errors costly Saturday
By Ian MacDonald of the Gazette
PHILADELPHIA – Ron LeFlore is from the old school.
Modern arenas and Olympic-type stadiums are fine for the jet set but those aren't the conditions under which LeFlore learned how to play baseball.
"Lets play this game like it was originated." LeFlore said after explaining why leg cramps forced his removal from the game (he had taped his stockings on too tightly) here Saturday when the Phillies beat the Expos 6-2.
"Lets get back to playing this game on grass. That's the way it is supposed to be played."
A change of mind
Throughout the spring LeFlore had talked positively about playing on artificial turf after being traded from the American League Detroit Tigers to the Expos. LeFlore spoke of getting an extra step on his lead away from first and possibly even improving on the 78 bases he stole last year.
LeFlore wasn't thinking defence though when he talked like that. The speedster is an offensive player but in this league they have to go both ways and LeFlore had a rough day Saturday.
LeFlore butchered successive plays in the Phillies' two-run third. For the second straight game, he was charged with an error.
"I won't have trouble with the pitchers or with stealing bases," LeFlore said. "My problems are going to be with playing a new position and with the artificial surface.
"It's a different game on grass."
Unfortunately for LeFlore he is going to have to make this major adjustment rather hurriedly.
Six parks in the National League have artificial and three in the American. It goes much deeper than that.
Last year LeFlore had 21 games on artificial. This year, because four of the six NL teams use carpet, including the Olympic Stadium where he plays 81 tunes, are in the NL East, LeFlore faces 120 games on the pseudo-turf.
After Garry Maddox had homered to put the Phillies ahead 2-1 with two out in the third, Mike Schmidt lined to left and stopped after rounding first. When LeFlore lobbed the ball to third. Schmidt changed his mind and hustled into second.
Then Greg Luzinski grounded to left. LeFlore hustled to cut off the ball for a possible throw to the plate but it went right past him.
"The first play was a mistake because I'm not accustomed to playing the position." said the long-time centrefielder. "On the next one I should have been behind the ball. When you make a mistake like that on grass the ball just rolls a few feet and you can recover. This is different."
There were other reasons for the Expos to drop this second straight game. Among the eight hits the Phillies managed against Bill Lee in four innings were three doubles, two triples and the Maddox homer.
Other reasons
"Give them credit," Lee said about the Phillies. "They were hitting the ball pretty sensibly – driving people in. We are not. We haven't been for some time."
The Expos managed only two runs despite seven hits and 10 walks. They left 11 runners including three in the last inning when cleanup man Ellis Valentine (zero for five) flied to centre to end the game with the bases loaded.
Lee has been outspoken in his criticism of the Expos for trading away a proven hitter such as Rusty Staub when they don't have a disciplined stick to use in the cleanup position.
"The Phillies were smart hitters today," Lee added. "We left men on."