Camden Courier-Post - April 18, 1980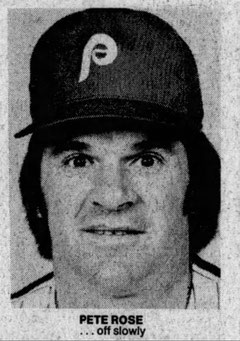 Rose slump to worry to Phils
By Rusty Pray of the Courier-Post
MONTREAL – Saying Pete Rose is in a slump is a little like complaining about the weather on a rainy day. No matter how soggy it may be, you know the sun will inevitably return.
That's one of the reasons why the Phillies are not overly-concerned about Rose's current slump.
Yes, General Manager Paul Owens did call Rose aside for a friendly chat before the club arrived here to open a three-game series today with the Expos. And others have already begun offering Rose well-meaning advice. But Owens' conversation was meant to reassure, and advice comes automatically when a guy is 3-for-21.
There's no doubt Rose's slow start has hurt the Phillies offensively. Anytime your leadoff hitter fails to reach base consistently over a period of games, your entire lineup suffers. In the case of the Phillies, Rose's slump has served to make No. 2 hitter Bake McBride the leadoff man with one out and force cleanup hitter Mike Schmidt to hit first in ensuing innings.
"PETE'S STRUGGLING a little bit right now," says Manager Dallas Green. "He's not swinging the bat the way I'd like him to, and I'm sure he's not swinging the way he'd like to swing. If he gets his act together, we could run some problems at some people."
So far, the only real problems the Phils have thrown at opposing pitchers are Bob Boone and Manny Trillo, both of whom hit in the lower half of the lineup. Boone, after a spring training in which he played little while continuing rehabilitation of his left knee, is hitting a healthy .400 as the No. 6 man in the lineup. Trillo, who struggled in camp as the club's No.2 hitter, seems comfortable batting eighth and is off to his customary .421 start.
The others – McBride, No. 3 hitter Garry Maddox, Schmidt and Greg Luzinski, who hits fifth are hitting the ball well enough. But each would benefit if Rose were getting on base more often. There's little doubt that if Rose were hitting, Schmidt would have more than one RBI.
"I KNEW," says Rose, "I wasn't going to have a good start because I wasn't seeing the ball right. The only thing I can think of is, I was hitting the ball too good in spring training.
"I'm not in a slump because, when you're in a slump, you strike out. And I haven't struck out."
No, he hasn't. But neither has he sprayed line drives in the manner that is his trademark. In the Phillies' season-opening series against Montreal last weekend, Rose went 3-for-13. He was 0-for-8 against Cardinal pitching – though he was robbed of a double by Bobby Bonds - in St. Louis. More importantly, Rose is 0-for-6 overall leading off innings.
"I WAS 3-for-13 against Montreal and the three hits I got weren't the balls I hit hard," Rose says. "On Wednesday (against St. Louis) I had to take a lot of pitches because (Steve) Carlton was leading off and swinging at the first pitch. And, Bake's a first-ball hitter and I can't let a guy out of an inning on three pitches."
Carlton twice led off innings during the Phils' 8-3 victory, twice grounding out to second baseman Ken Oberkfell. In each case, Rose followed with a ground out of his own.
Rose himself seems only mildy annoyed by his lack of production. He's managed to survive poor starts before in his 17 major league seasons, most notably in 1978. It was, of course, in that same year that Rose fashioned a modern National League record 44-game hitting streak.
STILL, ROSE is a man understandably proud of his hitting. He is not happy when he is struggling at the plate and, right now, only shortstop Larry Bowa is having greater difficulty with the bat. Bowa is 2-for-19, with one hit in his last 11 at-bats, and obviously is having trouble adjusting to his new role as the club's No. 7 hitter. Which may be the reason Bowa met with Green behind closed doors Wednesday before the club flew here from St. Louis.
Rose, meanwhile, will continue patiently searching for his stroke, confident he'll find it at the expense of some poor unsuspecting pitcher.
"I'm a firm believer in you can go ' into a slump in one at-bat and you can come out of a slump in one at-bat," says Rose.
And, there's good reason to believe Rose's hitting, like the sun, will inevitably return.