Philadelphia Daily News - April 18, 1980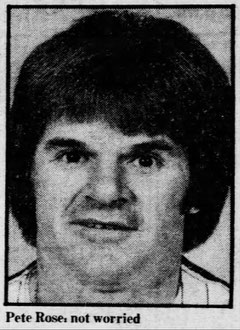 Late Blooming Doesn't Faze Rose
By Bill Conlin
MONTREAL – Slump? What slump? Pete Rose doesn't have slumps, merely temporary vacillations in the law of batting averages.
Well, you've got a point. A 3-for-21 start by the rich man's Ty Cobb does sound suspiciously like a slump. And Rose admits that the ball no longer looks like the beach ball it looked like in Florida, when he rattled line drives all over exhibition ballyards.
"I ain't off to a slow start," Rose insisted on a day the Phillies hibernated in this politically torn province. "I ain't struck out yet. Anyway, I don't worry about my hitting when we win. I just feel funny worrying about my stats when the team I'm playing for is winning. Hell, I was 3-for-13 against Montreal last weekend and hit the ball good enough to have 6-7 hits. When them guys with the gloves make some good plays on you, all you can do is tip your cap."
IT IS NOT exactly as if Rose is knocking fielders back on their heels with cannon-shot outs. And the truth is. Rose is not yet seeing the ball well enough to count the stitches or the number of rotations. Seeing the ball is not good enough for Rose. When he's hot, Pete is the kind of guy who starts looking for Chub Feeney's signature when the ball leaves the pitcher's hand.
"I knew right away I wasn't going to have a good start because I wasn't seeing the ball good out of the pitcher's hand," Rose says. "My whole hitting philosophy revolves around seeing the ball good – I mean super good, not just knowing there's a ball out there and having a half-ass idea of if it's a ball or strike and what kind of pitch it is.
"The trouble is, I started hitting too good in spring training. I been around enough to know that what you see in the first couple of weeks of spring training ain't what you're gonna see when these pitchers get into the season. You just ain't gonna see the same breaking balls for one thing. Guys down there are working on stuff, getting their rhythm together."
LAST SPRING, when Rose scuffled for hits the entire exhibition season and spent a lot of his mornings dealing with the media pilgrims who flocked to Clearwater, he took a lot of extra batting practice.
"I didn't take as much extra hitting this spring," he said. "Hey, you feel a little funny asking for a half-hour extra batting practice after an exhibition game when you just went 3-for-4 and are hitting.400 something. But this is nothing new for me. I've had slow starts before. The year I had the hitting streak I only finished at.305, so you know I wasn't tearing it up when I got into the streak. I had to come up with a lot of base hits the second half that season to hit.300."
He is able to concentrate more totally once a game begins than any player of his time. Chalk that up to an incredible facility for separating the game he plays from the realities of life. His off-the-field life has not exactly been a model of smoothness since he joined the Phillies. But once he walks into a ballpark, nothing breaks his concentration.
It may be a game of inches to others who make a living trying to hit a round ball with a round bat, but to Rose it is a game of fractions of inches.
I'M A FIRM believer that one at-bat can get you in or out of a slump," he says. "Slumps are only a quarter of an inch, an eighth of an inch. A hundredth of a second too slow or too fast with a swing, an eighth of an inch off on where you hit the ball on the bat, that's the difference between a line drive hit and a two-hopper to the shortstop. Sometimes you do everything perfect, hit bleep out of the ball and it goes right into a glove. That's why they put those guys out there. Next time up you might be lunging, trying to check a swing and you hit one bad enough to fall in. Hell, that's baseball.
"It's too early to be worrying abut slumps. Check me out in a week and I might be hitting.450 and you guys will be asking me if I can win the batting title."
PHILUPS: Serious structural flaws have been discovered in Olympic Stadium, the $1 billion elephant blanc where the Expos play. Workmen accidentally discovered that several girders supporting the obscenely over-sized concrete saucer have shifted and a major scandal appears to be brewing. Work on the enormous retractable parasol which will eventually cover the roof is also far behind schedule and cost overruns are said to be enormous... Nevertheless, 45,000 devotees are expected to watch this afternoon's home opener. Righthander Scott Sanderson, who pitched well at the Vet last Sunday before leaving due to weakness following an intestinal disorder, will match up with Phillies righthander Dick Ruthven. Ruthven was wild and pitched in constant, trouble, but his defense was brilliant and the comebacking righthander picked up a victory... Montreal's startling losses to the North Stars at the Forum Wednesday and last night prompted a visiting journalist to wonder whatever happened to the days when the NHL was composed of the Habs and the Hab-nots?