Philadelphia Daily News - April 29, 1980
What Owens Sees Isn't Pitching
By Bill Conlin
Paul Owens doesn't like the pitching he's watched from the Executive Box so far this season. Anybody's pitching.
"I'm not happy with our pitching." The Pope said last night, "but I'm not going to jump off a bridge about it. With the exception of Pete Vuckovich and Steve Carlton I haven't been excited with a lot of the pitching I've seen so far."
Owens gives the impression that most of the pitching he's observed so far is the type one watches while squinting into the Clearwater sun behind the first-base fence at Jack Russell Stadium – mid-March pitching in late April.
"Outside of Vuckovich and Bob Forsch there haven't been many good games pitched against us." Owens said. "There's been a lot of high-scoring games throughout the big leagues so far – our 14-8 game with the Mets, 44 hits in the Twins-Oakland game Sunday, a lot of typical early Wrigley Field games. I don't know if it's the 10 days they missed at the end of spring training or what, but it seems to me a lot of pitchers are still struggling."
MISERY LOVES company, but Owens is not eager to add to Dallas Green's current misery by snatching any old warm body. Which is why he is totally indifferent to Yankee righthander Ed Figueroa's demand to be traded.
"Yeah, I read that," he said. "I don't even know if the guy is on waivers."
Owens does know, however, that the 33-year-old righthander is damaged goods, a guy coming off elbow surgery. That's just what the Phillies need, another guy with a freshly-healed incision.
"Everybody's in the same boat right now," Owens said. "We're all waiting for this waiver period to expire May 8 to see what's available."
The popular game right now is putting together a Phillies package for a pitcher. It's a lot easier to play the game in the press lounge than it is on the telephone. Coming up with the names to trade is the easy part. Matching them with a pitcher good enough to represent an improvement is like coming up with ways to free the hostages. Barroom diplomacy is always bloodless. Press lounge traders always forget to mention that the other club really isn't interested in acquiring your problems.
SHORT OF calling up a Triple-A pitcher – hard-throwing righthander Bob Walk is probably the leading candidate at this time – Dallas Green can probably afford to be patient until the Phillies embark on a difficult road trip to Cincinnati, Atlanta and Houston. The May schedule will feature 19 games with the Dodgers, Reds, Astros and Pirates, hardly a month where a manager would want to set up his rotation with Steve Carlton, Randy Lerch and an Ouija board.
We keep hearing that Nino Espinosa is two weeks away. He was two weeks away on the first day of spring training, two weeks away midway through and two weeks away when the team came north three weeks ago. That's a lot of two weeks. The bottom line on Nino is that he has worked just two innings since March 1. He's doing a lot of throwing on the side, but that's not the same as busting a slider away with Steve Garvey hitting. Nino's a battler who gave the Phillies a professional effort every time Danny Ozark handed him the ball last season. The trouble is, Ozark handed him the ball too many times with three-days' rest when the rest of the staff started dropping like flies. Now he's a talented young pitcher nursing a bad shoulder.
IT WOULD BE difficult to imagine any pitcher more determined to come back with a big year than Larry Christenson. When he reported to Clearwater – he was the first to report to Billy DeMars – Larry was coming back from collarbone surgery. Sequentially, the removal of a bone spur was preceded by the severely pulled groin muscle and the February 1979 bicycle fall which started the physical dominoes falling. It came before a groin pull which set back his early exhibition routine and that was prior to the Jason Thompson line drive which damaged his left knee and set him back further. And all of the above had come down on Christenson before he suffered another in a long sequence of groin injuries while throwing a first-inning pitch against the Mets in his third start.
Other than Steve Carlton's excellent early form and great stuff, encouraging but non-winning efforts by Randy Lerch and strong relief by Dickie Noles, the pitching staff has not had many good days this month. If Dick Ruthven's struggle to build himself physically and mentally back to where he was in 1978 proves to be a protracted one, Green will be forced to shuffle the deck. That could mean a starting role for Ron Reed, a veteran who is no stranger to working every fourth or fifth day.
IT COULD mean a starting opportunity for young Scott Munninghoff or even a sudden change in Noles' role. The next couple of weeks figure to be hang-loose time for the pitching staff.
Do not look for the Phillies to deal their way out of the corner they are painted into. Help will have to come from within. The good news is that it is only April 29. How can we be sure it's still early?
Well, the Blue Jays and White Sox are in first place in the American League. Oakland is three games over .500. The Cubs are in second place. The ultimate hedge, of course, is the May 22 strike deadline.
If the players walk, all bets are off.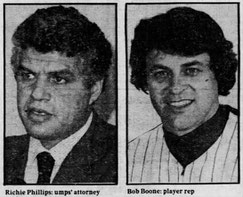 Players Wait for Owners to Bat
By Stan Hochman
A baseball strike is less than a month away and Bob Boone listens for some progress and all he hears is the sound of silence.
"Ray Grebey (the owners" negotiator) has told us. 'We're not gonna give you our best pitch in batting practice," Boone grumbled the other day.
"Can you believe that? What I want to know is... when is batting practice over? When it's strike time?
"We don't have a proposal from the owners. I can't go to my players and say. 'Would you ratify this? There is nothing for them to ratify.
"The players are willing to negotiate on everything. That doesn't mean we'll give in. But we get stone-walled on most of our proposals. We are being forced into a position. What they're saying is, 'We want to see what you're made of."
RICHIE PHILLIPS hears rhetoric like that and winces. He has a hunch that a lot of major league baseball players are made of sugar and spice and a whole lot of other things that melt in a hard rain.
Phillips is an attorney who represents the iiajor league umpires. Represented them through a long and bitter strike last season. Wrangled a terrific new contract for the umps that includes 45 days pay even if the players hit the bricks.
"If we go out on strike," snarled Boone, "I'm going on the assumption that it's for the year. The whole year."
Phillips hears that and winces again. Mortgage companies don't take the summer off. He's got a lot of umpires with a lot of bills to be paid.
He knows that management hung tough with the umps last year because the players' agreement renewal loomed on the horizon. And he knows that the players drew courage from the way the owners wilted, giving the striking umps everything but a post-game massage.
So Phillips, with a vested interest, has gone back to his drawing board, devising a scheme that would slash through the stalemate.
"The two sides are at an impasse," Phillips , said: "If the owners gain any additional compensation for free agents it will be a total victory for them and an embarrassment to the players.
"IF THE PLAYERS prevail, the owners will have caved in. They will lose face with the public. That's who they're supposedly fighting this war for, the fans, to keep ticket prices from getting like basketball and football.
"So, we've got two giants seemingly bent on total victory. It would seem the only way this will get resolved is to have a strike and see which one breaks first."
Phillips thinks there's another way, a way that allows for enough face-saving to satisfy both sides, enough face-saving to satisfy Elizabeth Arden, enough face-saving to satisfy a Japanese battalion.
"First," Phillips said, "I'd want the minimum salary raised to $37,500. That does something for the younger players right off the bat.
"Then, I'd like to see the number of years a player must have in the big leagues before he can become a free agent reduced from six to four. "Six is outrageous when you realize that most guys spend four years in the minors, moving from Tidewater to Reading to Oklahoma City to Albuquerque.
"And then, I would do away with the free-agent draft and substitute the right-of-first-refusal.
'"If a player like Garry Maddox decided to go free agent, he could talk to any or all of the other 25 teams.
"HE COULD THEN select the best offer. It would have to be in plain dollars, none of this crap of horses, boats, broadcasting jobs.
"He would then take it back to the Phillies. If they matched it, at that moment they would have a firm contract with Maddox.
"If they rejected it, at that moment, Maddox would have a firm contract with the other team."
The NBA, after five chaotic years of the commissioner deciding on compensation for free agents, will go to the right-of-first-refusal next year.
"The (NBA) Players Association feels that some of the compensations have been excessive," Phillips admitted "And a federal court decided that in the case of Marvin Webster."
The NFL has a system whereby draft choices are awarded to a team losing a free agent in proportion to the guy's salary.
The players feel that under that system, you get more movement in Holy Cross Cemetery.
Would baseball players agree to a system that could be tainted by conspiracy, by 25 owners getting together and deciding that Garry Maddox would have to get along on $500,000 a year?
"NO CHANCE," SNEERED Pete Rose. "You could get all 26 owners in a room and they could agree to keep bids down, and the next day there'd be one or two guys running around offering twice as much.
"But it's better than compensation. Why should the Reds get somebody for me, when they didn't want to sign me? Or for Joe Morgan when they didn't want him?"
Boone thinks Rose's case indicates that the owners have the built-in right of refusal now.
"The Reds could have signed Pete for $400,000," he said. "At least 90 percent of the players want to stay with the club they're with.
"They would even take a reduced salary to stay there. The majority of players want to stay put. That's why so many want a no-trade clause.
"Guys say, T feel I'm worth this much on the free market, but I'll discount it to stay here.' There are problems, of course, in Minnesota and Oakland, two teams that don't treat their players fairly.
"But people are not addressing the real problem. What the owners are looking for in compensation is to cut players' salaries."
MAKE IT TOUGHER for a player to move and you increase the chance of holding down his salary. It sounds like a step back for the players.
"The NFL Players Association waived total free agency," Phillips argued. "In the NBA we took antitrust action all the way to the Supreme Court, but the Players Association waived total free agency for 11 years.
"As a general principle, you don't yield what you've gained. But, you've got to look at the total picture.
"You make 25 advances, and you take 24 of them a step further, you may ease back on one. Unless the people are so bent on not giving it up they are willing to hit the bricks and stay out.
"And it's my sense they won't.
"Let me give you an example. Larry Bowa, he's outspoken, looking to advance the cause of all the players.
"But two days after the mini-strike began, he calls Ruly Carpenter and says, 'A lot of the guys are running out of money, can we move the camp to Philly?'
"That's the second day and they'd been paid a week's expenses, which is $53.75 a day.
"The owners are aware of this. And they're taking a lot of heart from it. They feel the players are too soft, too selfish to withstand a long strike."
THE OWNERS MAY be basing that feeling on flimsy information. Did Bowa indeed plead for help two days into the awkward mini-strike?
"That's ludicrous," said Carpenter.
"Larry called me after the player reps met and he said, 'Don't worry about a thing, I'll be in charge of the workouts. I'll line up the high school and college coaches to get fields.
"The next day or so he asked if they could work out in Philly, but by then the directive came down that the players could use our facilities and equipment."
Bowa doesn't remember pleading poor-mouth either. "We got paid meal money that Monday," he said, "because we were going on a road trip."
Bowa makes around $300,000, but there's a handful of rookies on-the team making the minimum. If they all wind up in the same strike boat, will the higher salaried guys rock it the first time they miss a hefty paycheck?
"If we strike," Bowa said, "priorities will have a lot to do with how guys react. We have to let everybody know how important the Association is.
"If it means giving up investments, that's called sacrificing. And that's what a strike is all about, sacrificing.
"I don't know that much about the right-of-first-refusal. It sounds feasible.
"I wouldn't worry about the owners getting together (to hold down bids). They haven't gotten together so far on anything. I guess they need the roof to fall in on 'em."
CARPENTER, WHO HAS had one sour experience with right-of-first-refusal, thinks Marvin Miller would shoot the idea down if someone runs it up the flagpole.
"I once put it in a player's contract," Carpenter recalled. "That we could match the highest bid he got. Marvin Miller was furious and made us take it out.
"I'm not on the player relations committee, but it's my feeling that any settlement that doesn't include compensation for free agents would be unacceptable."
Boone, meanwhile, thinks the current free-agency arrangement is the best thing to happen to baseball since Mary Sue Styles.
"It's a positive influence on the game," Boone said. "It leads to better balance. The Yankees won the pennant by a large margin, went out and bought some players and won it again... by a lesser margin.
"Went out and bought more players and won it by a lesser margin. Bought some more and finished fourth.
"The idea of first refusal has some merit. We would discuss it, consider it, if only to see some progress made."
The owners have learned some bitter lessons from the last strike. This time they have a war chest, plus strike insurance. But Phillips says he has discussed his compromise plan with the league presidents and with several owners and nobody has slammed the door on him yet.
"Marvin Miller says he's against it," Phillips said. "But a negotiator has to say that. Just as he said originally they wouldn't start a season without a new contract.
"He had to say that. But if Boone says first refusal is a possibility, that's encouraging. Even if they have some reservations about it.
"If one side says an idea is terrific and the other side says it's lousy, you get nowhere. The ideal thing is for both sides to say it's terrific.
"The next best thing is for both sides to say it's lousy. Then, you. know it has some merit."