Camden Courier-Post - April 5, 1980
Influx of youngsters might shake up Phils
By Ray W. Kelly of the Courier-Post
CLEARWATER, Fla. – The Phillies received a major transfusion of new blood yesterday. And, if it gets the competitive juices of the incumbent players flowing, so much the better.
Outfielders Lonnie Smith and George Vukovich, infielders Luis Aguayo and John Vukovich, catcher Keith Moreland and pitcher Scott Munninghoff have officially been given spots on the club's 25-man roster.
In order to make room for the "New Wave Phils," General Manager Paul Owens announced that shortstop Bud Harrelson was being given his unconditional release and that pitchers Rawly Eastwick and Doug Bird would be traded within the next week.
"We told everyone at the beginning of camp that they all had a chance to make the club," said Manager Dallas Green. And, in our opinion, the kids won the jobs."
The fact that the influx of hungry youngsters into the Phillies' locker-room is certain to create a competitive situation is not lost on the front office. Although, both Owens and Green insisted that was not the determining factor.
"It, comes with the territory," said Owens. "And, if it makes guys try harder, so much the better."
Probably the best example of this is Aguayo, a scrappy 23-year-old infielder out of the Tony Taylor mold, who doesn't seem to want to sit meekly back and watch regulars Manny Trillo and Larry Bowa do their thing.
It's no secret the Phils think Trillo might push himself toward better things if he had someone breathing down his neck. Especially since Manny hasn't really gotten his act together since having his left forearm fractured last season.
"Aguayo will create an atmosphere of competition on this team," said Green. "Certainly competition or the threat of competition can't hurt anybody."
Although Moreland is not a threat to take Boone's job as starting catcher, his sizzling bat this spring and the right-handed power he's expected to provide this season will provide Green with the opportunity to pinchhit more often. The same is true of George Vukovich, the real surprise of this camp. For, unlike Moreland, Aguayo and Smith, this 23-year-old outfielder was invited to camp as sort of a kiss-and-make-up gesture from an organization that hadn't protected him in the draft.
"I just wanted to make a good impression down here... so that they'd think of me (in the minors) in case someone got hurt," he said.
That was before his solid southpaw batting stroke and impressive work in the outfield convinced the Phils that he might be a valuable guy to have around this season.
The other Vukovich, 32-year-old John, is a different matter entirely. But, no less of a factor in the attempt to create a different attitude both on the field and in the clubhouse.
A sure-handed infielder who can now act as the team's "third catcher," John is an articulate and knowledgable baseball man who has been with the organization since 1966. He shared the hard times with many of the regulars. The good he can do the team as a reserve is immense.
"He's not afraid to be enthusiastic," said Green. "And, he's not afraid to speak his mind, even though he is an extra man. I want enthusiasm. That goes back to the kind of makeup I wanted this team to have when I first took over."
As for pitchers like Munninghoff and Dick Noles, the manager likes the idea of adding their grit and spirit to the pennant effort.
"They don't back off and they don't scare," said Green. "Don't sell those two kids short, either. They can pitch."
Most teams begin spring training with a lot of platitudes about everyone getting a chance to make the team. But, when push comes to shove, they usually stick with a known quantity or refuse to create a vacancy if it means they might have to eat a portion of a contract.
The Phillies have obviously decided that, in light of the talent the new comers have displayed down here, they may as well roll the dice and take a chance on something new rather than gamble that the same people will bring about the same disappointing results.
And, if it should happen that those kids bring a measure of desire, hunger, enthusiasm and competition to the team... well, there are certainly worse fates that could befall a baseball team.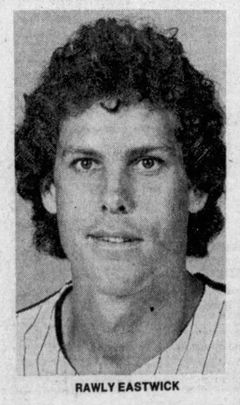 Phils to trade Eastwick, Bird
By Ray W. Kelly of the Courier-Post
CLEARWATER, Fla. – Rawly Eastwick didn't know his exact status. Only that he was no longer going to be playing baseball for the Phillies.
In an amicable good bye, the former Haddonfield High star was told yesterday by General Manager Paul Owens that the Phils were "going with the kids," and that Eastwick could expect to be traded within the week.
"The only thing I'm sorry about is that I never really accomplished what I wanted to do in Philly," said the righthander.
"THERE WERE times when I wondered why they got me at all. Then, when I got a chance to pitch and work on my split-fingered fast ball, things didn't seem to go my way."
Eastwick wasn't the only one affected by the new alterations to the team. Pitcher Doug Bird was also told he was not included in the final selection of the 25-man roster. And, shortstop Bud Harrelson was released unconditionally.
"The moves may cost us some money", said Manager Dallas Green. "But, that's the way we wanted to go with team."
HE WAS referring to the fact that Eastwick's contract is guaranteed into the 1982 season. Thus, even if he is traded to either the California Angels, Boston Red Sox or Toronto Blue Jays (as rumored), chances are the Phillies will have to pick up at least some of the contract obligation.
Bird's contract is already being picked up in part by Kansas City. Harrelson merely gets a month's pay.
"I know I'll get a chance to pitch," said Eastwick. "There are too many teams looking for help in that department. And, I'll help someone if I get a chance to get more work."
Manager Dallas Green said, "Inwardly, I'm sure Rawly wanted to succeed s much as anyone alive. But, we couldn't get him back to where we thought he would be competitive. He gave up a big home run in one tight game down here and took us out of another."
EASTWICK SAW it a little differently, saying, "I had three pretty good outings down here. Then I made one bad pitch for a home run. Against the Yankees, I got them to hit the ball on the ground, but everything found a hole."
With Eastwick and Bird on the way out and the status of Larry Christenson so "iffy," much of the pitching pressure will fall to newcomer Scott Munninghoff .
"The kid will pitch wherever and whenever I ask him – relief or start," said Green. "I know we don't have Utopia. So, we're doing the best we can.
"INJURIES CERTAINLY played a part in Munninghoff's opportunity. But, I think he's further along than most young pitchers. If he produces and wins, so much the better.
"To be honest, when it came down to Eastwick and Bird, I think the kids outpitched them."
One pitcher who should be on his toes is southpaw Randy Lerch. Rumor has it that there is talk involving him and catcher Keith Moreland in a deal that would bring Cincinnati outfielder Ken Griffey to the Phils.
Yanks typical of baseball confusion
By the Associated Press
Baseball's exhibition games strike has created plenty of confusion in spring training camps, but nowhere was it more apparent yesterday than in the Fort Lauderdale, Fla., base of the New York Yankees.
On Thursday, Yankee players rejected a management bid to have the team play intrasquad games that would give pitchers game conditions under which to work.
Yesterday, owner George Steinbrenner, who had taken out extra insurance on his players against injuries in such games, addressed the team. Then Reggie Jackson, the Yankees' player representative, took an informal poll and it appeared the club would play intrasquad games this weekend.
But Jackson apparently did not talk to enough of his teammates because later yesterday the Yankees reversed themselves again and decided not to play the intrasquad games.
Caught in the middle of the muddle was pitcher Ed Figueroa, recovering from elbow surgery. Figueroa, who needs all the work he can get in training camp, threw 95 pitches on the sidelines following the team vote to ban intrasquad contests. When the team decided to go ahead with the games, it did Figgy no good, since he already had thrown his quota of pitches. So, the second reversal didn't affect him.
Figueroa solved all the confusion by deciding to fly home to Puerto Rico last night, planning to spend Easter with his family. But another player who tried to leave his team in Florida had less luck. Houston's Enos Cabell was collared at the Orlando, Fla., airport by teammates Joe Morgan and J R. Richard, who ran through the terminal in uniform searching for the Astro third baseman.
Cabell was the only Astro player who decided to leave the team's Cocoa, Fla., camp, planning to return to California to visit his family. Richard and Morgan, however, had other ideas.
"It tripped me out," said Cabell. "When I saw Joe and J, man, I couldn't believe it. Neither could anyone at the airport."
Morgan and Richard drove the 45 miles from Cocoa to Orlando to catch Cabell, but didn't know what flight he was on. When they got to the airport, in uniform, they launched a search mission. They located their teammate five minutes before his plane was to leave.
"Me and J.R. are his friends," said Morgan. "We thought he should stay along with the rest of us. I told him if I'd done all that running around the airport, making a spectacle of myself with my uniform on, and found out he wouldn't come back, there was gonna be a fight, right there on the spot."
It's hard to support players' mini strike
By Dick Young
VERO BEACH, Fla. – I would like to tell you that the big-league ballplayers are absolutely right in their mini-strike.
I would like to tell you that they are being terribly exploited by the wealthy, greedy Lords of Baseball.
I'd like to, but I can't. Conscience won't let me.
It would be the expedient thing for me to write such things. Then, all the players would say what a great guy I am, and Marvin Miller would feed me all that good stuff. But how can I kid the people that way? The fans aren't stupid. They can read. They know this about big-league ballplayers:
The average pay for the coming baseball season figured to be $150,000. In addition, these affluent young men, who average 28 years of age or so, have the best possible health plan for themselves and family, a fantastic pension plan, drive foreign cars or mere Caddies, pay great taxes, fly first class or chartered planes, live in the best hotels, receive $29 a day for meals alone while on the road, get their names in the papers daily, mostly praiseworthy, get their faces on TV, get their phones rung off the hook by pretty young things, work seven months a year, five hours a day, generally under pleasant conditions.
And Marvin Miller wants you to understand how tough they have it?
No wonder the guy riding the subway, when the subway runs, can't feel too sorry for them.
More and more, though, I think the ballplayers are coming to realize how lucky they are. More and more the pragmatic players are holding off the screaming hot-heads in their ranks. More and more I hear them saying, when they let their hair down, "Hey, I know I'm not worth all this money, but they're handing it out, so I'd be crazy not to take it."
I've heard Reggie Smith say it. Lee Mazzilli, refreshingly candid, says it. Just the other day, Mike Tyson of the Cardinals said: "Hey, my brother makes about $15,000 working for 7-Up. I've got a million-dollar contract spread over the next few years. Don't you think I know how good I have it?"
Then why do these men vote all one way, as if they were voting in Russia?
Why do they give their union leader strike backing of 265,000-1, with the one nay vote made on religious grounds?
Out of pure gratitude, that's why.
Marvin Miller has achieved most of the above-mentioned benefits for them. When he says to them, "do we threaten the owners with a strike if they don't come through?" the players roar, "yeah!" in unison.
That's the least they can do.
But when push comes to shove, when it means walking out on all those goodies, that wonderful life, that gorgeous paycheck, the players aren't all that aroused anymore. Realism surfaces. And so they push back their strike deadline. They will make a hollow gesture at getting tough. They will call off the last five or seven exhibition games, hitting the owners in the pocketbook, "where it hurts," as Mike Marshall, the Twins' residing hothead, puts it.
That is not negotiation; that is an attempt at vindictiveness.
A voice of reason emanates from Lou Piniella. "They're talking about punishing the owners "by striking in May when it will hurt them the most financially," the Yankee veteran said. "Hurting the owners should not be the theme for any strike." A lot of players around the league laugh at things Sweet Lou says and does. In this case, they should listen attentively.
The owners aren't being vindictive. They aren't closing down the training facilities or threatening a lockout on Opening Day rather than wait for the players' new deadline of May 22.
Most players are sensible enough to realize this, and to realize that they had better stay in shape this coming week if they are to open the season on April 10, as planned. Teams that operate live-in training quarters have made attractive offers to players who want to keep working out. The Dodgers, Astros and Pirates are giving room and meals for $20 a day in Florida to their semi-striking players. I'll take that deal.
Somewhere along the line the players have been convinced that they are outsmarting the owners with their present blueprint. Most of them, under baseball's archaic system, draw salary from Opening Day of the regular season to the last day. Thus, by not playing the remaining exhibition games for free, they are depriving the owners of that income without losing pay. Then, by reporting for work on Opening Day, they draw their pay right on schedule but gate receipts will be slim in April and most of May.
On May 22, when crowds should start getting bigger, the owners face a strike deadline if this thing hasn't been settled.
Meanwhile, the average player will have collected $40,000 in salary, a slush fund to ride out any ensuing strike. Taxes will cut that in half, of course, but it's better than zilch.