Wilmington News Journal - April 5, 1980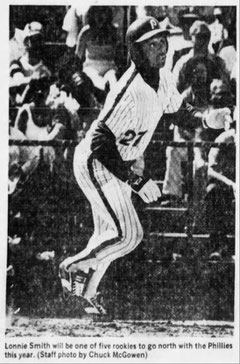 Phillies to field a Green team; youth is served by roster cuts
By Hal Bodley, Sports Editor
CLEARWATER, Fla. - Win or lose in 1980, the Phillies will definitely fly Dallas Green's colors.
The new manager made that certain yesterday when he sliced four veterans from his squad. At the same time, Green announced that five rookies have made the team that will open the National League season Friday night against Montreal at Veterans Stadium.
Cut yesterday were pitchers Doug Bird and Rawly Eastwick, infielder Buddy Harrelson and outfielder Mike Anderson. That left the Phils at one over the 25-player limit for opening day, but Green said pitcher Warren Brusstar will go on the disabled list before the team leaves here Wednesday afternoon.
Rookies making the squad are pitcher Scott Munninghoff, catcher Keith Moreland, infielder Luis Aguayo and outfielders George Vukovich and Lonnie Smith.
Green thus will carry 10 pitchers – Steve Carlton, Randy Lerch, Dick Ruthven, Larry Christenson, Lerrin LaGrow, Ron Reed, Dickie Noles, Kevin Saucier, Tug McGraw and Munninghoff; two catchers – Bob Boone and Moreland; six infielders – Pete Rose, Manny Trillo, Larry Bowa, Mike Schmidt, John Vukovich and Aguayo; and seven outfielders – Greg Luzinski, Garry Maddox, Bake McBride, Greg Gross, Del Unser, George Vukovich and Smith.
Technically, Eastwick, Bird and Anderson are still with the Phils. Even though they have been told they will not be with the team in 1980, Paul Owens, the director of player personnel, has not asked waivers on them.
"I have made numerous phone calls in an effort to find teams for them," Owens said. "If I am not successful at doing that, waivers will be asked. Harrelson was released outright."
Green's roster changes could prove quite costly for the Phils if Owens is unable to find new homes for Bird and Eastwick. Bird's contract, at $200,000 a year, runs through 1981.
"His contract is rather unusual," said Owens. "Only half of his salary is guaranteed."
The Phils inherited Eastwick's contract at about $200,000 when they obtained him from the Yankees in 1978. It runs through 1982 and all of it is guaranteed. Neither Harrelson nor Anderson had guaranteed pacts.
"We feel the younger players that we have decided to keep have earned that right," said Green, who as the Phils' minor-league director was openly critical of Danny Ozark for not giving more rookies a chance. "Their play in spring training here has told me that they want to be a part of this baseball team. That's what this game is all about. I think these guys have earned the right to go north with us. The guys we are keeping are well-schooled in fundamentals and are ready to accept the pressures of major-league baseball."
Green emphasized the rookies are not going to Philadelphia for a mere 30-day look.
"If they can continue to do the job they have done here, they are there for the duration," he said. "I was determined all winter to do some thing bench-wise and bullpen-wise that would help the Phillies. We weren't able to do it through a trade, but I feel by changing faces and giving these guys an opportunity, we're accomplishing what we set out to do."
Eastwick, who in 1976 had 26 saves for Cincinnati, did not pitch well his last two outings this spring.
"He was put in game situations that he would be in during the year. One time he gave up a home run to bring it to 10-5, another time he took us out of a game that was 4-3 when he gave up two runs," said Green. "Those are the jobs he's expected to do during the year and the jobs he did not do successfully in 1979. I feel the kids out-pitched him."
"I'm not bitter," said Eastwick. "Generally, I am pretty happy with my spring. I was working on my new pitch (split-finger fastball), although I didn't get to use it much. I just want to go to a team where I can pitch. I just didn't pitch much here or with the Yankees.
"I am sad to leave the Phillies because my home is just across the river in New Jersey, but if I can hook on with a team where I can pitch, I will be happy. I just feel the Phillies made their minds up a long time ago. They went out and got Lerrin LaGrow and obviously wanted to keep McGraw and Reed. That left no room for Doug Bird and me. I don't think they want to give me time to develop the new pitch."
Harrelson, a veteran of nearly 14 years. was obviously disappointed, the Phillies obtained him prior to the 1978 season from the New York Mets after which he retired. When Bowa was injured last year, they talked him into returning. It was between him and Aguayo for the utility infield spot.
"I think the groin injury I suffered 10 days ago really hurt me," said Harrelson. "The timing was terrible, but it was obvious Dallas wanted to go with the young people."
EXTRA POINTS - Owens denied that he turned down a deal involving Lerch and Moreland for Cincinnati's Ken Griffey...He said it was never proposed... George Vukovich said he had no idea he had a chance to make the team when he came to spring training... Bird returned to his home in Fort Myers to await word from Owens... Anderson will be invited to play at Oklahoma City if he is unable to hook on with a major-league club... Lerch is still complaining about a sore shoulder... A group of minor-league all-stars will play the Oklahoma City team tomorrow in a 130 p.m. game from Jack Russell Stadium that will be televised on channel 17... Jim Angelo's Colonial-Wallace team from the Delaware Semi-Pro League has arrived here... It will play two games with Phils' minor-league teams, beginning today at the complex... The second game will be on Monday.
How can you feel sorry for 'exploited' athletes?
By Dick Young, New York Daily News Service
VERO BEACH, Fla. - I would like to tell you that the big-league ballplayers are absolutely right in their mini-strike.
I would like to tell you that they are being terribly exploited by the wealthy, greedy Lords of Baseball.
I'd like to, but I can't. Conscience won't let me.
It would be the expedient thing for me to write such things. Then, all the players would say what a great guy I am, and Marvin Miller would feed me all that good stuff. But how can I kid the people that way? The fans aren't stupid. They can read. They know this about big-league ballplayers.
The average pay for the coming baseball season figured to be $150,000. In addition, these affluent young men, who average 28 years of age or so, have the best possible health plan for themselves and family, a fantastic pension plan, drive foreign cars or mere Caddies, pay great taxes, fly first class or chartered planes, live in the best hotels, receive $29 a day for meals alone while on the road, get their names in the papers daily – mostly praiseworthy – get their faces on TV, get their phones rung off the hook by pretty young things, work seven months a year, five hours a day, generally under pleasant conditions.
And Marvin Miller wants you to understand how tough they have it?
No wonder the guy riding the subway, when the subway runs, can't feel too sorry for them.
More and more, though, I think the ballplayers are coming to realize how lucky they are. More and more the pragmatic players are holding off the screaming hot-heads in their ranks. More and more I hear them saying, when they let their hair down, "Hey, I know I'm not worth all this money, but they're handing it out, so I'd be crazy not to take it."
I've heard Reggie Smith say it. Lee Mazzilli, refreshingly candid, says it. Just the other day, Mike Tyson of the Cardinals said: "Hey, my brother makes about $15,000 working for 7-Up. I've got a million-dollar contract spread over the next few years. Don't you think I know how good I have it?"
Then why do these men vote all one way, as if they were voting in Russia?
Why do they give their union leader strike backing of 265,000-1, with the one nay vote made on religious grounds.
Out of pure gratitude, that's why.
Marvin Miller has achieved most of the above-mentioned benefits for them. When he says to them, "do we threaten the owners with a strike If they don't come through?" the players roar, "yeah!" in unison.
That's the least they can do.
But when push comes to shove, when it means walking out on all those goodies, that wonderful life, that gorgeous paycheck, the players aren't all that aroused anymore. Realism surfaces. And so they push back their strike deadline. They will make a hollow gesture at getting tough. They will call off the last five or seven exhibition games, hitting the owners in the pocketbook, "where it hurts," as Mike Marshall, the Twins' residing hothead, puts it.
That is not negotiation; that is an attempt at vindictiveness.
A voice of reason emanates from Lou Piniella. "They're talking about punishing the owners by striking in May when it will hurt them the most financially," the Yankee veteran said. "Hurting the owners should not be the theme for any strike." A lot of players around the league laugh at things Sweet Lou says and does. In this case, they should listen attentively.
The owners aren't being vindictive. They aren't closing down the training facilities or threatening a lockout on Opening Day rather than wait for the players' new deadline of May 22.
Most players are sensible enough to realize this, and to realize they had better stay in shape this coming week if they are to open the season on April 10, as planned. Teams that operate live-in training quarters have made attractive offers to players who want to keep working out. The Dodgers, Astros and Pirates are giving room and meals for $20 a day in Florida to their semi-striking players. I'll take that deal.
Somewhere along the line the players have been convinced they are outsmarting the owners with their present blueprint. Most of them, under baseball's archaic system, draw salary from Opening Day of the regular season to the last day. Thus, by not playing the remaining exhibition games for free, they are depriving the owners of that income without losing pay. Then, by reporting for work on Opening Day, they draw their pay right on schedule but gate receipts will be slim in April and most of May.
On May 22, when crowds should start getting bigger, the owners face a strike deadline if this thing hasn't been settled.
Meanwhile, the average player will have collected $40,000 in salary, a slush fund to ride out any ensuing strike. Taxes will cut that in half, of course, but it's better than zilch.