Camden Courier-Post - April 6, 1980
Phils' firm has Pete Dempsey looking ahead
By Ray W. Kelly of the Courier-Post
CLEARWATER, Fla. – They sat in the large, darkened clubhouse in total silence, 162 young men viewing what they hoped with all their hearts would be their own future.
Up on the movie screen, the splashes of success and glory were coming at a rapid pace – Mike Schmidt breaking into a home run trot, Larry Bowa slapping hands with a victorious pitcher, the crowd at Veterans Stadium leaping to a frenzy.
Pete Dempsey, a 23-year-old infielder out of Pennsauken High, let the Phillies' highlight film wash over him. And, he thought for a moment that he could almost feel the warm summer sun and smell the hot dogs that were so much a part of bis boyhood memories.
He was moving closer to that wonderland. Three good years at Temple Unlversity. A year and a half with the Phils' farm team in Reading. Now, there was talk he might become the third baseman at Oklahoma City this season.
That kind of talk surprised him a little. For, deep down he knew he had yet to play his "best ball" and, although his 6-2, 195-pound frame seemed to shout of power, he knew that with each passing day he was growing even stronger.
He also knew how easy it was to get lost in a sea of minor league prospects. What had someone told him once? Never look up and never look back. Straight ahead. That's the ticket.
Getting this far certainly wasn't easy, however. Lord, he could still feel the pain of that bad-hop grounder breaking cartilage in his nose. It almost hurt as much as the embarrassment.
Fresh from the draft. His first home stand with the Reading club. All those people to impress. And he takes one on the snoot and bleeds all over the infield. Terrific.
He was still a shortstop then. But the coaches and scouts who had seen Don Money and Schmidt pass that way knew it was only a matter of time before Dempsey would be moved to the hot corner.
The kid had a lot going for him. Maybe he did have his moments with that lumpy Reading infield. But, he had the tools and the right kind of attitude.
What did he do last season? Hit .279 with nine homers and 62 RBIs. Not bad when you consider that he was swinging the bat with just about one hand during the second half of the season because of a jammed thumb.
Up on the screen, a Greg Luzinski homer sailed majestically into the stands at Veterans Stadium. Dempsey's handsome face broke into a smile. What a life.
Pete's mind wandered back to the opening days of spring training. He'd been standing at third base at the Carpenter Complex taking grounders when Larry Bowa came cruising in behind the wheel of his two-seater Mercedes in hopes of getting in some extra work.
Bowa's picture hung in the mammoth locker room alongside a dozen other successes of the farm system. Like the division flags decorating the walls, it all added up to that much more incentive.
Not that Pete needed another push. He had stayed in Clearwater after the Instructional League concluded in October. He got a job as a cashier and his lovely wife Cheryl helped make ends meet by working in a dress shop. Neither could remember being so happy or eating so many dinners of hot dogs and sauerkraut.
"We've got this great arrangement," Pete told a friend. "Cheryl gets to stay trim and I get to eat all the food."
Keeping track of every dollar is a way of life for couples in the minor leagues. But you also count your blessings. The Phillies paid their people more than a lot of other organizations.
Plus, they seemed to care. Like the day Pete couldn't wait to get home to tell Cheryl how the Phils' batting instructor, Billy DeMars, had spent hours working with him as he hit off the batting tee.
"That tells me something," said Pete. "They must think I'm a pretty good prospect."
Up on the screen, the movie came to a rousing finale. And, as the lights came on, you could bear the rain beating a heavy tune on the building's steel roof.
A coach, obviously unhappy with losing half a day's workout, dismissed the troops saying, "When you get up, take whatever you're sitting on with you."
Within minutes, the outside of the building was lined with young men seeking shelter and waiting for a ride that they really didn't have.
A burly, black groundskeeper with a camper pulled up and called, "Two bucks a head to the hotel."
A dozen bodies squeezed into the vehicle, while others rummaged in their pockets and muttered at the rain. Nah, they'd wait and hope.
It's always that way in the minor leagues.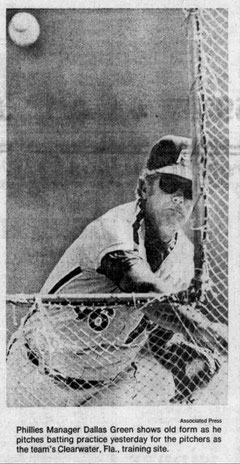 Green to juggle batting order
By Ray W. Kelly of the Courier-Post
CLEARWATER, Fla. – As the Phillies continued their voluntary workouts at Jack Russell Stadium yesterday, Manager Dallas Green indicated his lineup will have a new look this season.
Pete Rose, who hammered out one of the finest careers in baseball history by batting leadoff for the Cincinnati Reds, will be the Phils' No. 1 hitter in the 1980 lineup.
"He had an outstanding season for us last year," said Green. "But, we all know Pete is the kind of gujr who makes things happen as a leadoff hitter."
That move was pretty much a foregone conclusion. The No. 2 spot in the batting order has been a decision that Greene didn't want to make until the last minute.
He tried second baseman Manny Trillo in that spot during the first few weeks of spring training because of Trillo's bat control and his ability to hit to the opposite field.
That's a big plus for a team looking to use the hit-and-run play extensively. However, Trillo has not been hitting the ball well this spring.
"I think he was thinking too much about doing so much with the bat that it messed up his batting stroke," said Green.
So, right fielder Bake McBride gets the job. And, although he's a southpaw swinger with a tendency to pull the ball down the first base line, Bake thinks he's got one thing working in his favor.
"I've gone back to the type of swing that I was using when I first, came to the Phillies," he explained. "I hit .339 in those final 85 games by swinging down on the ball. It gives the ball topspin, which gets it through the infield quicker. Plus, I pick up a lot of high-chop hits on the Astro-Turf."
McBride, incidentally, is one of the toughest players in baseball to nail at first on a double play grounder. Which means that No. 3 hitter Mike Schmidt and No. 4 hitter Greg Luzinski will more than likely have someone on base when they come to bat.
Bob Boone will bat fifth. Garry Maddox will hit sixth. Trillo moves to the seventh spot. And, Larry Bowa will be relegated to the eighth hole.
"I know Larry isn't crazy about the idea. Nobody likes hitting eighth, because with the pitcher coming up behind you, you don't get many good pitches to hit," said Green.
"But, I told him that nothing is set in concrete. I may change things around if we're not scoring runs," he added.
In yesterday's "situation game" Green used this lineup, with lefthander Steve Carlton taking the mound to complete what looks like the opening-day lineup.
Carlton, like Dick Ruthven, got in six innings of work. Larry Christen-son and Dickie Noles also pitched.
Rawly Eastwick, Doug Bird and Mike Anderson, all cut from the team Thursday, are still waiting for General Manager Paul Owens to trade them. Bird departed for his Ft. Myers home.
A 9 a.m. workout is slated for today with a game between Oklahoma City and the Camp All-Stars slated for 1:30 in the afternoon.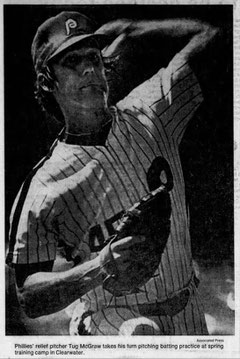 McGraw felt misused by Ozark last season
By Rusty Pray of the Courier-Post
There is a serious side to Tug McGraw that he rarely shows in public. Even when the Phillies' resident flake addresses as serious a subject as his pitching, McGraw often falls into the playful bantering that long ago defined his baseball personality.
There's nothing forced or artificial about McGraw's ineffable good humor. He is naturally uninhibited, a kid who, through some mishap in time, just happens to be 35 years old. He is the Phillies' answer to Robin Williams. The term "screwball" can be used to describe more than McGraw's best pitch.
"Were you used properly last year?" the question comes at McGraw. He hesitates a moment before responding with a smile. "Nope," he says, "I was abused properly." McGraw then becomes serious. "Our pitching staff got all messed up last year for whatever reason. Our staff was in a shambles – our guys getting hurt combined with the fact the manager didn't know how to use the staff efficiently."
Sensing the subject is already too serious, McGraw interrupts himself to deliver a self-depreciating, perhaps self -defensive, monologue.
"You don't think I'd blame myself for a bad year?" he says, his voice suddenly loud enough to be heard up and down the row of dressing stalls in the Phillies' Carpenter Complex clubhouse. "I can't take responsibility for a 5.14 ERA... I'll point my finger at someone else... It wasn't my fault... Let's have some excuses."
There is, of course, an excellent reason why McGraw, one of the founding fathers of flaky relievers, was ineffective last year. McGraw, whose bread and butter is late-inning relief, was a victim of former Manager Danny Ozark's often misguided use of the bullpen. Righthander Ron Reed was similarly abused by Ozark's bullpen bumbling.
"There were times," McGraw says, serious again, "when Reed and I were used in short relief, long relief and as starters. We'd warm up in the first or second inning, and we'd be warming up the whole game, and then you were asked to come in."
Ozark gained a kind of fame last season for having his late relievers warm up early in a game. Sometimes he would use them, sometimes he would have them warm up for three or four innings and not use them.
"Or," McGraw continues, "you'd be used for seven straight games and be burned out. Then you wouldn't be used for two weeks. You'd go from ragged to rusty."
It might seem that Ozark is being made a scapegoat for the poor seasons had by McGraw and Reed and, ultimately, the team. It's true Ozark's managing did not cause the plethora of injuries that decimated the pitching staff and transformed a contending team into an also-ran. It wasn't Ozark's fault Warren Brusstar, the key to the Phils' bullpen in 1978, came up with a sore shoulder and missed virtually the entire season. Nor can Ozark be blamed for the fact that the relievers he attempted to replace Brusstar with rarely got anybody out.
But Ozark can be held responsible for creating a nightmare in the bullpen, overusing Reed and McGraw, underusing people like Rawly Eastwick, who must pitch often to be effective.
In the past, while the Phillies were 'winning three straight National League Eastern Division titles, Ozark's tendency to "go with the hot hand" was held in check by pitching Coach Ray Rippelmeyer, who knew enough to rest weary arms and work strong ones.
But Rippelmeyer retired at the ; end of the 1978 season and Herm Starrette, who had spent two years developing the mound staff at San Francisco, was hired to replace Rippelmeyer. Starrette, being new to the Phillies organization, could not exercise the control Rippelmeyer had over the pitchers, could not countermand any of Ozark's orders.
So it was that McGraw worked in a career-high 65 games last season. Sure, McGraw led the club with 16 saves. But that 5.14 earned run average was more indicative of the kind of year he had. It was merely a side-light – the nadir of a low year – that McGraw allowed four grand slams last season, tying a dubious National League record.
It is revealing that, during the Phillies' division championship years of 1976-78, McGraw appeared in an average of 53 games with an ERA of under 3.00. Which means McGraw is at his best when used in a consistent pattern.
"Consistently is the best way to use any talent," says McGraw, serious still. "It's not easy, necessarily, to be consistent with your staff. But it can be done if you have an understanding of pitching, which our new manager does."
It does not take an expert's understanding of pitching to realize a rejuvenated McGraw was on the mound during spring training. Indeed, in his first three appearances, McGraw allowed two hits and no runs.
But it is important – if only for psychological reasons – that Manager Dallas Green, himself a former pitcher, understands his staff. Green knows the effectiveness of his short men will be predicated upon finding a suitable replacement for Brusstar, who probably will not be fully recovered from his shoulder problems this season.
Players right on free agents
By John Nadel of the Associated Press
LOS ANGELES – It was only five years ago that the courts ruled that any baseball player could become a free agent at the expiration date of his contract. Now the owners want to, in effect, end free agency for all but the superstar.
So here's a vote for the players in the latest, and certainly most serious, hassle in major league history, a hassle that could leave the 1980 season in ruins.
The players decided last Tuesday to strike for the remainder of the exhibition season, then return to open the regular season Wednesday. But they'll review the situation on May 22, and a walkout at that time seems likely.
It's been made clear by both the Major League Players Association and team owners that free agent compensation is the major roadblock standing in the way of a basic four-year agreement to replace the one which expired last Dec. 31.
Both sides appear adamant in their stands.
The owners want compensation for a lost "highly sought" free agent whereby the signing team, after protecting 15 players, would lose a player to the team originally losing the free agent.
The players, meanwhile, say, in effect, "Why should we relinquish something we already have" – no compensation in such cases.
In 1975, it was ruled that Andy Messersmith and Dave McNally were free agents and so was anybody else upon expiration of his contract. The next year, the players made a couple of major concessions by agreeing that a player would have to be a major leaguer for six years before becoming a free agent and that he could negotiate with only as many as 13 teams.
Marvin Miller, the executive director of the Players Association, makes a number of rather significant points when he elaborates on this situation...
In most cases, players need three of four years of seasoning before they reach the majors. When you add in another six years at the big league level, most players have no say as to where they'll play for nine or 10 years.
When a player qualifies for free agency, or decides to take that, route, he's not a kid anymore. Again, bear in mind that prior to this time, a player has to, essentially, take or leave what he's offered.
In the case of a superstar, it wouldn't matter that a team could protect 15 players and then lose somebody.
The top-flight player will command rich offers, compensation or not, but what about guys like Jay Johnstone, Freddie Patek, Joe Morgan, Rennie Stennett or John Curtis? These were among the players who signed free agent contracts during the most recent off-season.
Do you think that, say, the Dodgers would have signed Johnstone had they been able to protect only 15 players before giving someone up? The -San Diego Padres, Johnstone's former team, would have probably had an opportunity at one of the young Dodger prospects, like outfielder Rudy Law, infielder-outfielder Mickey Hatcher or infielder Pedro Guerrero.
The point is, the Dodgers wouldn't have made what essentially would have been such a "trade" – Johnstone for Law? No way.
Would the Angels have signed the 35-year-old Patek and risked losing somebody after protecting 15 players? No way. Ditto the Astros and Morgan, the Giants and Stennett and the Padres and Curtis.
Miller mentioned Lee Lacy of the Pirates, who has never been a full-fledged regular but was in demand when he played out his option with the Dodgers after the 1978 season.
Where would the above-mentioned six players go under terms of the compensation the owners propose?
The players might accept a compromise here, but only if a team could protect a lot more than 15 players. Fifteen players really isn't too many when you check out a roster. That doesn't leave room for many young prospects, not to mention other proven players.
Is it greedy for the players to want the free agent system to be continued, a system given full sanction by the courts?
Incidentally, from the beginning, it wasn't the players who offered multi-million dollar contracts to free agents, it was the owners.
The owners say they're worried about the future, that a few elite teams will eventually dominate down the road because they'll have all the top talent.
Perhaps that's true, but only last year three of the four division winners – Pittsburgh, Cincinnati and Baltimore didn't rely at all on free agents. And the year before, Los Angeles, Philadelphia and Kansas City won without such measures.
And this year – well maybe there won't be a this year…
Catch with little boy leads to friendship with Rose
CINCINNATI (AP) – Tommy Gioiosa still can't get over what has come from playing a game of catch with a little boy. The game turned into a friendship with his idol and role-model, Pete Rose.
It was 1977 and Gioiosa was playing baseball with Massasoit Community College in Brockton, Mass. The team was in Tampa for its spring game and Gioiosa was sitting by the hotel pool when a little boy asked if he wanted to play catch.
"I was so bored that I said yes. I didn't even know who he was," Gioiosa said.
The two played routinely from then on.
"One day, he told me who he was," Gioiosa said. "I said I didn't believe him. I said I wanted to meet his dad. He opened the door, and there he was."
Gioiosa would have been grateful for an autograph, but he found a friend in Rose, who last year asked him to join the family in Cincinnati.
"I just fit in," Gioiosa said. "After junior college, I was hoping to get a pro contract. But things didn't work. Gee, I was in the middle with no way to go. Pete let me live with his family."
Now, Gioiosa is going to the University of Cincinnati and Karolyn Rose, now separated from the Philadelphia Phils third baseman, has given Gioiosa the keys to the family's Jeep so he can get to class.
Gioiosa has tried to model his style, both on and off the field, after the man he has admired since he was eight years old.
"I try to play the Pete Rose kind of baseball – hustling all the time," he said.
Living with the Roses only made that feeling grow.
"He would throw balls against the wall to practice grounders," Gioiosa said. "I was amazed. He's a superstar and he was practicing."
Rose has been a kind of second father to Gioiosa, whose real parents are in New Bedford, Mass.
"Pete was honest with me," he said. "I'm only 5-foot-7. He said some people don't want to take a chance with someone of that height when they can get a kid 6-2 or 6 feet."
But Gioiosa believes his size will not deter him from playing baseball and he has a special incentive for succeeding.
"I'd love to give the Rose family what they've given me," he said.