Wilmington News Journal Baseball Guide '80 - April 6, 1980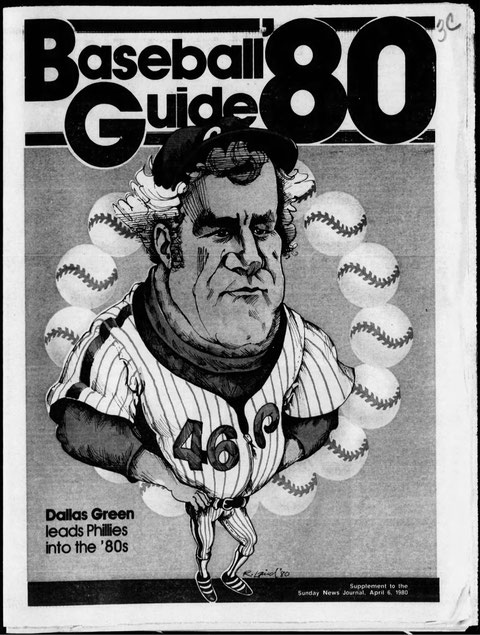 Phils ready to reclaim N.L. East title
By Hal Bodley, Sports Editor
CLEARWATER, Fla. – With a new manager and a new approach, the Phillies – providing there is not a players' strike – head into the 1980s determined to return to the top of the National League Eastern Division, a perch they held for three years beginning in 1976.
Last season, plagued by injury after injury plus sub-par performances by several key regulars, the Phils tumbled to fourth place.
Under new manager Dallas Green, the Phils begin the road back with virtually the same team that finished 14 games behind first-place Pittsburgh.
Green, the team's minor-league director, took over last Aug. 31 on an interim basis when Danny Ozark was fired. After pulling in the reins the final month of the season, Green was talked into continuing by Player Personal Director Paul Owens.
"Managing was never one of my goals," said Green, "but I feel l can do the job Paul wants done. That is the only reason I am here."
Green brought to spring training a new approach for this multi-talented group – a return to fundamentals and hard work. He ran a tough, well-organized camp. There was little free time for the players who in the past went through their drills with one eye on the clock and one of many nearby golf courses.
Green, a mediocre pitcher in the majors, quickly established one-on-one contact with each player. He made certain no one wondered about his status.
"I'm a yeller, a screamer, a cusser," says Green. "They know where I'm coming from. There are good baseball players on this team who want to win. They won three years in a row and it was quite a shock to them to see Danny Ozark fired. They're getting some ruffness, some gruffness from me they haven't been used to. But I'm sure they're going to put it together again."
I've been in many, many spring training camps," said Del Unser, "but this is the best one I have ever seen. Green and his coaches made the most of every minute."
Running a training camp and running a ball club during the regular season are two different things.
Can Green, who had only two minor-league seasons as a manager, run a ball game?
"Obviously there is a lot I do not know," said the 45-year-older. "Yes, I think I can run a game, but if there are any doubts all I have to do is turn to my people. I have some excellent coaches and I intend to use them. Who, for example, knows more about the National League than Bobby Wine?"
The atmosphere most of the spring was of optimism and enthusiasm, but that will only go so far. The pitching staff is still a question mark, with most critics insisting the Phillies will go only as far as their arms take them.
Veteran left-hander Steve Carlton, the team's leading winner with an 18-11 record last year, is still the ace of the staff. He had a fine spring, piling up 11 scoreless innings at one stage. He has the best slider in the league and is expected to have another solid year.
Dick Ruthven, who had a 8-0 record early last year before bone chips in his elbow started bothering him, is the No. 1 right-hander. The chips – 10 of 'em – were removed last fall and Ruthven appears in a good groove.
After that, there are problems. Left-hander Randy Lerch had a so-so spring, while right-handers Nino Espinosa and Larry Christenson were bothered by injuries.
Christenson, who started 1979 on the disabled list because of a fractured collarbone, was hit on the leg by a line drive in an exhibition game and missed 10 days of workouts. Espinosa, who had to stop pitching last September because of a sore shoulder, threw very little this spring and is expected to go on the disabled list... if be even accompanies the team to Philadelphia for the opener.
That left rookie Scott Munninghoff and Dickie Noles as possible fill-ins as starters during the early days of the season. Munninghoff was the rookie pitching sensation of the spring and Noles, who was called up last July, pitched well after a slow start.
The bullpen was probably the biggest single weakness in 1979. When middle reliever Warren Brusstar was lost for the year with a shoulder problem, Ozark had to shuffle his relief corps, a juggling act that never worked and was mainly responsible for the 4.16 earned run average.
Brusstar, incidentally, has continued to have shoulder problems and probably will not be able to pitch in 1980.
Owens tried unsuccessfully to lure Sparky Lyle away from the Rangers and when that failed, settled on free-agent Lerrin LaGrow, who bad great years with the Chicago white Sox before going to Los Angeles last spring.
LaGrow, impressive in Grapefruit League games, probably will become Green's hammer, the middle reliever. Other long relievers are expected to come from a group consisting of Kevin Saucier; Rawly Eastwick and Doug Bird. The stoppers will be McGraw and Ron Reed, both of whom were overworked and consequently inconsistent last year.
The starting eight is one of the best in baseball.
Bob Boone, just about fully recovered from off-season surgery, is one of the league's premier catchers. He calls an Intelligent game and has become a good hitter. His back-up will be rookie Keith Moreland, a fine offensive player, who has improved the last two years on defense.
At first base Pete Rose will be Pete Rose. He turns 39 on April 14, but there does not appear to be any slowdown in sight. He tore through spring training with a .380 batting average and gave every indication he will get his usual 200 hits and hit his usual .300.
Last year, Pete's first with the Phils after being signed as a free agent, he kept interest in Philadelphia alive after the team was out of the race. He put together the longest hitting streak in the majors at 23 games and gave Keith Hernandez a race to the wire for the batting title, finally ending with .331.
Manny Trillo, bothered by injuries including a broken band, returns to second base with his Gold Glove. Shortstop Larry Bowa, who made only six errors last year, hit with authority in the spring games and should do better than his .241 average of 1979.
Mike Schmidt, who put on 12 pounds during the off-season thanks to a weight-lifting program, was awesome in the Grapefruit League. In one game against the Mets, he blasted two homers and drove in six runs.
"I feel stronger and better," said the Gold Glover.
Probably the most significant plus to date is left fielder Greg Luzinski. He took off nearly 25 pounds after a disastrous year in 79 when his average slipped to .252 and his home-run production to 18.
His short, quick stroke has returned, causing Green to remark: "I'd be willing to bet the house that the Bull will have a great year."
Garry Maddox, one of the best center fielders in the game, is back, but people are wondering if he will be able to play over his contract negotiations with owner Ruly Carpenter. The Gold Glover is on the final year of his contract and has been unable to come to an agreement with the Phils.
At one stage, Jerry Kapstein, his agent, said the two parties would not talk again until Garry became a free agent. Midway through spring train ing, however, negotiations were reopened because Maddox wants to remain in Philadelphia, where he is one of the team's most popular players.
Bake McBride is the right fielder, with a lifetime batting average of .298. Last year he was hampered by nagging injuries, but still hit .280 and played in 151 games.
Unser and Greg Gross are the veteran back-ups for the outfield, with rookie Lonnie Smith also in the picture. Smith is as fast as a deer and is expected to get his share of playing time.
Owens was looking for an infielder who could come off the bench with some power, but was unable to land that person. As the training period neared its end, it appeared rookie Luis Aguayo would fill that position with veteran Buddy Harrelson, who has been bothered by a groin pull, a defensive replacement.
"These guys have been through my program for the first time, said Green. "They have proven they are willing to pay the price. They want to win, they want to do something for Philadelphia. Their prestige and their futures are very key to this year. I'm gonna lead them to the trough. Hopefully, they will take a drink."
Green feels at home in manager's chair
By Hal Bodley, Sports Editor
CLEARWATER, Fla. – The door was closed for at least 30 minutes. When the ball player walked out, he remarked: "I got a good shot and he was honest with me. That makes It easier."
It's never easy to tell a kid he has to go back to the bush leagues. Dallas Green says you hurt inside just as much as the athlete and about the only thing you can be is honest, straight-forward.
Dallas Green should know.
The man the Phillies have chosen to guide them into the 1980s will never forget the way Gene Maucb treated him as a struggling pitcher with the varsity in 1964.
It was July of '64, the year the Phillies blew the pennant with their now-famous collapse. Green, who had been used mostly in long relief, gave up four runs against St. Louis at old Connie Mack Stadium. The Cardinals won 10-9 and when it was over Maucb banished the shocked Green to Little Rock.
"It was really a blow," Green remembers. My dad was seriously ill with cancer. Two weeks later, he gave up and died. Ill always think that was what finished him off."
As George Dallas Green, age 45, begins his first full term as manager of the Phils, he thinks back to when he came to spring training and found himself having to make the team, frustrating year after frustrating year.
Whether or not be can manage no one knows, but one thing is certain. He has already gained enormous respect from veterans and rookies alike for his honesty, not to mention a highly efficient, no-nonsense spring-training camp.
Dallas Green, it would seem, had it made before last Aug. 31. He had a secure, comfortable job as minor-league director and it was only a matter of years before he would replace his mentor, Paul Owens, as general manager.
The team, however, had gotten away from nice-guy Danny Ozark. The players were drifting in many directions and the men who run the War Room felt it was impossible to let Danny continue until the end of the disappointing, disastrous season.
So on Friday, Aug. 31, in Atlanta, Owens summoned Green. He ordered him to become interim manager, to put on the uniform and find out if this multi-talented group really wanted to win, if the desire to bring a world championship to Philadelphia was still there.
Green insisted at the time he had no intentions of remaining on. It was just a short-term assignment and, as always, he had the Phillies' interests at heart. I've always wondered if what Owens did was really nothing more than a ploy. A hour after Green's first game and victory, Owens and I walked onto an elevator together.
"Don't be too sure this is just a 30-day thing," Owens said, his eyes twinkling. "He just might be the right person for next year."
"No," said Green. "I'm am not interested."
Several weeks later, the former University of Delaware athlete was signed as manager through 1980.
"I think the thing that changed my thinking was the faith Paul showed in me," Green said the other day. "He asked me the last weekend in Montreal if I had thought about 1980. I said, 'Pope, what the hell are you asking me about 1980 for? That's up to you.' He said, 'Don't sell yourself short, you will be a good one.'
"I went home and told my wife, Sylvia, and we talked about it. The more I thought about it, the more it made sense. If we were not going out of the organization to find somebody, and we decided we weren't, I felt I might be the guy to handle it.
"Once I decided our guys wanted to play and wanted to win, which was my primary job in September, I knew I could do the job. I probably know the thinking of Paul Owens and Ruly Carpenter better than anyone in the business. I know our minor-league system and I know our major-league people; I grew up with half of them.
"I am not the smartest baseball man they could have picked, but at the same time I am not the dumbest. I played the game 14 years and I have been an executive for 10. I think I know a little something about baseball and as a result of that, I think I know people. I have been able to have a good relationship with the press and have been able to have a good relationship with baseball players because I have been honest with them and that reputation has gotten around among our people."
On the other band, Green insists his career goals have not changed. This may give him an added advantage. The players know he will not be fired.
"I have no thoughts whatsoever on being a career manager," he said. "This is just a short-term thing until we reach our goal or until it is unreachable, and I am talking about a world championship with this team. One of the things I wanted made clear before I took this job was that it would not interrupt my' career goal of being a general manager. Ruly and Paul assured me it would not.
"If the time comes when I am no longer capable of handling this ball club or if some disaster befalls us or if I fail, I will be able to return to the front office. I felt I had to have that kind of security for my family."
When the time comes for Green to become a general manager, he will bring more experience to the job than most.
"There are not a heckuva lot of general managers who will have had the experience as farm director, major-league pitcher, minor-league manager and major-league manager," he said.
Green, at 6-feet-5, with his graying hair, presents a handsome image. His booming voice, even his caustic tongue, makes everything he says authoritative. He has already had his picture in Sports Illustrated and is in constant demand for interviews from other national publications.
Sylvia Green, a teacher at Christiana High, says this image makes her uncomfortable.
"I'm not used to people staring at us, or sneaking looks," she said recently. "I see people nudging at us and turning around to look at us. The reaction as been amazing."
"Let me make one thing clear," said Green, who will earn an estimated $100,000 this year. "I am not on an ego trip and I am not suffering from any delusions of grandeur. I am just trying to do a job for the Philadelphia Phillies just like I always have with any job they have given me.
"The money certainly had something to do with the decision. I'd be crazy to say no. At the same time, it was not a deciding point and never has been in my case. Ruly and his father (Bob Carpenter) have always been fair to me and Paul Owens has made sure that my family and I have never gotten hurt. At the same time, I am making a helluva lot more money than I would have as farm director."
Green was born in Newport and graduated from Conrad High in 1952. He was an outstanding four-sport letterman there and went on to Delaware where he played baseball and basketball. When the Phils signed him after his junior year in 1955, he was captain-elect of the basketball team.
Green's fastball was one of the best around until he injured his arm in the spring of 1959 at Buffalo. The blazing fastball never returned, but Green learned to pitch with his head instead of his arm.
"I'd get beat and I'd get frustrated because I knew I was better than the guys who beat me," he said. "I finally learned to live with the fastball I had."
He managed to get in five years in the majors, ending the career in 1967 with a 20-22 record for 185 games.
He had just two years experience – against his will – managing in the minors before he moved to the front office.
Now, as he begins the most important job of his life, people are wondering if he can manage, if he can run a ball game, outwit the opposition.
"Managing a game is not that difficult because I have good people around me," he said. I have surrounding me with outstanding baseball people. Bobby Wine is one of the best at directing a game, in terms of defense and knowing the other clubs and what they are apt to do.
"Yes, I can run a ball club, especially with the help I've got – Wino, Billy DeMars, Ruben Amaro, Lee Elia and Mike Ryan. We're a good family right now; we're a good staff, we complement each other. We're loose and we're not afraid to speak our minds.
"Just because it says manager beside my name doesn't mean I'm the only guy in the clubhouse who knows a little bit about baseball. I'm not afraid to use my people and that's something that has been lacking here. I'm going to make the final decisions and it is my ball club and I am going to take the blame, but at the same time I will use my staff."
Not all of the players like Dallas Green, but I think they all respect him.
"Even a Rolls Royce needs a driver," said relief pitcher Tug McGraw.
"There should be a closeness between manager and players," says shortstop Larry owaa. "But if you get too close, the effect is gone. I hope Dallas doesn't get too close. That hurt Danny Ozark. Then, when he wanted to be a disciplinarian, he had gotten too close to key players. So, whatever he said, they just shrugged and said, 'OK, he'll get over it.'"
Green says he has no anxieties about the season, about his position.
"I am not a negative thinker," he said. "My wife and family are behind me and the Phillies are behind me. I think we have a darn good ball club and I am not worried. I thought I was going to fail, I would not have taken this job.
"Look, there's nothing startling about Dallas Green. Hell, I have been doing the same thing for 10 years as director of minor leagues and scouting. I have been expounding the same things and working just as hard as I have here."
The only difference now is more people are listening and a lot more are watching.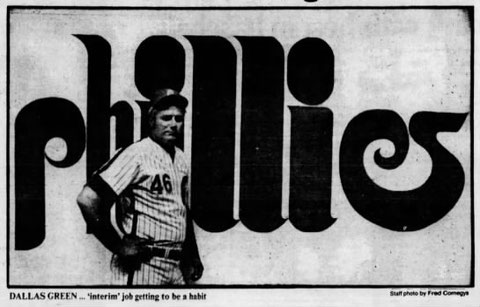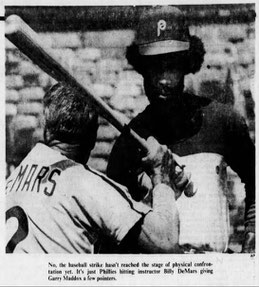 New-look Phils look to '80 flag
As News-Journal photographer Chuck McGowen wandered through the Phillies' spring training camp in Clearwater, Fla., the sights and sounds of baseball engulfed him at every turn. They were familiar sights - five months removed and in a much sunnier clime – but there is no mistaking me sound of a Pete Rose hit or the grunt as Larry Christenson delivers a fastball.
But there were a few new looks in camp, too, from Greg Luzinski lashing a long drive with bygone ease, to the new manager, Dallas Green, talking with Frank Funk, a spring-training instructor.
The Phillies are sporting a new look that they hope will restore them to their former prominence in the National League East, which they won three straight seasons before falling to fourth place behind the world champion Pittsburgh pirates last year.
The Florida phase is just about over and everyone is anticipating the games that count and hoping that the threatened baseball strike doesn't materialize.
Everyone is anxiously awaiting the magic words: "Play ball!"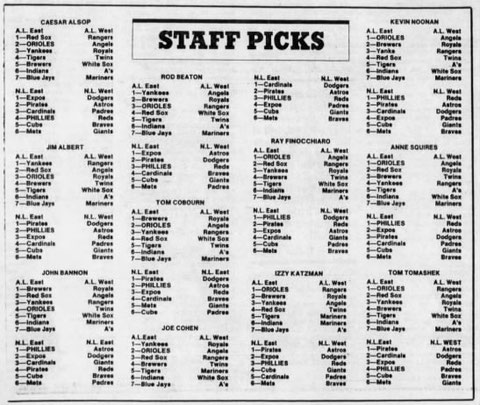 Older, wiser Simmons says Cardinals can win
By Jack Herman, St. Louis Globe-Democrat
ST. LOUIS – Now that Ted Simmons has dislodged Johnny Bench as the National League All-Star catcher, people might listen to him.
Entering his 11th season with the St. Louis Cardinals, the 30-year-old Simmons says with emphasis: "This is the first time I've approached a year that I've actually felt, from an objective point of view, that we can win.
"When I was younger, I thought I knew," added the switch-hitting veteran, "but because of (a lack of) experience, I didn't know what it takes."
What tells him now?
"We've got one club to beat, Pittsburgh, in our division," said the Cardinals' leading power-hitter. "We're better defensively than they are and we're the only club that can score runs with them. I don't see how we can help but score runs with our lineup."
Simmons isn't merely talking through his facemask.
The Red Birds – 17 games improved over '78 to 86-76 – led the N.L. in hitting last season. They collected more base hits and tied for third in runs scored – 731 with the Reds.
If they're deficient in any area, it might be homers, but that factor isn't important in Busch Stadium. Historically, it's one of the more difficult arenas in the N.L. in which to hit for distance. The Cards connected for 100 homers in '79, a figure that ranked ninth in the N.L.
It's pitching, though, that concerns Manager Ken Boyer.
"If we can improve our pitching 10 percent," said Boyer, beginning his second season as Cardinal pilot, "that will bring us to where we might win 95 games.
"That may not be enough to win, but we should contend."
The Cardinals will feature a dangerous lineup with leadoff whiz Garry Templeton, .314 with 211 hits last season; Tony Scott (37 stolen bases); Keith Hernandez, at .344 the batting champion; Simmons, 26 homers; Bobby Bonds, a power hitter (25 homers, 85 RBI) acquired from Cleveland; George Hendrick, 75 RBIs during a .300 season; Ken Reitz, superior third baseman with 73 RBI; and Ken Oberkfell at second base.
Templeton became the first switch-hitter to collect 100 hits from both sides in one season. Oberkfell outhit all second basemen with a .301 figure and led them defensively as well. Hernandez again won the Gold Glove besides .gaining national prominence in a sensational season in which he shared the league MVP award with Pittsburgh's Willie Stargell.
Bob Forsch, who no-hit the Phillies two years ago, said: "I'd hate to be a pitcher and have to face our lineup."
The Cards' fate will rest on the mound.
Because of an erratic bullpen last season, Boyer was forced to stay longer with his starters, which resulted in 26 losses in games in which the Red Birds led in the seventh inning or later.
For a record second straight season, their bullpen recorded a league-low 25 saves, a figure matched by the sad San Diego Padres. By contrast, the champion Pirates recorded 52 saves as Kent Tekulve (94), Enrique Romo (84) and Grant Jackson (72) accounted for 250 appearances among them.
"Our four starters are as good as any in the league," Boyer said, referring to 15-game winners Silvio Martinez and Pete Vuckovich, Forsch (11-11) and right-hander John Fulgham (10-6). Forsch won seven of his last eight decisions.
All of Fulgham's victories were complete-game jobs after answering an SOS call in June. His 2.53 nearly won the ERA title, missing by 16 innings. Left-hander Bob Sykes underwent surgery for a shoulder blood clot, providing a golden opportunity for the 23-year-old Fulgham.
If Sykes and another lefty, reliever Buddy Schultz, are fit, the Cardinals pitching picture will suddenly assume a brighter hue. Sore-armed Schultz was virtually worthless after July. Mark Littell, the leading fireman with 13 saves and a 9-4 log, also posted a creditable 2.20 ERA.
The Birds, with veteran outfielder Bonds in their cast – he'll take Lou Brock's place in left field – figure to be stronger on all counts. Bonds, 34, owns 441 career thefts and 321 homers, both rather impressive figures.
Cubs on the run…
By Richard Dozer, Chicago Tribune
Unless the Cubs make a trade of some magnitude, it is clear they merely hired a designated miracle worker when they brought in Preston Gomez to manage their ball club this year.
Gomez has managed two teams – San Diego in its embryonic years from 1969 to the early days of '72 and Houston during equally hard times in 74 and 75. In neither case were there any miracles and it's difficult to expect any with the Cubs.
This club wound up a dismal fifth in the East after challenging, as usual, for the first four months. Their customary September collapse was translated into nine victories and 22 losses in the final month.
"I'm not going to tear this club apart after the way we played most of last season," said Bob Kennedy, the Cubs' executive vice president, remembering a day late in August when the Cubbies were 3½ games out.
But until pennant races are decided on Labor Day, it seems that memories of almosts will continue to be the Cub fate. It is said that playing only day ball in Wrigley Field, where there are no lights, traditionally weakened the Cubs in the stretch.
Gomez might have turned that around. Never before has this club undergone such a tough training regimen. The training room was jammed much of the time in Mesa with aching muscles and sore joints.
"He'll have them worn out this year by the All-Star break," said one observer. But Preston has the idea it will work the other way.
Disciplinarian Gomez believes in conditioning above all. When he saw the three extra diamonds available a half-mile from the Cubs' HoHoKam Park, he immediately designed his program to be conducted there. It went all but unused last year by Herman Franks, the deposed manager.
Gomez brought in extra pitchers, hiring a batting practice pitcher who had worked briefly last summer for the Dodgers. He even took on a Venezuelan minor-league pitcher as a spring intern.
"We've had more hitting in one week than we had all last year," said one eager Cub with blistered hands.
After taking one look at his club, Gomez knew it would take something extra. He pulled no punches. "When I coached third for the Dodgers (last three years), we always took the extra base on anything to center field and right," he said.
He also observed that the Cubs had no speed. Their 73 stolen bases ranked lowest in the league. "And with the grass infield, there shouldn't be that many balls getting through to the outfield, he said.
What he liked, however, was the Cub hitting and some of their pitching – notably Rick Reuschel and Bruce Sutter, the best relief pitcher in the game. These people are back and, lamentably perhaps, so is virtually the entire club.
How, then, does Gomez make players do what they didn't do last year? That's where the work ethic comes in.
The one major change was a switch in second basemen. Mike Tyson, who dwindled to .221 last year at St. Louis where Ken Oberkfell phased him out, came to the Cubs in an October trade for pitcher Donnie Moore.
Tyson suffered a knee injury last Aug. 7 in a collision at second with Lee Mazzilli of the Mets. He tried to come back too soon, he said, and his average suffered. He said he is sound, and, indeed, played like it in Arizona.
But beyond the addition of Tyson and the subtraction of Ted Sizemore, this is pretty much the same sub-.500 club and appears to have little chance of escaping fifth place in the East.
Center field remained a big question as opening day approaches. Jerry Martin, who underwent a second knee operation last October, did not report in shape to compete and was idle until near the end of spring training.
Martin had 19 homers and batted .272 but tailed off badly in the second half last year. Stress tests showed his left leg 40 percent weaker then his right, and Cub leadership believed he had not done enough of the prescribed winter exercises.
There was bad blood between Martin and Kennedy, who refused to come up with a five-year contract the outfielder had wanted. Words were exchanged and Martin said he had "had if with the Cubs and under no circumstances would he play for them beyond this year.
If Kennedy has his way, Martin won't be here that long. He has tried to trade the ex-Phillie but scouts are waiting to see him play. Meantime, Martin has the renewal contract – one which did reflect some Cub generosity. He was raised from last year's $140,000 to $160,000.
Dave Kingman, the major league home run leader (48) is anchored in left, Miguel Dilone was getting a thorough trial in center, and Scot Thompson was sharing time in right with veteran Ken Henderson.
Carlos Lezcano, cousin of the Brewers' Sixto, is a darkhorse with all the defensive tools, and Karl Pagel (39 homers with Wichita) is a slugger without a position. So is Mike Vail (.335 in 87 games). A deal is a must.
The infield is set, third to first, with Steve Ontiveros, Ivan DeJesus, Tyson and Bill Buckner. Barry Foote, slowed by a sore back, has a five-year pact plus the catching job, with Tim Blackwell his backup.
Willie Hernandez might surface as the long-sought left-handed starter. He was worked all spring in the rotation that also includes Reuschel, Lynn McGlothen, Mike Krukow and Dennis Lamp. Gomez indicates, however, that he will stick with three starters through much of the first six weeks.
Dick Tidrow and Doug Capilla loom as the right and left side of Sutter's backup corps. Only one spot beyond them appeared open inasmuch as Gomez plans to keep nine hurlers until mid-May, when he will add a tenth.
Will LeFlore's legs carry Expos to flag?
By Ian MacDonald, Montreal Gazette
The Expos believe they have made one significant improvement over the team that made such a glorious run for the N.L. East title last year, but they will be hard- pressed indeed to repeat their 95-victory performance.
In December they acquired Ron LeFlore from the Tigers to light up things at the top of the batting order and LeFlore has given every indication that he will set the order on fire.
In exchange for LeFlore, the Expos had to give up promising young left-hander Dan Schatzeder. That was expensive. "Schotz" was 10-5 with a 2.83 ERA third-best among N.L. pitchers.
Then, too, the Expos lost Rudy May to the Yankees in the re-entry process. May was 10-3 with an ERA of 2.30. So the Expos lost 20 victories.
The free agent exercise was costly. Montreal also lost Tony Perez to the Red Sox and his loss could prove more costly than the departure of the pitchers.
The Expos have experimented with veteran Rusty Staub and Warren Cromartie at first. Both appeared awkward.
The 37-year-old Staub, a right fielder, was a designated hitter with the Tigers for 2 to years. Cromartie has been the Expos' left fielder the last three before LeFlore arrived.
LeFlore, with his .300 bat, is going to make this version of the Expos one of the more exciting in club history.
For instance, LeFlore, Rodney Scott and Andre Dawson, at the top of the order, will all have manager Dick Williams' green light to steal at will.
Not only should the Expos break their single-season team record for stolen bases, but it will rank as a major disappointment if the three don't do it themselves. Last year LeFlore stole 78, Scott 39 and Dawson 35 for a total of 152. The club record of 124 was set in '74.
Larry Parrish was the Expos' outstanding player last season – .307 and 30 home runs. He was the best of the group of young men who are adding experience to their impressive talents and will be challenging for All-Star honors – players such as catcher Gary Carter and outfielders Ellis Valentine and Andre Dawson.
Rodney Scott and veteran Chris Speier form an excellent second-short combination. Both hope to boost lowly batting averages, but either would earn his pay with anything close to a .250 bat.
The Expos are happy once again with their bench strength. Tommy Hutton, the versatile leader of that bench squad, heads the list that includes Jerry White, according to Williams, "the best fourth outfielder in the majors." Then there's left-hand-hitting catcher John Tamargo, with a lively, line-drive bat; Billy Almon, a smooth defensive operator at second and short; infielder Tony Bernazard; outfielder Rowland Office and Ken Macha, who can play third, first, outfield and catch.
Despite having lost Schatzeder and May, the Expos have a formidable pitching staff. Though they had only one winner over 13 – Bill Lee was 16-10 – the Expos had six winners in double figures and they led the majors with a team ERA of 3.14.
In no small way, because of an extensive muscle-stretching program Instituted at the training camp by Dr. Ed Enos of Concordia University in Montreal and carried on through the season, the Expos had a truly remarkable injury-free season.
The 10 pitchers who started the season stayed with the club throughout the campaign. Only one starting assignment was delayed over the entire schedule because of a pitching-related injury. Lee was felled by a taxi while jogging in the Montreal streets and Steve Rogers was set back after being stung by a line drive off the bat of Ray Knight in Cincinnati – but those don't count.
Young David Palmer started last season as a short relief man with no Triple A experience. He was rushed into the rotation when others failed and finished the season at 10-2. He is on a streak of eight winning decisions, a team record.
Ross Grimsley and Rogers had mediocre campaigns. Rogers was 13-12 though his ERA of 3.00 over 249 innings in a season following surgery is outstanding. Grimsley became the Expos first 20-game winner in '78, then he couldn't get anyone out last year. He finished at 10-9.
Fred Norman, a consistent winner in double figures was signed as a free agent. Norman will spot start.
Owners are new; not Mets
By Jack Lang, New York Daily News
NEW YORK - It will take more than new owners and the new hope they bring with them to lift the New York. Mets out of last place in the National League East. Too many of the old faces and old problems remain.
This is a club that has finished last in its division the last three years. Yet not one major trade was consummated last winter to improve the team, unless you count the sending of ex-Phil Richie Hebner to the Tigers in exchange for third baseman Phil Mankowski and outfielder Jerry Morales.
Neither is expected to play regularly, although Morales could be a platoon man in right with either Bruce Boisclair or Alike Jorgensen.
The one good thing that happened to the Mets was the sale of the club to a group headed by Nelson Doubleday. His famed book publishing firm came up with 80 percent of the record $21.1 million that was paid for the club.
Joe Torre does see some light at the end of the tunnel.
"I'm enthused about my pitching," said the manager, because of the experience we have this year. Plus we have Frank Taveras for the full year."
Last year the Mets left spring training with three rookies who had never pitched in the majors.
"We had to look for people to fill out the roster," Torre said. "This year I will have to make cuts to get down to size."
Nevertheless, the Mets are going into the season with only one solid pitcher. That's Craig Swan, who won 14 games last year. Beyond Swan you have Pat Zachry, Pete Falcone, Ray Burris and Mark Bomback as starters.
Zachry, coming off August elbow surgery, has not pitched since early last June. Falcone started 45 games in the last two years and completed one. Burris was a relief pitcher last year with the Cubs and Yankees. He will be used as a starter, the way he was with the Cubs. His 56 career victories are the most by any Mets pitcher.
The sleeper in the bunch could be Mark Bomback, a rookie who was voted Minor League Player of the Year by The Sporting News after a 22-7 season at Vancouver.
Bomback spent nine years in the minors and is getting his first big chance. Not an overpowering pitcher, he is noted for a curve, finesse and control.
The Mets do have the makings of a fine bullpen headed by 22-year-old Neil Allen. The kid with the wicked curve and fastball to match, failed as starter last year but blossomed as a reliever, winning six and saving eight. Ed Glynn is his left-handed counterpart, but watch for Jeff Bernard to become a late inning game saver.
Kevin Kobel and Tom Hausman round out the staff as double-duty men capable of starting and relieving.
The big move with the Mets is the shifting of popular Lee Mazzilli, a .303 hitter, from center field to first base. The move lets Torre play Joel Youngblood in center and platoon in right.
Youngblood, the club's newest millionaire, led the Mets with 16 homers last year in his first full season. Torre expects 20 or more this year.
The third outfielder will be Steve Henderson, who was batting .306 when he suffered a strained left ankle with two months to go. He never started again. He was running fairly, well this spring.
Where the Mets are set is at second, short and behind the plate.
Torre expects second baseman Doug Flynn and shortstop Taveras to be the best double play combination in the league. They already think they are.
Taveras, trimmed down to 16S pounds, expects to steal 70 bases. That's what he weighed when he did it for the Pirates. Flynn surprised everyone last year by knocking in 61 runs with a .243 average as an eighth-place hitter. He also has a superb glove.
John Stearns is the established No. 1 catcher who survived another spring in which his name was bandied about in trade talk. He remains, and Torre hopes he will be more relaxed. Last April, John signed a five-year contract, then set out to prove he was worth every penny of it.
"He put too much pressure on himself," Torre said. "He was trying to hit three-run homers with nobody on base."
Behind Steams the Mets have veteran Ron Hodges and Alex Trevino, the young and coming defensive catcher.
But after 19 years, third base remains the trouble spot. The Mets have used 63 men at third since Don Zimmer failed in 1962. This year they are going to Elliott Maddox, who would Prefer to play the outfield, and Phil Mankowski, who couldn't make it with the Tigers.
With the Mets, some problems just never go away.
Can Buc bats make up for iffy pitching?
By Charley Feeney, Pittsburgh Post-Gazette
As king of the hill, the Pirates realize every National League club will be taking dead aim at them this year.
"That's the way it should be," said Willie Stargell, the team captain whose heroics last year helped carry the Pirates through their world championship season.
Manager Chuck Tanner says his club will be equal to the challenge.
"We won't live on the past," ' he said. "We're thinking of winning in 1980. We will have a good shot if we stay healthy."
"If we stay healthy" – something that every manager says in the spring, but there is truth to it. There is some logic to just how much a ball club can succeed if it stays healthy. There are clubs who wouldn't win a division title if they didn't suffer one serious injury during the 162-game season.
The Pirates are not one of those clubs. They will contend and they might win again. But they are a team with potential pitching problems and they are a team that must count on their bullpen to win 75 percent of their games.
For Kent Tekulve, Enrique Romo and Grant Jackson to be effective, the starters must be consistently effective through six innings.
If there is any letdown by the starters, or should the bullpen falter, the Pirates don't figure to repeat.
They do not have the type staff that can be carried by twa starters. They must rely on about six starters and three of them – Rick Rhoden, Don Robinson and Jim Rooker – are questionable physically.
Rhoden, the former Dodger right-hander who hasn't pitched since last May, underwent shoulder surgery last summer. Robinson, who was 8-8 as a second-year man, also has had shoulder surgery and Rooker, 37, has a history of aches and pains.
In the early weeks of the season, Tanner will start John Candelaria, Jim Bibby and Bert Blyleven, who supposedly has more talent than any pitcher on the staff.
Andy Hassler, acquired through the re-entry draft, might prove a valuable addition. He is a sleeper who, at 28, is capable of a big season. Hassler, a southpaw, has a 32-60 lifetime record with California, Kansas City, Boston and the New York Mets. Forget, the minus figures – Hassler could be the surprise winner in the league.
The Bucs picked up Buddy Solomon from the Braves last weekend for a player to be named later, and he could take some of the pressure off the bullpen in the early going.
For any team to win a pennant, it needs help from unexpected sources. Last April the Pirates opened the season without Tim Foil and Bill Madlock. They were acquired in trades and helped mold the Pirates into a winner.
This time around, it appears the Pirates must find help from pitchers who were aching last year and from a Hassler or some rookie pitcher.
The catching, a question mark a year ago, is above average with Ed Ott and Steve Nicosia.
Stargell, at 39, will play about 100 games at first base. His sub will be Bill Robinson, who also figures to platoon in left field.
The Pirates tried to trade Robinson to Houston a few months ago for pitcher Joaquin Anduiar. It might turn out to be the best trade they didn't make.
Stargell doesn't figure to be as sensational in the clutch as he was last year, but Dave Parker will improve on his 1979 figures. And with Phil Garner and Foli playing around second base all season, the defense will continue to improve.
Madlock, batting sixth, just might drive in 90-100 runs and Omar Moreno, in center, figures to keep improving.
The National League East might be the best division in baseball. There won't be any cakewalk to a title by any club. On Sept. 1, the Pirates, Expos, Phillies and Cardinals will be in contention.
The winner? Let's go with the long-shot Cardinals. No doubt they'll be healthy.
In Houston, they figure, 'This is it!'
By John Wilson, Houston Chronicle
Only once in its 19-year history has the Houston franchise gone into a season as genuinely respected as a pennant contender as in 1980.
The first time was 1972 when the management loaded up with winter deals in an attempt to bring home a pennant. They gave up youth for experience that time and they finished second behind Cincinnati, falling well behind in the stretch.
The challenge the Astros mounted was to be a one-shot try. The team was never really in contention until last season when it had its winningest season and finished IVi games behind the Reds.
This year's hopes rest with an imposing pitching staff , one management believes is the best in the game.
The Big Three are J.R. Richard (18-13), Nolan Ryan (16-14 for California) and Joe Niekro (21-11).
Houston's staff last season was second to Montreal in the N.L, for lowest ERA (3.19). Now they have added Ryan, the $4 million man.
In the past, the Astro ownership had not chosen to compete in the free-agent market. But the new owner, John McMullen, had different ideas. He is anxious for a winner and believed the situation called for taking financial risks.
McMullen approved the $4 million for a four-year contract for the 33-year-old flame-thrower, whose home town of Alvin is 25 miles south of Houston.
Few people question that Ryan is baseball's hardest thrower. But the way he throws a baseball puts a strain on the body and, in a number of bis seasons, Ryan has been sidelined at times with various ailments. He has had two seasons of winning more than 20 and two other 19-victory seasons.
Then there's J.R. On his good days, Richard is the most awesome and feared pitcher in the N.L
The 6-foot-8, 30-year-old Louisianan has had some problem with slow starts. He has won 18 games three consecutive years but would have been well over 20 if each of his first three months had been as productive as each of his last three.
Richard has had one 20-vic-tory season (20-15 In 1976) and perennially leads the N.L in strikeouts, just as Ryan has the A.L.
Joe Niekro, the knuckle-bailer, had his first 20-vlctory season In 1979 but the 35 year-old brother of the Braves Phil is getting better with age. He finished second in the Cy Young voting to Bruce Sutter of the Cubs.
The fourth man in the rotation is Ken Forsch, at 33 a veteran right bander who was 11-6. Forsch 's history is that he has to sit out a few weeks every season with arm problems.
Manager Bill Virdon likely will be shuffling, as he did last year, when he needs a fifth man in the rotation. Joaquin Andujar, Randy Niemann, Vera Ruhle, Ric Williams and Frank LaCorte started a total of 59 games for the Astros in 1979. But about 35 of those starts should be eliminated by Ryan.
The main man in the bullpen is left-hander Joe Sambito, who won a $215,000 contract in arbitration. Sambito posted an 8-7 record with 22 saves and a 1.74 ERA.
Virdon is hoping a right-handed reliefer will assert himself.
This season has another link with 1972. Second baseman Joe Morgan was traded that year to Cincinnati as part of that youth-for-experience logic and became, at least for a couple of years, the best player in the league.
At 36, Morgan is back, another evidence of McMullen's willingness to dip into his bank account for free agents. Morgan is coming off several injury-plagued seasons but is convinced his talents have not eroded.
Virdon will install the two-time MVP at second base and believes Morgan's experience and enthusiasm will be beneficial in a pennant drive.
Enos Cabell (.272, 67 RBI) is back at third and Craig Reynolds (.265, 39 RBI) returns at shortstop.
It appears Virdon will be shuffling and platooning at first base, hoping one of the players takes charge. He will be using Dave Bergman, who has been an outstanding Triple-A hitter, Art Howe, who mainly has played second and third, and outfielder Denny Walling, who hit .327 mainly as a pinch hitter last year.
With Cesar Cedeno moving back to center from first, Virdon has four first-line outfield- ers. Besides Cedeno, there are Jose Cruz (.289, 72 RBI), Terry Puhl (.287, 49 RBI) and Jeff Leonard (.290, 47 RBI).
The Astros are short on power, but they play in a big home park, so power isn't their game. Four players – Cedeno, Puhl, Cruz and Cabell – all stole 30 or more bases last year and Leonard swiped 23.
Speed and pitching is the Astros' formula. In 74 games (or 46 percent) the Houston staff game up two or fewer runs (19 shutouts, 30 one-run games and 25 two-run games). It wouldn't have taken much more run production to have turned that kind of pitching into a pennant.
Braves figuring to escape cellar
By Ken Picking, Atlanta Constitution
WEST PALM BEACH, Fla. – Need a quick question to start the neighborhood baseball trivia session? How about the old reliable – "What's been the worst team in the National League the last four years?"
Atlanta Braves, take a bow.
The Braves' recent history reads like a broken record. Four successive sixth-place finishes in the N.L. West, an average of 95 losses, begun in 1976 under Dave Bristol. Bobby Cox has been responsible for the last 187 defeats and the third-year manager is quite adamant that the Braves will not make it five straight in 1980.
"This is the first time we have added veteran players to our young talent since I have been here," said the 38-year-old Cox, a former Yankee coach. "For the first time I can say we will be competitive and know it in my heart. Our division is ripe for advancement."
As Ted Turner said, "If every one of our guys has either an average or good year, we can go all the way."
Indeed, the Braves have an impressive array of offensive stars. But can the defense and pitching improve enough to catch the Padres and Giants?
The Braves' ascent in the standings and Cox's survival as manager depends largely on two comebacks and a new shortstop.
Biff Pocoroba, an All-Star catcher in 1978, returns behind the plate after 1978 rotator cuff surgery to his right shoulder. His throwing was impressive the first four weeks of camp.
Pitcher Larry McWilliams, a nine-game winner as a rookie, has lost the pain in his left elbow that left him inactive much of last season. Cox counts on McWilliams and ageless Phil Niekro as his top starting pitchers.
And on this turn of the revolving door at shortstop, it's Luis Gomez, acquired from Toronto in the trade that also brought first baseman Chris Chambliss, whom Cox called the "experienced, steady hand we need."
Other new Braves who are certain to play crucial roles in the summer production are reliever Al Hraboskv, signed as a free agent, ana starting pitcher Doyle Alexander, a one-time 18-game winner obtained from Texas.
When the Chambliss deal was made in December, Cox annnounced a lineup that figures to be intact for the season opener on April 9, in Cincinnati:
Ed Miller, center field
Jerry Royster, second base
Gary Matthews, right field
Bob Horner, third base
Chris Chambliss, first base
Dale Murphy, left field
Biff Pocoroba, catcher
Luis Gomez, shortstop
Niekro, a 218-game winner at age 41 and the unquestioned ace of the Braves' staff, will attempt to snap a string of four losses in opening-day assignments.
Offensively, Atlanta's potential is staggering. Horner, Murphy, Chambliss and Matthews accounted for 99 homers and 308 RBI last season. Cox thinks the four could hit 120 homers between them.
The Braves also will feature speed in Miller and Royster, who tied a team record with 35 stolen bases.
Miller, a compact, explosive speedster, has led ail five minor leagues he has played in in stolen bases, swiping 76 last summer in Richmond. Cox says if the super-confident 22-year-old Californian hits .250 with his switch-hitting, slap-and-run style, "He will be one of the most exciting players in the league."
Murphy, whose home-run potential is the equal of Horner's, will play his third position in as many seasons, and early indications were that left field might be his best spot.
By moving Murphy to left to accommodate Chambliss at first, Cox incurred the wrath of deposed Jeff Burroughs, who vows a comeback from a .224 season.
If experience, reputation and hair mean anything in the relief-pitching business, then the Braves may have the league's best bullpen. Bearded Gene Garber and Hrabosky, complete with Fu Manchu trimmings, have been money pitchers for contenders and they inspire Cox to predict, "We won't blow too many games after the sixth inning with those two."
But only time will answer the uncertainties.
Dodger green brightens Dodger Blue
By Gordon Verrell, Long Beach Press-Telegram
If money can buy happiness, then the Los Angeles Dodgers may have found a way to climb back to the top of the National League West.
In 1979, they had pitching firoblems. Big pitching probems. So, during the winter, they opened the coffers and came up with $5.1 million.
That's what it took to land a right-handed pitcher, Dave Goltz, who won one more game than he lost last season at Minnesota, and a right-handed reliever, Don Stanhouse, who has an eight-year record of 35-51.
It's the first time the Dodgers have made the big splurge in the free-agent market They'd made bargain-basement purchases of Terry Forster and Derrel Thomas in the past and that's one reason, Golti maintains, that he cast his lot with Los Angeles.
"They're not afraid to move along with the times," he said.
Whether they move along with the rest of the N.L. West remains to be seen.
After hitting rock bottom at mid-season – Los Angeles was in last place, 17½ games out of first and 21 games below .500 (36-57) at the All-Star break – the Dodgers rebounded in the second half. They still hit the wire with a thud, however – 11½ games out in third. At 79-83, it was their first sub-.500 finish in more than a decade.
Thus the need for improvement. But as the Dodgers improved, so did the Houston Astros drastically, with the addition of Nolan Ryan and Joe Morgan and San Francisco and San Diego and Atlanta and, well...
The Dodgers did improve the one area that was in shambles most of last year – the bullpen.
They are banking on Bobby Castillo. The little righthander's screwball caused havoc the last six weeks of the season when he recorded seven saves, tops on the staff even though he was in the minors the first 4 Mi months of the season.
And they are banking on the irrepressible Stanhouse, 29, whose 45 saves in two summers with Baltimore certainly caught the eye of the Dodgers.
The Dodgers went to spring training with seven starters for five spots – Goltz, knuckle-bailer Charlie Hough, young Bob Welch, Burt Hooton, Rick Sutcliffe (the 1979 rookie of the year), Jerry Reuss, the only left-hander in the bunch, and veteran Don Sutton, the all-time winningest Dodger who sought in vain a trade to the American League.
Goltz adds stability but it's not likely the Dodgers can climb back to the top in pitching, where they were in 1977 and 1978 when they won the pennant. There are some question marks.
Hooton didn't pitch the last month last season because of a tender shoulder. Reuss was only 7-14, with three victories the last month. Hough made some gains after becoming a starter for the first time – he was 6-3 with a 4.82 ERA after leaving the bullpen. And Welch had arm troubles off and on all year and finished with a 5-6 record and 4.00 ERA.
For better or for worse, the infield is intact for the seventh year. Offensively, it's impressive. First baseman Steve Garvey, who has played in 672 straight games, batted .315 with 28 homers.
Second baseman Dave Lopes also had 28 homers, as did third baseman Ron Cey, while shortstop Bill Russell collected 170 hits, second to Garvey's 204.
Defensively, it should be better if for no other reason than the treacherous Dodger Stadium infield has been dug up and resurfaced, hopefully with something other than the bad hops that have plagued it for years.
Dusty Baker is approaching stardom in left field. Reggie Smith claims he's fully recovered from his assorted aches and pains of '79 and ready for a productive season in right. And then there's center field.
Center field has been the Dodgers' bugaboo since Willie Davis was traded, after playing the position for 13 years. Last year the Dodgers employed eight men in center and two of them, Lopes and rookie Mickey Hatcher, were converted infielders.
Rick Monday is making Comeback III. Derrel Thomas is the best defensively. And Gary Thomasson is "the strongest guy I've ever seen," said Manager Tom Lasorda.
Catching will be Steve Yeager, who has had two awful years at the plate, hitting .193 and .216.
In his pre-spring training prospectus, Lasorda selected the words of Gen. Douglas MacArthur, saying, "We shall return."
What he didn't recall, apparently, is that General MacArthur later got himself fired, a fate that awaits all managers. And since the Dodgers spent $5.1 million on improvements, it's a fate that certainly could await Lasorda if the Dodgers get off to another bum start.
A second-place finish would be a sizeable improvement for the Dodgers.
Weaver says O's again – of course
Special to the News Journal
On paper, there isn't much difference between the 25-man roster the Orioles used to win 102 games last year and the one they will employ in the defense of their American League championship.
However, there is one noticeable absence and how well the Orioles fill the void will probably determine their fate this year.
Don Stanhouse, the excruciatingly slow relief pitcher who sometimes performed as though he were being paid by the minute, is no longer around to test Manager Earl Weaver's patience – or save victories for the starters.
Because he took so long to get the job done, Stanhouse was frustrating to many observers, but over the last two years he was probably as good at his specialty as any pitcher in the game. He saved 20 games last year (45 over a two-year period) and he rarely lost a lead – a factor often overlooked when it comes to rating relief pitchers.
"We might not have one guy to replace Stanhouse," said Weaver, "but we hope that two or three guys can pick up the slack."
Tim Stoddard, a 6-foot-7 right-hander, is slated as Stan-house's replacement, but lefty Tippy Martinez's 10-3 record last year stamps him as potentially the No. 1 bullpen specialist. Neither Stoddard nor Martinez was overwhelming during spring training, but Weaver professes not to be concerned about it, unless the inconsistency carries over to the regular season.
"I'll go with the hot man," said Weaver, indicating his use of Stoddard and Martinez would not necessarily be dictated by the right-left situation. "Stoddard has gotten out left handers in the past, and Tippy can be just as effective against right handers, so I'll stay with either one as long as they're doing the job."
If there's one place the Orioles can afford a question mark, it's on the pitching staff. If Stoddard and Martinez have trouble, there are two solid young arms in Sammy Stewart and Dave Ford. Ford, who spent much of the 1979 season with the Orioles, compiling a 2.10 earned run average in nine games while posting a 2-1 record with two saves, assumes Stanhouse's spot on the roster.
Weaver is ever the optimist, and each spring he is kept busy explaining how the Orioles can – or will – win. He said it a year ago and he hasn't changed. Only the people he talks to.
"Last year, when I said these things, nobody even took notes," Weaver said, chiding some reporters. "This year they are writing everything down."
Winning 102 games is not something you can count on, but when Weaver is asked if the Orioles can duplicate last season, he doesn't even hesitate.
"Scratch Mike Flanagan (Cy Young Award winner) and Ken Singleton (second in the MVP voting). They had super years and you couldn't expect much more from them," admitted Weaver. "But Doug DeCinces had an off-year because of his back problems and we think he can do better (.230, 16 homers). He can be a 20-25 home-run man.
"Rich Dauer is still improving and could hit 20 points higher (than .257). Gary Roenicke (25 homers in 376 at-bats), we're not sure yet what he's capable of, and Eddie Murray is so consistent (27-27-25 homers the last three years), we don't know if he's reached his potential vet."
Earl wasn't through with his rundown.
"Al Bumbry (.285, 37 stolen bases) missed all of the 1978 season, but now he's healthy and going about his job like he could have one of those years," Weaver said.
But if you ask Weaver where his team can improve most, he still goes back to the pitching – despite the loss of Stanhouse.
"Remember, Jim Palmer only won 10 games and Dennis Martinez was 15-16," Weaver said.
Martinez is a 24-year-old right-hander with brilliant, but unfulfilled, potential. Weaver has insisted from the beginning that Martinez would be a 20-game and Cy Young winner. From Aug. 15, 1978, to June 20, 1979, he fashioned an 18-3 record.
"He hasn't put two half-seasons together yet," said Weaver, but he could. Last year, including winter ball, he pitched over 400 innings. That's too much and we didn't let him play last winter. We hope that it will make him stronger this year."
Martinez led the league with 292 innings pitched and 18 complete games last year and, although he won't be 25 until May 14, he has a 92-55 record in six professional seasons, including a 45-19 mark during three minor-league seasons. He has averaged IS victories a year for the Orioles and Weaver is convinced those numbers will improve.
Weaver concedes the loss of Stanhouse could be a factor but still thinks he has enough depth to cover it.
"I can't tell you if we're going to miss him or not," said Weaver. "When we had him, it forced us to push some others, like Stoddard, into the background. It was a gamble. If we falter in our saves, we made a mistake."
Weaver obviously believes Palmer and Martinez can make up with victories the loss of Stanhouse saves in the bullpen. Still, relief pitching is the biggest question mark the Orioles have and probably the reason they won't be favorites to repeat in the A.L. East.
Giants don't figure to be much this time
By Bob Stevens, San Francisco Chronicle
SAN FRANCISCO – Barring the greatest form reversal since the last season's turnaround by the Giants, San Francisco does not figure to be a factor in the N.L. West Division chase this season.
They're coming off a shattering, traumatic 1979 at the beginning of which many had picked them to sweep into the World Series. They were out of the hunt early, victims of injuries and perplexing failures that bred discontent among the troops, almost constant quarrelling with the media, prolonged periods of sullen brooding, and eventually the firing of Manager Joe Altobelli.
Late in the spring of 78 the Giants traded seven players for Vida Blue, the American League's Cy Young Award winner for the A's and their Most Valuable Player in 1971.
They had added Mike Ivie, Darrell Evans, Terry Whitfield, Ed Whitson, Bill Madlock, Bill North, Tom Griffin and a long string of lesser, but talented, lights. With Blue, the Giants became a solid contender almost overnight.
They almost went all the way in '78, too, stumbling near the end, finishing third, six games off the pace. More important, they drew 1,740,477 customers to Candlestick Park, their highest attendance since 1960, the year they opened Candlestick Park and attracted 1,795,356.
Blue won 18, lost 10, and fashioned a 2.79 earned run average in his first summer in the N.L. He almost carried the team into the World Series.
Evans hit 20 home runs, drove in 78. Ivie hit .308, Bob Knepper threw six shutouts. Gary Lavelle was among the top relief men in the majors and Jack Clark displayed pronounced signs of becoming a full-fledged major-leaguer.
But even in the heady stream of success there lurked the sticky feeling that this wasn't for real – and wasn't capable of lasting. That inkling was to be proven correct, but not for reasons pointed directly at a thinness in talent or leadership. They merely were injury-prone. It killed them last year.
By April 30 they were fifth, seven games out. On May 25 they were second, a half-game out. One month later, they were 8½ out. The season was over. They finished fourth, 19 games out, and, with 71 victories, suffered immortal shame: they were the first S.F. Giants club to win so few and lose so many (91).
Bob Lurie, sole owner of the Giants, general manager Spec Richardson and new manager Dave Bristol made a move in what they hope is the right direction. During the winter they acquired three free agents – second baseman Rennie Stennett from Pittsburgh, catcher Milt May from Detroit and utilityman Jim Wohlford from Milwaukee.
Stennett hasn't played regularly since suffering a broken ankle in 1977. May has a questionable throwing arm and Wohlford is solid and needs to be as he most likely will be the first man off the bench as both an infielder and outfielder.
Actually, the Achilles heel of the Giants – the bench – has not been strengthened sufficiently. It lacks depth and power. But that's a problem being unremittingly worked on by Lurie and Richardson.
There were two Giant plusses in 1979. One was Bill North, who had a solid year in center field, particularly with 58 stolen bases. The other was Ed Whitson, a right-handed pitcher acquired in the highly controversial mid-season trade that sent Bill Madlock, a two-time National League batting champion, to Pittsburgh.
Otherwise, it was a depressing year of soaring earned run averages, plunging batting averages – and injuries.
Only Knepper, among the starters, did not spend days and weeks on the bench with injuries, but he suffered something even more stunning: loss of confidence. From 17-11 and a league-leading 2.63 in '78, the southpaw crashed to a 9-12, 4.65. Blue tumbled from 18-10, 2.79 to 14-14, 5.01. John Montefusco and Ed Halicki, each with no-hitters, suffered long spells of injury-forced inactivity and between them were 8-16.
Randy Moffitt, counted upon as the No. 1 right-hander out of the bullpen, spent more than two months on the injured list, and catcher Marc Hill, No. 1 going into the season, suffered a broken hand on July 24 and was never heard from again.
Willie McCovey, 42, hit 15 home runs, passing the late Mel Ott (511) as the most prolific left-handed home run hitter in Giants' history. The remarkable McCovey finished the reason with 520 HRs, ninth on the all-time list, one behind Ted Williams and first among still active players.
Yet injuries, too, robbed the big man of the potential of having a far more rewarding campaign. Stretch suffered an injured shoulder with one month to go and swinging a bat became a very painful, and unrewarding, experience from there to the agonizing finish.
The incredible assault on the troops by injuries did not abate at season's end, either.
Coleman:  Padres must be a t-e-a-m
By Phil Collier, San Diego Union
SAN DIEGO - When he ended 15 years of broadcasting to become a manager, Jerry Coleman gave the San Diego Padres a long list of the things that needed to be done over the winter.
"How they did it was incredible," the 56-year-old former Yankee second baseman said. "They did everything I asked them to do."
The Padres moved toward improvement over the winter and, Coleman said, "The people we acquired may not be the greatest players in baseball, but they improve us at our weakest positions. If we're not quite a bit better, I'll accept the blame. It will be my fault."
When he was named to replace the Roger Craig on Oct. 1 after another fifth-place finish, Coleman thought the Padres needed to sign two pitchers in the November reentry draft in order to gain leverage for winter trades.
Owner Ray Kroc, president Ballard Smith and general manager Bob Fontaine obliged by spending $3.8 million to sign Ricke Wise, a right-hander who was 15-10 with Cleveland, and John Curtis, a Giants' lefty who was 10-9.
The Padres solved their lingering second base problems in late November when they traded two second-line players, Bill Almon and Dan Briggs, to Montreal for Dave Cash, a former N.L. All-Star who batted .321 last year in a part-time role.
In December, they plugged a gaping hole at third when they obtained Aurelio Rodriguez, the light-hitting Tigers' Gold Glove performer, for a player to be named later.
Also in December, the Padres claimed Von Joshua, the Dodgers' veteran utility man, as a replacement for Jay Johnstone, who played out his option and signed with the Dodgers. Joshua batted .284 last season.
On Feb. 15, management filled the last two items on Coleman's shopping list. It solved the center-field worries by dealing Bob Owchinko (6-12) to Cleveland for Jerry Mumphrey, a 27-year-old switch-hitter who averaged .295 for St. Louis in 1979.
"He gets as good a jump on a ball as almost anyone I've ever seen," said Coleman about Mumphrey, who has stolen 22 bases a season twice.
Coleman was anxious to find an experienced hitter to bat behind right fielder Dave Win-field, whose 118 RBI led the NL. The Padres filled that need ridded themselves of a malcontent by trading 41-year-old Gaylord Perry (12-11) to Texas for Willie Montanez, a left-hand hitting first baseman who has averaged 81 RBI season in his nine years with Philadelphia, San Francisco, Atlanta, the Mets and the Rangers.
"Willie once hit 30 home runs (1971 with the Phillies)," said Coleman. "He has had three .300 seasons (1974-76). He's driven in over 100 runs (101 in 1975). He's one of the best fielders in the game and he wanted to come to San Diego. We were fortunate to get him."
What Coleman has is a veteran team and a set lineup. Montanez, Cash, Rodriguez and Mumphrey are joined by Winfield, who hit 34 homers and averaged .308 for the second straight year, left fielder Gene Richards, who slumped from .308 in 1978 to .279; shortstop Ozzie Smith, who dropped from .258 to .211; and catcher Gene Tenace (.263 average, 20 homers, 67 RBI).
Wise, who has won 178 games in 14 seasons, and Curtis are joined in the starting rotation by lefty Randy Jones (11-12) and right-hander Eric Rasmussen (6-9 in 1979 with three September shutouts).
The four are control pitchers who figure to benefit from what is regarded as the Padres' best infield.
Whether the club can regain the 84-victory level it attained two years ago, before dropping to 68 last season, probably depends on relievers Rollie Fingers, Bob Shirley, John D'Acquisto, Steve Mura and Mark Lee.
Fingers, 33, baseball's all-time leader in saves (221), had elbow problems last season and did not pitch after Aug. 25. He finished at 9-9, only 13 saves and a 4.50 ERA. In 1968, he was 6-13 but tied an NL record with 37 saves and his ERA was 2.52.
Coleman is more on the spot than any of his players, but the reaction to him in spring training was good.
"If I can get them to learn to spell a simple, four-letter word, we should improve," Coleman said. ""The word is T-E-A-M."
Sleek, new Reds ready to roll into '80
By Hal McCoy, Dayton Daily News
CINCINNATI – Like the gas-guzzling monsters pro uced by Detroit in the 1970's, the Big Red Machine of Cincinnati is obsolete, no longer visible on the basepaths of the National League.
Gone are Tony Perez, Pete Rose and Joe Morgan... three big wheels off the once-devastating offensive machine known as the BRM.
The only thunder left from Sparky Anderson's bomb squad is aging Johnny Bench, he of the aching back. He still is considered baseball's best defensive catcher. Of course, George Foster and his beauteous black bat still populate the Cincinnati batting order, but Big George is a recent addition to the Reds' lineup and wasn't around when the BRM was born.
Other than Foster, and an occasional outburst from Bench, there isn't much muscle in the Cincinnati lineup. Like Detroit's creations, the Reds of the 80's are more compact, less powerful.
Who would have thought, back in 1975 and 1976 when the Reds were emasculating the Red Sox and Yankees in the World Series, that any Reds' pitcher would utter the words said by Tom Seaver this spring?
"I just hope we score more runs, he said. "We've got to start hitting. Our pitching should be solid. It did a fine job for one year, but now it has a chance to prove it's good."
Behind new manager John McNamara, the Reds scratched and clawed their way to the NL West title, erasing the 10-game lead held by the Astros on July 4.
Seaver, slowed by lower-back miseries, finished strong for a 16-6 record, including 11 straight victories, to lead the Reds' staff.
The rest of the potent pitching was furnished by young people: 23-year-old Mike LaCross (14-8), 22-year-old Frank Pastore (5-2, 2.10 ERA after a recall from Class AA in August) and 26-year-old Tom Hume (10-9 with a 2.76 ERA and 17 saves out of the bullpen).
The Reds lost Fred Norman in the free-agent draft and are without a proven left-handed starter. In addition, Bill Bonham nursed a sore elbow most of the season, finally submitting to surgery.
So, even with Seaver's pitching optimism, there are several gaps lingering.
In addition, the Reds and Ken Griffey couldn't come to contract terms and the speedy outfielder is expected to join the dearly-departed Rose and Morgan on the free-agent market after this season, if the Reds don't deal him first.
Griffey played much of '79 with a tender knee. Finally, after much soul-searching, he underwent surgery in mid-August, taking a .316 average out of the lineup.
Fortunately for the Reds, Dave Collins was around. First, the switch-hitting Collins played left field for injured Foster, played right when Griffey's knee bothered him, then took over for good after Griffey's operation. Collins batted .318.
Though Collins is a speed burner, his defense is suspect. The Reds worked long hours this spring to hone these skills, hoping to locate him in center in place of Cesar Geronimo – never a feared hitter but a graceful outfielder who suffers defensive blackouts.
If Collins responds, that would put Foster in left, Collins in center and Griffey in right. The awesome Foster missed 40 games because of several injuries, yet hit 30 homers and drove in 98 runs while batting .302.
The man on the hot spot last year was third baseman Ray Knight, asked to do the almost impossible – replace Pete Rose, the legendary folk hero. While nobody could make fans forget Rose's memorable career, Knight more than won their admiration.
Under almost unbelievable pressure, he hit .318, drove in 79 runs, fielded the position well, and even engaged in a couple of fights with the enemy, ala Rose.
Shockingly, after their gorgeous seasons, Collins and Knight were forced to endure arbitration before winning the salary increases from the Reds for this season, salaries comparable to other men playing their position in the National League.
There is a new Ray Knight this season – a new man perched on hot coals. That man is Junior Kennedy, the man asked to replace Morgan at second base. Kennedy should have it somewhat easier. As Rose's backup, Knight seldom played.
Shortstop is in the most capable hands of Dave Concepcion. While Concepcion is one of the better shortstops defensively, his offensive skills are often overlooked. The last five years he has been one of the Reds' more productive clutch hitters. He hit .281 or higher in six of his last seven seasons and last year hit a career-high 16 homers and drove in a career-high 84 runs.
Reds' fans keep waiting for nice-guy Dan Driessen to get mean at home plate, where his classical stance and swing should produce better things.
Blue Jays returning to Square 1
By Neil McCall, Toronto Star
DUNEDIN, Fla. – It took just two words to describe the Blue Jays training camp this spring: hard work.
"The main thing we've got to do is re-establish pride," said Bobby Mattick, the 64-year-old manager who succeeded Roy Hartsfield.
Mattick's managerial experience was a part season with Ogden, Utah, in 1948. He has been in charge of the Jays' team in the Florida Instructional League the last two autumns, though, and he took the same approach with the Jays.
He and his coaching staff – Jimmy Williams, Denis Menke, John Felske, pitching coach Al Widmar and batting instructor Bobby Doerr had some players come out early, kept others late and worked continuously on fundamentals.
"When a ball goes up, unless it's in no-man's land, jt has got to be caught," said Mattick. "When you have a runner picked off, you've got to get him. We can't afford to give the other team 33 or 34 outs a game."
Mattick believes, everybody can improve with hard work, and that it is a day-by-day process. He set no goals for the Jays, who lost 109 games last season.
"Our top priority is to find some answers," he said. "A lot depends on Rico Carty."
Carty, 40, was one of the most feared hitters in the league in 1978 when he clubbed 31 home runs and drove in 99 runs. But last year his numbers slipped to 12 and 55 and his average was more than 40 points below his .299 lifetime mark.
Mattick wants to use Otto Velez as a regular to take advantage of his right-handed power, either in left field or as designated hitter if Carty can't do the job. Velez hit 15 home runs as a part-timer last year.
Rick Bosetti, who led the league in putouts and assists, will likely be in center, flanked in right by newcomer Barry Bonnell, obtained from Atlanta, and Velez in left. Backups are Alvis Woods and J.J. Cannon, whose speed makes him an asset as a late-inning designated runner.
Bob Bailor, in right the last two seasons, slumped to .229 last year. He reported early, worked hard and seemed to have regained his batting stroke.
Mattick would like to "shore up third base because of Roy Howell's limited range and Bailor was challenging him.
The rest of the infield is set. Big John Mayberry is at first, Damaso Garcia, a rookie obtained from the Yankees, moved in as a double-play partner for shortstop Alfredo Griffin. The "G-Men, ' both 23-year-olds from the Dominican Republic, look like a perfect mold.
Danny Ainge, the Brigham Young basketball star who was the regular second baseman last season, will work in the outfield and third base.
Backups in the infield will be Mike Macha, drafted from the Braves, and Domingo Ramos, purchased from the Rangers. They replace Luis Gomez and Tim Johnson.
Ernie Whitt, a left-handed hitter up from Syracuse was the leading candidate to be the regular receiver after Rick Cerone was traded. Bob Davis, who batted .124 last season, had a new stance and was getting better results as he fought to get in the 15 days he needs to qualify for the major-league pension plan.
Mattick believes his pitching staff will be better because he will have Dave Stieb (8-8) around for a whole season, plus a healthy Dave Lemanczyk (8-1 0) and Jim Clancy (2-7).
Left hander Paul Mirabella, obtained from the Yankees, is the likely No. 4 starter. Jesse Jefferson (2-10) was battling Mark Lemongello (1-9) and Phil Huffman (6-18) for the other starting job.
Lemongello's 6.18 earned run average was the worst in the league and Huffman led in losses.
The Javs have strengthened their bullpen, a disaster area last season, by obtaining Joey McLaughlin from Atlanta to go with Tom Buskey and lefthander Jerry Garvin, a converted starter. The Jays totalled only 11 saves all last season and Buskey had seven of them.
Steve Grilli and Steve Luebber, both up from Syracuse, and Jack Kucek, formerly of the White Sox, and left-hander Balor Moore were competing for the other spot.
Toronto needs to take advantage of every weapon it has, so Mattick gave his runners the green light in spring training to determine what they can do. Griffin led the team last season with 21 steals, and Garcia, Bosetti, Bailor, Cannon and Bonnell are good on the bases.
It would be wishful thinking to suggest the Jays will finish anywhere but seventh because the sixth-place Cleveland Indians were closer to Baltimore in the final standings than Jays were to the Tribe.
More realistically, maybe in Year IV, the Jays can make some progress on the road to respectability by not losing 100 games.
Brewers continue drive without Bambi at helm
By Lou Chapman, Milwaukee Sentinel
In two short years, the Brewers have been turned around almost 180 degrees. From a ragtag, last-place expansion club, they are now considered among the American League elite. In some quarters, the Brewers are even considered pennant favorites.
So the folks back in Beer-town are raising steins in anticipation of the city's first pennant since 1958, when the Milwaukee Braves won their second straight championship – in the National League, of course.
Larry Hisle gave signs of returning to his 1978 superstar form. Gorman Thomas was a legitimate home run king. Paul Molitor, the brilliant young second baseman, had become one of the most exciting players in the game.
Sixto Lezcano... Cecil Cooper... Ben Oglivie all contributed to making the Brewers' offense one of the most destructive in the game.
The Brewers had a lot of tangibles going, but just a moment, please. There was one intangible missing – a psychological factor that could prove fatal to all those rose-colored visions.
George Bamberger, the manager credited with turning around the Brewers – the nice, loose, easy-going guy who took a bunch of no-names and gave them that pennant contending look, isn't around.
Bamberger suffered a mild heart attack early in spring training. He underwent open-heart surgery and doctors spoke hopefully of his returning by mid-May. Brewer players privately doubted that Bamberger would be back at all.
They all insisted that performance-wise, Bamberger's absence wouldn't make that much of a difference.
"We're all professionals," they said and whether Bob (Buck) Rodgers, the interim manager, or Bamberger would be in charge, there would be little difference as to their play in the field.
As Hisle said, "We'd be slighting Buck if we didn't go all out and try to win as many games as we can."
In baseball, it's not like winning one for the Gipper, but Lezcano said, "Our tribute to George will be winning as many games as we can. We're going to miss him. We lost our leader."
Rodgers has the same genial, easy-going personality as Bamberger but, as General Manager Harry Dalton put it, "There's only one George Bamberger."
The rapport between Bambi, as he is affectionately called, and his players was one of the closest in baseball. Bamberger also was given the major share of the credit for the development of the Brewer pitching staff from the laughing stock of baseball to one of the more respected.
Rodgers has had considerable experience in this department as pitching coach for the Minnesota Twins and the San Francisco Giants. He also was a catcher with the California Angels. But whether he will be the same confidence-builder as Bamberger remains to be seen.
Bamberger, who is credited with a great of deal of success of Jim Palmer when George was the Oriole pitching coach, built the confidence of young Brewer pitchers like Larry Sorensen.
He also took a left-handed pitcher with arm trouble and made him one of the better in the major leagues. Mike Caldwell was on the ropes when George gave him the big lift.
One thing going for Rodgers is that he is inheriting a set club. The Brewers have an established lineup with Cooper at first, Molitor at second, Robin Yount the shortstop and, presumably, Don Money at third.
Bamberger had said he'd continue his revolving-door policy in the infield, which meant that Money would be a swing man, filling in at second, first or third. This year, however, Money figures to see more action at third, Sal Bando's spot.
Bando, on the fourth year of a five-year contract, has been made a coach by Bamberger. "He's a player first," Bambi said.
But Bando's 36 and realistically could lose his starting job to Money, who had it before Sal came on the scene.
The outfield is set with Ben Oglivie in left – Dick Davis will fill in against left banders – Thomas, one of the better ones, in center and Lezcano in right. Bamberger calls Lezcano the best right fielder in the league.
As before, the pitching department holds the Brewer key. Rodgers will continue with Bamberger's plans for a 10-man staff. The five starters are Caldwell (16-6), Jim Slaton (15-9), Sorensen, an 18-game winner in 1978 (15-14); Moose Haas, feeling fit again after recuperating from a torn muscle in his right elbow (11-11); and Billy Travers (14-8).
Travers has announced he will be playing out his option, so the Brewers might decide to trade him before the year is up.
The bullpen is the shaky spot on an otherwise-steady ball club. Jerry Augustine, Bob McClure and Bill Castro are set, which left two spots open. They were up for grabs.
Competitors included Dan Boitano, formerly of the Phillies organization, Bob Galasso, Reggie Cleveland, Dwight Bernard, Fred Holdsworth, John Flinn and Dave La Point, a rookie left-hander.
LaPoint, who averaged one strikeout an Inning with the Stockton, Calif., Class A club last year, is given an outside shot for one of the bullpen slots because of his speed. In the spring he was the hardest thrower on the club.
The club's chief asset is its power. In this respect, Thomas, Cooper, Lezcano and Oglivie among them hit 126 homers. Thomas led the league with 45, Oglivie hit 29, Lezcano 28 and Cooper 24.
Thomas drove in 123 runs, Lezcano 101 and Cooper 106. Should Hisle become the hitting terror he was two years ago, the Brewers could supplant the Red Sox as the most powerful lineup in the A.L.
Gomez sees Tribe making a comeback
By Russ Schneider, Cleveland Plain Dealer
CLEVELAND - If pitching really is 75 percent of the game, then the Cleveland Indians are 75 percent unsure of what to expect in the coming American League season.
Dave Garcia, beginning his first full term as manager of the Tribe, is confident that improvement has been affected and that better things lie ahead for long-suffering Indian fans.
That's because of several off-season deals the Indians made to Improve their woebegone, and often shell-shocked, mound staff.
"I'm sure we're going to be a much better team and my goal – which I'm satisfied is a realistic one – is 90 victories," Garcia said early, and repeated often, in spring training.
If that objective is, indeed, a realistic one, the Indians might be a contender for the first time in more than two decades – since 1959, in fact.
Garcia has reason to feel good about his revamped Tribe, the command of which he assumed on July 23, replacing Jeff Torborg when the team was floundering in sixth place with a 43-52 record, 20 games off the pace.
Under Garcia, the Indians won 38 of 66 games to finish 81-80. It was only the second time in 11 seasons the Indians won more than they lost.
What's more, that 38-28 record under Garcia was second only to Baltimore's in the East in the second half of the season.
That winning record also earned Garcia a contract to manage in '80. Garcia, club president Gabe Paul and general manager Phil Seghi were active in "renovating," if not rebuilding, the team with winter trades.
"We knew we had to strengthen our pitching staff primarily, and I'm confident we have done just that," Garcia said, stressing the acquisition of two established, but still developing, starters in righthander John Denny (8-11 for St. Louis in 1979) and southpaw Bob Owchinko (6-12 for San Diego).
Those two are being counted upon as regular members of the pitching rotation, along with another southpaw, Rick Waits (18-13), who is expected to remain the ace of the staff.
No fewer than four others will be trying to nail down spots in the rotation, though probably all will be used by Garcia as both spot starters and relievers.
They're Wayne Garland (4-10), trying to make it all the way back from rotator cuff surgery two years ago, Len Barker (6-6), Mike Paxton (8-8) and Dan Spillner (9-5), who blossomed after earning his way out of the bullpen and into the starting rotation last year.
The relief corps will be headed – and ably so – by southpaw Sid Monge (12-10 with 19 saves). Victor Cruz (3-9, 10 saves) and/or Sandy Wihtol (5-5, 16 saves at Tacoma) also will work out of the bullpen.
Garcia is hoping the Indians will continue to be one of the AL's more-productive teams offensively, despite having traded Bobby Bonds (.275, 25 homers, 95 RBI) to the Cardinals for Denny and outfielder Jerry Mumphrey, who subsequently was swapped to the Padres for Owchinko.
They signed Jorge Orta (.262 for the Cbisox) as a free agent. Orta is ticketed to take over for Bonds In right, even though Orta always waa considered an infielder (primarily a second baseman) and has defensive problems.
Another acquisition was Andres Mora, picked in the minor league draft from the Orioles after he hit .344 with 23 homers and 102 RBI at Saltillo of the Mexican League last season. But Mora, too, has defensive shortcomings, which was a factor in his inability to stick In earlier trials.
Otherwise, the Indians' outfield will be manned by Rick Manning (.259) in center and Mike Hargrove (.325 in 100 games after coming to Cleveland from San Diego last June 14) in left.
Andre Thornton (.233, 26 homers, 93 RBI) is expected to provide most of the power again as the first baseman, along with designated hitter Cliff Johnson, who slugged 18 homers and drove in 61 runs while hitting .271 in 72 games after the Indians got him last June 15 from the Yankees.
Second baseman Duane Kuiper (.255), shortstop Tom Veryzer (.220) and third baseman Toby Harrah (.279, 20 homers, 77 RBI) round out an infield that must be rated as above-average.
Behind the plate – a defensive liability for the Indians in 1979 – will be one of three catchers, all of whom Garcia hopes have improved, though that optimism remains to be proved.
The three catchers, none of whom took charge in spring training, are Ron Hassey (.287), Gary Alexander (.229) and Bo Diaz (.156).
Bosox good enough to be good enough
By Larry Whiteside, Boston Globe
BOSTON – They have been here so many times, the Red Sox know it will not be easy.
The 1980 lineup is just as talented. The pitching is adequate, maybe a little better. This is basically the same club that every year scares the heck out of everybody in the A.L. East, yet somehow never wins.
This is the same team that in' 1979 won more than 90 games for the third straight year... and wound up third. That the club has been picked fourth and fifth in some preseason polls is irritating. But people nave said that about the Red Sox in the past, and they're still better than most clubs.
"I never make predictions," says Don Zimmer, the Red Sox manager. "But I'll tell you one thing: this is a good club... a club that ought to win. We've got a club that is supposed to win and we'd better not be 35-35 in July, if yon know what I mean.
"I'm not saying this means we have to win a championship. But nobody knows better than me what it means for us to get off to a good start. If we don't win, somebody has to pay the consequences and I think I know who it is."
They have been at this junction the last four springs, really, and if you ask' people if the Red Sox have enough to win, the answer will always be a "definite maybe."
They remain the glamor club of the A.L. There is Fred Lynn, the league batting champion; and Jim Rice, who has had more than 200 hits for the last three years. Their name players are guys who have been or should be on All-Star teams... Carl Yastrzemski, Jerry Remy, Rick Burleson, Dwight Evans, Butch HobsOn and a 35-year-old kid from the N.L. who likes to be called Tony (Perez).
There is Mike Torrez, Dennis Eckersley and Bob Stanley three of the better pitchers in any league. Remember Skip Lockwood, who until a year ago was the ace of the Mets' bullpen? Well, he'll be in Fenway Park this year, hoping to fill the void left by the collapse of Bill Campbell.
So why are they not favored? After all, this team won 91 games in 1979, 99 games in 1978 and 97 games in 1977 – all under the helm of one Donald Zimmer.
"Because you tell people that we play in the toughest division in baseball and they don't believe you," Zimmer said. "Last year, I was honest when I said the teams were so good that it was doubtful that anybody would win over 95 games.
"Baltimore, Milwaukee, New York, even Detroit. We're all so evenly matched. I was wrong. Milwaukee won 95 and didn't win because the Orioles had 102 victories. I don't think it'll take that many to win again this year, but if it does, we'd better win 103."
They have been here before and, if you're looking for reasons why the Red Sox might not win enough games, there are plenty.
The biggest one is catcher Carlton Fisk. He started just 35 games last year and spent five weeks of spring training just tuning up his injured right elbow.
A healthy Fisk in 1975 was the difference between a pennant and second place – on his ability to handle pitchers alone. In 1977, he hit .315 and the Sox finished in a tie for second, 2½ games out. In 1978, they finished a game behind the Yankees, losing on the final day of the season in a one-game playoff. Last year, Boston finished 11½ games out and two of the three men who tried to fill in for Fisk – Bob Montgomery and Mike O'Berry – are no longer with the club.
To put it bluntly, the Sox must have a healthy Fisk or reshuffle the entire deck.
"You're not just talking about an ordinary athlete, said Zimmer. "He's a man who, if healthy, is one of the best in so many areas... hitting, catching, throwing, handling pitches, even running the bases. I can't begin to tell you what a big plus it would be if he were available."
Fisk did practically everything imaginable in the first five weeks except play. He said he yielded to pressure a year ago and probably came back too soon because of it. This year, he refused to make the same mistake.
'Senor Smoke' keys Detroit's pitching hopes
By Tom Gage, Detroit News
Where there's Smoke, there might even be fire this year for the Detroit Tigers.
Senor Smoke, that is.
Relief pitcher Aurelio Lopez goes by that nickname and he is the Tigers' secret weapon as they head into the 1980 season.
Lopez is the difference between a good bullpen and one with nothing but holes for Detroit. He has to be healthy, stay healthy and perform as he did last year for the Tigers to contend in the A.L. East.
And if you haven't heard of Aurelio Lopez, don't worry. Smoke has been with Detroit for one season and pitched effectively only after Sparky Anderson took over the club as manager in June.
But from June on Lopez appeared in 47 games for Anderson. He won 10 and saved 21, with a 1.87 earned run average. No wonder Sparky didn't mind when Lopez reported to spring training 10 days late. The pudgy right hander can do no wrong in his manager's eyes.
"He was Mr. Everything last year,'' Anderson said. "I didn't know much about him when I arrived, but I soon found out. If he can come close to those figures again, we're sitting pretty."
The Tigers made another pitching discovery last year. Jack Morris, who was sent to Evansville of the American Association at the start of the season, bounced back from the demotion with a 17-7 record, tying Dennis Eckersley of the Bosox and Steve Comer of the Rangers for the most victories by an American League righthander.
Despite Lopez and Morris, pitching is the question mark for Detroit – despite an offseason deal that sent Ron LeFlore, the Tigers' most exciting player, to the Montreal Expos for southpaw Dan Schatzeder.
It all starts in the arena, Sparky likes to say. "The mound is the arena and that's where it is won or lost," the manager said. "If our pitching comes through the way we hope, we will be contenders. If not, there's no chance."
Schatzeder is being counted upon for at least 15 victories. The other starting spots belong to veteran Milt Wilcox (12-10) and Dave Rozema, who is trying to rebound from two straight summers of shoulder problems. Rozema was 4-4 last season.
The wild card in the picture – a description that fits him – is Mark Fidrych. The Bird was sent back to Evansville on 24-hour recall last Saturday, complaining of a sore shoulder that sidelined him for most of last season. But the Bird will be back – he says.
"Hey, this ain't the end of the world, you know," said the 6-foot-3 right-hander. "I'm not wild about it, but if that's the way we gotta do it, let's do it."
Fidrych's bid for a comeback was deterred, in part, when he strained a muscle under his right arm – an injury unrelated to last year's sore shoulder.
Fidrych has won only eight games since 1976, the year he captured the spotlight, but Anderson feels confident about the Bird's eventual return.
One other pitcher is important for the Tigers this spring. A return to form by John Hiller (4-7, 5.22) would not hurt.
The departure of LeFlore creates voids in center field and on the bases. The center fielder for more than five seasons, LeFlore had 78 stolen bases last year – the most for a Tiger since Ty Cobb.
"We'll miss him," said shortstop Alan Trammell. "He made things happen for us. No one denies that."
Two rookies, Kirk Gibson and Dave Stegman, will platoon in center. They have played a total of 32 major-league games between them. However, Gibson – a two-sport sensation at Michigan State – carries a "can't-miss" label and a big buildup from Sports Illustrated. That didn't help Kansas City's Clint Hurdle a few years ago, though times have changed.
Richie Hebner at third base is the other newcomer. The onetime Phillies' first baseman was handpicked by Anderson as an acquisition from the Mets after Hebner loudly demanded to be traded from New York.
"I needed someone who's been through the wars," Sparky said. "Richie has been on winning teams and knows what the fight is like."
George plugs up holes, rebuilds Yanks
By Phil Pepe, New York Daily News
NEW YORK – Any resemblance between George Steinbrenner and the little Dutch boy who put his finger in the dike is purely ridiculous. Yet, for those with extraordinary vision that allows them to read between the pinstripes, there is a similarity.
Steinbrenner, the Yanks' owner, put his finger In the dike when the club began to spring a leak last season. It was a litany of tragedy, disappointment and disaster.
Defending their world championship, the Yanks actually lost the pennant on April 19 – the day Cliff Johnson took some extracurricular swings at relief pitcher Rich Gossage in the shower. The result was a torn ligament in the right thumb of the American League's best reliever.
It not only sidelined Gossage for most of the season, it ended the Yanks' three-year reign as American League champion. Without the Goose to come out of the pen and blow away hitters, they were not the same Yankees.
The year continued in that negative vein, punctuated by the trading of center fielder Mickey Rivers, reaching rock bottom with the airplane crash that took the life of captain and catcher Thurman Munson and climaxing in Billy Martin getting fired after punching out a marshmallow salesman in the lobby of a Minneapolis hotel.
Obviously, there was work to be done, repairs to be made, holes to plug, and Steinbrenner, unaccustomed and unhappy with a fourth-place finish, went right to work.
To replace Martin, Dick Howser was signed off the campus of Florida State University, where he had gone after ' an eight-year malor-league playing career and 10 years as Yankee third-base coach. The move was hailed by Yankee players and other baseball people.
That was a start. To plug the hole left by Munson, Steinbrenner stuck in his little finger and came up with Rick Cerone from the Blue Jays.
The price was high – Chris Chambliss, the popular veteran first baseman. But Cerone, with his howitzer arm and 61 RBI, was deemed the best man available.
For the hole In center left by Rivers, Steinbrenner stuck in his index finger, swinging a four-for-two deal that brought young Rupert Jones, who covers center field with the best of them, steals bases (55 in two seasons in Seattle), plays every day and hits home runs (24 in 1977, 21 in '79).
That left two holes – a right-handed power hitter and some bullpen help, especially left handed.
Steinbrenner stuck his thumb in the dike and came up with a masher named Boo Watson, a .299 hitter over 11 seasons. Then he put his middle finger in the dike and reclaimed lefty Rudy May, a Yankee from 1974-76 but most recently 10-3 with Montreal, used primarily in relief.
Tom Underwood, another lefty, had come in the Cerone-Chambliss deal. Ed Figueroa was bouncing back from elbow surgery and there were still such standbys as Ron Guidry, Tommy John, Willie Randolph, Bucky Dent, Graig Nettles and Lou Piniella.
What you have is a team that had been repaired, a team that can compete. It might not necessarily win, but it could compete. The Yankee players, themselves, sensed it.
"It's no secret we were weak in three spots," Guidry said, "and we filled them with guys who are good ballplayers."
Perhaps the most optimistic scene in the Yankee camp this spring was the attitude and enthusiasm of Reggie Jackson. Two days late, Jackson was fined $500 a day. He accepted the fine willingly. Not only that, he added another $1,000 and donated it to high school sports in New York as evidence of his Interest in the city in which he is playing.
Starting his fourth year as a Yankee, Jackson had reached veteran status. Only six players remain who were here when he joined the Yankees amid turmoil and turbulence.
But there was a sense of calm about him this spring and an enthusiasm that was not there before. The unspoken reason might have been the absence of Martin who, despite bis managerial genius, created an atmosphere of tension.
Howser ran the camp with calm and gentleness. He nad an easy way with players, a low-key approach, and it seemed to rub off on Jackson, to make him more at ease.
"This is the most excited I've been for a season in a long time," Jackson said. "My numbers were good last year (.297, 29 homers, 89 RBI), but I missed 30 games ana we finished fourth. The only thing I proved is that I could almost hit .300."
Now there is a lot more to prove. The pride of the Yankees was bruised by their fourth-place finish. This year there is something to prove. It could make baseball fun again in New York.
Angels are armed to handle defense of A.L. West title
By Dick Miller, Los Angeles Herald Examiner
PALM SPRINGS, Cal. – It is entirely possible that the California Angels, the finest collection of millionaire athletes Gene Autry's money could corral, won the A.L. West last year not in spring training or on the playing field at Anaheim Stadium but at Desert Springs Hospital in Las Vegas.
Keith Kleven of Las Vegas, the noted physical therapist, should have been voted a full share of the Angels' Western Division title loot last season for his work with pitcher Frank Tanana.
Kleven apparently has salvaged the career of Tanana, whose left arm was once compared to Sandy Koufax's but which by the summer of 79 could be more accurately compared to the Venus De Milo's.
Tanana is the key to the Angels' suspect pitching staff, the only left hander in a five-man rotation. There is no question about manager Jim Fregosi's attack.
With AL MVP Don Baylor leading the way with 139 runs batted – he also scored 120 runs and hit 36 homers – the Angels scored 866 runs last season. No major league team has scored that many runs in 15 years.
With the acquisition of outfielder Al Cowens and shortstop Fred Patek from Kansas City, there is no reason to suspect the attack won't be devastating again.
So it gets down to pitching – or lack of it. And that's where Kleven comes in.
Tanana's season, and perhaps career, appeared to be finished last season when he went on the disabled list July 9. A chronically sore shoulder – the pain, he said, was excruciating – prevented Tanana from lifting his arm at times.
But Tanana discovered his personal Lourdes – after being advised to meet Kleven.
Under Kleven, Tanana underwent a strenuous program which led to his Sept. 4 return.
That dramatic comeback should qualify as a made-for-TV movie because Tanana was the winning pitcher – on a five-hitter – when the Angels defeated Kansas City 4-1 for their first title in 19 years.
In winning the West by three games over the Royals, the Angels had to overcome 47 injuries, a mediocre season by reliever Dave LaRoche and inept play from four shortstops who combined for 42 errors.
To fill the void at shortstop Patek was signed as a free agent and Todd Cruz was obtained from Kansas City in the Cowens deal for first baseman Willie Mays Aikens.
Patek will be surrounded by one of the finest infields in baseball – offensively and defensively.
Rod Carew, the seven-time A L. batting champion, had, for him, an off season in 1979 when he batted .318. But Carew is fully recovered from torn ligaments in his right thumb.
Carew was batting .355 when he was injured on June 1 and missed the next 6½ weeks, his comeback also hampered by tonsilitis.
Second baseman Bobby Grich led the Angels in standing ovations last season, his best since coming up with the Orioles in 1970. He batted .294 with career highs of 30 homers and 101 RBI and was magnificent in the field.
An insurance company should hire third baseman Carney Lansford as their spokesman. He's one of the good hands people, making only seven errors in 157 games last season.
Baseball people think Lansford, at 23, is on the verge of greatness. He's the fastest runner on the Angels, despite his 6-foot-2, 195-pound build. In two years in the majors, Lansford has a .290 batting average with 27 home runs and 131 runs batted in.
Manager Jim Fregosi plans to go with two catchers, Brian (The Incredible Hulk) Downing and Tom Donohue. Downing was the top right-handed hitter in the majors at .326.
The outfield is solid, although two players – Joe Rudi and Disco Dan Ford – are question marks. Rudi suffered a torn Achilles tendon in his right leg last Aug. 15, forcing the left fielder to miss the remainder of the season.
Center fielder Rick Miller, a Gold Glove winner in '78 and a .293 hitter last season, faces a fight to retain his job. Fregosi had planned to move Ford to center and install Cowens (.295, 9 HR, 73 RBI in an injury-filled season last year) in right.
A five-hour operation on Ford's knee over the winter makes Fregosi's decision more difficult since Ford has not been running well.
Miller also faces challenges from veteran Larry Harlow and talented rookie Bob Clark. Ralph Garr, a National League batting champion, probably will be the left-handed pinch hitter, replacing the departed Aikens.
Baylor is the Angels' designated hitter with occasional shots in the outfield.
When Nolan Ryan played out his option and signed with Houston at $1 million a year, G.M. Buzzie Bavasi said he could replace Ryan.
For $2.4 million of Autry's money, Bavasi signed free-agent Bruce Kison, a 13-6 pitcher for the world-champion Pittsburgh Pirates who can start and relieve.
Two ex-Phils key 'sneaky' Sox
By Joe Goddard, Chicago Sun-Times
CHICAGO - The rest of the American League isn't supposed to know about this, but the Chicago White Sox are planning a sneak attack in 1980 – after having sneaked up on no one but themselves last year.
Now that that's out of the bag, how does Manager Tony LaRussa, the young lawyer who took over from Don Kessinger early last August, intend to pull his surprise?
Defense, for one thing. He is certain that having Phillies' castoff Jim Morrison from the start and having Alan Bannister, another Phillies' reject, back at shortstop will tighten the porous infield.
Morrison not only made plays at second that were reminiscent of Nellie Fox, but he hit 14 home runs after coming over July 10 for pitcher Jack Kucek. Morrison hit 36 homers last season if you include his half-season with the Phillies' top club at Oklahoma City.
Bannister, one of the league's better No. 2 hitters with his bat control, was a lame-armed left fielder a year ago but made enough improvement from 1978 shoulder surgery to be brought back into the infield for '80.
LaRussa also expects rookie Harold Baines (22 homers with Iowa to improve the outfield. Baseball's No. 1 draft choice in 1977, Baines is from St. Michaels, Md. Because he has come along nicely, the Sox believe they have one of the league's better outfields with two-time All-Star Chet Lemon in center and Claudell Washington in left.
Lemon (.318, 86 RBI) and Washington (.280, 66) are expected to respond under LaRussa. Lemon walked out on the team for two days last season over what he believed was lack of appreciation by his teammates and broadcasters Harry Caray and Jimmy Piersail.
And Washington? Some days, he just doesn't feel like playing.
But mostly, LaRussa sees the Sox sneaking up on opponents from the left side of the mound. His entire rotation throws from the "wrong" side: Ken Kravec (15-13), Ross Baumgarten (13-8), Steve Trout (11-8) and Rich Wortham (14-14). Only Kravec, at 28, is older than 25.
The Sox are not fearful that foes will start "timing" southpaw pitches game after game. "We all throw differently. It's not as if they can hit heat one day and expect to see heat again the next," said Baumgarten, a Whitey Ford-type who gets by on off-speed pitches and guile and was last summer's left-handed rookie of the year.
"I remember when the Cleveland Indians won the 1954 pennant without a single left-handed starter and no one made a big issue of that," said f (resident Bill Veeck, defend-ng the all-lefty rotation.
There are too many iffy areas for the Sox to be seriously considered as contenders. Catching, for one. There were four candidates, none of whom caught more than 33 games last season. Mike Colbern (.262, eight homers at Iowa) has the inside track.
The Sox were so nervous about Bannister they invited five other shortstops to camp, including last year's man, Greg Pryor, who can't hit for average with Bannister (.285) and doesn't have his speed.
Third base is another question. For the first time, Kevin Bell owns the bag. He has had at least one injury in each of the last four years, however, and if Bell can't answer the bell, Morrison will be moved from second.
Morrison used to play third in the Phillies' organization where he was frozen behind Mike Schmidt.
If that should happen, then second base will be a problem. Perhaps Harry Chappas, a 5-foot-3 shortstop, will inherit it – whether he likes it or not. There are not many things Chappas likes.
First base is no problem. If LaRussa decides to go with Lamar Johnson (.309), the offense improves. If he uses Mike Squires, the defense improves. Squires was second in Gold Glove voting to Cecil Cooper of Milwaukee a year ago.
Mariners make their pitch to move up
By Hy Zimmerman, Seattle Times
The Seattle Mariners, truly sound on the mound and with more depth all around, are awash in optimism. The team that finished sixth in the American League West last season is murmuring of third place.
Now in their fourth spring, the Mariners went to camp with five starting pitchers: Mike Parrott, a right-hander who won a record 14 games; Rick Honeycutt, who won 11; Floyd Bannister, a southpaw who won 10; Rob Dressier, who finished at 3-2 after leaving the bullpen, and Jim Beattie, acquired from the Yankees in the trade for outfielder Rupert Jones.
And short relief was set. Right-hander Byron McLaughlin led the club with 14 saves and a 7-7 record. Lefty Shane Rawley, out for a long stretch with an injured thumb, saved 11. They are two of the better firemen in the league.
Also Rick Anderson, another body in the Jones deal, was 13-3 at Columbus of the International League and much is expected from him. That's eight jobs apparently apportioned, with 13 pitchers battling for one or two more, depending on whether Manager Darrell Johnson carries two or three catchers. He has expressed a preference for three receivers.
Catching is the most suspect position. There are two aging returnees, Bob Stinson and Larry Cox. Then there is Jerry Narron, another ex-Yankee who arrived in the Jones trade. He has a pretty good bat but cannot yet be rated a big-league receiver.
The rest of the club no longer has an expansion look. It will have better defense and as much power. You start with the deluxe designated hitter, Willie Horton.
Willie, the top DH in the A.L. and its comeback player of the year, set Mariner records wth 29 homers and 106 RBI a year ago.
Joining that attack was first baseman Bruce Bochte, who set a club batting record with a .316 average and drove in 100 runs, and third-baseman Danny Meyer, who hit 20 homers. At second, despite a thumb injury, young Julio Cruz batted .271. He is rated one of the game's better fielders.
The weak stick belongs to shortstop Mario Mendoza, who hit .198. But considering Mendoza 's defensive wizardry, he doesn't have to hit.
But who will fill the void in center, created by the trade of Jones? Juan Beniquez, yet another in the Jones' swap, will fit it nicely. He is a silken fielder who can reach the Kingdome fences.
Young Rodney Craig, who batted .385 in a 16-game fall trial, looks as if he'll crack the outfield somewhere. Then there are Leon Roberts, a proven hitter, Tom Paciorek and Joe Simpson, all returnees.
Larry Milbourne, rated one of the better utilitymen, is back. And the Mariners acquired shortstop Jimmy Anderson from the Angels in the deal for John Montague.
Gary Wheelock, one of the original expansion draftees, has had arm miseries for three springs and subsequently was farmed out each time. He appears to have his velocity back. He could wear two hats – long relief and spot starter.
When Wes Stock, the pitching coach, was asked how he would make the difficult decision of picking two men from among 13 candidates, he answered, "We won't have to make the decisions. The pitchers will do that themselves, out there on the mound."
If Craig cracks the lineup, he will be the first farm product to do so. Another youngster, right hander Greg Biercevicz, also had a chance, but came up with tendinitis.
Other youngsters are starting to push from below. Dave Henderson, Seattle's first draft pick, has impressed greatly but needs another year on the farm to become better acquainted with curve balls.
The Mariners thus will start the season on an upbeat note. Despite some public-relations gaffes and continuing rumors of sale of the club, the season-ticket sale is up.
The best compliments paid the club come from other teams. Buzzie Bavasi, watching the Mariners play his Angels in an exhibition game, said "The Seattle club has come along real fast. They've got a good pitching staff."
Rangers are deep, maybe too deep, in quest of West
Special to the News Journal
The Texas Rangers are a team deep and talented, loaded with productive bats and a bullpen that makes most teams envious. They are also a team with suspect fielding in several areas and iffy starting pitching.
That condition prevailed last year, too. And despite another winter of trades and tirades, it is unchanged. The AL. West is still a division for the taking, but it is questionable whether the Rangers are improved enough to take it.
Another possible impediment to improving upon last year's third-place finish, five games back at 83-79, can also be seen as a potential plus. The team has too many name players who might end up as caddies for young thumpers.
The outfield, particularly, will be a problem. Start with Mickey Rivers in center, a superior talent who antagonized management in Anaheim and Yankee Stadium with an allegedly inferior attitude. Rivers hit .300 in 58 games as a Ranger last year. His speed, or at least his desire to steal, has diminished. After five straight years with 20 or more steals, he slipped to 10.
But what can Manager Pat Corrales, a former Phillies catcher, do with everyone else?
He must find a place for Al Oliver (.323), survivor of another winter of trade rumors. Then there are left-handed John Grubb, who hit .273 as a platoon player, and Billy Sample (.292), a 25-year-old right-handed hitter with immense potential and a need to play every day.
And there's Richie Zisk. The powerful righty slumped to 18 homers and a .262 average last year. If he returns to form, he'll probably be the D.H. And whither goest speedy Jim Norris (.246), acquired from Cleveland?
It appears that the overload won't be burdened further by the re-addition of Jeff Burroughs from Atlanta. Owner Brad Corbett's five-man deal with the Braves included Burroughs, who balked. The deal, to the relief of Grubb, Sample et al., went through without the reluctant slugger.
Pepe Frias did make it in from Ted Turner-land in the transaction, along with reliever Adrian Devine, for Doyle Alexander and Larvell Blanks. Shortstop Frias will not start, unless Nelson Norman falters.
Norman never has been an asset at the plate. Corrales will overlook the shortstop's .222 average if he fields as well as he can.
Few third baseman can field like Buddy Bell. He's no slacker at the plate, either. Bell rang in 101 RBI last year, hitting .299.
Bump Wills, who made 20 errors at second, and first baseman Pat Putnam do not provide the kind of defense the left side of the infield does. But switch-hitter Wills hit .273 and Putnam, another powerful left-handed hitter in a lineup that lists heavily to the port side, hit .277 with 18 homers.
If he hit .200, Sunny Jim Sundberg would be a Ranger plus. But catcher hit .275 and won his fourth straight Gold Glove, underscoring his value as one of the finest all-around players at his position. John Ellis is back-up and frequently the D.H. He hit .285 with 12 homers.
The best addition to the team won't be the result of any recent trade. It would be a recovery by starter John Mat-lack. Plagued by bone chips in his elbow, the lanky lefty pitched in 13 games and won five. It was a dramatic falloff from his 15 victories and 2.27 ERA the year before.
Advancing age has meant little falloff in Ferguson Jenkins' production. The 6-foot-5, 36-year-old right hander was 16-14 with a 4.07 ERA. He'll have company in the geriatric ward in Gaylord Perry, acquired from San Diego for Willie Montanez. Perry is still a robust righty, as his 12-11, 3.05 record in part-season duty with the woeful Padres indicates.
Steve Comer, 26, was last year's staff ace. A right-hander. Comer was 17-12, 3.68. Righty Doc Medich (10-7, 4.17) is set in the rotation.
Battling for a regular spot will be John Henry Johnson (2-6 with Texas) who has the advantage of being a lefty; and right-hander Danny Darwin (4-4, 4.04).
Add to the Ranger dramatics the return of the prodigal pitcher – David Clyde, the Texas schoolboy sensation.
When these guys falter, as aging Jenkins and Perry and arm-troubled Matlack and Medich might, help is on the way. Jim Kern, Sparky Lyle and Devine are a hard-to-beat relief corps.
Kern was co-Fireman of the Year in the A.L., sharing the top reliever honor with Mike Marshall of the Twins. Kern, 31, had 13 victories, 29 saves and a 1.57 ERA and 136 strike outs in 143 innings.
Complementing Kern's power is Lyle's finesse. After almost joining the Phillies in a deal sabotaged mainly by his burdensome contract, lefty Lyle, 35, is ready for another season as an out man.
But can the Rangers improve upon third place?
Royals taking new direction in '80
By Del Black, Kansas City Star and Times
KANSAS CITY - Even before the shock of not winning the American League West title for the first time in four years had subsided, the Kansas City Royals shook up things even more by firing Whitey Herzog as manager.
Many players and a multitude of fans protested the move, which also included the dismissal of the coaching staff. There were promises of never going to Royals Stadium again and threats to not renew or buy season tickets.
Jim Frey was hired to replace Herzog and, while there was still some bitterness among fans, season-ticket sales were well on the way to eclipsing the record 12,300 sold in 1979.
Frey, a 10-year veteran of the Orioles' coaching staff, was in command during spring training and almost from the start seemed to have gained the confidence of bis players.
"When you're used to winning, winning brings out character," said Frank White, Royals' All-Star second baseman who has won three consecutive Gold Gloves. "I think that once you've won, and know how to play the game well, it means you know bow to play the game.
"It also means you know how to conduct yourself in all situations concerning baseball. I think we, as a team, know that if we're going to get back to the top, we're going to have to play together, and to pull for everybody on the ball club, including the manager.
"And I think he's (Frey) going to have to pull for everybody on our club. It's a two-way street and If you meet each other halfway, things are going to be all right."
White was one of the Royals who believed a change of managers was in order, saying: "The way people were talking – if as many people were unhappy as it seemed – I think the change was for the best.
"I feel that a lot of times, when a manager comes into a situation like this and you are a winning ball club, I think he might have expected some adversity from some players. But I think he found that to be different, and I think by finding that out, he's more relaxed, too.
"Winning solves a lot of things. You never know who the right manager is for a ball club. You just hope you have enough character in your ball players to overcome whoever's running the ball club – whether he's doing a good job or a bad job.
"The manager can't win games for you. All he can do is make them a lot harder to win or a lot easier to win."
How easy the Royals find it to win this season will depend on a pitching staff that, en masse, had an off-season in 1979.
Dennis Leonard, Paul Splittorff and Larry Gura are established starters but are coming off performances of 14-12, 15-17 and 13-12, respectively. Even with this mediocrity, the Royals might have made up their three-game deficit to California if Rich Gale, the A.L. rookie pitcher of the year in '78, would have performed up to par.
Gale, a 6-7, 225-pound righthander who was 14-8 despite arm trouble in '78, slumped to 9-10 last season and didn't win a game after Aug. 1.
Gale had an impressive spring, seemingly correcting his mechanics, and will be the key in the Royals' starting rotation. Craig Chamberlain, also right-handed, is expected to be Frey's fifth starter. Chamberlain, 23, was 4-4 after reporting to the Royals in August of last season.
The bullpen is an area of concern but only because of inexperience. The loss of Al Hrabosky, who was an erratic 9-4 with 11 saves, to free agency wasn't mourned too long.
Another left-hander, Steve Mingori, was released. That leaves Renie Martin of Dover, Del., and Dan Quisenberry, both right-handers, as the key short men in the bullpen. Another rookie of a season ago, Gary Christenson, is being counted upon to be the left-handed reliever.
With Frey intent on using a four-man starting rotation. Chamberlain will be counted upon as a spot starter and long reliever. Marty Pattin, the 37-year-old right bander, probably will be a long reliever and spot starter.
Kansas City's only major offseason deal was a dandy and one that is expected not only to solidify an every-day lineup but provide vital power hitting.
First baseman Willie Mays Aikens was acquired, along with shortstop Ranee Mulliniks, from California for right fielder Al Cowens, shortstop Todd Crux and a player to be named later.
Although playing in only 116 games, Aikens hit 21 home runs and drove in 81 runs for the Angels in 1979.
With Cowens gone, Clint Hurdle, 22, will be in right field, a position he played brilliantly in the minor leagues. Since coming to the majors three years ago, Hurdle has been snuffled from first base, to left and into general confusion while being pressured to be the "instant superstar."
Not only will the Royals have added power with Aikens and Hurdle, both left-handed hitters, but they will have a set lineup. The last two seasons they platooned Pete LaCock and Jon Wathan at first base.
White at second, George Brett at third and catcher Darrell Porter are coming off All-Star seasons. U.L. Washington won the shortstop job from Fred Patek, gone to California through free agency.
Willie Wilson, coming off 83 stolen bases and batting .315 but not starting until May, will be in left. Amos Otis, the top defensive center fielder in the league last season with only three errors, adds a veteran's touch to the outfield.
Hal McRae, plagued throughout last season after undergoing shoulder surgery in December of 1978, is swinging the bat with the authority that made him one of the top designated hitters during the Royals' domination of the West.
"I still believe we are the team to beat in our division," said Joe Burke, the executive vice president and general manager who had the guts to fire Herzog after two runner-up finishes sandwiched around three West titles.
Frey won't go out on the limb and talk in "team-to-beat" terms, but he is confident the Royals will bounce back.
"Our pitchers all had off-years at once," he said. They've proved they're winners and nave been outstanding most of their careers.
"Aikens will give us power. Porter, White, Brett and Otis are among the best in the majors. Wilson proved he can play and should get better. Given a chance to play every day, Washington and Hurdle will mature.
"I think we'll have an excellent ball club."
Twins' pluses still don't add up to flag
By Bob Fowler, Minneapolis Star
BLOOMINGTON, Minn. – A team that has a potentially All-Star left fielder, a standout infield, two quality left-handed starting pitchers, a top reliever and a very productive offense should be a contender in its division.
Well, the Twins have all that and more, yet they may prove to be also-rans again this season.
Once again, Minnesota must replace a quality player who defected as a free agent. This time it's Dave Goltz, who got a $3-million contract from the Los Angeles Dodgers.
"Replacing the Dave Goltz who won 20 games two years ago would be difficult," said Manager Gene Mauch. "However, we should be able to replace the Dave Goltz of 1979."
While Goltz was only 14-13 last season, be started 35 times. Who can do that? Well, Mauch has nominated Pete Redfern, 7-3 last year as a middle reliever, and Darrell Jackson, 4-4, to share the job.
Thus, the manager said he'll have a five-man starting rotation. Jerry Koosman (20-13) and Geoff Zahn (13-7) are two very capable left-handers, and Paul Hartzell (6-10) or Roger Erickson (returning from elbow surgery after a 3-10 season) will be the fifth man.
Once again, the Twins will spell relief Mike Marshall. In a record-setting 90 appearances, he had 10 victories and 32 saves.
"Mike's a year older (37) but I believe he'll be better this year," Mauch said. "He was hurting last year and I didn't know about it until after the season. He's healthy now."
Those pitchers, plus Doug Corbett, who was 3-6 with eight saves at Indianapolis and will replace Redfern as the bullpen's long man, should determine the Twins' fate in 1980. If the pitching holds up, it can win its first American League West title since 1970 because it has an exceptional offense and defense.
For instance, the Twins hit .278 as a team last year and set a major-league record for double plays. And, as Mauch pointed out, "We have the same people back."
Catcher Butch Wynegar, starting his fifth season, hit .270 with 57 RBI and Mauch said, "He's going to be our most improved player."
Then Mauch added, "I've seen a lot of teams like this one, filled with young players. Suddenly, one day they come to the park and realize they're ready to play up to their potential. This could be the year that happens to this club."
Indeed, it is filled with younger players. Most of Minnesota's regulars are between 24 and 28.
First baseman Ron Jackson (.271, 68 RBI) set a club fielding record. Second baseman Rob Wilfong hit .313 and raised his RBI total in his third year from 11 to 59. Roy Smalley was an All-Star shortstop while hitting 24 homers and knocking in 95 runs.
Third-baseman John Castino (.285) was a co-winner of the Rookie of the Year award because of bis spectacular defensive play. Veteran Mike Cubbage (.276) also can play third or first, while Bobby Randall (.246) can platoon at second.
Ken Landreaux hit .305 with 15 homers and 83 RBI in his first full season and Mauch said, "I want to leave him in left field because he's going to become the best in the league at that position."
Thus, Rick Sofield (.301) and Dave Edwards (.249) will platoon in center, while Hosken Powell (.293) and Bombo Rivera (.281) will share right field.
Mauch will platoon his designated hitters, too. He has Glenn Adams (.301) and Danny Goodwin (.289 with 27 RBI in 58 games) as left-handed hitters and Pete Mackanin and Gary Ward (.286 in 10 games) from the right side. Mackanin is returning after playing only 13 games last year for the Phillies because of an elbow injury.
"One weakness we have is power," Mauch said, referring to the club's 112 homers. "But I think that will improve, too, with our maturity. Still, the deciding factor will be the pitching."
A's biggest draw is Billy Martin
By Tom Weir, Oakland Tribune
OAKLAND – With every other baseball team, the talk is about the players. Can this guy finally win 20 games? Can that guy hit 30 home runs again?
The one exception is Oakland. Talk to any player and it's as if the team expects its biggest winner to be a guy who will never hit or throw a pitch.
Billy Martin. West Berkeley Billy, one of the toughest kids ever to come out of the Oakland area's toughest neighborhoods.
The A's collection of youngsters talks about Billy the way the 1977 gang spoke of Vida Blue, when Blue was the only big-name player on a roster filled with rookies and unknowns. And Martin doesn't mind the role. If they have to have someone to believe in, Martin is ready.
"They say managers don't win ball games," said Martin at the team's training camp in Scottsdale, Arizona, "but I fill out the lineup card every day, don't I?"
This year's lineup card will read much the same as last year's, when Oakland dropped 108 games while finishing last in the American League West. The team's winning percentage was the second-worst in the major leagues.
Vet everyone in camp will put on a straight face and assure that times won't be so bad this season. History seems to be on Martin's side. Forget his tenure with the talent-loaded Yankees. The relevant comparison is Martin's first full season with Texas.
He transformed a last-place team nearly as young as this edition of the A's into a second-place team, and picked up the Associated Press award as manager of the year. Martin's key tool for the transformation is a staff of starting pitchers that is the youngest in baseball.
Rick Langford, 28, was 12-16 last year while enduring a flock of heart-breaking one-run losses. The record is deceiving, as is proved by the constant talk from other managers that Langford is one pitcher they would love to get.
Brian Kingman, at 25, finished as Oakland's only over-.500 hurler with an 8-7 mark in half a season. And he accomplished that with a chunk of glass in his hand that wasn't discovered until a surgeon went probing in the off-season.
Steve McCatty also was called up late and finished 11-12 at the age of 25. Mike Norris, now 25, was a disappointing 5-8 after having the best spring training ERA in the majors. He had a perfect 0.00 earned run average through the first month of exhibitions this year, indicating his control problems may be solved.
Finally, there is Matt Keough, who hopes his 2-17 record is a nightmare that's over. He was an All-Star player for Martin in 1978 when he had the league's second-best ERA at the break.
Oakland's hitters have had the league's worst team batting average for the past three years. Part of that can be contributed to the Oakland Coliseum being a bad hitter's park. Even in the world championship years only three players hit .300.
But there's no built-in excuse for the statistic that has followed the players onto the field, where they have also have had the league's worst fielding average for three consecutive seasons.
The offensive machine Martin must revive is designated hitter Mitchell Page, the team leader in virtually every category in '77 and '78 before falling off to .247 with only nine homers and 42 RBI last year.
First baseman Dave Revering took over for Page last year, leading the team in average (.288) and RBI (77). The biggest offensive void is right-handed power, which was provided in 1979 almost solely by catcher Jeff Newman's team-leading 22 homers.
As a rookie, Rickey Henderson came up late and hit .274 while stealing a team-high 33 bases. He could be good for 70 or more this year, particularly considering his 81 thefts one season at the Triple-A level.
The infield should be more solidified this year because Mario Guerrero has agreed to play fulltime, despite contract complaints. Last year, Guerrero was in only 46 games while claiming a variety of injuries.
Guerrero was the club's second-leading hitter in '78. With him back at shortstop, Rob Picciolo can move to second base where Mike Edwards led the league in errors last year.
Third base remains an open issue. Lefty Wayne Gross may platoon with righty Mickey Klutts and youngster Jeff Cox, a hustler who fills the image of a young Billy Martin, may scrap and fight his way into the lineup.
The center field spot likely will go to Dwayne Murphy, a .255 hitter who was leading the league in walks before getting hurt last June.