Camden Courier-Post - July 30, 1980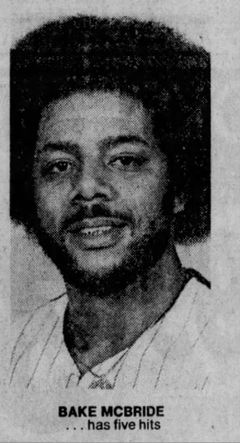 Rallies cap Phils 9-6 win
By Doug Frambes of the Courier-Post
PHILADELPHIA – If Willie Stargell had missed connections last night and was found awarding stars in the Phillies lockerroom, he would have needed a rush re-order to fill his needs.
The starriest bonnet would belong to Lonnie Smith for his role in the Phils 9-6 victory over the Houston Astros, but clusters would be required for Bake McBride, Pete Rose, Mike Schmidt and Kevin Saucier.
Maligned as a team which has trouble coming back in the late innings, Dallas Green's crew unleashed three-run rallies in both the seventh and eighth innings to record a come-from-behind victory over the West Division leaders.
AFTER MIKE Schmidt had homered with a man on board to tie the game in the seventh, the Phillies ripped into ace Astro reliever Frank LaCorte in the eighth. Larry Bowa delivered a one-out single and stole second. Houston Manager Bill Virdon then intentionally walked pinchhitter Del Unser, and Smith singled home Bowa for his first game-winning RBI in the majors.
Pete Rose loaded the bases with an infield single, his third hit of the night, and Bake McBride climaxed a five-for-five night with a two-run single to ice the game. Tug McGraw fired a hitless ninth to earn his eighth save.
Saucier's role in the nail-biter was in the top of the eighth when he relieved Warren Brusstar with Alan Ashby on third and one out. Saucier retired Dennis Walling and Jose Cruz on infield grounders to preserve the tie. The emotional southpaw left the mound gyrating like a disco dancer to the roar of the crowd of 30,252.
GETTING BACK to Smith. The exciting rookie had two hits, reached base four times, scored three runs, stole three bases and snared a couple of hard drives in the outfield to go along with his late-game heroics.
"I decided that if I got on tonight I was going to run," remarked the soft-spoken product of the farm system. "I got a good jump on Andujar and just took off. I'm beginning to learn more about getting a lead."
Saucier, who unlike many of the Phillies does not hold his emotions in check, was absolutely bubbly talking about Lonnie.
"I played with him at Oklahoma City," he said. "I know how he can run. It's fun to watch our guys doing what Ron LeFlore and Omar Moreno have been doing to us on the bases."
THE BRIGHT finish was not foretold by the dull beginning. It took an hour and 30 minutes to play the first three innings as starters Randy Lerch and Joaquin Andujar consistently were in trouble.
Lerch, who has been discussed more than even Steve Carlton this year, managed to get through his troublesome first inning, even if in an unorthodox manner. Rafael Landestoy led off the game with a walk but was cut down attempting to steal by Keith Moreland. Enos Cabell followed with a safety but Lerch picked him off first.
Art Howe, a standout all night for the Astros, homered in the second and things fell apart for Lerch in the third. Four singles and a pair of walks, one to pitcher Andujar, who was trying to sacrifice, brought in three runs and brought Dickie Noles in to hold the dam.
Trailing, 4-0, the Phillies got three back in the third, with Astro leftfielder Jose Cruz treating the crowd to a real, live instant replay. Smith singled, stole second and was held momentarily at third when Rose singled to left. Cruz then showed the power in his arm by uncorking a throw which went to the screen allowing Smith to score.
MCBRIDE SINGLED to the same spot Third base Coach Lee Elia again flashed the stop sign, this time to Rose, but Cruz once more made like a howitzer, reaching the screen for the second time with an errant throw, Moreland's single brought the Phillies to within one.
Andujar, who nearly was acquired by Paul Owens at the trading deadline, survived the shaky third but was replaced by Bert Roberge in the fifth after a single by McBride and walk to Schmidt. The reliever retired Moreland on a force play, picked Schmidt off second and popped Garry Maddox up.
Houston, playing the type of game they play so well, added single runs in the fifth and sixth on sacrifice flies by Howe and Luis Pujols to take a 6-3 lead.
Smith kicked off the three-run seventh by getting hit with a pitch, stole second and scored on McBride's fourth hit of the night. Roberge then got a pitch up to Schmidt, who rocketed his league-leading 27th homer. Then came the Saucier-Smith show and one of the Phillies brightest victories of the season.
GREEN, WHO had been kicked out of the game by umpire Andy Olsen over a ground rule argument in the sixth, had his good nature restored by game's end.
"That's what I mean by having fun," said the skipper. "You have to be proud when you can battle back like that. I was happy to see Mike get hold of one but we have to keep pushing. We can't depend on him knocking it out of the park every time. We could have folded, but we didn't. Saucier did a real big job in the eighth and I've always said that Lonnie makes things happen."
It was a drawn-out contest, but maybe down the road it may prove to be one of the most important three hours and five minutes the Phillies have spent on a ball field.