Philadelphia Daily News - July 30, 1980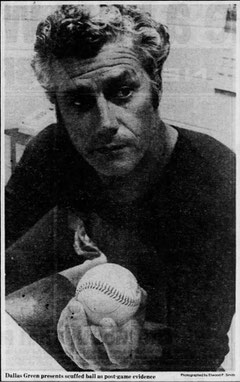 Green:  Umpires Off Base
By Bill Conlin
Integrity of the game?
What about umpires who won't ask a colleague for help – or give him the time of day for that matter – because he's one of four umpires who were hired during the strike last spring?
Fred Brocklander, a so-called "scab" in the eyes of the established umpires, was working second base last night at the Vet. Jeff Leonard led off the sixth inning with an inside-out shot down the right-field line. The ball hit something in foul territory that made it take a weird bounce back toward the infield. Leonard motored into third with a triple and the Astros had something going.
Pete Rose called time and told first base ump Andy Olsen the ball had caromed off a green-painted pipe atop the fence which runs from the end of the picnic area to the bullpen. The pipe is out of the field of play. Rose pointed out green paint on the ball and said Leonard should go back to second with a ground-rule double.
Brocklander, according to several uniformed Phillies, was told to "stay away from home and keep your mouth shut." Fred shrugged in Larry Bowa's direction and stayed put while Manager Dallas Green and Rose took their case to crew chief Doug Harvey at third base.
"Why the hell don't you send the guy home?" Rose said angrily, pointing to Brocklander.
"Harvey said there was no ground for an appeal to another umpire because Andy said he saw the play," Green said after the Phils rallied for a 9-6 victory. "That's bleep. The guy on second had a perfect line of sight on the play, but they've got this deal going that goes back to the strike and they won't ask the guy's help. Harvey, he's The Advocate, the guy who says the important thing is to get the play right. Well, they didn't get the play right and I've got six guys in the bullpen who saw the ball hit a pipe that's part of the ground rule here."
Green was ejected by Olsen, the run scored on a sacrifice fly and once more baseball justice, AFL-CIO Division, had triumphed.
Braaaaaack!
Lonnie a Fast Worker
By Bill Conlin
It is starting to happen when Lonnie Smith comes to bat now. The busy ballyard hum of 30,000 fans raises a few decibels.
When Lonnie Smith is on base, it is not a time to watch the Phanatic. Because when he reaches first base the chances are nearly 3-in-10 that he will score a run.
He scored three more runs out of the leadoff spot last night and the Phillies came back from deficits of 4-0 and 6-3 to whip the Astros, 9-6.
Smith's speed ran through the 3:05 marathon like a golden thread woven into a cheap suit. He singled twice, walked and was hit by a pitch. He stole three bases and two of them triggered three-run innings. He drove in the winning run with an eighth-inning single off tough reliever Frank LaCorte, his first big-league game-winning RBI.
It was a tremendous night for all the people who have had faith in Lonnie during his long minor-league apprenticeship, years when the physical makeup of the Phillies left no room for the swiftest offensive player to come into the organization since Rich Ashburn 33 years ago. Jim Bunning, his first Triple-A manager, will be proud when he reads the wire service accounts in the Cincinnati papers today. Pride was still glowing on the face of third base coach Lee Elia. windburn and all. Elia managed Smith the past two seasons in Okie City.
"WE WON THE whole thing once and the division title once," Elia said. "He was a big part of it."
"He's one of those rare players who can ignite a team without hitting a home run," said Dallas Green, who as farm director made Smith the Phillies' No. 1 draft choice in 1974.
Hey, Lonnie was playing with a tough cast last night. Bake McBride went 5-for-5, drove in three runs to match his career high of 61 and raised his average to.312. Mike Schmidt re-discovered the baseball fact that by hitting a home run it is impossible to get picked off a base. Schmidt flogged No. 27, a two-run shot in the seventh which pulled the Phillies into a 6-6 tie.
Smith shared top billing with bullpenners Warren Brusstar, Kevin Saucier and Tug McGraw, who held the Western Division leaders to one hit over the last three innings.
Sounds of silence came from the seats of several media types who have insisted since Lonnie's unfair, unforgettable and untimely opening-night debut last season that the kid is a baseball version of one-time Eagles flanker Frank Budd, an Olympic dash man with hands of stone.
So the kid can run, big deal, they've been saying all year. He'll never hit enough to make the speed pay off. He can run but he can't hide in the field. (Five years from now, if any of them are still working, they'll be telling their audience they had Smith pegged as a comer all the way.) Nothing is easier to climb on than a bandwagon, particularly for media types with untrained eyes who rely on ballplayers for scouting reports and couldn't recognize talent on their own if it jumped up and bit them.
ANYWAY, HERE IS Smith's night in a capsule:
•  First inning, bounces back to starting pitcher Joaquin Andujar.
•  Third inning, singles to center and steals second with Phils trailing, 3-0... Is held at third by Elia on Pete Rose's hard single to left. But Jose Cruz, apparently intimidated when Smith shows signs of running through the stop sign, unfurls a throw to the plate that sails over everybody. Lonnie jogs home with the Phils' first run. (Rose scores on a rerun by Cruz on McBride's second single. )
•  Fourth inning, walks with two outs, steals second but fails to score.
•  Seventh inning, is hit with pitch by righthander Bert Roberge. promptly steals second and scores on McBride single to left... Schmidt follows with his two-run homer.
•  Eighth inning, drives in Larry Bowa (one-out single, stolen base) with a single to left, barrel rolls into second on Rose's infield hit and scores on McBride's fifth single, a right-side bouncer with the infield up.
"I was there when he stole 66 bases in the minors," said Saucier, who picked up his fifth victory. "He makes things happen; go ask Lee Elia. He had him two seasons."
"He can be a helluva catalyst to a ballclub." Elia said. "We're down, 4-0. tonight and he steals. Down, 6-3. and he steals. And he looks like he's getting the outfielding down little bit. When he's on base he makes the infield uneasy, makes a pitcher throw fast balls instead of curves. He's also an even-tempered individual who takes success and failure the same way."
IN THE BEGINNING, 1976 in Okie City, Smith was making the jump from Class-A to Triple-A. The manager was Bunning. whose reputation as a grim, tactless perfectionist spread rapidly along the minor-league grapevine after his stormy debut in Reading.
"It started out as a shaky relationship." Smith remembers. "I tried to figure what kind of person he was by his reputation and believed it. But by the end of the season I found out he was 100 percent behind me. The main thing you heard was that he couldn't communicate with players. I found him to be forward and honest. If you weren't playing well he took you out."
Bunning, now a Kentucky state senator from the district across the Ohio River from Cincinnati, is Smith's agent. The first thing he did in Lonnie's behalf was hammer out a contract lucrative enough to make his last two seasons of marking time in Triple-A a little easier to swallow.
Smith hit .315 and .330 for Elia and led the American Association with 66 stolen bases in 1978. That was the most frustrating phase of his career, waiting for a job to open up in an outfield which appeared to be holding a 99-year mortgage. It was only a matter of time before he would run his way into a role.
HE KNOWS THAT only three knees stand between a regular job and a seat on the bench – the one which put Greg Luzinski on the disabled list until at least late next month and the two swollen ones Bake McBride is playing on.
It will be a tough decision for Green to make series if he goes into September with a rehabilitated Bull and a McBride who is still hanging tough and cranking out hits.
Next year? That decision will be tougher still.
Was it Billy Carter who said that sometimes the best deals are the ones you never make?
Ponder for a moment, if you will, Lonnie Smith for Ed Halicki.
PHILUPS: Randy Lerch started and please don't ask... The Astros, not in the habit of coughing up big leads, scored a pair off Dickie Noles to go up, 6-3... Lonnie Smith has 17 steals and seven straight. He tied Pete Rose, of all people, for the club season high with three in one game... Bake McBride is the ninth player in the league to get five hits in one game this season... Dick Ruthven vs. Nolan Ryan tonight as Phils push for a 9-3 edge in the season.
McBride Wants to Be Noticed
By Ted Silary
Bake McBride enjoyed the hitting game of his baseball life last night, lashing five base hits in as many at-bats – including four to the opposite field – with three RBI for good measure.
But if you thought that the showing Bake unveiled for the 30.000-plus fans was vintage, you should have seen the one he saved for the clubhouse.
Shortly after the final out, which McBride registered in right field, close to 30 media types swooped toward his locker as if all the spray cans lining the shelf (deodorant, hair care. Shaving cream, foot care) suddenly had decided to dispense gold coins.
Ten minutes went by without an appearance... then 20. then 30. then 40, for badness' sake.
Every so often, a Phillie on friendly terms with the acknowledged dregs of the earth (yes. there are some) would giggle and glance into the players lounge or the training, room, or even the shower in search of Bake. Only by request from desperate people, of course.
Little by little, however, the crowd thinned out as the joke wore thin and the various deadlines pressed. Thus, at 11:29 p.m., some 50 minutes after a 9-6 win over the Houston Astros had entered the books, McBride eased through the double doors to the trainer's room and entered the clubhouse proper.
"Is that a fact?" Bake joked, when informed that the multitudes, sliced to two, had been dying a thousand deaths awaiting his appearance. "I had no idea."
Actually, that was the whole idea. On perhaps his best night ever as a Phil. Bake McBride had decided to make a point.
"Yeah. I kind of figured you guys would be out here." he said, "and, yes, that is the reason I stayed in there so long.
"My feeling is that when I go 5-for-5, or make the game-winning catch or drive in the winning run, I'll give the media all the time they need. But not when I am almost ignored at all other times. Just because I go 0-for-4 or I'm in the midst of a 3-for-20 slump, that doesn't mean we can't be friends.
"EVEN IF ITS just to say hi. I'd appreciate an exchange of one kind or other. No one expects to be interviewed every day. But, damn, you don't have to stroll past my locker like I don't even exist."
Exist. Now there is a word that some Phillies feel is not even worthy of those dastardly media types.
At present, there is a suspicion that some non-talkers – the club is captained by Steve Carlton and boasts new devotees in Larry Bowa, Nino Espinosa and Ron Reed – are semi-demanding that the talkers cooperate like their teeth are being pulled.
Bake McBride got a laugh out of that one, but he didn't deny it.
"I'm not exactly sure what the feeling of the team is in general, but I have a good idea that it's very close Jo mine," Bake said.
In many ways. Bake McBride truly mirrors the Phillies. He often will lounge in the chair in front of his locker and shoot the breeze with anyone who happens to walk by, taking time out to joke with his neighbors, Espinosa and Manny Trillo. Other times, he would sooner croak than partake of the merriment.
Lord knows, baseball has not been a breeze for McBride.
His left knee was operated on in August of 1976, while Bake was still with the Cardinals, and his medical problems, alas, have come full cycle. His right knee is now the bum one, though neither can escape the modern mummy treatment.
In some other year, with Greg Luzinski healthy and a pennant race nothing more than a pipedream, the disabled list would not be out of the question.
"I HAVE A LOT of respect for Bake McBride," said trainer Don Seger. "There are many players in this game who sit out with less problems than Bake has. At this point, we're pretty darn sure that Bake is going to have sore knees right along whether it be this year, next year or several years from now.
"He has resigned himself to that fact. And adjusted."
Indeed. For the past two days. Bake has played in specially made jogging shoes that he helped to design for himself. Sure, that 40-year-old running freak down the block probably sports a near-carbon copy, but the top part does not consist of extra-tough leather.
"They have high arches and it seems like I'm walking on air," he beamed. "They are really one of a kind. I told the company two months ago what I wanted, what I thought would help my situation. So far, I know I was right I might even use them on grass.
"It used to be only one knee, but now it's both. And they are painful. This is something I'm going to have to learn to deal with throughout my career. I don't see any way out of it."
As far as seeing his way clear of a power-man dilemma, the solution was not so easy. McBride hit well in the Vet as a Cardinal and spent three-plus seasons in search of non-stop instant replays. Especially the home run replays.
LAST NIGHT WAS more like it. He went with the pitches, bagging three hard hits to left, a bloop to left and a hopping single to right in the eighth that drove in the last two runs.
"I spent lots of time here trying to over-hit, I guess you'd call it," McBride said, "trying to pull the ball over the fence. But now I know I'm not going to hit home runs on a regular basis."
Fan reaction or no fan reaction, Bake's not going to sprint to his position in right or bust butt to first on a routine groundout, either.
"No! I can honestly say that it (criticism) no longer bothers me," Bake noted, in another sensitive moment. "My feeling is, why should I try to make a special effort to please the fans when I know in my heart that I'm pleasing myself. The fans do not have to go out there. I do. So, just let me do things in a way that I know works for me."
That isn't asking too much, really. McBride is a lifetime .300 hitter and last night's splurge raised his average to .312. He has hit safely in 18 of his last 19 games for an average of .382 with 16 RBI to boot. Already, Bake has equaled his career high (61) for RBI.
Which means he's a man in demand during interview time. And he'd also like to be noticed even when he doesn't go 5-for-5.
"Yeah, that would be nice," McBride said.
His voice was soft, but the message was loud and clear.
4 Winners
There were four winners last night ti the Daily News Home Run Payoff contest. In the fifth inning of the Phillies-Astros game, Wm. Valentutonis of Willow Grove won $10 plus our tickets to a Phillies game, on Bake McBnde's single. Winners of tickets only were Ed Pushkarewicz, Paul Mendenhall and Allan Haithcock, all of Philadelphia.
To date, the Daily News has paid out $13,560.
Today's entry coupon appears on Page 57.