Corpus Christi Times - July 30, 1980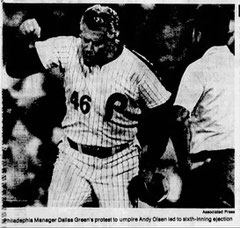 Later than usual for Astros
PHILADELPHIA (AP) – With a bullpen trio sharing 24 saves and a 1.90 earned run average, the Houston Astros aren't used to being caught from behind.
But Philadelphia's bullpen held Houston to two runs in 6⅓ innings of relief as Bake McBride went 5-for-5 with three RBI, rookie Lonnie Smith stole three bases and Mike Schmidt cracked his 27th home run to give the Phillies a 9-6 comeback victory Tuesday.
"I thought we had enough, but we didn't," said Houston's Art Howe, who drove in three Astros runs with his fifth home run of the year, a single and a sacrifice fly.
"A play here and there and we'd still be out there playing," added Howe.
Houston reliever Bert Roberge, making only his fourth appearance because of the abundant Astros' bullpen, was sailing along with a 6-3 lead when Smith, McBride and Schmidt combined to tie it in the seventh.
Frank LaCorte, one of the Astro's three dominating relievers with nine saves and a 1.59 earned run average, got Houston out of the inning without further damage, but then gave up three runs in the eighth for his third loss against seven wins.
"He (LaCorte) hasn't had that happen real often," said Houston manager Bill Virdon.
"We haven't lost too many that way, especially late in the game," said Virdon. "Ordinarily, our bullpen does a pretty good job."
Kevin Saucier, 5-3, got the win in relief, keeping the Astros from scoring in the eighth after Alan Ashby reached third with only one out. Tug McGraw pitched a hitless ninth to earn his eighth save.
"We came back, we've got to be proud," said Phillies' manager Dallas Green, who was ejected in the sixth when first base umpire Andy Olsen refused to ask for help on Jeff Leonard's lead-off triple, which the Phillies contended should have been a ground-rule double.
"We could have cracked several times and we didn't," said Green, adding "everybody contributed on this one."
"Today I Just decided if I got on base I'd try to steal," said Smith, who also scored three runs and drove in the game winner in the eighth.
McBride, who now has 61 RBI, tying his best season production ever, added a two-run single for insurance.
After Howe's solo home run in the second, the Astros picked up three more in the 3rd, chasing Phillle starter Randy Lerch with run-scoring singles by Enos Cabell, Cesar Cedeno and Howe.
Smith, subbing for injured Greg Luzinski, started the Phillies' comeback in the third, singling to center and stealing second. Houston left fielder Jose Cruz then tied a National League record for errors in one inning on consecutive singles by Pete Rose and McBride. After each hit Cruz threw over the catcher's head, allowing two runs to score. Catcher Keith Moreland then singled to center to score McBride.
Elsewhere in the National League, the San Diego Padres edged the Chicago Cubs 3-1; the Los Angeles Dodgers drummed Pittsburgh 10-2; Montreal downed Cincinnati 4-1; New York edged Atlanta 2-1; and San Francisco tripped St Louis 4-1.
San Diego's Randy Jones, the one-time ace of the Padres staff, ended a personal seven-game losing streak by scattering eight hits against Chicago.
"When the season started, I had visions of a 20-win season," said Jones, the 1976 Cy Young Award winner who hasn't had a winning season since then.
If Jones was vital to the Padres, former Corpus Christi King pitcher Burt Hooton was even more instrumental in the success of the Dodgers.
He pitched a seven-hitter for his seventh straight win and drove in four runs, three with a homer, as Los Angeles battered the Pirates.