Camden Courier-Post - June 3, 1980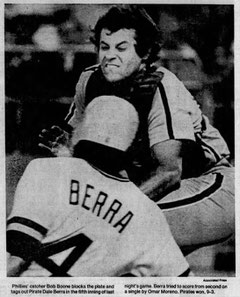 5 unearned runs kill Phillies
By Rusty Pray of the Courier-Post
PITTSBURGH – If you judge your baseball by the boxscore, what happened to the Phillies last night was nothing more than a good, old-fashioned butt-kicking – administered courtesy of the Pittsburgh Pirates.
As 25,689 Three Rivers Stadium customers looked on in amusement, the Bucs embarrassed the Phils, 9-3, then humiliated them with five stolen bases, a single-game high. The "Fam-i-lee's" fun included 11 hits, three for extra bases and a two-run single for the pitcher, Don Robinson.
But the Phillies' fourth loss in the last five games was not a rout in the true sense of the word, not really. Indeed, it came as a direct result of one nightmare inning that featured a walk, a wild pitch, a stolen base, four hits and three Phillie errors, two by Mike Schmidt.
"DEFENSE ONLY hurts you when it adds up on the scoreboard," said Phillies Manager Dallas Green. "You can make three errors in a game and not have them hurt you. Tonight, we didn't get a very good pitched game and we didn't play good defense. We gave them their breaks on defensive mistakes and pitching mistakes."
Until the fateful fifth inning, when the Pirates would score five unearned runs to take a four-run lead, things had been going well enough. The Phils had knocked Robinson around early, bunching seven of their eight hits into the first three innings to give starter Randy Lerch a 3-2 lead.
Lerch, who broke a personal seven-game losing streak over the last two seasons and won his first game of the year last week against the Pirates, found himself in fifth-inning difficulty when Lee Lacy opened with a double and went to third on a wild pitch. With the infield up, Lerch got Steve Nicosia to line to second baseman Manny Trillo for the first out.
THAT, HOWEVER, is when the strange things that always seem to happen when Lerch is on the mound began rearing their ugly heads. Lerch first walked No. 8 hitter Dale Berra on a 3-2 pitch, not a complete disaster, since it set up a potential double play with Robinson the hitter.
With Lerch winding up and Lacy darting off third, Mike Schmidt feinted to keep Lacy close. But Schmidt made his move toward the bag just as Robinson hit a hard ground ball directly at Schmidt. It hit his glove, bounced away for an error, and Lacy scored ahead of Schmidt's desperation throw to catcher Bob Boone.
"The guy is running on contact," said Green. "And the guy can run. Schmitty would've had to make a helluva play to get him."
BUT HE didn't and, perhaps, Lerch lost some of the "demeanor" Green had been talking about last week. Whatever, Omar Moreno, who stole a personal single-game high four bases, Vance Law and Dave Parker got consecutive hits.
That wasn't all. With Lerch now gone and Lerrin LaGrow on the mound, Schmidt made a throwing error on a slow bouncer by Bill Robinson that allowed two more runs to score. It was the inning's third error, the second coming when right fielder Bake McBride misplayed Parker's ball into a double.
The Phils went down quietly after that, Robinson retiring 16 of the 18 batters he faced between the third and ninth innings. Larry Bowa opened the ninth by reaching first on an error by Berra and Trillo walked, but Robinson got the next three hitters without incident to end the game.
THE STOLEN bases, both the number and the manner in which they were taken, were a major concern after the game. Moreno, the league-leader in thefts, stole second and third in the sixth with the Bucs already up, 9-3.
"I guess," said Green, "if that's the way they want to play the game, well, two can play it. But it didn't bother me. I'm sure they think we're capable of scoring six runs."
But the Phils' pitchers do not seem capable of holding runners on first. And, even when they do accomplish that feat, Boone has been unable to throw anybody out. So far this season, opposing baserunners have succeeded in stealing 38 bases in 45 attempts, a statistic that must be shared by both the pitchers and Boone.
Boone, a quality catcher and hitter, is struggling in both departments this season. Part of the reason could have been the fact that he represented the National League players in recent negotiations with the owners. Another, more likely, reason is the knee surgery Boone underwent during the off-season. The knee, many believe, is giving Boone a lot more trouble than he's willing to admit.
"No," he said, "I don't really believe (the knee is the problem)."
Time is running out on Phillies' pitching
By Rusty Pray of the Courier-Post
PITTSBURGH – There is a strong, persistent suspicion that the Phillies' pitching staff is living on borrowed time; that it is just a matter of time before the injuries and inconsistencies that turned last year into a nightmare will come back to haunt the club.
Whatever hopes Manager Dallas Green might have had of using the same five-man rotation all season vanished in the first two months.
True, Steve Carlton has performed beyond all expectations and Dick Ruthven has shown his recovery from offseason elbow surgery is complete.
But some of the questions that plagued the Phils in March are still around, waiting to be answered. Larry Christenson is gone, succumbing to bone chips in his right elbow. Nino Espinosa, if you recall, was supposed to be healthy enough to join the staff at the end of May.
Espinosa, however, is still throwing on the sidelines, still experiencing the pain in his shoulder that cut short his 1979 season.
And lefthander Randy Lerch, who possesses one of the few sound arms in a Phillies uniform, has been a major disappointment. After last night's 9-3 loss to the Pirates, Lerch's record dipped to 1-7. He will remain in the rotation only because Green has no other choice.
Green, in fact, has made no pitching plans past the upcoming home stand, a six-game Veterans Stadium stay that, fortunately for Green, includes a couple of days off.
"With the of f days," Green said, "I'll go with Carlton, Ruthven, (Bob) Walk and Lerch through the home stand. Walk is the key, if he can give me the consistency I need.
"If he can't," he said, "I'll look somewhere else – either my bullpen or back to Oklahoma City."
So far, Walk has pitched like the 22-year-old rookie he is. In two starts, he has allowed 10 walks and nine earned runs. Walk has shown potential, but not enough for the Phillies to be counting on him to win big ballgames.
Some people think the Phils could solve their dilemma by bringing Dickie Noles into the rotation. Noles started last year for the Phils after being called up from Oklahoma City and was a starter during his minor league career.
It was Green who decided to convert Noles into a short relief man. And Green does not want to switch Noles again.
"Dickie Noles," said Green, "is a very valuable commodity out there."
Perhaps a more likely candidate for starting would be righthander Ron Reed, who started when he was with Atlanta and has been used this year in all types of situations, once entering a game as early as the second inning.
A third alternative is a trade. General Manager Paul Owens has made it no secret he would like another starter. For a time, it seemed Owens might have been toying with the idea of dealing for Houston righthander Joaquin Andujar.
But that trade died almost before it was conceived, the Astros deciding to keep Andujar around as insurance.
"I would like another starter," said Owens. "I think we can slide by with our bullpen. If we can just get fairly consistent pitching we'll be all right. I've been thinking the last two, three weeks about what's available. There's really nothing unless you want to break your ballclub up.
"I'm making phone calls all the time. Everyone I talk to kind of laughs and says, 'that's (pitching) what I need too.' Sure, you can make a deal just to change a couple of faces. But if you get to that point, I'd rather see if a kid like Walk can come on.
"The key right now is Randy. If he can bounce back, well. We're not any more desperate than anybody else at that position."
With the June 15 trade deadline closing in fast and no blockbuster deal on the horizon, the Phils seem to have little choice but to go with what they have and hope Carlton does not begin to wilt with the hot weather... and nope Lerch finds his confidence... Walk his control... Ruthven remains healthy, and so on.
Time, indeed, is rapidly running out on the Phillies' pitching staff.
Dodgers lead Star balloting
NEW YORK – The Los Angeles Dodgers, who will host baseball's 51st annual All-Star Game on July 8, would have six players in the starting lineup if fan balloting for the National League All-Star team continues as it has, the baseball commissioner's office said yesterday.
Dodger first baseman Steve Garvey led St. Louis' Keith Hernandez 434,592 votes to 179,274. Second baseman Dave Lopes became the league's leading vote-getter, topping Phil Garner of Pittsburgh 522,729 to 123,720. Shortstop Bill Russell opened up a narrow 263,188-252,833 lead over St. Louis' Garry Templeton. Third baseman Ron Cey, with 334,871 votes, led Philadelphia's Mike Schmidt, who collected 273,482.
Los Angeles outfielders Reggie Smith and Dusty Baker ranked in the top three among all NL outfielders with 286,867 and 256,384 votes, respectively. Pittsburgh's Dave Parker led the outfielders with 353,308 votes.
At catcher, St. Louis Ted Simmons outpolled the Dodgers' Steve Yeager, 260,042 votes to 246,327.
The voting will continue until June 25.