Philadelphia Daily News - June 3, 1980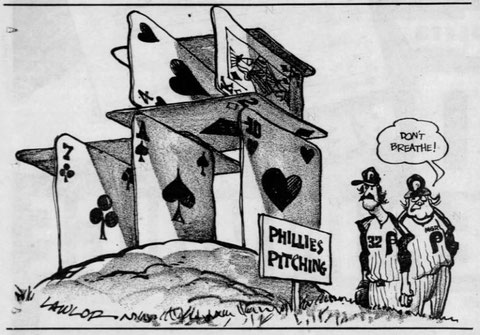 Phillies' Defense Cracks
By Thom Greer
PITTSBURGH – Kevin Saucier, the man who bounced the dread pay-back pitch off the hip of the Pirates' Bert Blyleven, thus igniting that bench-clearing melee at Veterans Stadium last Monday, took the mound to make a three-pitch appearance against the Bucs last night. He was greeted by an ear-shattering chorus of boos and a cherry bomb thrown from the upper deck that exploded no more than 20 feet over the heads of the fans sitting behind home plate.
But that was nothing.
The Phillies threw stink bombs at Randy Lerch and Lerrin LaGrow in the fifth inning. Run-scoring errors by Mike Schmidt, who fumbled a ball off the bat of pitcher Don Robinson, and Bake McBride, who stabbed at a sinking line drive Dave Parker smashed to right field, smelled up Three Rivers Stadium like a sewage treatment plant and forced Manager Dallas Green to put the hook on the struggling Lerch, who suffered his seventh loss in eight decisions.
OF COURSE, THE Phils' worst defensive effort of the season did not end with the departure of Lerch. Schmidt committed his second error of the inning with an errant throw – perhaps the result of Parker slowing down in his path as he fielded the ball – to first on a routine grounder by Bill Robinson, the first man LaGrow faced, to give the Pirates two more runs.
All told, Pittsburgh recorded five unearned runs on just four hits in that god-awful fifth inning and laughed along with 23,689 fans to a 9-3 victory that dropped the Phillies three games behind the division-leading Bucs.
"Defense only hurts you when it shows up on the scoreboard," Green lamented afterward. "Tonight, that's what happened. We didn't get a very well-pitched game and not very good defense, either."
Was it, in fact, the Phillies' worst defensive performance of the year? "It would have to rank right up there," insisted Green.
And figuring prominently in that defensive nightmare was the abject failure of the Phils' pitching staff and catcher Bob Boone to prevent Pirates centerfielder Omar Moreno from stealing bases. Moreno swiped four, including second and third in the sixth inning, to give him 28 steals in 33 tries this year.
"I always steal on the pitchers," said Moreno, who stole 71 bases last season, "but I think I do have a pretty good chance against Boone."
To be sure. Not one of Boone's throws was close to catching Moreno last night, especially the one he did not even bother to throw to third base in the sixth.
IM SURE HE'S (Boone) thinking about it," Green said of his catcher's apparent difficulty getting accurate throws to second base. "And he's probably rushing. When he does that, there are mechanical things he may do wrong."
As for any suggestion that Boone may be experiencing physical problems from his knee surgery last fall. Green said it is up to Boone to speak up. So far, he has not. "I don't believe the knee is a factor," Boone said unconvincingly. "But I do set up (to throw) differently."
With the exception of Boone's increasing difficulties arresting base thieves, the Phils' defensive woes are surely a one-night affair. Of primary concern, however, is the pitching crisis, which has been aptly described as pitch Steve Carlton and pray for four days of rain.
Lerch, who did not win his first game this season until last week against the Pirates at the Vet, seemed in deep trouble after giving up two runs to the first three batters. Moreno singled to right, Vance Law tripled to the centerfield wall to score Moreno and Parker's grounder to second scored Law. But after Law's triple, Lerch erased the next 12 men he faced.
"I felt I was throwing pretty good," Lerch said as he walked out of the dressing room. "But then everything starting happening behind me. I'm not trying to put anybody down... " (he paused and thought a second) "... what was the line score on me?"
LERCH WAS TOLD that with 70 pitches over 4 innings, he gave up seven runs, only two earned, seven hits, two strike outs and two walks.
"That ought to answer a lot of questions about tonight."
As far as Green is concerned, though, there are no questions to be answered. Will Lerch remain in the rotation? "I don't have a hell of a lot of choice, do I," the manager said. "He wants to win so bad he can taste it, I'm sure. And pitching against the Pirates is not the easiest thing in the world. But we've got to get Randy on key, especially with LC (Larry Christenson, out for the year after elbow surgery last week) down."
But Lerch now appears to be worrying about his pitching problems. "Not to think about the losses is impossible if you've got any pride at all," he said. "I'm only human. You've just got to go out every time and give it your best. I've always been a winner. I've never had a losing season. I still think I can come back this year and have a winning season. If you don't believe you can, you won't."
Don Robinson, who underwent shoulder surgery last October after the World Series, insisted he believed he could come back. And last night he pitched his first complete game in a year, threw 131 pitches and allowed the Phils only eight hits.
"In the ninth inning, I was actually getting more velocity on my fastball," he said. "I felt like I was in the first inning. I got a bad cramp in my forearm in the ninth, but I have a history of cramps. If I can come back Sunday and pitch as well as I did to night, I'll know I've made it back."
After struggling in the first two innings, allowing three runs on six hits, he shot down the oft-devastating Phils' bats. After a third-inning double by Garry Maddox, Robinson retired 19 Phils in a row with the help of a double play after McBride's double in the seventh before an error and a walk put two men on base in the ninth.
"I got hit hard in the early inning because I was having trouble with my curveball," he said. "So I gave up the curve for my slider and by the fifth my curve was back. And at the end of the game, I felt great."
PHILUPS: Dick Ruthven (5-4) is scheduled to go against Eddie Solomon (2-0) tonight in the second game of this three-name series... Lee Lacy, 2-for2 with two walks, extended his hitting streak to 12 games... Bake McBride, 2 f or-4. has hit safely in 23 of his last 26 games... Pete Rose, on an eight-game streak, has 3,420 hits and needs 10 more to tie Honus Wagner for fifth place on the all-time hits list and third place on the National league hits list.
Suspended Animation
By Tom Cushman
PITTSBURGH – There were 19,990 customers in the seats for the opening game of the big series at Three Rivers Stadium last night, a dropoff of some 30,000 from the Cap Day crowd that had swarmed over the premises the previous afternoon. Obviously in a sulk because the people of Pittsburgh prefer the Mets' and free bonnets to a rematch between the Eastern Division's top pugilists, the Phillies decided to punish those who did appear by playing like the Mets.
Though conservative in number, the Pirates' fans were both noisy and belligerent in their response. They laughed as the Phillies stumbled through their routines, greeted the brief appearance of Kevin Saucier by tossing cherry bombs from the upper deck, booed Pete Rose on general principle and cheered lustily when Bill Madlock positioned himself at third base for the 26th consecutive game since his punishment was announced by National League President Chub Feeney.
IT WAS ON May 5 that Feeney fined Madlock $5,000 and suspended him 15 days for striking umpire Gerry Crawford in the face with his glove, a tactic acceptable in boroughs where dueling is still legal but considered an unpardonable sin by those who prefer that professional sport not be subject to law by the six-gun.
Thus, just as yesterday was an affront to all who put their trust in the Phillies, so was it another grim scene in baseball's latest morality play. Scored by the umpires for his tardiness in ruling on an appeal of Madlock's sentence. Chub Feeney sent down word that the appeal had been denied and Madlock must begin serving his time immediately.
Conveniently, the message was delivered in time for Madlock's attorney, Steve Greenberg, to fire off an appeal to Bowie Kuhn, who is baseball's Supreme Court. Back came word that the commissioner had again stayed Madlock's suspension until a decision on this latest appeal can be rendered. So, on a night when Chuck Tanner could use the break – his infield already was minus Tim Foli and Phil Garner – Bill Madlock pulled on his uniform as usual and sauntered forth to the applause of people who paid for the privilege.
"Both the fans and those in the Pirates' organization have been so very good to me," Bill Madlock was to say later, in a brief statement issued from a stool near his locker. "The guys don't even kid me about it, which is unheard of on this team. They realize this is a serious situation. Their support has made it easy for me get through it."
•
THERE ARE, AS you might imagine, conflicting versions as to the particulars of the incident on May 1, but eyewitnesses can take us most of the way. During a game against Montreal, a third strike was called on Madlock by Gerry Crawford. Madlock calmly departed the batter's box and, it being the third out, accepted his glove from Tim Foli. He was walking toward his post at third when he heard Foli yell at Crawford, "Did he swing?"
Gerry Crawford replied in the affirmative and Madlock, who thought he had been called out because the pitch was in the strike zone, wheeled toward the umpire in protest, waving his glove as he moved. Disagreement as to precisely what happened thereafter is why we are still in court.
Denying the first appeal yesterday. Chub Feeney said, "In reviewing the evidence, there is no doubt that Madlock struck Crawford more than once with his glove and that the striking, while not a swinging punch, was forceful enough to redden Crawford's face, and to sting."
The fact that it took Feeney a month to arrive at this conclusion had been a source of great agitation to the umpires, who nevertheless welcomed his judgment. Feeney's plea is that it has taken him all these weeks to gather evidence, a process that is never swift when lawyers have salaries to earn. And there are lawyers in abundance hovering about this case.
Speaking of Don Fehr, attorney for the Major League Players Association, which is involved on behalf of Bill Madlock, umpire Bruce Froemming told this story after last night 's game:
"A FEW YEARS ago there was a hearing about a balk I had called against Clay Carroll, and from a question he asked it became obvious that Fehr didn't know you can't call a balk when there is no one on base. You know what Feeney did... he asked that the question be stricken from the record. Fehr has no knowledge of the game. What a joke he is.
"People like Kuhn and Greenberg and Fehr are making a farce out of this situation," Froemming added. "What's so tough about Kuhn making a decision right now? We're not out to punish anybody, we're out to see justice done. And justice is not being done with Madlock on the field."
•
If there is a degree of bluster in Bruce Froemming's reactions, there is also merit in his one recommendation. Baseball, which has never been a giant in the public relations field, cannot seem to avoid tying its shoelaces together any time a crisis arises.
Delays in dispensing judgment on matters such as the Madlock caper suggest that reasonable doubt does exist. If the case is solid, then, as umpire Paul Runge said last evening, "Punishment should be swift and severe." Umpires are the only available authority on the field once a game is underway, and – particularly in this era of crowds waiting to explode – theirs is a presence that must be beyond physical abuse.
WHAT WAS TO prevent Feeney, on the day the Madlock appeal was filed, from setting a deadline for testimony to be on his desk? Instead, the proceeding meandered along until Richie Phillips, attorney for the umpires, intervened with a threat that established a new level for the preposterous. Beginning Friday night at Shea Stadium, Phillips said in a message to Feeney, his clients would eject Madlock from every game in which he plays until the sentence is carried out.
There was no immediate word as to how yesterday's action by Feeney – which really accomplished nothing more than to bounce the ball upstairs – will affect Richie Phillips' ultimatum.
Phillips, however, has gained the attention of Steve Greenberg, Madlock's attorney, who says he will have a half-dozen photographers at Shea Stadium to photograph everything Bill Madlock does from tying his shoes to refusing to discuss his situation with reporters. "If Madlock is thrown out for no good reason, then Richie Phillips and the whole organization will have a major (legal) problem," Greenberg said.
Meanwhile Marvin Miller, although exhausted by his recent heroics in the owner-player negoitations, roused himself long enough to utter these words in reponse to Feeney's rejection of the Madlock appeal:
"Any hearing where a judge presides over an appeal after presiding over the original decision is obviously a mockery of due process. Until the final appeal is exhausted, it should be obvious that a fine can be taken back, but a decision after a suspension cannot."
WHAT MARVIN IS trying to establish here, I think, is that Bill Madlock must be allowed to continue playing third base for the Pirates until Bowie Kuhn locates a laxative.
And this, adds Chuck Tanner, manager of the Pirates, is exactly what Madlock will do. "I know Bill's been under a lot of pressure," Tanner points out, "but he's handled it very well."
Bill Madlock, glib and non-combatitive following a 9-3 game that was another sour note for baseball, insisted that the pressure has been exaggerated. "The only thing I'm worried about is Ruthven and Carlton the next two days," Madlock said. "As for the suspension business, my attorney will take care of that."
As for the umpires, John Kibler said last night that, "What we do Friday night in New York is up to our attorney. Richie Phillips dictates our next move." Amazing, isn't it, how much more fun baseball has become since it was discovered by the lawyers.
3 Winners In Payoff
In last night's eighth inning of the Phillies-Pirates game, there were three winners in the Daily News Home Run Payoff. Eleanor C. Ross of Ellenton Florida and Philadelphians Diego Cruz and Harry Ellis each won four tickets to a Phillies game.
So far the Daily News has paid out $4,855. To enter, just send in the coupon that appears on this page.