Pittsburgh Post-Gazette - June 3, 1980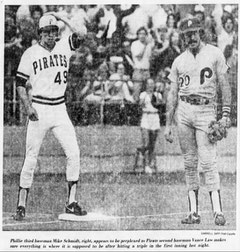 Bucs Bats Pummel Phils in Peaceful Fashion
By Charley Feeney, Post-Gazette Sports Writer
PITTSBURGH – There was no encore of last Monday night's fight in Philadelphia. But if the 19,990 fans at Three Rivers Stadium last night were disappointed, they did a heck of a job of hiding their feelings.
The noisy, enthusiastic group gave the winning pitcher a standing ovation after he grounded out in the eighth inning.
Don Robinson waved his hat to the crowd as he walked to the dugout, then he went out and locked up a 9-3 victory. Although the fight total was zero, the Pirates' bats hummed a base-hit tune. There were 11 hits all told, and four stolen bases by Omar Moreno. The Pirates broke away with a five-run fifth, knocking out Randy Lerch. They added two runs off Lerrin LaGrow in the sixth.
Robinson, who gave up two runs in the first inning and one in the second, took command as he often did in his 14-game winning rookie season two years ago. He had arm problems as a sophomore, when he was 8-8, and he opened this season on the disabled list. He is 2-1 after six starts, but the important thing is that last night Robinson did the type of lockup job that made him so impressive in his rookie season, allowing only two hits through the last seven innings.
Errors by the usually reliable Mike Schmidt at third base put the Philly pitchers in trouble and the Buc swingers did not let them off the hook.
Both teams appeared to have forgotten their free-for-all of eight days ago. In case they had not, however, chief umpire John Kibler told both managers before the game that the first pitcher who threw a pitch with intent to hit a batter would be thrown out of the game. On orders from National League President Chub Feeney, Kibler waived the rule that states a pitcher and his manager must get a warning after the first knockdown incident.
The Phillies' runs came on Bob Boone's bloop double in the first inning. Two runs came home, and in the second, the Phillies banged Robinson for four singles. They were worth only one run because Larry Bowa, who opened the inning with a nit, was thrown out trying to steal by Steve Nicosia.
The Bucs gave their fans a start on the cheering when Moreno opened the first with a single and stole second. Vance Law banged a grounder to the left of second base. Centerfielder Garry Maddox, shading toward right-center, couldn't stop the ball from rolling to the warning track – a triple for Law, who later scored on Dave Parker's ground out.
Law started his second game at second base because Phil Garner has a sore back. Lee Lacy, whose left hand is bruised, started in left field and banged two hits, giving him 21 hits in his last 42 at-bats.
In the eighth inning, Bill Robinson had to leave because of a muscle pull in his leg.
Chuck Tanner's bench is alive and well.
Lacy opened the five-run fifth with a double and went to third on a wild pitch. After Nicosia lined to Manny Trillo, Dale Berra walked.
Don Robinson hit an apparent double-play ball to Schmidt, who fumbled it. When he recovered, he threw too late to the plate to nab Lacy. When Moreno singled, Bake McBride threw out Berra at the plate, keeping the game tied at 3-3.
Law hit a high chop near second base and beat Bowa's throw for an RBI single. Parker lined a hit to right for another run. LaGrow then replaced Lerch and Schmidt made another error, a wild throw worth two runs following Bill Robinson's grounder.
In the sixth, Don Robinson, who says he likes to swing the bat, poked a two-run single, and the six-run cushion probably kept him in the game. The Phillies, on an error by Berra and a walk, put the first two men on base in the ninth. Then it was easy as one-two-three, and the noisy crowd went home baseball-happy.
They'll have to wait until another night to see any fight action on the field.
NOTES – John Mehno, one of the official scorers appointed by the league, resigned yesterday after working two games... Lacy has a 12-game hitting streak. Not bad for a guy who starts only against left-handed pitchers.
Eddie Solomon will start against Dick Ruthven tonight and John Candelaria will start against Steve Carlton tomorrow night.
Shoulder OK, Says Kid Robby
By Phil Axelrod, Post-Gazette Sports Writer
PITTSBURGH – For a night, at least, Don Robinson said he felt like the pitcher of old. He looked the part, too. There was no pain in his shoulder as he went nine innings for the first time in more than a year and a half.
But Robinson, who raised his season record to 2-1 with last night's 9-3 victory over Philadelphia, was being cautious.
"If I can come back in my next start Sunday and throw well," he said, "then I'll know I'm back."
Last night may have been the beginning of Robinson s rebirth, but the second inning was almost the end of him as the Phillies raked him for three runs and five hits in the first two innings.
"I was thinking of yanking him if he hadn't gotten his rhythm back," Manager Chuck Tanner said. "He was gone, but he wouldn't go."
Robinson said he could not get his curve over and the fastball was coming up, so he felt it was time for a change. "I started throwing a slider for the first time this season," said . Robinson, whose shoulder was heavily taped. "In the fifth inning, my curve came back, and after that, all I was thinking about was going nine innings. I really wanted to complete the game."
In addition to finding his curveball, Robinson found another curve to throw at the Phillies.
"I think they were picking up my pitches early," he said. "When I'm in my windup, you can pick it up from home plate. Chuck (Tanner) came out and told me to stick the ball in my glove and don't show it. I used the different windup and it seemed to work, so I kept using it."
Even though Robinson did not have his best stuff, catcher Steve Nicosia was impressed with what he called a "gutty effort."
"He struggled the whole game," he said. "It was gutty... when he's throwing the ball like the Don Robinson of old, there's another foot and a half to his fastball. And with all his arm troubles, he's afraid to snap off his curve."
Pitching coach Harvey Haddix said, "He's not quite throwing like he did before he got hurt last year, but I liked what I saw tonight. He doesn't reach as far as he did before, but I don't know if that's because of pain or not. It will come in time. Maybe not as quick as we'd like, but it will come in time."
Robinson did more than just pitch last night. He hit, too. He stroked a two-run single to help his cause and maintained his average near the .500 mark. Tanner had so much confidence that he let Robinson bat in the fifth inning with one out, runners on first and third and the Pirates down, 3-2. Robinson whacked a wicked grounder to third and Mike Schmidt bobbled the ball, allowing a run to score.
"I thought Chuck was going to go with a pinch-hitter in that situation," Robinson said. "I'm paid to pitch, not hit."
Said Haddix, "All pitchers like their hitting. But I like Robinson's pitching better than his hitting. He means quite a bit to us."