Pittsburgh Press - June 3, 1980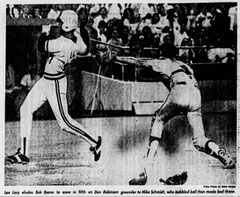 Phillie Flubs Produce Rout
By Dan Donovan
The Pirates shoved the Philadelphia Phillies' faces into the dirt last night, 9-3, delighting the Phillie-haters among the 19,990 fans at Three Rivers.
But it disappointed anyone who saw the superb games the teams played last week in Philadelphia.
Those four games dripped with tension, emotion and drama. Last night's game dripped with flubs.
Sure, the Pirates hit the ball hard, but where the Phillies made good plays last week, they kicked a dog this time, opening the door to a five-run fifth inning.
"Usually a break or two decides the Pittsburgh-Philadelphia games," Phillies Manager Dallas Green said. "They got their breaks because we made defensive mistakes and pitching mistakes."
Check the schedule. Are you sure the Mets left town?
The Phillies may come back and hand the Pirates their heads tonight, but last night the teams didn't look as closely matched as they did in Philadelphia.
"We were explosive tonight," said Pirate Lee Lacy, a firecracker who had two hits. "We played aggressive baseball. When you play a contending team like Philadelphia, you have to put the pressure on them."
The Pirates were aggressive enough to have two runners thrown out at the plate and one at third, yet still bombard the Phillies.
"There's a big difference when yon are playing at home," Lacy said. "You have much more confidence in your home park."
The Phillies looked tense, as they have on the road all season. At home, under the watchful eye of the Phillie Phanatic, the Phillies are 15-9. On the road they are 8-11.
The first two Pirate runs were largely attributed to rookie Vance Law's hit, a seeing-eye ball that found its way not only through the infield, but past the outfielders as well.
While the ball rolled between left fielder Greg Luzinski and fleet center fielder Garry Maddox, who was shaded toward right, Omar Moreno scored from second and Law had a triple.
Pitcher Don Robinson's bouncer to third in the fifth could have been a double play but third baseman Mike Schmidt juggled it, then tried to get Lacy running to home.
Schmidt's throw was too wide for a tag at home and the floodgates opened. They were kept open by Dave Parker's tingle, which skipped past right fielder Bake McBride for an error, and Parker's screen play.
Parker made sure Schmidt saw his body and Bill Robinson's bouncer to third in the fifth at the same time. Schmidt threw the ball away and two runs scored.
But the Phillies looked the worst when the Pirates stole bases. Moreno stole four, Lacy three and, while the casual fan would blame catcher Bob Boone's throws that bounced to second base, Green blamed the pitchers.
"Our first objective is to keep Moreno off base – we did that pretty well in Philadelphia," Green said. "But the pitching is going to have to handle the baserunners. We ve told them about the problem and made suggestions. It's up to them to do it between the white lines.
"We'll get our day in court with Moreno. He'll get nailed at second."
Green absolved Boone of most of the blame and Moreno agreed.
"There's nothing wrong with Boone physically," Green said. "I'm sure Boone's got it in his mind that they are going to challenge our pitching staff. He's rushing his throw and not doing things that are mechanically sound."
"I always steal on the pitcher," Moreno said. "I know (Philadelphia starter Randy) Lerch pretty well after three years. I know I need a pretty good jump to steal off him."  
Yet Pirate Manager Chuck Tanner hinted Boone may be hurting physically.
"When he's healthy, he's one of the best catchers in the National League," Tanner said. "He broke his finger last year, didn't he? His knee was hurt, too."
The Pirate decimation was so complete the team was accused of running up the score, especially when Moreno stole third with the score 9-3 in the sixth.
"If I get a chance to steal, I'm going to take it, Moreno said. "Against a team like Philadelphia, yon need all the runs you can get. We had them 6-3 in Philadelphia and lost, 7-6."
The Phillies are good enough to make this series interesting yet. And even if they don't, the National League East race will hardly be over.
"Even if we get wiped out," Green said, "we know there are a lot of games left to play. It's not the death knell yet."
¶     ¶     ¶
PIRATE NOTES - Bill Robinson left the game with a leg injury but it was not considered serious. Law played second and Dale Berra shortstop for the second straight game.
"Tim Foli and I have already ok'd the trade," joked regular Pirate second baseman Phil Garner. Foli is in the hospital with a leg injury.
Because of last week's brawl, the teams were issued a pre-game warning, which meant that the first pitcher to throw at a hitter, along with his manager, would have been thrown out of the game.
Pirate pitchers have four straight complete games, counting Friday's 5½-inning, 5-1 loss to New York. The Pirates did not have four straight complete games last year.
The Pirate attendance passed 400,000 last night, the earliest they have done it in the history of Three Rivers. In 1971, when they set the Three Rivers record of 1.5 million, the Pirates drew 247,000 for their first 22 dates.
Pirate farmhand Eddie Vargas, the first baseman for Buffalo (AA), has 18 home runs.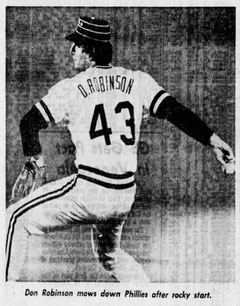 Don Robinson Finds Complete Formula
By Bob Smizik
It did not take Don Robinson long to realize that something was dramatically wrong.
Here he was bending these splendid curves over the plate, the kind that almost always make batters look foolish, and there were the Phillies patiently watching as they broke out of the strike zone.
And then Robinson would come back with an exploding fastball and the Phillies would rip it for a base hit.
It all added up to five hits and three runs in two innings, a sum that was close to bringing on a relief pitcher. The comeback of Don Robinson, sore-shouldered pitcher, was in peril.
But all of a sudden, weird things began to happen. Those hot Philadelphia bats abruptly cooled. No longer were the Phillies laying off Don Robinson's best curves. No longer were they ripping his best fastballs.
The team that had feasted on Don Robinson for two innings suffered a base hit famine for the next seven. The Phillies could muster only three hits and no runs the rest of the game and the Pirates went on to a 9-3 win last night.
It was a hardly understandable phenomenon. What made the two-inning soft touch a seven-inning wizard?
"I had a little problem," explained Robinson in a major understatement "My hands were giving my pitches away. When I was winding up, they could pick up my pitches from home plate. I was bringing the ball up differently for each pitch and they could see it.
"I threw a few good curves and they layed off and I couldn't believe it. Then I'd give them a good fastball and they'd hit it on the nose."
It was a problem with which the Pirates were not unfamiliar. There was a feeling that Robinson had been tipping off his pitches for some time. He had been hit hard in his two previous appearances. Manager Chuck Tanner believed he had a solution.
"Chuck told me to put my ball in the glove when I was winding up," said Robinson, who aided his own cause with a two-run single in the sixth. "That way they couldn't see the ball when I was winding up. Once I started doing that I had more success."
Another Robinson understatement. His success after the second was immense. Garry Maddox managed a third-inning double but, after a walk to Manny Trillo opening the fourth, Robinson retired 11 straight Phillies. Bake McBride's doubled in the seventh but that was to be the last Philadelphia hit.
Just when it looked like nothing could stop Robinson from finishing the game, shortstop Dale Berra opened the ninth by hobbling Larry Bowa's grounder. When Trillo followed with a walk, it looked like the end for Robinson.
But Tanner, uncharacteristically, stuck with him. And Robinson earned the confidence by retiring the final three batters.
"I felt it was important for him to go as long as he could," said Tanner. "As long as he wasn't hurting, I didn't think there was anything wrong with letting him pitch. When you have arm problem, the only way to make it stronger is to pitch. It's like running. The only way you get stronger is to keep running."
Robinson wanted the complete game for other reasons.
"I wanted it badly," be said. "I wanted to know for myself that I can go nine innings. I was beginning to think that I could go only six innings and then start to hurt."
There was nothing hurting when it was over last night, but Robinson has been through too much pain in the past to say with certainty that it's all behind him. He needs, he said, one more time without pain, one more time with success to regain the old feeling about himself.
"Sunday is my next start," he said. "That'll be the big test for me. If I come back and throw well Sunday it's behind me. I'll have regained the form of my rookie year."
Don Robinson's rookie year was a beauty. He won 14 and was thought to be a pitcher with an unlimited future. He had a lot going for him that season, including a sound shoulder and an ability not to tip off his pitches.
He had them both again last night. And he needs them both in the future to become a consistent winner again.