Pittsburgh Post-Gazette - June 4, 1980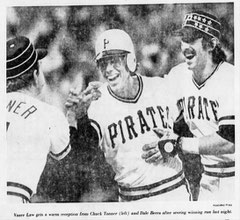 Ott Does It Again to Phillies' McGraw
By Charley Feeney, Post-Gazette Sports Writer
If this was a game in the pennant race in September, it would be remembered for years. Instead, it was just a typical June confrontation between the Phillies and Pirates at Three Rivers Stadium.
Baseball at its best. Drama. Big defensive plays by the Phillies. A comeback victory for the Pirates, who won it with two out in the ninth inning when Ed Ott lined a bases-loaded single off Tug McGraw for a 4-3 victory before 22,141 screaming fans.
Tug McGraw was the loser. Make that a tough loser because McGraw was tough in the clutch. When he took over for starter Dick Ruthven in the sixth inning, McGraw showed his courage by stopping the Pirates when it appeared they had him ready for the showers.
Willie Stargell's game-tying home run in the eighth appeared to signal McGraw's doom, but he didn't fade easily. Mike Easier followed Stargell's circuit with a double and Matt Alexander ran for him. After Bill Madlock was walked intentionally, Ott bunted the runners over.
Dallas Green, Phillies' manager, ordered an intentional walk to Dale Berra. The move was more to force Chuck Tanner to pinch hit for Kent Tekulve. Bill Robinson, who has won several games through the years for the Bucs, with late-inning hits, popped up as a pinch hitter and McGraw fanned Omar Moreno.
Moreno earlier had tripled off McGraw with one out in the seventh and was stranded when Vance Law popped up and Dave Parker fanned.
It was Law again in the ninth. Law's broken-bat single led off the two-run sixth that shaved the Phillies' lead to one run.
In the ninth, Law singled off Larry Bowa's glove, and on the first pitch to Parker, Law was running. Parker bounced to Manny Trillo at second. One out. Law, the winning run, was in scoring position.
Stargell was given a walk. John Milner pinch hit for Alexander and bounced to Pete Rose at first base as the runners advanced. Madlock drew an intentional walk, and it was up to Ott, who last August 11 had hit a grand slam off McGraw.
Ott, after fouling off the first pitch, lined deep to right. Bake McBride had no chance. Ott stopped at first and headed for the dugout as young Law crossed the plate to give the Pirates their fourth straight win.
There was a time, once, when the Phillies and Pirates played and it was just another ballgame. The intense rivalry eventually developed in the '70s when both clubs became contenders.
"When the Pirates and Phillies play, it's a mini World Series," Tanner said.
Ott said, "I can't believe this rivalry hasn't been going on for a long, long time."
"I think the media and the fans have built it up," Stargell said. "It's just as important for us to win any game."
The Phillies pulled away early against Eddie Solomon when Mike Schmidt hit a two-run homer in the first inning. It was No. 18 for Schmidt, who leads the majors.
In the third, Schmidt drew a two-out walk and scored on Greg Luzinski's triple off the center-field wall. Schmidt and Luzinski... the Phillies' power duo. Last night, both also made big plays with their gloves.
Luzinski, in the second inning, crashed into the left-field wall as he caught Easler's drive.
In the sixth, Schmidt made a leaping grab to rob Madlock. It kept the Bucs from tying the game.
Ruthven, who had been in command through five innings, was tagged for Law's broken-bat hit to start the sixth, and Parker bounced a hit into right field and hustled it into a double. Stargell singled across Law and Easier doubled across Parker.
With runners on second and third and none out, McGraw relieved. After Schmidt made the big play on Madlock, McGraw got Ott on a pop to Schmidt and struck out Berra.
Enrique Romo, who has allowed one earned run in the last 18 innings he has pitched, replaced Solomon at the start of the sixth. In the seventh, the Pirates missed a double play on Bowa's grounder and it almost cost them. Trillo singled Bowa to third and McGraw bunted Trillo to second, setting it up for Rose, whose count went to 3-2 before he one-hopped sharply to Berra.
Last night's win went to Grant Jackson, 5-1, who hasn't allowed a run in his last 12 relief jobs.
NOTES - If Phillies' coaches Herm Starrette and Mike Ryan were fined $200 each by National League President Chub Feeney and pitcher Kevin Saucier was fined $450 for his part in the May 26 free-for-all in Philadelphia, can it be assumed that Bert Blyleven was fined $450 and Lee Lacy was fined $200 for their part in the fight? The Pirates didn't announce their fines.
Richard Renteria, an 18 year old shortstop from South Gate, Calif., was the Pirates' first-round selection in the free-agent draft... John Candelaria gets the assignment tonight against Steve Carlton.
Umps Deny Bias Charges
By Charley Feeney, Post-Gazette Sports Writer
Umpire Bruce Froemming last night branded as false charges that the Pirates will not get a fair shake from umpires in future games because of the Bill Madlock incident.
"It is totally untrue and unfair to us," said Froemming, who said he was speaking for his three fellow umpires who worked last night's game between the Phillies and Pirates at Three Rivers Stadium. "We'll let Chuck Tanner comment on this. I personally have had arguments with Chuck over the years. I have had to throw him out of a game once in a while. But the grudge or dispute at that time never carried over."
"That's right," Tanner said when he learned about Froemming remarks. "I consider Bruce Froemming and the umpires working with him among the best crews in baseball. They are hard working and they hustle on every play. I wouldn't say it if I didn't believe it."
Froemming said he is upset at remarks made by some members of the media who have suggested that the umpires will not give the Pirates a "fair shake" because of Madlock's actions on May 1 against umpire Gerry Crawford. Madlock flipped his glove in Crawford's face, and a subsequent 15-day suspension and $5,000 fine has been appealed to Baseball Commissioner Bowie Kuhn.
The penalty, handed out by National League President Chub Feeney on May 5, was appealed to Feeney, who turned down the appeal Monday. Hours later, Madlock, through his attorney, Steve Greenberg, filed an appeal with Kuhn.
Yesterday in New York, Kuhn met with attorneys of the Major League Players Association and the National League and it was announced that the date and time of the appeal hearing will be early next week.
"Unreal," said Froemming when he learned that the appeal hearing would not be held until after this weekend.
Letters to the Sports Editor
Bucs-Phils Scuffle Sets Bad Example
On May 27th, I observed an incident that had the poten tial to become injurious to the participants. In the top half of the last inning of a Colt baseball game (1516 year olds), the home-team pitcher hit the first batter on his left upper arm. The hil player sat down hard. Within one second, a hot-headed visiting player charged out of his dugout wielding a bat. He was followed by his teammates.
The home-team dugout immediately emptied to meet the oncharging players, and fortunately, the managers, coaches and umpires succeeded in forming a barrier between the two factions, thereby preventing any blows and subsequent injuries.
I believe that this incident occurred as a direct result of the May 26th brawl between the Pirates and Phillies. It is hoped by me that this letter will serve as a reminder to the "professional" baseball players that the youth of this country usually emulate their heroes.
It is further hoped that better examples will be set by our "Worid Champion Pittsburgh Pirates."
E. M. FERENCE
Elizabeth Twp.
Bucs Should Stay Cool
Concerning the Pirates' May 26th game against the Phillies:
1. Stargell hits two-run homer.
2. Blyleven brushes back Mike Schmidt in the third inning and Schmidt makes a fuss about it. Phillies management later agrees the brush back was legal.
3. Saucier hits Stargell in the fifth inning with a pitch. Stargell makes no incident.
4. Saucier hits Blyleven in the sixth.
5. Bucs lose cool.
6. Bucs lose game.
7. Take it from Stargell – Stay cool and play the game. Bucs don't need any gimmicks to get fired up.
We Are Family. See you at the World Series.
PAVLIAK FAMILY
Export
Promote The Gunner
I would like you to consider hiring Bob Prince as sports editor.
LOIS DELANEV
Pittsburgh
A Waste of Time
I recently made a special trip downtown for your paper and its sports section. However, I could not find one piece or item about the NASCAR 600 race at Charlotte. N.C.
Your sports section stinks! There were over 100,000 people at the race, and the cars are as fast – if not faster – than the cars at the Indy 500. You didn't even mention the race.
W. R. DAY
DuBois