Pittsburgh Press - June 4, 1980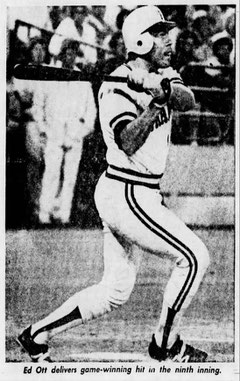 Ott Saves Best For Last – And McGraw Pays Again
By Bob Smizik
The situation was screaming for a hero. The inning was the ninth, the outs were two, the score was tied, the bases were loaded.
The protagonists were: Philadelphia's Tug McGraw, with a ball in his hand; the Pirates' Ed Ott, with a bat in his.
Under normal circumstances, it would have been a somewhat even match. But, unfortunately for the Phillies, the percentages were decidedly against them. Bob Prince would have called it hidden vigorish.
Simply put, Tug McGraw had used up all his heroism and Ed Ott hadn't even touched on his.
In each of the three previous innings, McGraw had done nothing less than strand a runner who had reached third with either none or one out.
Meanwhile, Ed Ott's best offering of the night had been a sacrifice bunt.
In addition to percentages, the Pirates had history on their side. Asked to reflect on his confrontations with Tug McGraw during the course of his slightly more than four-year major-league career, Ed Ott said, "I've enjoyed it very much."
With Vance Law, who had singled, at third, and the intentionally walked Willie Stargell and Bill Madlock on second and first, McGraw jumped ahead of Ott, 0-1.
Ed Ott started to think. "I was guessing fastball," he remembered as the first wave of reporters surrounded his locker. "He had me 0-1 and I thought he'd try to get a fastball by me to get way ahead of me.
Ott was guessing wrong, but it made no difference. Even when you're guessing wrong, a hanging slider doesn't fool you.
"When you're looking for a fastball and see a hanging breaking ball, it's a watermelon pitch coming in there," offered Ott.
Ott drove the watermelon to deep right field. Not even the speed of Bake McBride could run the ball down as Law, who has never played in a losing major-league game, danced across home plate. 
The young man who was the Pirates' 39th-round draft choice just two seasons ago had opened what was to be the final inning of his third major-league game by whacking a grounder just past shortstop Larry Bowa. With Dave Parker and Stargell ready to follow, the Pirates were in business.
So was Chuck Tanner.
Tanner had Law, who has below-average major-league speed, running as Parker ripped a bouncer to second base man Manny Trillo. If Tanner had been playing it safe, it was a sure double play and the rally was finished. But with Law running, Trillo had no choice but to go to first.
And Philadelphia Manager Dallas Green had no choice but to walk Stargell, who had homered off McGraw in the eighth to tie the game.
When John Milner, batting for Matt Alexander, bounced out to first to advance the runners, Green once again had no choice but to walk Bill Madlock and leave it up to Ott.
It was a left-handed hitter against a left-handed pitcher, but neither Ott nor Tanner minded.
"Tug is one left-handed pitcher who's a lot tougher on right-handed hitters than he is on left-handed hitters," said Ott. "He doesn't like to throw his screwball to left-handed hitters. So he's facing you without his No. 1 pitch.
"You know he's going to throw you his fastball or his breaking ball and he doesn't have the control of his breaking ball that he has to."
Did Tanner consider using the right-handed hitting Steve Nicosia to bat for Ott? "No, sir," he answered. "I never gave it a thought. I don't mind using a left-hander against McGraw, and Ott hits him pretty well."
Does he ever. Ott wasn't just making it up when he said he had enjoyed very much his battles with McGraw over the years. Among other base hits, he delivered his first and only major-league grand slam against McGraw last August.
"I just feel very confident against Tug," said Ott. 'I've had good success against him in the past."
On the basis of what happened last night, the next time Ott goes up against McGraw he should be even more confident. But not too confident. The percentages are starting to go the other way.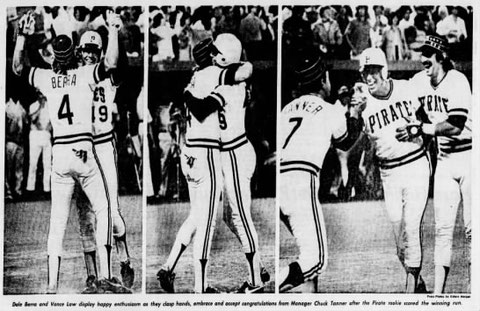 Old Buc 'Horse' Still Frisky
By Russ Franke
Willie Stargell, in bis folksy, popsy way, is beginning to sound like a candidate for the Darby Dan pastures.
Looking over the new colts in the stable, he says of Dale Berra and Vance Law, for example, "They're typical Buccos – we breed 'em and then put 'em in the stake races."
Of himself he says very little, even though the old nag is generally there at the wire with his frisky bat when the Pirates need him most. Such as last night at Three Rivers when his eighth-inning home run produced a 3-3 tie and allowed the Pirates to win the game as they pleased in the ninth, 4-3.
Stargell talks about the "uniqueness of the team Chuck Tanner has assembled," and of the versatility of the regulars and the bench, yet he sidesteps any suggestion that he himself is unique. Three years ago he appeared ready for the pastures. But the week before last, at age 39, he signed a contract extension through 1982 and is swinging the bat as well as he ever did.
The "uniqueness" of Willie Stargell would include two memorabilia items, both of which Stargell was unaware. He has hit 43 career home runs against the Phillies at four different sites, which should be printed in the record book as "most home runs vs. one club in most ballparks (Three Rivers, Veterans and Connie Mack stadiums and Forbes Field)".
The other item is the type which keeps statisticians working overtime in the dungeons of Three Rivers but which is of no concern to either Stargell or the Phillies' Tug McGraw. Until last night, Stargell hadn't hit a home run off McGraw in seven years.
When Stargell finally broke the mirror in the eighth and McGraw ultimately escaped a bases-loaded jam that ensued, Stargell's homer was just another hit to McGraw. When Ed Ott singled in the ninth, it was not just another hit, because the bases were loaded again, and the game was suddenly over and the Pirates had won for the 15th time in 20 one-run decisions.
"Stargell's borne run didn't lose it for me, it just tied it," said McGraw. "Willie and me have had a lot of battles over the years and I've won some and he's won some. My big mistake was to Ott. I tried to overthrow a slider and muscled up on it too much."
McGraw, pitching almost as well as he ever has, saved the Phillies in the sixth after the Pirates had scored two runs off Dick Ruthven on Law's single, Dave Parker's double, Stargell's single and Mike Easler's double. With runners on second and third and no one out, McGraw retired the next three batters without any of them hitting a fair ball. In the seventh he allowed Omar Moreno a triple with one out but stranded him, and in the eighth he survived a bases-loaded, one-out situation following Stargell's homer.
McGraw thought it inconsequential when someone mentioned that Stargell hadn't included him on his home-run list since McGraw pitched for the Mets in 1973.
"I didn't go out there on the mound and say, 'Yay, Say, it's seven years since he hit a home run off me.' How about all the RBIs between? The pitch? I tried to sneak a fastball by him, and he knows what to do when he's sitting on it.
¶     ¶     ¶
PIRATE NOTES – The Pirate front office, as a matter of policy, made no announcement on the fines assessed players in last week's series in Philadelphia. The grapevine, however, produced these figures: John Candelaria and Lee Lacy $100 each and Bert Blyleven $500. This would compare to the Phillies fines of $200 each for coaches Mike Ryan and Herm Starrette and $450 for pitcher Kevin Saucier... Commissioner Bowie Kuhn's office announced he will hear the appeal of Bill Madlock's suspension case next week. The Pirates will be in New York to play the Mets this weekend, and a date may be decided on Sunday.
Easier hit the ball to the outfield walls three times and two went for doubles. Greg Luzinski made an outstanding catch on the other one, ramming his head against the left-field boards... Phil Garner (strained back) could have been used in an emergency last night ("I feel better but I can't get into the lineup"). Law, his replacement at second base, had a ground-ball single and a bloop single and is hitting.357 in 14 at-bats... "I don't know what to do with (Omar) Moreno anymore," said McGraw. "We can't figure out what he's looking for."
Ott said he was merely trying to "drive the ball through the infield" in the ninth inning when he lined his game-winning hit against the right-field wall... Tonight John Candelaria faces the Phillies' Steve Carlton, the leading pitcher in the league in wins, strikeouts and earned run average... Saturday's Pirates-Mets game in New York has been changed to 2:15 p.m. as NBC-TV's game of the week... Except for a fat pitch to Mike Schmidt, the majors' home-run king, in the first inning, Eddie Solomon was effective for five innings. His relief - Enrique Romo, Grant Jackson and Kent Tekulve -was nearly flawless. Romo has allowed one earned run in his last 18 innings and Jackson hasn't given up a run in his last 13-plus.
The Pirates selected a shortstop and six right-handed pitchers yesterday in the draft of college and high school players. In the first round of the regular phase, the Pirates chose shortstop Richard Renteria of South Gate, Calif. They also selected Jeffrey Home of Jacksonville, N.C., and Timothy Burke of Omaha.
In the secondary phase, the Pirates selected four pitchers: David Chiono of Marysville, Calif.; Tyson Hubbard of Darlington, S.C.; Richard Lucero of Grants, N. M., and Brian Peck of Missoula, Mont.
Umpires Using Foul Tactics in Madlock Dispute
By Pat Livingston, Sports Editor
IN THE APPEAL of Bill Madlock, Baseball Commissioner Bowie Kuhn, who, in dealing with most controversies, has emerged a mouse, finally gets his golden opportunity to show he's a man.
The commissioner can do this by refusing to permit Madlock, the Pirate third baseman, to be used as a pawn by a power-grabbing organization on a muscle-bending spree.
I'm referring to the Major League Umpires Association, which, in a shockingly partisan effort, has geared up full blast to create a crisis out of a controversy.
While I am not about to condone Madlock's stuffing of a baseball glove into the face of umpire Gerry Crawford, neither am I to suggest that the umpires are not without blame in what has turned into a sticky incident.
They were not without blame from the outset when Crawford, a man who should have shown more dignity, stood there, face-to-face, belligerently jaw-boning with the angry Pirate infielder.
They were not blameless in threatening to take matters into their own hands and unilaterally invoke a contrived suspension of Madlock; they certainly were not blameless in their community effort to influence the league president, Chub Feeney, to punish the Pirate. They are outright arrogant in their criticism of Kuhn for even entertaining an appeal that, under the rules of common decency as well as baseball, he is obliged to hear.
These are organized pressure tactics, ill-befitting a profession that once prided itself on the independence of its practicioners, its maturity and judgment, its impartiality and its adherence to the rules of the game and the values of fair play.
In dealing with Madlock, the umpires, collectively, if not individually, have shown a horrifying disregard for his rights.
They have brazenly played with the emotions of the mob with their assertions that they are wary of their safety on the field.
They have interjected themselves as a force to see that the 26-year-old infielder is punished, and punished severely, for what was clearly the spontaneous, impulsive act of a protesting player caught up, as well-disciplined athletes frequently are, in the uncontrollable passion of the moment.
The facts are not in dispute. Madlock agrees that his glove might have brushed the nose of Crawford, but it certainly didn't draw any blood nor loosen any teeth. There were no punches swung. Under his considerable powers on the field, Crawford instantly ejected Madlock from the game. Similar incidents occur quite frequently.
But rarely has one occurred that has created such an outcry against the offender as Madlock's transgression did. Like a pack of wolves, the umpires reacted like a committee of vigilantes, screaming for blood.
The crew that is currently in town, working the Pirates' series with the Phils, is the most vocal in the anti-Madlock crusade. John Kibler, the crew chief, threatened to boycott a Pirate game if Madlock were in the lineup. Only an appeal by Chuck Tanner convinced him of the folly of that. The other night, Kibler, a man who should be admired for the independence of his decisions, even more shockingly demeaned his ability to be a neutral arbiter.
"Whatever he tells us to do," said Kibler, referring to Richie Phillips, the attorney orchestrating this campaign, "I'm sure we'll do it."
Even if it means throwing a faultless Madlock out of a baseball game?
"I hope they do it," Madlock said, with considerably more dignity than the umpires have shown.
Bruce Froemming, an umpire in Kibler's crew, took to intimidation and name-calling, scoffing at Steve Greenberg and Don Fehr, Madlock's attorneys, and the commissioner himself.
"And Kuhn? What's so tough about making a decision right now?" asked Froemming, who has been known to have trouble with an occasional decision himself. "Last week, when somebody asked Kuhn about Madlock, the commissioner said it was a league matter."
Which it was, somebody might have told Froemming, until Madlock took his appeal into Kuhn's hands.
"Kuhn says we are very important to the game," the umpire went on. "If we're so important, why does there have to be a second appeal? We need somebody to defend us?"
From what, a mad dog? A glove in the face? That's strictly a brazen pitch by an umpire who wasn't even involved in the controversy, nor was here to see it, to make Madlock, a relatively happy, carefree young fellow, appear to be something he definitely is not.
I don't like the organized aspects of the umpires' tack. If Gerry Crawford were truly manhandled, if his safety were endangered by Madlock's act, then Crawford should state his case. If the facts are found to be as other umpires allege them to be – that Madlock violently assaulted him – then Bowie Kuhn should back Crawford to the hilt.
But under no circumstances should the commissioner cave in to a campaign of pressure by a group of self-serving umpires trying to use a ball player as a pawn in their effort to gain a victory they failed to win on a picket line.
Human rights, which is what Bowie Kuhn is now asked to deal with, are far too sacred to be squandered like that.