Allentown Morning Call - March 8, 1980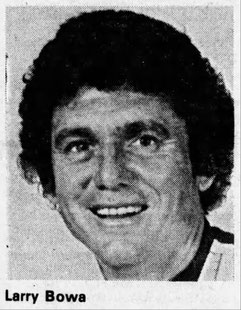 Feedback prompts Bowa apology
John Kunda, Executive Sports Editor
CLEARWATER, Fla. – Earlier in the week, Larry Bowa put his foot in his mouth. Yesterday, he got it out with, what amounted to, an apology to Philadelphia Phillies' owner Ruly Carpenter. 
Seems that Bowa was spouting off about his status on the shortstop salary scale. He figured he was about the sixth or seventh highest paid shortstop in the majors, and that level, he thought, wasn't good enough for him.
And he said so. And a couple of newspapermen (two from Philadelphia and another from Wilmington), who heard him complaining, wrote about it. 
Carpenter, who is in Philadelphia, read it, and so did a couple of Bowa's friends in Philadelphia. Bowa heard from Carpenter and he heard feedback from his friends. 
"Yes," said Bowa, who called a mini-press conference yesterday morning before the Phillies went to work at Carpenter Complex, "I did say some things I shouldn't have. I guess I jumped to conclusions. Ruly has been very fair to me. He's been good to me ever since I joined this organization." 
All the fuss Bowa created stems from a long-term contract that he signed in 1978. At the time, that contract, which runs through the 1982 season and calls for around $300,000 a year, made Bowa the second highest paid shortstop in baseball. 
A lot has happened in the money market since then, and this is what prompted Bowa to see what he could do to have his salary increased.
Just last week, St. Louis signed its shortstop, Garry Templeton, to a $4-million contract over six years. That figures out to around $700,000 a year. 
If Templeton can get that, Bowa figured, why shouldn't he. 
"I failed to analyze the entire picture in 1978," said Bowa. "That's the problem of long-term contracts. You forget about the escalation factor." 
Bowa's two-hour telephone conversation with Carpenter Thursday was amicable. "All he told me was that if he changed my contract," Bowa said, "he'd have to change the ones Bull (Greg Luzinski), Pete (Rose) and Schmitty Mike Schmidt have. I understand that he couldn't do that. The thing would just keep on snowballing. I can see where he (Carpenter) is coming from." 
Bowa mentioned how strange it is that both he and Dave Concepcion of the Reds are generally rated the best shortstops in baseball, yet, "both of us are among the lowest paid shortstops in baseball. 
In the meantime, Bowa will have to live on $300,000 a year. As he himself said: "I'm not making a pauper's salary. I'm not looking from where my next meal is coming from." 
Oddly enough, Bowa had his finest defensive season ever in the majors last season, but went through one of his worst as a hitter. He hit a mere .241. 
Defensively, though. Bowa, who'll begin his 11th season as the Phils' shortstop, set a major league record for the highest fielding percentage by a shortstop – .991. He committed just six errors and none of them came in Veterans Stadium. 
Another oddity, he didn't win the Golden Glove Award. Concepcion did.