Camden Courier-Post - March 8, 1980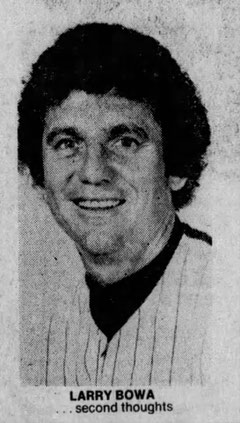 Bowa issues apology
By Rusty Pray of the Courier-Post
CLEARWATER, Fla. – The fires that burn within Larry Bowa erupted earlier this week, sending sparks flying as far north as Philadelphia.
The Phillies' shortstop was upset because he felt his contract should be adjusted. The St. Louis Cardinals had just signed their shortstop, Garry Templeton, to a six-year pact worth $4 million and Bowa thought Phillies Owner Ruly Carpenter should raise Bowa's salary accordingly.
Yesterday, Bowa banked those fires considerably, issuing a public apology to Carpenter and saying he intended to honor his contract until it expires in 1982.
Bowa, of course, has never been one to hold back an opinion. He speaks his mind in a straightfor ward fashion, often without considering the consequences of his words. Bowa's nature has always been to act, to get whatever is bothering him of f his chest.
But it was a chastened Bowa who called yesterday's press conference here at Carpenter Complex. He had spent nearly two hours in a telephone conversation with Carpenter the previous night and, afterward, Bowa decided he had spoken out of turn.
"I made a statement that six or seven shortstops make more money than me," Bowa said. "That's not Ruly Carpenter's fault. "When I signed my contract (in 1978), I was the second highest paid shortstop in baseball. Robin Yount was the only one making more than me."
Bowa is, in fact, the seventh highest paid shortstop in baseball with a reported salary of $280,000 a year. There was, he had felt, something wrong about that. With 10 years in the major leagues, Bowa's anger was understandable. It is difficult for anyone – in or out of baseball – to accept the fact that someone such as Templeton, someone with only three years experience, would be making much more money than someone who has been at his profession for a decade.
"As far as I'm concerned," Bowa had said, "(Templeton is) the highest paid shortstop in baseball. He's played only three years, I've played 10... I think (that) Ruly Carpenter would come to me and, say, alter my contract or give me some compensation."
Bowa revised his view considerably yesterday.
"If Ruly Carpenter readjusted my contract, he'd have to do it for Greg Luzinski because George Foster (of the Reds) signed. He'd have to do it for Mike Schmidt or Pete (Rose) anytime anybody signed with someone.
"If I've hurt Ruly or (General Manager) Paul Owens in any way, I'm sorry. They've been more than fair to me over the years."
Bowa made took pains to make it clear the press conference was his idea. Carpenter, Bowa said, wanted to let the issue die. But Bowa felt he would not be accepting responsibility for his actions if he simply began keeping quiet on the subject.
"I was wrong in saying what I did," Bowa explained. "Ruly said I bad every right to feel that way with six players making more than me. But that may be the drawback of signing a long-term contract.
Indeed it is. One of the benefits of a contract such as Bowa's is security. There are, however, no guarantees that someone unproven won't some day be making a larger salary.
"I didn't see the business end of it," Bowa said. "If they gave it (more money) to me, they'd have to give it to the other guys. Ruly can't be concerned with what guys on other teams are making. He has to take care of the Phillies – and I was taken care of when I signed my contract.
"After I got done talking to Ruly on the phone I could see where he's coming from. I didn't analyze the situation. I just looked at it from my den. Ruly has no control over (salary) escalation.
"I jumped to conclusions."
Which is not inconsistent with Larry Bowa's personality. He is a man quick to anger, quick to speak out. His feelings perhaps were not entirely unjustified. But his words snapped a few fences in Philadelphia and Bowa decided yesterday it was time to mend them.
PHIL UPS – Dick Ruthven, one of the key figures of the Phillies pitching staff, looked strong throwing batting practice yesterday... The righthander is coming off elbow surgery... Dickie Noles says he is willing to cooperate in Manager Dallas Green's experiment to possibly convert Noles from a starter to a reliever... "It don't matter to me as long as I get to pitch," Noles said. "If Dallas has faith in me to do it, then I can do it,"... Noles has been used exclusively as a starter in the past.