Philadelphia Inquirer - March 8, 1980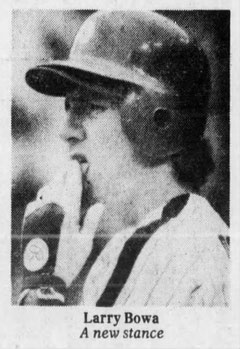 After a chat with the owner, Bowa warbles a different tune
By Jayson Stark,
Inquirer Staff Writer
CLEARWATER, Fla. – The name on his uniform read "Bowa." The sign over his locker read "Bowa."
He looked like Larry Bowa. His voice sounded like Larry Bowa's. He walked, swung a bat and threw like Larry Bowa.
But who was this guy, really?
Larry Bowa did some talking yesterday. That was about as unusual as the sun rising. But it was the stuff he said that didn't sound a whole lot like Larry Bowa. Here was some of it:
•  He no longer wanted Ruly Carpenter to tear up his contract just because he is now, at $300,000 a year, one of the lowest-paid shortstops in baseball.
•  He is recovering nicely from the trauma of not winning a Gold Glove award. In fact, he said, he doesn't even care about individual awards any more.
•  He'll be glad to hit in the dreaded No. 8 spot in the order this year if the manager thinks it will help the team.
•  And, finally, he enunciated the following words – "I like Dallas Green."
Hmmm, these positions sounded markedly dissimilar to previous Larry Bowa platforms.
Whatever happened to those old, familiar hits, "I Think the Owner Has Enough Respect for Me that He'll Show Me What I'm Worth"... and "I Just Don't Think I Can Help the Ball-club Hitting Eighth"... and especially that old favorite, "What's Dallas Green Ever Won?"
Nope, all off the play list now. Larry Bowa turned into a regular politician yesterday. Well, for one day, anyway.
Possibly the cause of this turnabout was that Bowa got a phone call Thursday from Phillies owner Ruly Carpenter. Carpenter had read one too many "pay-me-what-I'm-worth" stories in the papers. And Ruly Carpenter had had about enough.
"We must have talked for close to two hours," Bowa said yesterday at an informal press conference he called to apologize to Carpenter. "I don't think he was angry. I think Ruly was hurt. And after I got done talking to him, I could see where he was coming from. He has every right to be hurt."
What Carpenter was hurt about was Bowa's reaction to the six-year, $4 million contract the Cardinals handed their shortstop, Garry Ternpleton, last week. Suddenly, it seemed to Bowa, his own $1.5 million, five-year deal that runs through 1982 didn't look so hot.
So he asked Ruly, through the papers, to make some adjustments. But yesterday he said those adjustments were no longer necessary. He is going to honor his contract, right through the last day of 1982.
"I never looked at Ruly's end of it," Bowa said. "I just looked at my end of it. And that was wrong.
"When I signed that contract in 1978, only one shortstop made more money than I did – (Milwaukee's) Robin Yount. Nobody knew at the time there was going to be all this escalation in salaries, that guys were going to be making $600,000 and $700,000, especially shortstops. Ruly has no control over what the Cardi-Z nal guy wants to give his shortstop.
"I didn't look at it from the business angle. If Ruly Carpenter is justified in readjusting my contract, he'd have to readjust Greg Luzinski's because George Foster got more. He'd have to readjust Pete Rose. He'd have to adjust Mike Schmidt. So if I hurt Ruly and Paul (Owens), I'm sorry. I had no intention of doing that."
So much for the formal portion of Bowa's remarks. Earlier, he sat at his locker and talked about how his new manager had really won him over this spring.
"I like Dallas," he said. "The thing I - like about Dallas is, you can yell at him and scream at him, and he can yell at you and scream at you, and after it's off your chest, the slate's clean. You can communicate with Dallas Green."
In further U.N. ambassador fashion, Bowa said he also was impressed by how organized Green was, and how he meets with everybody every day, and how nobody stands around during drills, and how he makes the youqg players feel a part of things.
So gee, if Dallas is such a great guy, how come nobody figured that out last September, when a lot of players were campaigning against him like he was Mussolini?
"Well, I think it was a matter of the way he came across in that first meeting," Bowa said. "He said,I want to see who wants to play,' like we're not trying or something.
"I don't think he meant it the way it sounded. I think he meant, 'Who's gonna bust their butt for me every day?' But it came out very arrogant, like he was doubting people's ability. That was the first impression guys got. I know I did, and Garry (Maddox) did, and some others.
"I'm sure that during the course of the season, he's going to say some stuff we don't like. But I think guys will understand that hey, he's just ticked off. That's just the way Dallas wants to express himself. But heck, the fact is, at least he expresses himself."
And so, on the fourth day of Spring Training 1980, Larry Bowa had found new contentment. It wasn't another $300,000 a year. But it will have to do.
NOTES: Pete Rose would not comment on reports he has reconciled with his wife Karolyn.... Orioles superscout Jim Russo has hung around camp the last two days, looking for somebody his team could deal infielder Billy Smith for.... Spring training scene of the day: Green pitching extra batting practice to Bowa.
Running furor may hurt Phils
By Bill Lyon, Inquirer Staff Writer
Idle thoughts....
Christopher Columbus obviously is responsible for the way our government works. He didn't know where he was going when he started; he didn't know where he was when he got there; and he did it all on borrowed money.
•
Steve Carlton is proof that you don't have to be blond and built for people to take an inordinate interest in your legs.
People usually get this worked up about who's running and who's not only when they've bet 10 bucks to win, place or show.
This entire charade at the Phillies' spring training would be laughable except I've got this uneasy feeling that it my come back to haunt them. Assuming of course, there is a baseball season this year.
Dallas Green is absolutely right. Whether Carlton runs or not isn't that big a deal. But he – and not the media, as he charges – is the one who blew it out of proportion. And now he's going to have to live with the consequences.
That gaudy banner that was hung in the Phils' locker room, the one that says "We, Not I," sounds hollow and meaningless when the reality is one set of rules for all the pitchers, and another set for one pitcher.
This may be overreacting, but it is just the sort of thing that sows the seeds for clubhouse turmoil. The Phils' locker room, which was a no-man's land much of last summer, could be a seething cauldron again. Or, maybe Green will relent and get a patch on it before the whole thing blows up.
•
Men refer to a 10-mile walk as "physical fitness." Women call it shopping.
•
So maybe the Stanley Cup isn't quite going to be a waltz for the Flyers after all. The Canadiens are coming, in case you hadn't noticed.
But what the Flyers privately fear the most is the zebras. The officials are calling an increasing number of cheap penalties on Team Philadelphia, but the players back off from complaining too loudly, too publicly, because they're aware it sounds like a cop-out, like they're already planning an alibi if they get bumped off in the playoffs.
It was only a few months ago that we were all marveling about the "new-look" Flyers, the team that skated and scored and left the fighting to somebody else.
The fact is, the Flyers once again lead the entire NHL in penalty minutes, and a couple more exhibitions like the Dancing Bears routine in Vancouver will give them a shot at breaking their all-time league record for most penalty minutes in a season.
In the public's mind, and in the mind of the officials and the league, the Flyers still have not lived down that "Broad Street Bullies" rep. And it is costing them, often unfairly.
•
Most things that come to he who waits turn out to be not the things he was waiting on.
•
The NCAA and the NIT have confused "more" with being the same as "better." Like their professional brothers, they have become infatuated with the idea of expansion. The result is a couple of tournaments that are going to be diluted by sheer size.
In the last six years, the NCAA, hoping to squeeze the life out of the NIT, has doubled its field to 48 teams.
The NIT, fighting back at the establishment, has used the same tactics, expanding its invitation list from 16 to 32 teams in the same span.
Postseason tournament bids have become meaningless. So have conference championships and playoffs. So what if you finish sixth in your league, you'll still get a tournament bid. That doesn't encourage excellence, but it does reward mediocrity.
And the seedings are fairly ludicrous. Georgetown beats Syracuse twice in a span of two weeks and Syracuse is still seeded No. 1 in the East. Ridiculous.
•
A conscience is that small voice inside that makes a husband tell his wife before the neighbors do.
•
In all of the emotional pyrotechnics about the U.S. boycotting the Moscow Olympics, the one recurring refrain of sympathy was about those athletes whose training would be "wasted."
Well, there will be some new losers this spring if the major league baseball players go on strike. If it's a long strike or a lockout, when it finally is settled the teams will go with their regulars, their "proven" talent. And all those young hopefuls who asked only for the chance to audition, they will be shipped out without ever getting a look. Do you suppose that bothers the established players? Some of them probably gave it a thought... for at least, oh, 10 seconds.