Allentown Morning Call - April 15, 1980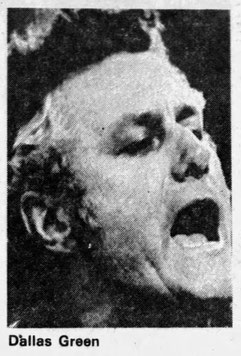 Phils have already established a trend – they're playing ball
By Jack McCallum, Call Sports Writer
Baseball watchers have long been enamored of trends. That is partly because the long, long 162-game season provides dozens of ups-and-downs and. thus, dozens of analytical opportunities. 
And, so, after just three games, after just one brief homestand, after just one series against just one National League ballclub, it has been written and discussed that the 1980 Philadelphia Phillies have already established a trend. 
The trend, of course, is optimistic. The Phillies played good, aggressive baseball in their first two victories over Montreal on Friday night and Saturday afternoon. Then, just when it appeared they had fallen asleep on Sunday afternoon, they woke up with an old-fashioned, blood-boiling ninth inning rally that sent the game into extra innings. So what if they eventually lost in the 10th. These guys are playing ball! 
The reason, as most of the trend tracers can figure out, is Dallas Green. Tall, commanding and good-looking, Green has instilled "new life" into a team that was once led by a phlegmatic stumblebum named Danny Ozark. The trend started in spring training when Sgt. Green had the Phils running instead of sunning, and it's going to continue right through the dog days of summer, right through Labor Day and right through that elusive pot of gold at the end of baseball's rainbow, the World Series. 
Well, I hate to throw water on that optimism, a much-needed commodity for Phillie fans who haven't been involved in a World Series since 1950, but it is much, much too early to talk about trends. The Chicago White Sox and the Seattle Mariners are, alter all, tied for first place in the American League's Western Division. Is that a trend? 
The common thinking is that the Phils under Ozark were a lazy bunch of overpaid malcontents. (No one will argue with the overpaid part but they are still overpaid and will continue to be overpaid even if Saint Frances of Assisi comes back to manage. Then again, so will corporate presidents and basketball players.) 
But what IS forgotten about the Ozark years is that the man was there when the Phillies won three straight Eastern Division titles. He was there when the Phillies became the first Eastern team to win over 100 games two years running, 1976 and 1977. 
Ozark was there in 1976 when the Phillies got a big lead, as many as 15 games, only to go into a slump and barely hang on to win it. Ozark was there in 1977 when the Phillies didn't take the lead until August 5 and stretched it to as many as nine games after that. And Ozark was there in 1978 when the Phillies took the lead in June but never pulled away and didn't clinch until the next-to-last game of the season. 
If there is a trend in any of those division titles, I fail to see it.
Ozark's misfortune was that he was also there last season when the Phillies collapsed into a pile of broken bones, sore arms and desultory spirit. And it is from that "trend," formed over one-half of one season, that Dallas Green must rescue them. 
This is not to say Green won't do the job. It's merely to stress that there are no trends in April – there are only April baseball games – and that no ballclub or no manager is really tested until July or August. 
"People forget that we played like this early last year," said Pete Rose after Sunday's loss. "We came back often, we won the close games, we played hard. Hey, we were a helluva' ballclub for a while, the best in baseball, until the injuries." 
Rose was asked if he thought Green had started a (rend or instilled a feeling that wasn't there under Ozark. It was obvious that he had given the subject a lot of thought but he had a hard time answering. 
"I don't know how to say this without offending Dallas." said Rose, aware that a few pens were poised and ready for him to do just that. "We are playing very hard for-Dallas. He's been a good leader. But, honestly, there is only so much a manager can do. I know everyone's heard that before. But it's true. 
"Any trend or whatever is going to have to come from the players. Dallas can only put a relief pitcher in the game with the bases loaded and two out in the ninth. But the pitcher has to get the damn guy out." 
But Rose, and most of the other Phillies who talked about the Ozark-to-Green transition, at least believe there is the indication of a trend. 
"There's a good atmosphere in the clubhouse," said Rose. "Guys are pulling for each other now. I'm not saying they weren't under Danny but it's more obvious now. There seems to be a real belief here that we can do it." 
And Rose agreed that much of that spirit stems from Green. Rose said he made them feel like winners in spring training with his disciplined program. And, perhaps more importantly. Green's decision to carry five rookies had a positive effect. 
"You need a mix between experience and youth." said Rose. "Sure, veterans are necessary but so are the young guys who look at things differently. I believe, like Dallas, that young players don't have to grow up before they can play; I believe they will grow up IF they play. 
"And these guys, guys like (Scott) Munninghoff and (Dickie) Noles, aren't like the kids who used to come up. They don't feel like they're on cloud nine just by getting here. That's how I felt. These feel like they belong. And they do. It's going to make a difference." So, trend-tracers stick with safe stuff like the trend that says the cost of living is going to rise. Hold off on the Phillies for a while.