Philadelphia Daily News - April 15, 1980
Durable McBride Glad He's Off Trading Block
By Bill Conlin
ST. LOUIS – One of the most popular games retailers play is called "bait and switch."
The newspaper ad trumpets: "INCREDIBLE VALUE!!!! 19-inch color TV for only $299.95." You're excited. It's a name brand and you probably missed the tiny asterisk and the equally minuscule disclaimer tucked away in a corner of the ad: "*(Only two in stock)." The salesman is apologetic. "Just sold the last model 10 minutes ago," he says and before you can hum the theme from "The Sting" you've been had. You walk out the proud owner of a 19-inch set with a few more features than the "bait" and a $499.95 price tag to match. And if the salesman was really cooking, you bought a service contract, a remote control unit and a rotating antenna guaranteed to pull in every station from Boston to Norfolk.
Baseball teams are masters of the bait and switch. But'they reverse the gambit, offering top prime when they mean to trade soup meat.
BAKE McBRIDE spent so much time on the block last winter, Paul Owens should have put out a catalog on him. "Pre-owned rightfielder, only 12,000 miles (most of them running without limp). Recently overhauled. Will consider straight-up deal for established relief pitcher, or expanding to multi-player trade. All contracts must be audited."
"Every time I picked up the paper last winter I was going here, going there," McBride said before the Phillies flew here to open a two-game series in snow-covered Busch Stadium. "McBride going to Texas, McBride going to San Diego. It got so bad I didn't even want to pick up the phone. I kept asking myself, 'Why me? How come I'm the only guy in this lineup they can trade?'"
Why indeed? McBride, who has a reputation for being about as durable as the prime lending rate, played in a career-high 151 games, most of them with a painful ankle bruise. He hit .280. His 163 hits, 60 RBI and 12 homers were career second-bests. He had a career-high 12 triples and 82 runs scored. Among National League rightfielders – the deepest position in the National League – he was in with a group which included Dave Parker, Dave Winfield, Gary Mathews, Ellis Valentine, Jack Clark and George Hendrick.
"I think," Bake says, "I had a pretty damn good year."
Maybe Paul Owens and Dallas Green were playing an internal game of bait and switch. The McBride trade rumors seemed to peak during the period when Greg Gross was a negotiating free agent. And they seemed to subside as soon as Gross signed a multi-year contract with his former club, the Phillies. If you buy the theory, the bait, of course, was an imminent McBride trade which would have given Gross a clear shot at right field. The switch? Gross signs and; suddenly, all deals are dead.
WHATEVER, McBRIDE is the Phillies' No. 2 hitter against all kinds of pitching and he says he's back in the groove which saw him string together seasons of .309, .300, .335 and .316, the kind of hitter whose blazing .339 second half after the trade from St. Louis was probably the biggest single key to the Phillies' 1977 division title.
"I got myself into some bad habits last year," Bake says. "I had that game in Pittsburgh early where I hit a couple of long homers and 1 fooled myself into thinking I was a power hitter. I started trying to pull everything. It wasn't me and I didn't get straightened out until September. (He hit .343 under Dallas Green the final month.)
He's a fearless, aggressive hitter who crowds the plate and hangs his head over it a la Frank Robinson. Pitchers like to try to jam a crowder like McBride because it's so tough to establish anything on the outside corner.
"Billy DeMars said just one word to me about hitting this spring," Bake said. "He told me, 'Stop.' I get in trouble when I take a big, sweeping swing at the ball."
DeMars agrees. "He's got to be short and quick. I want him to have the feeling that he's hitting down on the ball and stopping his stroke when he makes contact. He can't, of course, but it stops him from opening his right shoulder and pulling off the ball. He's so strong that if he gets a pitch to drive he can take a pitcher out of the park, but he's basically an inside-out, up-the-middle, opposite-field hitter. I've never seen him swing the bat better than he's swinging it right now."
The No. 2 spot in the order is hot without pitfalls for a guy trying to suppress an urge to pull the ball. With Pete Rose leading off, Bake will spend a lot of time looking at an inviting gap when Pete is being held on by the first baseman.
"You see that big hole and say, "Wow, I've got to go take a shot at that," McBride says. "But I've got to resist the temptation and hit the ball where it's pitched. Maybe Pete will do me a favor and hit a lot of doubles."
And maybe Bake McBride will guarantee himself a quiet winter by hitting .300. A winter without McBride as trade bait? Now that would be a switch.
PHILUPS: When the Phils landed here last night it was 33 degrees with light snow falling and 3.5 inches on the ground. Clearing and milder is the forecast, however, and temperatures are supposed to be in the mid-40s when Randy Lerch goes against Pete Vuckovich, the tough righthander who shut out the Pirates on opening day. The Cards haven't done much right since then, dropping the last three games of the home series to the world champions. The Cards scored only four runs against the Bucs.
Maddox to OK $4.2M Pact
By Bill Conlin
ST. LOUIS – Gary Maddox has called a press conference at Busch Stadium here later today when it's expected he will announce that he'll sign a six-year, multi-million dollar contract, ending his six-month salary dispute with the Phillies.
The Golden Glove centerfielder will reportedly receive $4.2 million over the duration of the pact, a figure which would make him the highest paid member of the Phillies in terms of total dollars. Pete Rose's four-year contract is worth an estimated $3.2 million.
The money will also make Maddox the highest paid center-fielder in the National League, perhaps in all baseball.
The announcement was expected to be made by Maddox and his agent, Virginia attorney Jerry Kapstein, after the Phillies' batting practice prior to tonight's game with the Cardinals.
BOTH MADDOX and his agent announced several times during spring training that the outfielder would become a free agent if contract terms were not reached by opening day last Friday.
However, Kapstein announced last Thursday that enough progress had been made for Maddox to remove the opening-day deadline and indicated that negotiations would continue with the parties close to the agreement.
Negotiations between both sides were at their lowest during spring training last month. A stalemate had been reached and there was talk of Maddox being on the trading block.
But team owner Ruly Carpenter stepped in and personally handled the negotiations.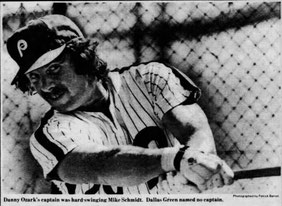 Sailing Without a Captain
By Stan Hochman
Legend has it that when Dallas Green was three years old. he swallowed the siren on a Wilmington police car.
Dallas was a frail lad then, so surgery was deemed too dangerous. Thus, the siren remains lodged in Green's esophagus, where it adds a certain vibrato to his voice.
If the story is apocryphal, why are the picture frames in Green's office made of plexiglas and the tumblers made of plastic? When Bill Conlin's eyeglasses shattered this spring while transcribing his notes, was it Dallas or was it Memorex?
"We don't have a captain," Green said yesterday in his best wrath-of-God voice, "because we didn't need a captain. What the hell else can a captain do besides taking up the lineup card (to home plate )?
"I feel we've got enough guys of the same age, who have been with the club the same length of time, to do the work a captain can do in terms of communication.
"Most people think of a captain in a liaison role. I don't need that. Not with my open-door policy. I don't need a go-between."
GREEN'S VOICE could blow the hinges off a bank vault. It gets even louder when he gets angry.
Wouldn't, someone suggested meekly, a player be hesitant about taking his prbblems directly to Green, for fear of getting his hinges blown off?
"A player has every right to come in at any time," Green countered, "and say, 'Skip, can I have a few minutes?"
"If you're gonna lay the authority figure on 'em or play God, you're gonna back some people off.
"But I don't do that, other than that they understand that I'm the boss. To me, it doesn't show much character if you don't have the guts to say what's on your mind."
Danny Ozark was a whisper, Dallas Green is a shout. Ozark appointed Mike Schmidt captain, as much for what he thought it would do for Schmidt as for what it might do for the team.
"My philosophy." Green said, "has always been that I don't see the need for a captain on a ball team of this kind. Plus, we don't have a Willie Stargell-type guy who has been around forever. Other than Pete Rose, and Pete didn't necessarily want those responsibilities. I'm sure he would take it if I wanted him to take it.
"I DON'T BELIEVE in what Danny did with Schmitty and neither did Mike Schmidt. Schmitty was, more or less, a designated captain.
"Danny called four or five guys in and said he wanted to name Schmidt captain. And that was that.
"Schmitty and I talked this winter about it. Had two terrific talks. I was gonna have the team vote on it, and then, in the spring, I decided to go ahead and just say we would not have a captain.
"I told the guys in that meeting I expected the veterans to accept the kids and help the kids. I told them we all come in with doubts and frustrations and sometimes we need a sounding board."
Jim Morrison arrived in Philadelphia with a pocketful of doubts and a suitcase full of frustrations. When he left, he said he was disappointed in how aloof, how cold, how self-centered the veterans had been.
"The atmosphere on a ballclub," Green screeched, "comes from the top. The atmosphere on this club is not that way.
"Jim Morrison, all the time I had him in the farm system, never had a problem coming up and talking to me."
MAYBE, THROWN into the cauldron of a pennant race, Morrison's throat was so clogged he couldn't talk to anyone? Maybe he mistook the ritual needling of a few veterans for cruelty?
"Jim Morrison," Schmidt recalled, "was thrown right into the starting lineup. What he did was scrutinized.
"What he went through here was a learning process and I'm sure it will help him handle whatever happens to him.
"He was a quiet kid. Maybe it's the veterans' fault, as a group, for letting it happen. The funny thing is, I don't realize I'm a vet.
"This is my eighth year. And this is the first year I think, hey, I'm quote, unquote, a veteran ballplayer.
"What happened is, this spring, we got together with some of the younger guys. They got to talking how they wore your shoes in the minors, used your bats.
"We sat around for two hours, had some drinks, swapped some stories. You find out there is a sort of admiration for the guys in the big leagues.
"I've always felt, for the last four or five years, maybe there's some sort of animosity the guys in the minors felt for the guys in the big leagues.
"THEY SEEM TO be just a group of 150 guys, who trained at the complex, went and played their seasons, and seldom got to play for the Phillies.
"It's important, though, for the veterans to realize that if this organization is going to build any tradition it's got to start winning, getting into a World Series, winning it.
"I thought respect only came out of having a great deal of success, winning big. But the guys in our minor league system have a great deal of respect for the veterans.
"And that respect should be returned.
"I look at Luis Aguayo and see how serious he takes every ground ball hit to him. I look at George Vukovich, a guy who probably started spring training thinking he didn't have a chance.  
"But as soon as he found out he did have a chance, he still kept hitting. He's proven he deserves a chance to play up here.
"Dickie Noles and Scott Munninghoff, there's no reason why they can't win 20 between 'em. They certainly both have enough guts and fight in 'em.
"They have that willingness to want the ball no matter what the circumstances. That's the personality pitchers have to have and it can't be taught."
That's the kind of praise rookies need and it can't be legislated. Nobody knows it better than Rose, who floated through his rookie season with the Reds, euphoria deafening him to the grumbling of the veterans.
"THE REDS WON the pennant in '61," Rose said. "In '62, Don Blasingame hit.281, had a real good year. In '63, they thought they'd win again.
"And Hutch (Fred Hutchinson) takes this brash young kid, out of Class A, and sticks him at second base. Me, I was on Cloud Nine.
"But it was a cliquish team, guys like Kasko, Edwards, Coleman, Freese, Jay. They hung together... and they resented me. A lot of players would have been hurt. Ballplayers are more mature now. But Cloud Nine took me through it.
"I remember one night I came in at 12:15. My roomie, Jim Coates, was asleep with the door latched. I didn't want to disturb him.
"Vada Pinson took me in. He roomed with Frank Robinson, but Robby was back in Cincy getting treatment for an injury. I remember it because the next morning was the first time in my life I ever had room service.
"The white players ignored me. That year, they called me into the front office to get on me about associating with the black guys.
"And I think that's one of the reasons Sparky Anderson named me captain when he came in. He knew I wasn't treated right when I was a rookie.
"AND THAT'S PART of being captain, treating young ballplayers like they're supposed to be treated. I treat 'em like I do Mike Schmidt or Larry Bowa.
"Sparky will tell you how lucky he was to have me and Johnny Bench as leaders for the white guys, Joe Morgan for the black guys, Tony Perez for the Latin guys.
"I told Sparky, 'I make more money than anybody on the club, but anything you want done, within reason, let me know.'
"We were getting ready to go to Pittsburgh for the playoffs that one year, Sparky called me and Bench into his office. He said, 'You guys getting haircuts for the playoffs?'
"Well, Ted Uhlaender and Joe Hague had four or five days worth of stubble on their faces, thinking about beards. The next day after we got our hair cut, Sparky called those other two guys in.
"He told 'em. i don't care if you take me to Marvin Miller, or what, but I asked two superstars to get haircuts and they did.
"'If you aren't shaved by the time the plane leaves for Pittsburgh, you ain't goin'.' Those two guys turned around, walked right in, and shaved."
ROSE WEARS HIS hair long and full these days. But his influence on the rookies extends beyond the earlobes.
Sunday, after Munninghoff pitched three fine innings in his major league debut. Rose made the kid feel at home with some gentle needling and some strong praise.
"Yeah, we both come from Cincinnati," Rose said, "but he came from the rich section. Where Cadillacs drive up and Jaguars jump out.
"He's got the kind of stuff where if a guy sees him more than once, it's not gonna make much difference. A lot of guys who just throw hard will go once around the league and then it will catch up with them.
"He's not like that. He's got a lot of poise, a lot of guts. He's got good stuff."
Munninghoff might have picked up his first big-league victory in his first big-league appearance if Garry Maddox had not whiffed with the winning run on third in the bottom of the ninth.
"Hey, I'm sorry I didn't drive in that run for you," Maddox said, pausing to shake Munninghoffs hand on his way out of the clubhouse, "but I'll pick you up another time."
That is what winning baseball is all about, guys picking other guys up. The 1980 Phillies seem to have gotten that message. With Green in command, they'd have to be deaf to have missed it.