Camden Courier-Post - April 16, 1980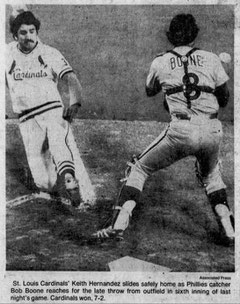 Pitching lets Phils down
By Rusty Pray of the Courier-Post
ST. LOUIS – Considering lhat Pete Vuckovich was on the mound last night for the St. Louis, it could be said a Phillies loss was all but preordained.
Vuckovich, a righthander who went 15-10 a year ago, is a member in good standing of the Phil Niekro Phillie Killer Club, having beaten them four straight times last season. Indeed, Vuckovich allowed just a little over two runs a game over the 32 innings he pitched against the Phillies.
And, there's no doubt Vuckovich pitched well last night here in Busch Stadium, taking 1:57 to handcuff the Phils, 7-2. Vuckovich had the Phillies' hitters – especially the first six – in the lineup off stride all evening with breaking stuff and off-speed pitches. Of the top six hitters in the lineup, only Mike Schmidt produced a hit, although Greg Luzinski and Pete Rose did hit the ball hard a couple times.
THE OTHER four Philly hits belonged to Manny Trillo, who had a single and a double, Larry Bowa and pitcher Randy Lerch, who doubled Trillo home with the Phils' first run in the sixth.
"He (Vuckovich) had real good 'control," said Luzinski. "He moved the ball around and hides his breaking ball and off-speed, pitches well. The guys were saying all night they couldn't pick it (the ball) up."
Be that as it may, the Phillies still might have had a chance to avert their second straight loss, after opening the season with two straight wins, had they gotten better pitching in specific situations,
"IF OUR pitchers kept us in the game, we had a chance," agreed Manager Dallas Green. "You can't give a pitcher like that (Vuckovich) too much life. We did not handle him well, so you have to try to force them to make a move and maybe get somebody you can handle."
What kept the Phillies out of this game and Cardinal Manager Ken Boyer from having to go to his anemic bullpen was a poorly-located slider thrown by Lerch and a second poor relief appearance by Ron Reed.
The Phils trailed just 2-1 when Lerch opened the sixth by yielding a single to Keith Hernandez, last year's National League batting champion. Lerch fanned catcher Ted Simmons for his fifth strikeout in what proved to be his final inning of work before Bobby Bonds singled to right.
RIGHT FIELDER Bake McBride made a less-than-dazzling play on the ball, approaching it warily, then throwing late and wide to third base. Bonds moving up to second on the throw.
"I was surprised we didn't make that play (at third) closer," said Green. "I don't know if it was because he (McBride) didn't charge the ball or if it was the throw. It looked like he slipped a little, but if he charged the ball harder, we would've made it closer."
With runners now at second and third, Green decided to walk George Hendrick and pitch to Ken Reitz, who lifted a sacrifice fly to McBride. Again, McBride seemed to overthrow the cutoff man, allowing the other base runners to advance.
"THAT." SAID Green, "wasn't what beat us."
It didn't, but the play that followed changed the complexion of things.
Ken Oberkfell, who traditionally feasts on Phillie pitching, ripped a two-run triple to right off Lerch. Suddenly, it was a 5-1 game.
With first base open, Green could have ordered Oberkfell walked and had Lerch, a lefthander, pitch to Vukovich. But Green decided to play percentage baseball, matching lefthander against lefthander instead of pitcher against pitcher.
"IF RANDY Lerch can't get a lefthander out, I'm in trouble, aren't I?" Green said. "They (the Cardinals) got their hits at the right time. If Oberkfell and Vuckovich (who doubled in two runs off Reed in the eighth) don't get hits, it's a 3-2 game."
Still, it was not Lerch's intention to challenge Oberkfell. He wasn't going to walk him intentionally, but he didn't want to give him anything to hit, either.
"We were," said catcher Bob Boone, "trying to be careful. We wanted to make him hit the ball the other way. He (Lerch) just left it (a slider) out there."
THE OFFENSE stirred briefly in the eighth when Bowa singled, went to third on Trillo's hit-and-run single to right and scored on pinchhitter George Vukovich's ground ball. Rose followed with a line drive that Bonds ran down in the left-center gap, making the game's best defensive play.
"That play," said Luzinski, "turned it around."
That and Reed's rocky eighth. After Kevin Saucier pitched a scoreless seventh, Reed, who walked three in two-thirds of an inning against Montreal on Saturday, permitted Vuckovich his two-out, two-run double.
"RONNIE DOES not look like he has his act together yet," said Green. "He had not thrown for quite a few days because he took off for home and missed some game action (during spring training). But we thought he was experienced enough to be more consistent."
Maddox 2nd on Phil payroll
By Rusty Pray of the Courier-Post
ST. LOUIS – Negotiations dragged on for more than a year without result And, when spring training came and went with neither side showing inclination toward settling, it seemed inevitable that Garry Maddox would sooner or later part company with the Phillies.
It was in early March that Maddox and his agent, Jerry Kapstein, first decided to suspend contract negotiations with the Phillies. In turn, General Manager Paul Owens announced he would attempt to trade his brilliant center fielder rather than lose him to free agency at the end of the season. Subsequent attempts to reopen talks proved fruitless and the Phillies began the 1980 season last week with Maddox still officially trade material.
That, however, is no longer the case. The Phillies yesterday signed Maddox to a contract that will keep him in Philadelphia until 1985. The seemingly-sudden turn of events came as a great relief to both sides, the Phillies because they need Maddox in center if they hope to contend in the National League East Division, and Maddox because the distraction of a contract hassle is now firmly behind him.
"I'M GLAD it's all finally happened," said Maddox prior to the Phillies' game against the Cardinals here last night. "I wanted to stay in Philadelphia. I told Jerry even before the negotiations began to do all in his power to keep me in Philadelphia."
Maddox will be paid very well to remain in Philadelphia. The contract, essentially a six-year pact that includes this season, is worth approximately 4.2 million and makes him the second highest paid player in a Philadelphia uniform. Only first baseman Pete Rose, who last year signed with the Phillies as a free agent for $800,000 a year, makes more – for the moment at least.
"We finalized it late Monday afternoon," said Owens. "We'd been pretty close for a couple of days. It was just a matter of working out the language."
THE LANGUAGE says Maddox will be paid about $725,000 for the next six seasons, including this one, with a no-trade clause for at least the first four years. Paying Maddox for playing this season under the terms of the new contract was, according to Owens, the final barrier the two sides had to clear.
"There was never a concern about the length of the contract," said Owens, "but I think that (paying Maddox the extra year) was the key, if you want to pinpoint a key."
Phillies Owner Ruly Carpenter apparently broke the stalemate in the negotiations when he spoke to both Kapstein and Maddox on April 4.
"OUR ORIGINAL intent was to seek a contract prior to the season," said Kapstein, who flew here from San Diego and attended a pre-game press conference. "But when Ruly talked to Garry and me we decided to reopen negotiations during the season.
"By setting an April 11 deadline we got everybody down to brass tacks and we made such good progress we decided to lift the deadline and continue talking."
The Phillies twice raised their original offer after saying they could not possibly meet Maddox' asking price without upsetting the club's already-bulging salary structure. Maddox and Kapstein, meanwhile, came down and, according to Owens, "we got close enough to work it out then."
WHEN ASKED which side compromised more, Owens replied, "You know who came down most – it wasn't us."
Indeed, what may have been the real key in the settlement was Maddox' desire to remain in Philadelphia. Maddox has made Philly his home and has been active in civic affairs, especially with the Child Guidance Center.
"I wanted to sign something I'm happy with," said Maddox. "I don't care who surpasses me (Maddox remains the game's highest paid center fielder). I got the security I wanted and I'm where I want to be."
ADDED KAPSTEIN: "Garry never pointed to another player and told me, 'I want more than this player or that player.' All he said was he wanted a fair contract. He was never looking to break any (monetary) records. He didn't want to go down in baseball history as having the largest contract or anything like that."
The contract controversy that lingered for so long over Garry Maddox and the Phillies is now settled – much to the relief of all concerned.