Philadelphia Inquirer - April 16, 1980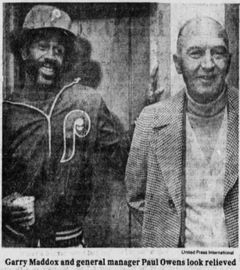 $4.2 million persuades Maddox to stay here
By Jayson Stark, Inquirer Staff Writer
ST. LOUIS – The free-agent class of 1980 had its first big dropout yesterday. Garry Maddox decided that the pot was sweet enough where he was and agreed to a six-year contract with the Phillies.
The pact takes effect this year and runs through 1985. It is guaranteed and has a no-trade clause through at least the first four seasons, Phillies vice-president Paul Owens said.
Maddox, 30, may have given up a potential fortune in the free-agent auction. But he didn't give up too much of it. His estimated six-year, $4.2-milllon total package is still the most money ever stuffed into any Phillie's wallet, topping even the Pete Rose deal.
The signing climaxes a six-week soap opera in which Maddox twice threatened to cut off talks and the Phillies twice threatened to trade him.
Maddox decided to lower his asking price one more time April 8 in a final attempt to sign before the season began. And that apparently motivated the Phillies to meet him halfway.
"We got close enough then where we could work it out," Owens said at pregame press conference last .night.
The hang-up in negotiations the whole way was money, Owens said. Length of contract was never a problem.
They came down a helluva lot," Owens said. "Then we went up. Then they came down more. And we came up again. Who compromised most?  Well, you know who came down the most. It wasn't us."
In the end, Maddox's happiness in Philadelphia was the reason he came down.
"He wasn't looking to set any records or go down in baseball history as someone who got the greatest contract in the history of the world," Kapstein said. "He just wanted a fair contract. But the most important consideration was that he wanted to stay in Philadelphia."
On the other hand, he won't exactly starve in the process. The contract makes Maddox, a winner of five straight Gold Clove awards, the highest-paid centerfielder in baseball.
It also makes him the second-highest-paid player per year on the Phillies, behind Pete Rose ($710,000 this year) but ahead of the former runner-up, Mike Schmidt ($565,000).
"Yeah, he's second," conceded Owens, "at the moment anyway."
Maddox had gotten off to an excellent start this season (three-game totals; 4-for-11, .363, 1 HR, 3 RBls). But he was worried that a continued contract fight might become a distraction as the season wore on.
"Definitely, a big burden has been lifted,'' Maddox said. "Jerry did most of the work on the contract, but I did most of the worrying, as far as what was going to happen to my career. I'm glad I don't have to do that anymore."
Cheers replace insults at roast
By Frank Dolson, Sports Editor
ST. LOUIS – Talk about frustration. For seven years members of the Philadelphia Sports Writers Association have been stockpiling material for use in the event "somebody – anybody decided to put on one of those Dean Martin-type roasts with the manager of the Philadelphia Phillies as the target. '
Think of it. For seven long years we plotted and waited, gathering enough material for a 13-week series, filling our files with hilarious mala-props, outrageous Polish jokes. And for what?
Not only didn't anybody organize a Danny Ozark Roast, but the Phillies – the ingrates – made all those files, all that wonderful material, instantly obsolete by firing the man.
And then, to add insult to injury, what happens? Yep. You guessed it. The Delaware Chapter, of the National Multiple Sclerosis Society promptly comes up with the bright idea of roasting his successor, Dallas Green.
Heckuva roast, too.
Everyone was there
Jim Honochick, who used to call balls and strikes in the American League and now wears dark glasses for a gag and stars on light beer commercials, was there. So were Tim McCarver, the broadcaster with the bad throwing arm; Bobby Wine, the good-field, no-hit coach of the Phillies; Jim Murray, the general manager and designated speaker of the Eagles; Tommy McDonald, who used to make those spectacular, caches of Norm Van Brocklin's passes; Clay Dalrymple, the old Phillies catcher who had to go to Baltimore to start his collection of World Series rings; Tubby Raymond – the father of the Phillie Phanatic and even Pete duPont, the governor of. Delaware. Not to mention some 400 onlookers at $25 a shot.
"I didn't expect anything that big," Green said. "I thought it would be just a few people, a few close friends."
Obviously, Green underestimated the number of friends he has. When he entered the place he received a standing ovation, in itself an event of no small significance. As was duly pointed out from the speaker's platform, any time Green's predecessor walked into a crowded room and all the people stood up, his first impulse was to run like hell.
Those wasted jokes
But as much fun as Monday night's affair was, it was impossible not to think of what might have been. There we all sat at the head table, struggling to dream up clever lines aimed at Dallas Green and thinking all the while how easy it would have been to leave 'em rolling in the aisles if the managerial change had never been made.
Of course, as Tim McCarver explained, a Danny Ozark Roast might have created problems. There is, after all, such a thing as too much material. At Monday night's roast, speakers were inslructed to go anywhere from two and one half to five minutes, which is about as far as anybody can reasonably go in roasting Dallas Green.
Estimates of the amount of time speakers would need at a Danny Ozark Roast in the Philadelphia area ranged anywhere from four hours to three days – and, frankly, it's hard to get an audience to hang around that long. I mean, if Jay Johnstone were one of the roasters the thing might never end.
"A Danny Ozark Roast?" Tim McCarver said. "You'd have to make it a serial."
How to roast Dallas?
Not so with a 'Dallas Green Roast. The man has been so impressive in his short stint as Phillies manager that the roasters found it necessary to roast each other almost as much as they roasted the roastee. Let's face it.. What can you say about Dallas Green?
That only an organization that hasn't won a pennant in 30 years would hire a former pitcher with a lifetime big-league record of 20-22 to instill a winning attitude?
That the only reason Ruly Carpenter hired Danny Ozark and kept him so long was because he wanted to make sure Dallas Green had an easy act to follow?
I'm telling you, it isn't easy to come up with good lines about a guy who's so popular he gets a standing ovation the day after he manages his team to a 10-inning defeat at home.
But somehow the speakers – especially toastmaster Al Cartwright and Jack Edelstein – came up with enough material to carry the night.
What's that you say? Who's Jack Edelstein?
Only the man many consider the second greatest comedy double-talker in the world, that's who.
Unfortunately, the No. 1 guy wasn't available. He was 3,000 miles away coaching third base for the Dodgers....
Gosh, it's tough to throw away that old joke file.
Vukovich's 5-hitter lifts Cards over Phils
By Jayson Stark, Inquirer Staff Writer
ST. LOUIS – There are certain types of pitchers who have traditionally given the Phillies a case of infectious hitless-itis.
It is time now to enter St. Louis' Pete Vuckovich among their ranks.
Vuckovich was 4-0 against the Phillies last year. He shut them out the only time he started against them in 1978. And he has, in fact, never lost to the Phils as a starter.
If last night was any indication, maybe he never will.
It took Vuckovich only 1 hour, 57 minutes to five-hit the Phillies, 7-2, last night for his sixth straight career win against them.
Randy Lerch no-hit the Cardinals for three innings, then gave up nine hits and five runs in the fourth, fifth and sixth. And that gave Vuckovich all the padding he needed to be his usual Phillie-killing self.
When you think of classic Phillies assassins, you immediately think of the J. R. Richard, supersonic-fastball type. But that's not Vuckovich's style.
Then there is the Phil Niekro Floating Knuckler Revue. But Vuckovich wouldn't know a knuckler from a knockwurst.
But much like Niekro, Vuckovich kills the Phillies by tantalizing them. He shows them changeups and sliders and off -speed mesmerizers. He throws the ball where he wants it. He uses his fastball as a tease pitch more than an out pitch.
"Sometimes you give a guy like him too much credit," said Greg Luzinskl , "You know, he'll give you a good fastball up and in, and you'll say to yourself, 'He's throwing pretty hard.' You'll be thinking the guy's got a good fastball, and he'll get you out with other stuff."
"He changed speeds super, and he got us off stride. When you pitch like he did tonight, you're going to win some games," said Dallas Green. "I don't care if you're pitching against Philadelphia or who it's against."
Vuckovich had a one-hit shutout and a 2-0 lead going into the sixth. But Manny Trillo and Lerch strung together back-to-back doubles, and the Phils pulled within a run.
But the game turned in the bottom of the sixth. Keith Hernandez (3-for-3 with a walk) bounced a leadoff single. Then Bobby Bonds stroked a soft base hit to right. Bake McBride took an ill-advised shot at getting Hernandez at third, arched a moon shot over cutoff man Larry Bowa. Not only was Hernandez safe, but Bonds took second.
"I was surprised the play wasn't closer (at third)," Green said. "Either he didn't charge the ball good or he just threw it too high."
With men on second and third, Green decided to walk George Hendrick on purpose arid pitch to Ken Reitz. Reitz, another notorious Phillie-killer, towered a sacrifice fly to right.
That got the run home. And, when McBride lofted another, suborbital throw over cutoff man Pete Rose, both Bonds and Hendrick moved up a base.
"I agree Bake's got to throw the ball down," Green said. "I agree with that. But why argue about that? That didn't beat us."
What did was a) Green's decision to have Lerch pitch to the lefthanded-hitting Ken Oberkfell with first base open and Vuckovich on deck, and b) Lerch getting a slider up and in to Oberkfell, who ripped it off the wall in right for a two-run triple.
"Why did I pitch to him? Hey, if Randy Lerch can't get a lefthander out, I'm in trouble, aren't I?" Green said. "Basically, I liked what I saw of Randy, except for the pitch to Oberkfell. A high slider, inside, is not exactly where you want to throw a slider. I don't care who the hitter is."
Ironically, Green had a chance to make a similar decision in the eighth with Ron Reed pitching to Oberkfell and first base open. Reed got behind, 2-and-0, so Green ordered the intentional walk. Naturally, Vuckovich, who to that point had six lifetime RBIs, lined a two-run double.
The big hits by Oberkfell and Vuckovich kept the game from being interesting at the historic moment in the eighth when, for the first time ever, a pitcher named Vuckovich faced a hitter named Vukovich.
The hitter, George, stroked a force-play grounder in the shortstop hole for the second run off the pitcher, Pete.  
The only other Vukovich in the park, John, watched all this from the Phillies dugout.
"There's nobody else in baseball named Vukovich," said John, the odd Vukovich out. "And I don't think there ever will be anybody else. It's too uncommon for there to be anybody else, much less three of us in the same ballpark."
NOTES: Warren Brusstar is traveling with the Phillies again. Brusstar said the therapist who worked on him in Oklahoma City last week has him feeling the best he has felt in two years. He threw comfortably last night. "I've felt decent before, but not like that," Brusstar said. "I think I'm on the right path now."… Bob Forsch starts against the Phils this afternoon, two years to the day after his no-hitter against them. Steve Carlton starts for the Phillies.