Wilmington Morning News - April 16, 1980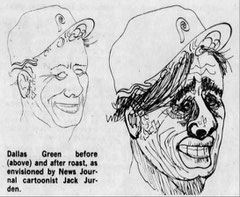 Dallas Green barely survives celebrity roast
By Otto Dekom
The human roast is surely a peculiar and quite possibly unique American institution.
This is not a roasting over hot coals for consumption – but it does come very close.
The American roast is a form of inverted tribute to someone who has reached celebrity status within his sphere of operations, be it world politics, national sports or the neighborhood Halloween committee. Other people have difficult initiation rites for the novice. We have roasts for the graduates of life.
The roasts demonstrate our national lack of respect for authority, show that nobody is too big to be brought down and they purge our personal hostilities toward people more successful than the rest of us.
There was such a roast in Wilmington this week. Whatever its effects may have been on "roastee" – Dallas Green, manager of the Phillies – the Delaware Chapter of the National Multiple Sclerosis Society benefitted when more than 400 persons bought $25 tickets to just an average banquet in the Hotel du Pont's Gold Ballroom.
This cannibalistic event was staged in Wilmington because Green is a Delaware native, former student and athlete at Conrad High School and the University of Delaware. As Green said, when they finally allowed him to speak, he might live in Pennsylvania but his heart will always be in Delaware.
There were tears in his eyes when Green rose for his valedictory. They must have been tears of pain after 90 minutes of verbal keelhauling, that ultimate punishment when a British sailor's naked body was dragged through saltwater over the razor-sharp barnacles clinging to the wooden ships of ancient times.
For the participants and for the audience, the roast was a grand entertainment, triggering virtually uninterrupted laughter from the moment the chaplain put the amen to his invocation.
No small part of the humor came from the fact that it was delivered by national sports figures, as well as Gov. Pierre S. du Pont IV. Among them were Tubby Raymond, University of Delaware football coach; Jim Murray, general manager of the Eagles; former catcher Tim McCarver; and former Phillies player Clay Dalrymple. Master of ceremonies was News Journal newspaper columnist and former sports editor, Al Cartwright.
While the celebrity status of this illustrious company helped warm the audience, it is only fair to add that the wit often was impressive.
The committee of arrangements even sneaked a ringer into the head table, a banquet entertainer masquerading as an official of the baseball commissioner's office. His double-talk tribute to Dallas Green brought the evening's greatest continuing outburst of laughter.
The roast also serves an important literary function: It is the ideal occasion for the resurrection of old jokes that should not be allowed to completely fade from our national consciousness. Many good jokes are like form letters, you need only change the identification to use them for a variety of occasions.
Former Eagles star Tommy McDonald proved the point with the statement that he took his wife everywhere because she was too ugly to kiss goodbye. Oh, shades of vaudeville and Henny Youngman! McCarver made his contribution by insisting that "women should go into combat; why let all that marriage training go to waste?"
Murray, who greeted the audience with "fellow hostages," told Green that he once recruited a coach who didn't want to come to Philadelphia by telling him, "Our fans are so hungry now they'll give you a standing
ovation if you win the toss." McCarver asserted that Green "is so clumsy, I saw him spill Vaseline once." He added a moment later that the educated Mrs. Green, who has an IQ of 160, "used to write passionate love letters with footnotes."
Ex-umpire Jim Honochick – whom Cartwright identified as descendant of the lookout man on the Titanic – said that Green is the best Phillies manager since Danny Ozark (his immediate predecessor!).
Cartwright exercised his emcee privileges by treating the entire company to his barbs. He introduced Dalrymple as the man who "willed his body to science but science is contesting the will." What, he asked, could be said about Tubby Raymond that the coach "hasn't already said about himself." Huron, S.D. – where Green once coached, is so small that the "all-night diner closes at 7:30."
Murray, he quipped, "has been to professional football what surfing is to the economy of Arizona." Governor du Pont, he said, was born with a silver spoon in his mouth: "While all the other kids were ill with measles and mumps, Pete was stricken with tarnish."
Cartwright read off many lists of special awards being conferred on guest-of-honor Green, including:
•  A dart board with an automatic return.
•  A 20-day cruise in the Bermuda Triangle.
•  A two-week vacation on one of the islands, Three Mile.
•  27 hours of uninterrupted root-canal work.
McDonald probably said it all when he offered Dallas Green a full scholarship in javelin catching.
Green must have been ready for that one: He'd catch them all evening.
The wear and tear on the roastee was recorded by News Journal cartoonist Jack Jurden, who touched up the program caricature to show what Dallas Green looked like before and after being roasted.
Vukovich muffles Phils
By Hal Bodley, Sports Editor
ST. LOUIS – In the final analysis, at least the one submitted by Manager Dallas Green, the Phillies' 7-2 loss to St. Louis last night came down to pitching again.
The Cardinals, in awesome Pete Vuckovich, had too much of it. The Phillies, in Randy Lerch, had too little.
"There are not very many teams that are going to beat the Cardinals when Vuckovich pitches like that," said Green, still shivering from the cold night in Busch Memorial Stadium. "When you're up against somebody you can't handle, you hope to get him out of there so somebody you can handle will come in. We didn't do that."
Vuckovich, who is 2-0, throttled the Phils on five hits before a crowd of 8,176. About the only thing the Phils had to cheer about was the fact that when they scored in the sixth inning, they snapped a 37-inning scoreless string held by the bullish right-hander. That span included his nine-inning shutout victory over Pittsburgh last Thursday, plus an assortment of spring-training games.
The 27-year-older has now beaten the Phillies six straight times, including four times last year. His last loss to them was on April 15, 1978 in relief.
Even though Vuckovich was outstanding, Green still felt better pitching in key situations by the Phillies would have kept the game closer. He was especially unhappy about an 0-1 slider Lerch threw to Ken Oberkfell in the sixth inning. The second baseman lined a triple to right that scored two runs and gave St. Louis a 5-1 lead.
The second guessers, however, wondered why Green elected to have Lerch pitch to Oberkfell with first base open.
"Well, if Randy Lerch (a lefthander) can't get left-handed hitters out, I'm in a helluva lot of trouble," said Green. "It was just a bad pitch. The selection, a slider, was good, but he got it up and Oberkfell crushed it. If we get him out, it's a 3-2 ball game and we have a chance.
"In the end, though, I just think Vuckovich pitched a helluva game. We started hacking at him a little, but he had excellent location and changed speeds well."
Another sour moment for the Phils was Vuckovich's two-run double off reliever Ron Reed which gave the Cards their final two runs.
"Reed does not look like he's got his act together," said Green.
Lerch had not allowed a hit when Garry Templeton opened the fourth with a double to center to start the inning. Tony Scott's sacrifice moved him to third and he came home on Keith Hernandez' single to right.
St. Louis made it 2-0 in the fourth when Kenny Reitz singled, went to third on Templeton's single to right and scored on Scott's two-out bouncer that Mike Schmidt had trouble getting out of his glove.
The Cards vaulted ahead 5-1 in the sixth, keyed by Ken Oberkfell's two-run triple after Reitz had singled in Hernandez.
EXTRA POINTS – Vuckovich was 4-0 vs. Philadelphia last year, while the Cardinals were 11-7... Bowa's single in the eighth enabled him to move ahead of Cy Williams (1,553) into sixth place on the Phils' all-time hits list.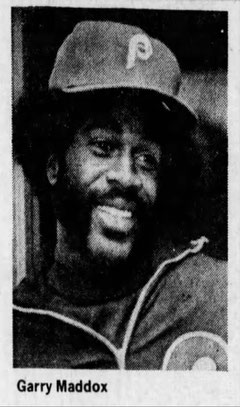 Maddox now richest Phillie
By Hal Bodley, Sports Editor
ST. LOUIS - Garry Maddox, who a month ago felt certain he would be traded when salary negotiations reached an impasse, yesterday received the largest contract ever given by the Phillies.
The 30-year-old center fielder agreed to a six-year, $4.2 million guaranteed contract that runs through 1985 with a four-year, no-trade clause.
Maddox, already the highest-paid center fielder in baseball at $425,000, will also be the highest-paid member of the Phillies this season. Maddox will earn $712,000, putting him ahead of the $710,000 Pete Rose will make. Mike Schmidt is third at $560,000.
Rose, whose four-year contract is valued at $3.2 million, is said to make $810,00 a year. The first baseman, however, took $910,000 his first season and will make $710,000 this time.
Although Rose still remains the highest-paid player on the team overall, Maddox' new contract, which is retroactive to 'the begin-, ning of this season, is the largest package owner Ruly Carpenter has ever given.
"I said all along I wanted to remain in Philadelphia," Maddox reiterated last night during an informal press conference before the Phils played the Cardinals. "I told Jerry Kapstein (his agent) to do everything in his power to keep me with the Phillies.
Maddox, who was on the final year of a five-year agreement, had insisted if the Phillies did not sign him before the start of this season he would become a free agent. He said he would not have contract negotiations interfering with his play.
Phillies' owner Ruly Carpenter said rather than lose Maddox to the free-agent re-entry draft, he would trade him. About the same time, Kapstein said negotiations had reached an impasse and that there would be no further talks until after the re-enter draft in the fall.
On Wednesday night, March 19, Carpenter visited Maddox' spring-training home at Indian Rocks Beach, Fla. The two talked for several hours. Carpenter pointed out that Garry was the highest-paid center fielder and that although he could probably earn more by becoming a free agent, the Phillies would give him a fair contract.
The following Friday afternoon, Kapstein phoned Carpenter and negotiations were reopened. They talked throughout the remaining days of spring training, setting April 11 as a deadline.
"But when it looked like we were close last Thursday, we agreed to keep it open," said Kapstein, who flew here from California yesterday afternoon. "1 must emphasize that the negotiations were amicable throughout. Obviously, there was a time early in spring training when the differences were so great it did not look like we would get together. That's when I made the statement."
"They came down in their demands three times and we went up twice," said Paul Owens, director of player personnel. "When they came down the second time, Ruly and I felt we might be able to sign him. The negotiations were on the highest level at all times."
Even though the Phillies realized it would have been difficult to win the National League Eastern Division without Maddox, Owens was ready to trade him.
"Had the negotiations continued to remain stalemated, I would have explored all avenues to to move him," Owens said. "We consider him the best center fielder in baseball, but we did not want to lose him as a free agent."
In the final weekend of what Kapstein termed marathon negotiations, the agreement to put the no-trade clause in the contract turned the tide.
"The length of the contract was never a problem," said Owens. "We talked mostly about four or five years, but the six years gives Garry the type of security he was seeking. We feel he has the type of body that will enable him to play consistently for five or six more years. There are some players we would not want to give such a long contract to."
Early in the spring, it was reported Maddox was asking for a million dollars a year for at least four. He denied that, but based on what he received, that figure was probably accurate.
"Getting this contract gives me the kind of security and the kind of peace of mind I wanted," said Maddox. "Sure, it was a compromise and I could have gotten more as a free agent, but I said all along I wanted to remain in Philadelphia. That is my home."
Maddox came to the Phils on May 4, 1975 in a trade with San Francisco for Willie Montanez. He hit .281 last year and has a lifetime major-league average of .293. He has won the Gold Glove for his defensive play the last five years.