Pittsburgh Press - August 10, 1980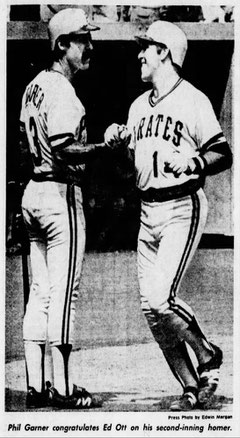 Pirates Feast On Phils
Tekulve Saves Candy's 4-1 Win
By Bob Smizik
What is this woe that befalls the Philadelphia Phillies once they set foot in Allegheny County? Around the rest of the National League they are basically a terrific baseball team. But when they hit the Three Rivers turf, they become a second-rate outfit.
Not even countless Pirate mistakes could give them a win two days ago. And they should have lunged at the opportunity when they had it for there was no such comfort coming from the Pirates yesterday. From the Pirates there was only sharp fielding and sharp pitching. And from such a combination the Phillies barely had a chance.
John Candelaria, his fast ball slowly regaining some semblance of what it used to be, and Kent Tekulve, his sinker next to impossible to get up in the air, baffled the Phillies on the mound. Tim Foli and Ed Ott made big plays in the field and there was just enough hitting to pull off a 4-1 win before a Helmet Day crowd of 39,984.
The victory enabled the Pirates to climb within a half-game of the Expos, who split with the Cubs, while the loss was the Phillies' 13th in their last 18 games at Three Rivers and their fourth in five this season.
But no one was talking hex after this Pirate win. Solid baseball, not voodoo, gets the credit here.
Candelaria, 8-11, was shaky in the first inning but solid until the eighth. When he put the first two runners on in that inning, Tekulve came on to get six straight outs and his 16th save.
Candelaria, who already has as many losses as he's ever had in one season, was pleased with his effort, and for him that is the equivalent of absolute delight.
"Since the All-Star break I've been throwing well," he said. "I threw fast balls almost the whole game. I didn't throw more than 10 breaking balls.
"My arm is coming around a lot better. My back hasn't bothered me hardly at all. My velocity is coming back. I think it's at about 85 percent of what it used to be. I feel that it's just a matter of time until I get everything where I want it. And I will."
Once Candelaria was perhaps the leading pitching prospect in the National League. He struck out 14 Cincinnati Reds in the 1975 playoffs. But along the way he lost his fast ball. But now he's confident he'll regain what he used to have.
"In time it can come back," he said. "If I do what I'm supposed to do in the off season things will only get better."
The Phillies opened the game with a walk, a single and a sacrifice fly to score one run and that was it for them against Candelaria. They got their hits, but they didn't get them together.
The Pirates, meanwhile, got a second-inning homer from Ott to tie the game and a fourth-inning sacrifice fly from Omar Moreno, which scored Bill Madlock who had tripled, to go ahead.
They scored twice more in the seventh when a sacrifice fly by Mike Easier and an infield out by Ott produced the runs.
With a 4-1 lead, Candelaria looked good to finish. But he walked Mike Schmidt to start the eighth.
"I thought I was gone," said Candelaria. But Tanner gave bim one more pitch. Keith Moreland ripped it to left for a single and Tekulve made the trek in from the bullpen.
Tekulve was a troubled pitcher after getting the win in Friday night's game. He didn't like the way he threw and no sooner had that game ended than he asked Ott if he could spare five minutes the next day to catch him in the bullpen. Ott reminded Tekulve that he would be starting that day but, yes, he'd do it.
"He's been catching me for a long time," said Tekulve. "I was doing something wrong and I thought he could help me determine what it was."
So Tekulve, Ott and pitching coach Harvey Haddix spent some time in the bullpen before the game. "I was rushing myself," said Tekulve. "My arm was dragging. My slider wasn't breaking the way it should and my fast ball wasn't sinking the way it should. I did some throwing and the three of us did some talking and came up with some adjustments."
The adjustments spoke for themselves. Tekulve got Garry Maddox to hit a double-play grounder to Tim Foli. But Maddox was a bit too fast and the Pirates got only one as Schmidt move to third.
Figuring if it almost worked once it might work again, Tekulve pitched Manny Trillo the same way. Trillo hit another grounder to Foli and since he's not as fast as Maddox, the Pirates had a double play.
"I told Foli we'd keep trying that until we got it right," said Tekulve.
The Pirates needed no special fielding in the ninth. Two grounders and an easy fly ball were all the Phillies could muster.
And as the losses continue to mount for them at Three Rivers, the Philadelphia Phillies may soon start thinking that's all they can ever muster in Pittsburgh.
«     «     «
PIRATE NOTES – Dave Parker left the game after the fifth inning with a recurrence of the knee injury that kept him out of the lineup earlier this month. He is questionable for this afternoon's 1:05 doubleheader. Jim Bibby and Don Robinson will pitch for the Pirates against Randy Lerch and Dan Larson.
Bert Blyleven. who was scheduled to start, was scratched because he's still not over a lower back injury he suffered Wednesday in Chicago. Blyleven may pitch tomorrow against the Mets.
With runners on first and second and two out in the fifth, Foli left his feet to come up with Moreland's hard grounder in the hole. He had no play at first, but when Lonnie Smith rounded third too far, Tim got to his feet and threw to Madlock for an easy out.
Ott pounced on Trillo's bunt with none out and a runner on first in the sixth and made an excellent play to get him at first... The Pirates chased loser Nino Espinosa in the seventh when Foli singled, Lee Lacy walked and Willie Stargell singled. Kevin Saucier came on and, though the Pirate didn't get another hit in the inning, they scored on Easler's sacrifice fly and Ott's infield grounder.