Camden Courier-Post - August 13, 1980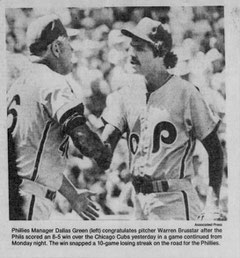 Phillies win twice, end slump
By Ray Finocchiaro, Gannett News Service
CHICAGO – Here we thought all along that it was the Pittsburgh Pirates and Montreal Expos who'd sent the Phillies reeling into a slump.
But Mike Schmidt, who was slumping along with the rest and best of them, revealed that Vet Stadium fans' boos and media raps were the real culprits as the Phils struggled to get back in the NL East chase.
"We won't get in first place overnight," said Schmidt as the Phils took two giant steps in that direction with 8-5 and 5-2 victories over the Cubs in Wrigley Field yesterday. "It'll take a long time, a long time. Maybe there'll be more setbacks along the way.
"WE JUST have to not get down on ourselves and think positive. We need the town and the fans behind us, even when you're five or six games behind. People read negative stuff in the papers, and probably none of it is true. But if the fans get behind us, the better we'll play."
Schmidt looked down 1-95 and thought he saw a parallel.
"You think the Baltimore fans and writers gave up on them when they were six or seven out?" he said. "Just because they were in the World Series doesn't make them any different than we are."
At least the Orioles WERE in the World Series last October. It has been 30 Octobers since the Phils' last World Series. Much of the current cast was still in diapers then.
SCHMIDT FEELS the team's recent woes, which included 10 straight road losses before yesterday, were something of a dry spell.
"Over 162 games, you run into droughts," he said. "We were in a drought. The first inning of the suspended game, that's how things have been going for us.
"There's no way we don't blow them out in the first Inning (actually, the 11th, when the Phils loaded the bases but couldn't score against Bruce Sutter). But, sooner or later, that stuff must end. And it does."
Just as Schmidt's 1-for-23 slump ended with a six-hit vengeance, including two homers, two triples and five RBIs in the two games.
"YOU KNOW, sooner or later, you're going to break out," he said. "You have to believe you are. But if things aren't going for you, you can't let it run your life."
Things went right yesterday, even with the wind blowing in. Schmidt tripled home two runs in the 15th inning of the conclusion of Monday's 10-inning suspended game, then homered to start the Phils and Steve Carlton (18-6) to victory in the regular game.
Bob Boone also homered in the nightcap and Bake McBride, whose infield hit won the opener, tripled home a run and scored on Schmidt's single.
"THE BALLS we hit turned the wind around," said Manager Dallas Green. "Schmidty crushed his and so did Boonie. And Bake hit the heck out of his ball. It's good to see the offense come alive a little bit."
Like Schmidt, Green feels the victories will erase memories of Black Sunday in Pittsburgh.
"I think the wins will relax us," he said. "They know what they have to do, just play some baseball and the wins will come. In the first game, it looked like the Man Upstairs didn't want us to win. We were hitting shots left and right and there were Cubs laying all over the ground. We'd get three or four hits and couldn't scratch out a run.
"IT GETS pretty frustrating. But once you crack through that frustration, it gets easier. We should be ready to go now. We're healthy now."
Green liked what he saw of Schmidt's short and sweet swing.
"Schmidty means so much to our offense," Green said. "I've told you I don't sit back and wait for Schmidt to hit a home run but, damn, it's exciting when he does, isn't it? He hit the hell out of that one. He just top-handed it out of here. And he smoked that ball to right field (for the first-game triple).
"I guess he's pretty relaxed here. Also, it was just time for him to get going. He was shut down a long time and he has worked hard. It's time his talent starts taking over and he starts swinging like he's capable of."
Sooner or later, Dallas, it had to happen.
SCHMIDT'S 29TH homer started the Phils to a 2-0 lead in the fifth inning of the second game. But the Cubs tied it an inning later when losing pitcher Mike Krukow homered off Carlton and Dave Kingman, roundly booed by the Wrigley partisans since coming off the disabled list yesterday morning, got Lenny Randle home with a sacrifice fly.
The Phils' three-spot off Krukow in the eighth won it.
The suspended game, however, lasted a lot longer than Green expected. Larry Bowa opened the 15th with a bloop single to center and moved to third on Del Unser's sacrifice bunt and Greg Gross groundout.
After Pete Rose drew his fourth walk of the game, this one intentional, McBride slapped an infield single off first baseman Cliff Johnson's glove. Then Schmidt, who'd hit his 28th homer some 21 hours earlier in the third inning, tripled to right-center to sew it up.
"IT TOOK 24 hours to sleep on it, but the guys got their act together," said Green. "Our guys didn't want to lose this one, but neither did the Cubs. They were diving, making hellacious plays."
Green was relieved the Phils' 10- game road losing streak was history.
"We haven't played well on the road all year," said Green. "Our offense has sputtered at times, so it was really good to win these two, no matter how long the first one took."
Warren Brusstar, the Phils' sixth pitcher, won the opener when he put down a mild threat in the 15th. It was Brusstar's first victory since July 3, 1979, and the onetime relief ace who has seen more of the disabled list than the bullpen the last two seasons was happy to see action in something more than a mopup role.
"IT FEELS good to be in a situation where you can help the club," he said. "It makes it a lot of fun."