Chicago Tribune - August 14, 1980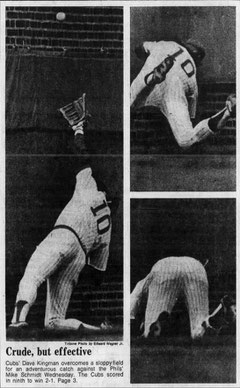 Cubs go back to basics and struggle past Phils
By Bill Jauss
A BUNT, a cracked-bat fly ball, and a no-decision pitching performance will never rank 1-2-3 on anyone s list of glamorous baseball plays.
But the Cubs wouldn't have edged the Phillies 2-1 Wednesday if Rick Reuschel hadn't toiled seven scoreless innings, if Tim Blackwell hadn't beaten out an attempted sacrifice bunt, and if Jerry Martin hadn't knocked home the winning run In the ninth inning with a sacrifice fly that cracked his favorite bat.
For that matter, the Cubs might still be playing the Phillies in the rain if Manager Joe Amalfitano hadn't yanked struggling slugger Dave Kingman for a defensive replacement.
As a result, Amalfitano let Bill Buckner hit away instead of bunt in the ninth and Buckner got another key hit. And perhaps the Cubs received a lift they need as they depart on a long trip.
RECENT HISTORY Indicates the Cubs will need any break they can get through St. Louis, Atlanta, Houston, and Cincinnati.
Eleven of the 12 games are at night, and the Cubs have managed a 12-24 record after dark. Three of the four visits [all except Atlanta] are on artificial turf where the Cubs have a 9-19 record. Their overall road record is 20- 35.
However, the Cubs did just as poorly [4-8] in the daylight and on natural grass in the Wrigley Field stands that ended Wednesday amid rain storms that caused delays of 78 and 20 minutes.
Kingman was booed before and after the first rain interrupted a scoreless six-inning duel between Reuschel and the Phils' Dick Ruthven.
Kingman hit into a double play with men on first and third with one out.  Mike Schmidt, who hit his 30th homer in the ninth, started the double play. Then, after Buckner tripled with one out in the seventh, Kingman was booed when he popped to short left.
PLAY WAS HALTED the first time after Reuschel and Ruthven had zipped into the last of the seventh in just 75 minutes. Reuschel lowered his earned run average to 1.27 in the 56-2/3 innings he worked in his last seven starts.
"Reuschel was excellent," said Amalfitano.  "He warmed up after the first rain delay, but as soon as the tarp went on for the second delay, that was it for Rick."
Wednesday's play-and-wait sequence went like this: 75 minutes of baseball, 78 minute delay, 2 minutes of baseball, 20 minute delay, 58 minutes of baseball.
All the scoring occurred in the final segment. When Lenny Randle led off the eighth with a double, Blackwell was ordered to sacrifice him to third.
"Bunting – that's what I've been doing all these years," said the Cubs' catcher. "I didn't see where it went. I was just trying to get it down."
BLACKWEL'S BUNT couldn't have been more perfectly placed. Catcher Bob Boone slipped and fell as he fielded it along the third base line, but Blackwell might have beaten it out anyway. Pinch hitter Larry Biittner then put the Cubs ahead 1-0 with a double, but Blackwell was thrown out trying to score.
Schmidt tied the game 1-1 in the top of the ninth when he smashed a 2-2 pitch by Dick Tidrow for his in sixth in six games at Wrigley Field.
"It was our man going one-on-one against the champion home run hitter in the league," said Amalfitano. "We were not going to use [Bruce] Sutter, because he pitched five innings in the last two games. Sutter is a human being."
Ruthven needed only 57 pitches and threw only 20 called balls in the first six innings. He lost a touch of control after the rain delay and threw 48 pitches, including 20 called balls, before he left with the bases loaded and nobody out in the ninth.
Amalfitano faced a decision when Ruthven walked Ivan DeJesus to open the ninth. Buckner was up next, followed by Steve Dillard, who had replaced Kingman in the No. 4 spot.
'ORDINARILY, YOU'D call a bent after that first walk," said the Cubs' manager, "but we had Kingman out of there, and Buckner can make the big hit. So, we had Buckner hit away."
Buckner's single and Dillard's walk brought in Ron Reed to face Martin, who batted against a drawn-in infield and outfield. Martin had also been booed when he took a called third strike with Buckner on third in the seventh.
"I've been looking at too many third strikes, and that's not like me," said Martin. "I was just trying to make con- tact-to keep the ball in play.
"Reed threw me a fastball that ran away from me. I hit it off the end of my bat, and the bat cracked."
Nothing glamorous. Just deep enough to score DeJesus and earn the 2-1 victory that finished the home stand at 4-8, a record as good [or bad] as the Cubs' record under the lights or on artificial turf.