Camden Courier-Post - August 15, 1980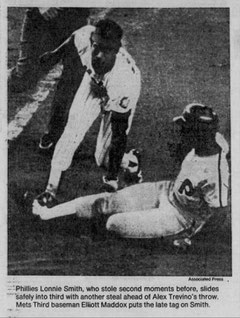 Schmidt's torrid bat rips Mets
By Rusty Pray of the Courier-Post
NEW YORK – Let it be known that Mike Schmidt, who struggled for so long to free a stroke kidnapped by opposing pitchers, has rescued it from their clutches.
And, not coincidentally, the third baseman has carried the Phillies along on his charge, keeping them a steadfast 4½ games off the National League East Division pace with a bat suddenly on fire.
Last night, Schmidt went 4-for-5 with an opposite field home run – his 31st of the season – in an 8-1 victory over the Mets that was as significant as any game on this 12-game road trip.
DURING THE Phillies' four-game disaster in Pittsburgh, the Mets had been making noise about pulling ahead of the Phillies and into third place this weekend. The Mets went into last night's series opener with five wins in seven previous outings and a grudge against Phillies Manager Dallas Green, who made some rash statements the last time the two teams met in June.
Thus, the 20,149 who populated Shea Stadium came to see their club climb a game closer to the Phillies and gain a measure of revenge. Instead, they were treated to the Mike Schmidt Show.
"That," said Green when it was over, "is what good hitting and good pitching will do for you. And we got both tonight We got a lot of offense from our third baseman again.
"We've been looking for that offense. It kind of left us for awhile, but we had the feeling in Chicago it was coming back."
SCHMIDT WENT into Chicago and Wrigley Field in a 1-for-20 slump. It is no secret much of Schmidt's trouble stemmed from the absence of Greg Luzinski, whose presence in the lineup forced pitchers to give Schmidt something hittable.
When Luzinski injured his knee July 5, Green embarked on a long search to find someone who could follow Schmidt in the batting order. In the meantime, opposing pitchers simply pitched around Schmidt and the sweet stroke that carried him through a sizzling May began to erode.
Green's configuration last night had Schmidt hitting third behind Pete Rose and ahead of Bake McBride, which may have been a contributing factor. But, the way Schmidt is hitting now, he could bat between Jimmy Carter and Ronald Reagan and still hit with authority.
In Wrigley, Schmidt merely went 8-for-14 with three homers, a triple and six RBIs. It was much the same last night.
"THE BIG key is, when I get a pitch I hit it," Schmidt said. "Tonight, I laid off a couple good pitches... but they were balls. Two weeks ago, I would've swung at them and fouled then off or something."
Schmidt opened a 14-hit Phillies attack with a two-out single in the first off loser Pat Zachry, then gave Nino Espinosa the only runs he would need with a two-run single in the third.
Even his ground ball to shortstop in the fifth helped set up a run because Rose, who had singled, was running on the play. Rose scored on a McBride single, making it 4-0 and the rest of the game academic.
"Mike has battled the thing for quite a long time," said Green. "I'm happy for him – and us – that he's swinging better."
JUST HOW much better was revealed in the ninth, when Schmidt hit an Ed Glunn pitch into the seats above the right-field bullpen. There are few hitters in baseball who can match that kind of power.
Schmidt's night wouldn't have been complete without a double off Dyar Miller, making it three pitchers in one night The hit, coming in the seventh, scored Lonnie Smith, who had singled and stole second and third. Mets' third baseman Elliot Maddox might have caught Schmidt's ball, but, Maddox said, he had just been pelted by a hot dog when Schmidt sent the ground ball screaming his way.
Which goes to show you that when you're hot, even hot dogs can taste like steak.
PHIL UPS – Luzinski took batting practice for the first time since going on the disabled list... Larry Christenson makes his first start since May tonight... Espinosa raised his record to 5-1 against the Mets with his first complete game of the season... Zacbry bad not lost since June 29, when the Phils beat him... He was 4-0 with four no-decisions in the interim.
Espinosa's thinking silences the skeptics
By Rusty Pray of the Courier-Post
NEW YORK – What Nino Espinosa used to be, in his years with the New York Mets and last season with the Phillies, was uncomplicated. Hitters knew he would challenge them with a fairly good fastball and a decent enough slider. Nothing fancy. Just basic pitching.
Now, they don't know what to think. An arm injury has transformed Espinosa into a control pitcher who relies on guile – and little else. He has become the righthanded version of Randy Jones, keeping hitters off fialance with breaking balls, off-speed stuff and an occasional fastball.
"He's gotten smarter," said one observer who watched Espinosa pitch during his two-plus seasons with the Mets. "He used to be a hard thrower."
Espinosa hasn't thrown hard since last September, when his right shoulder – perhaps overworked – began to stiffen. He did not throw hard during spring training, when the Phillies decided to put him on the disabled list to see if rest could restore some of that lost velocity.
And, he hasn't thrown hard since July 4, when he began taking his regular turn in the rotation. By then, Manager Dallas Green had already pronounced that Espinosa would have to learn to pitch with pain. Adding to the ill feeling that remark – and its implications – created was a hassle over a trip to the minor leagues. The Phillies wanted Espinosa to do some pitching in Spartansburg before returning to a major league mound. Nino didn't want to go.
"Anytime you hurt an arm, or you have an operation, it takes awhile for the body to get it back to where it was," said Green last night after Espinosa five-hit the Mets in a breezy 8-1 victory. "I guess some mental repairing has to be done also...
"You've got to give Nino credit. He hated before that he had to get on the mound and prove that his arm was sound, and there probably were some skeptics at times. But he has proven it to me; between the white lines he's tough.
"Ill have to admit, I had some skepticism. He made a believer out of me."
Espinosa made believers out of the Mets last night, inducing them into 16 ground-ball outs that would have been the envy of Jones, or Tommy John, or any of those whose specialty is the ground ball.
"Tonight was a classic example of 'it's not how hard you throw, but how much the ball moves and its location,'" said catcher Bob Boone, who went 3-for-4 with a home run on behalf of Espinosa. "It's hard to explain, but he never gives you a real good pitch to hit.
"It takes so much discipline on the part of the hitter. You go up there and wait... and wait... then he jams you with a fastball. So the next time you tell yourself to be more aggressive, so he throws you the curve and you're reaching for it."
Espinosa had the New York lineup reaching from the beginning. For instance, in the first inning Espinosa got Lee Mazzilli, who hit .400 over five previous games, to bounce into an inning-ending double play.
After Claudell Washington singled to open the second, Espinosa threw another double-play ball to Joel Youngblood, then calmly struck out Mike Jorgenson to retire the side. Indeed, had it not been for Washington, who later singled and homered, Espinosa would have fashioned a two-hit shutout.
"Nino has pitched professionally all year for us since he came back from the arm injury," said Green. "He has kept us in most every ballgame. There's only one, I think, that he got blown out of."
"Tonight was probably the best stuff he's had. He threw good fastballs, I thought, and had a pretty good breaking ball."
More importantly, Espinosa used those pitches to confuse the Mets. Dazzling no one, Espinosa walked off the mound a winner as much because of his thinking as his throwing. And that may be the highest tribute a pitcher can be paid.
Reds to host Phillies
CINCINNATI – The Cincinnati Reds announced yesterday that their 1981 season-opening opponent will be the Phillies, the first Eastern Division National League team to open here since 1970.
The Reds are a charter member of the National League and the first game, traditionally, is considered the league opening.
The Reds have opened the season for 95 of 96 National League seasons. They were rained out only once, in 1966.
The Reds have opened only three times against the Phillies, in 1958, 1960 and 1962.
It also will be the first time the Phillies have appeared in an opening game at Riverfront Stadium. Cincinnati moved into the new facility during the 1970 season. Before that, the Reds played at old Crosley Field.
The 1981 opener will be played on Wednesday, April 8.