New York Newsday - August 16, 1980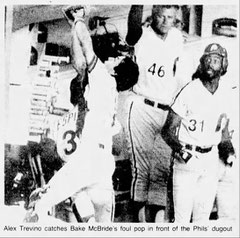 Mets' Chances Continue to Slip
By Joe Donnelly
Flushing – Going into the current five-game series with the Phillies, Joe Torre was asked how feasible it was for the Mets to pass the three teams ahead of them in the standings. Understandably, Torre didn't want to engage in long-range conjecture. However, he did offer a sensible approach, saying, "With Montreal playing Pittsburgh this weekend, we have to win. If we do, then we gain on two teams, anyway."
Unfortunately for the Mets, the chances of that happening are slipping away. Two games into their series with the Phillies, the Mets have come up empty. Worst of all, they haven't even been competitive, absorbing an 8-0 defeat last night before 40,436 fans who had to settle for postgame fireworks. Since they hadn't been shut out for their 52 previous games and because they have three more games with the Phillies this weekend, the Mets still have a chance to win the division.
But certainly all the fun of joining a divisional race was evident only in the visiting clubhouse at Shea. The Phillies, having recovered from last week's stumble of losing four straight to the Pirates, have won four of their last five. Their starting pitching has been shored in New York by outstanding efforts by Nino Espinosa and Larry Christenson.
Christenson, who last pitched May 21 and was operated on five days later for removal of bone chips in his right elbow, was particularly commanding. He allowed four singles, struck out five and didn't walk any in a 66-pitch effort that covered six innings. Then the Mets entered the magical world of Tug McGraw, and they didn't fore much better against the lefthander.
Still, the surprise was Christenson. "It felt better than I thought it would, said the 26-year-old righthander, who has suffered more disabling injuries in his lifetime than most Medicare patients. He is the fellow who fell off a bike during a charity bike-a-thon and broke a collarbone. As for elbow scrapings, this was his second. "I knew what it was going to feel like from the first time, Christenson said, "but it didn't feel like it did from the first time."
That's a roundabout way of saying he felt less pain this time. Verbally, he can be confusing. But his pitching was basic a good fastball, effective change of speed and excellent control.
"I'm not surprised, I'm very pleased, said Phillies manager Dallas Green. "We've watched him warming up on the side for the past month, and he's been very consistent.
Pitching in a game can be different than throwing on the sideline, but Christenson was poised and effective from the start. "That's the best I've seen him throw in..." Torre said. "Well, I won't go into years, but it's the best in a long time."
Mark Bomback was the opposing starter, and Torre was hoping his righthander could do as he hiss seven times this season, produce a Met victory following defeat. The rookie was not up to it this time following a second inning in which the Phillies built a four-run lead without hitting the ball overly hard and in which the Met infield play was none too sharp.
The rally began with a walk to Garry Maddox with one out in the inning. Larry Bowa followed with a single to right that advanced Maddox to third. Bob Boone then chopped a run-scoring grounder over the mound that had unusual spin to it. When Doug Flynn hurriedly tried to field the ball for a chance at Boone, the ball squibbed from his hand for a hit. Christenson then laid down a sacrifice-bunt attempt and knee-sore Elliott Maddox, trying to avoid putting sudden weight on the leg, threw the ball wildly past first.
Bowa raced home on the error, making it 2-0, and Boone made it to third and Christenson to second. Lonnie Smith singled home the third run and Pete Rose the fourth. About the only excitement left was to add up Rose's hits. He had two more, reaching 3,501 for his career fifth on the all-time list and 129 behind Stan Musial's National League high of 3,630. Ty Cobbs 4,191 is the all-time high.
*     *     *
Lefthanded Met reliever Ed Glynn was placed on the 21-day disabled list because of a fungus infection of his right foot. That created room on the roster for Craig Swan, who will start todays game. Swan had been sidelined since July 16 because of a sore right shoulder.