Camden Courier-Post - August 2, 1980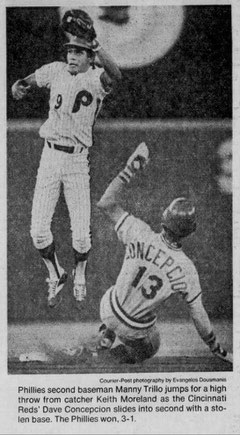 Walk struggles; Phils trim Reds; 2 behind Expos
By Rusty Pray of the Courier-Post
PHILADELPHIA – It was one of the more unlikely 3-1 games on record. But, then. Bob Walk is one of the more unlikely 8-1 pitchers in the National League.
Last night, the rookie righthander struggled... and struggled... and struggled. He gave up 10 hits, worked an incredible 15 three-ball counts, went over 100 pitches before getting the first out of the fifth inning, and still managed to pitch the Phillies past the Cincinnati Reds before 37,409 patient fans in Veterans Stadium.
"He was a little bit wild tonight, but I thought the ump (home plate umpire Jerry Dale) squeezed him a little bit early in the game," said Manager Dallas Green after the Phils used the win to creep within two games of the East Division lead. "It was as much umpire business as anything else. He (Walk) was struggling in his own mind, trying to figure out why he couldn't get a strike or two. We just talked to him and tried to calm him down. There were a lot of close pitches that could've gone our way."
The calls definitely were not going Walk s way in the first inning, when he walked three of the first four Reds he faced.
"Even though 1 was pretty horse-bleep as far as being wild, every now and then I'd make a good pitch and bail myself out," said Walk. "That's a matter of luck.
"The first couple innings. I couldn't get the ball over the plate. A lot of the close calls I didn't get were due to my wildness. I kind of surprised him (Dale) when I threw a strike."
Dale, no doubt, was one of only many startled persons when Walk strolled away from his wild first without giving up a run. Walk achieved the feat by picking Ken Griffey off first with a runner on third and getting Dan Driessen to fly to left for the final out.
There would be other, similar, close shaves to come. For instance. Walk got out of a bases-loaded jam in the third by inducing Johnny Bench to ground a high slider to shortstop Larry Bowa, who flipped to Manny Trillo for an inning-ending force at second. There was the double-play ball Walk threw to Dave Conception to end the fifth after the first two batters had gotten hits. And there was a strikeout double play that ended the eighth and preserved a 2-1 Phillies lead.
"I don't know why I've been getting into so much trouble lately," said Walk, perplexed. "I don't know, maybe I throw better from the stretch."
While Walk was working in and out of trouble, the Phils were putting together an opportunistic offense that made the most out of the seven hits they were getting off lefthander Charlie Liebrandt, an 11th-hour replacement for scheduled starter Bill Bonham, who came up with a stiff shoulder.
The Phils went up, 1-0, in the second when catcher Keith Moreland singled and reached second on a ground ball to shortstop by Garry Maddox. Actually, Moreland should have been an easy force, but Conception, who had to charge the ball, ignored Moreland and threw to first. The next hitter, Manny Trillo, promptly scored Moreland with a single to left.
"That was," said Green, "a good, team baseball win right there. You can't play much better than that."
The only time Walk was reached by the Reds during his tortured odyssey through eight innings was in the fourth, when he allowed a triple to Ron Carter and an RBI single to Liebrandt that tied the score at one.
Lonnie Smith and Pete Rose were largely responsible for manufacturing a run in the sixth that put Walk ahead to stay. Smith opened with a one-out single to left. Always a threat to steal. Smith was an obvious worry to Liebrandt, who threw to first base four times while working a 1-1 count on Rose. On Liebrandt's third pitch, Smith took off and Rose deposited an artful hit-and-run single to right, sending Smith to third.
Perhaps unnerved, Liebrandt hit Bake McBride, who would single home an insurance run in the eighth, in the right shoulder with a pitch to load the bases for Mike Schmidt. Schmidt did nothing fancy, but he got the run home with a sacrifice fly to right field.
"I played against Liebrandt in the minors, but I forgot what kind of move he had," said Smith, who opened the eighth with a ground rule double, took third on a Rose liner to right and scored on McBride's hit. "I took a long look, but I couldn't pick up his move. I think they (Green and his coaches) noticed I couldn't get a jump, so they put the hit-and-run on."
All that remained was for McBride to drive in his 62nd run – a career high – in the eighth and Tug McGraw to work a perfect ninth to give th Phils one of the more unlikely 3-1 wins this season.
PHIL UPS – Larry Bowa was taken out in the seventh with a cramped thigh muscle... Schmidt, who is playing with a pulled groin muscle, also was removed in the seventh... Injured pitcher Larry Christenson, healing nicely after arm surgery, is scheduled to pitch against some Phillie teammates' tomorrow... McBride has hit in eight straight games for a .515 average with six RBI's... Moreland has hit in seven straight... Win snapped seven-game Phillie losing streaky against lefthanders... Reds placed pitcher Frank Pastore on 21-day disabled list because of an irritated tendon in the second finger of his right band... Steve Carlton (16-5) faces Mike LaCoss tonight.