Philadelphia Daily News - August 20, 1980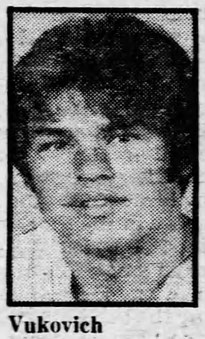 G. Whiz, Kid Makes Good
By Jay Greenberg
Once there were no Vukoviches on the Phillies. Life was simpler then, uncomplicated by Gs and Js, and nobody had to ask if anybody was anybody's brother.
Of course that was before all these mothers and fathers named Cruz started producing ballplayers. They not only catch flies, they multiply like them, and sooner or later one's going to come through Philadelphia, so you'd better learn to distinguish them.
If half the 30,588 at the Vet last night knew the difference between a George Vukovich and a John, the other half really didn't care. They were not ready for either one in the seventh inning, when, with two on. and two outs, D. Green asked G. to go put and hit for D. Ruthven.
Some guys get booed, others get groaned. If the reaction is boos, then at least you have had the satisfaction of having recently failed. George has not had that opportunity so 30,508 sounded like they'd just been punched in the stomach.
You knew this wasn't G. Brett coming up. But then it wasn't even supposed to be G, Vukovich.
"I had (K.) Moreland," said Green.  "And if he brings in the lefthander, then I switch. But he (Padre Manager J. Coleman) figured that out, too. If we hit (G.) Gross or (D.) Unser there would have been a change. Fortunately, my first guy was good enough.
Coleman stayed with M. Armstrong, Vukovich stayed with a waist-high fastball, and there it was, the first significant hit of the major-league career of G. Vukovich, headed up the gap in left-center field. There they were, B. Boone and L. Bowa scoring insurance funs in the Phillies 7-4 victory over the S.D. Padres.
There G. was, heading for third as the, third baseman waited with him for the ball. And here he was, the third out, coming off the field to the first standing ovation of his major-league career.
"I heard the groan when I came out of the dugout,'' said Vukovich. "I guess it's to be expected, sending up a guy hitting only .200. I knew Dallas' thinking, too, I wasn't sure I'd get to hit at all.
"It felt excellent. I finally did something."
COMPARED TO all the things he could have been doing at Oklahoma City, it might not have been worth the wait until his 40th at-bat of the season. Even J. Vukovich has been up 55 times, but he's 32 years old, and is thus a vested member of the utilityman's union. G. is 23, which means he's still a prospect,
"Those people who think that way aren't running this club," said Green. "He's a well-schooled baseball player. Jfe doesn't need any more minor-league experience. What he needs is the at-bats, which he isn't getting here. I thought I would have a chance to use him more. Bake (McBride). is the kind of player that doesn't need to be platooned.  
"If he's the right guy with the right temperament and the right amount of schooling he should be up here. All right, Scotty Muninghoff, there's the difference. Scotty wasn't able to handle not being active and we found that out.
"George has worked very hard, keeps himself fit and ready and when something like this happens, he can help you now and then. He doesn't have to go back to the minors and work on something.
"I think he could play more on a lot of major-league teams. But that doesn't mean he can't play for the Phillies. He's proven very valuable to us. He allows us to save Gross and Unser for the late show, which they are entitled to."
WITH G. LUZINSKI almost ready to be activated, Vukovich, the 25th man on the squad, is the likely choice to go to Oklahoma City to make room. With the roster expansion on Sept. 1, G. could be brought back 10 days after he was farmed out. But Green, anxious to provide an incentive example to players in the Phillies system, thought George was entitled to be on this team after his good spring. And he says he's entitled to stay on it the entire season.
"I'd fight it tooth and nail," said D. "I wouldn't want to, anyway, I might be forced to. He's done everything we've asked of him. But it may come down to numbers. I'm a day-to-day guy, I'm not really sure what I'll do."
Day to day, Vukovich takes batting practice like this will be his day. Green likes that, seeing a 23-year-old kid. who busted his butt in spring training to jump from AA ball and who has slurped down his first time around in the major leagues with wide eyes and a level head.
"I expected to sit," G. said. "I think I've handled it well. You just don't expect to play more pn a team like this.
"A lot of people have asked me about it. When you're in the minor leagues there is only one place to be. That's up here. I'm gaining experience and seeing how the game is played by the best.
"When I go up for BP I act like it's a game situation. I hit the ball where it's pitched. I never lose sight of what I have to do."
I'M GOING TO play winter ball so I don't think I'll lose anything. To me the experience I've gained here is very important.
"Just going around seeing all the major-league parks, all the great players. Never in my wildest dreams did I think I'd be on the same team with Pete Rose. I watched him when I was little. Now, I'm 20 feet away from him in the clubhouse. The game's the same everywhere you play it. I'm glad to have this chance. Still, you got to have some kind of feeling you've contributed and this is the first time, batting, in this kind of a situation late in a game, that I've come through. One time against Bruce Sutter I hit the ball hard, but right at the shortstop. Against Neil Allen another time, I didn't come through. I finally did tonight."
Which means John Vukovich will be congratulated everywhere he goes today for his big hit. And a guy or two will come into newspaper sports departments asking who the Phils gave up for that Cardinal pitcher.
"People find out who I am and they want to know if I'm the pitcher or the infielder," said George. "It's not a common name, but it is in baseball, I guess. People ask me to spell it for them."
It's V-U-K-O-V-I-C-H. Only the G and, finally, that line drive give this mystery guest away.
Padres Wake Up Tug
By Bill Conlin
Earlier, before he went down to the bullpen, Tug McGraw was doing a stakes race bench-jockeying number on rookie Padres catcher Craig Stimac.
"I was screaming at that catcher the whole game because he looked like he was afraid to throw the ball back to the pitcher; I was really on his case," McGraw said after the Phillies made it six straight last night, a 7-4 victory over sixth-place San Diego.
Later, the eighth inning to be exact, McGraw was pitching and Stimac was hitting. Stimac was hitting with one out and Dave Cash on first. The moral of the story is to let sleeping catchers lie.
"He comes up and hits a double off me," McGraw said. "That got my adrenalin going, I guess. I told myself I can't be taking any of these guys complacently, whether I think they're good hitters or not. I let the guy get a double off me – he's got as much business doing that as anybody, I guess – but he's never seen me before and I should have the upper hand. That got me all fired up. I said, 'What am I doing out here? I'm doing what I'm afraid the whole ballclub might do.' Boom, that just woke me right up."
THANKS, CRAIG, Tug needed that. Back in touch with the harsh reality that there are no easy outs in the heat of a pennant race, no easy wins, no soft-touch teams, McGraw went to work with the wild-eyed intensity that has become a trademark. He got pinch-hitter Gene Tenace on a comebacker to the mound, pumped a called third strike past Gene Richards and picked up his 13th save with a 1-2-3 ninth. The highlight of that flourish was a perfect third-strike fastball, down and on the outside corner and which froze Dave Winfield for the second out.
On a night when Dick Ruthven fell behind, 3-0, in the first inning and struggled with his location throughout, the Phillies pounded 15 more hits, including seven doubles and Manny Trillo's third homer in the past five games. Garry Maddox, Larry Bowa and Bob Boone went 6-for-9 and the shortstop drove in what proved to be the winning run with a sixth-in-ning double.
"It was a nice win for us," Dallas Green said after the Phils went 10 games over .500 for the first time this season, pulled into a virtual tie for second with the Expos and whittled the beaten Pirates' lead to 2½ games. "You hate to see a day off when everybody's healthy and swinging the bats, but we handled it very well. We were in a position early to let it slip out of reach, but we ground out a couple of runs to get back in it and Dick was able to shut them down pretty well after the first."
McGRAW, AUTHOR of "You Gotta Believe" with the Mets in '73. dropped what could serve as the Phillies' motto the rest of the way. Madison Avenue will not pirate this one for an airline, but it gets the message across.
"We can't be good the rest of the year," Tug said. "We have to be excellent. Excellent? I'm just all keyed up. I think we can make it I just want to make sure everybody knows were ready to go after anybody. We can't be taking anybody lightly. Clubs like this lull you to sleep. We've got to take them just like they're last year's champions."
And what's the fine line between excellence and a ballclub which goes along winning just enough more than it loses to keep people from calling it mediocre?
"Excellence means everybody being hot and at their best the rest of the way." McGraw said. "It's momentum. We're a streaky ballclub. We're hot and cold offensively and this is the time of the year we have to be hot. We can't afford a cold streak. Right now we have to be on a hot streak. We cant afford anything else.
"This is the time. We've got, what, 46 left? I'd say we have to win 35 of them to win the pennant. That's what we should be thinking, nothing less than that. We can't count on Pittsburgh or Montreal folding next month. We can't count on anybody helping us out. Watching the scoreboard tonight got me keyed up, too. Watching Pittsburgh down, 3-2, and knowing Nolan Ryan's lost only three times in his career after leading in the seventh, watching the Dodgers take the lead in Montreal."
ITS NICE TO see there's at least one guy out there who worries more about what he reads on the scoreboard than what he reads in the papers.
Tug says he didn't have any trouble getting loose last night. He did what he usually does before walking down to the bullpen. He popped three pills.
Before you speed to conclusions, the three pills were aspirin, a nice habit McGraw got into several years ago. "The  day off did me good. I took three aspirins before the game, as usual," he said. "I do that every night. Sometimes I'll take four or five. They make it easy to warm up, loosens you up. It takes away any stiffness you may have. I've been doing it almost every day for four or five years, ever since my back started bothering me."
McGraw spent 15 days on the disabled list after tinkering with a sidearm delivery which caused tendinitis in his elbow. He came off the DL July 17 and since then he has six saves and an 0.86 ERA, lowering his season ERA to 2.07. He's thrown just three homers so far and by this time last season Tug had served up that many grand slams.
"I think that contrary to what was said in spring training the pitching staff has been much more consistent this season than expected," McGraw said. "We had the injuries, we had the young guys filling in to do a good job. Even though Blade (Randy Lerch) struggled, I think there were some games where he kept us in them even though we lost. I don't think he was really a 3-13 pitcher. Now that everybody's healthy I think the pitching staff is going to keep us in practically every game the rest of the year.
"I think it's to our streaky hitters to be hot now. They cant afford not to be. We've got to score runs."
PHILUPS: Dallas Green says Greg Luzinski is ready to play. "But I honestly don't know what the hell we'll do as far as making room for him on the roster," the manager said. "George Vukovich has been with us since day one this season and I'm not gonna make him ineligible for a possible playoff by sending him down now. I'll fight them tooth and nail over that one." Any volunteers for the 15-day DL? Isn't anybody hurting?... The Phils nibbled single runs off lefthander Bob Shirley in the second, third and fourth, took a 5-4 lead in the fifth on Manny Trillo's two-out homer and back-to-back doubles by Garry Maddox and Larry Bowa... Mike Schmidt singled home a third-inning run to run his RBI total to 87, two behind league leader Steve Garvey... The Padres are second in the league with 163 stolen bases. They have also lost eight straight and 12 of their last 13, proving that even if you can run, you can't hide... Nino Espinosa vs. Juan Eichelberger (3-0, 2.14) tonight.
Trillo HR Mind-Boggling
By Lorenzo Biggs
For Suzi Q. Siewera, being a winner in Daily News Home Run Payoff contest is definitely better the second time around.
You see, four years ago Mrs. Stewera won four tickets to a Phillies game. Last night, Mrs. Siewera not only won four tickets, but also $1,025 ($25 for the RBI) on Manny Trillo's fifth-inning homer, his fifth of the season. And for her it was a mind-boggling experience.
"I'm so excited I cant think straight," said the 64-year-old housewife.
While she took time but to regain her thoughts, her husband, Joe, who was not so boggled, stepped to the phone to explain the rest. "My wife was asleep' on the couch," Joe said, "and I was sitting in the kitchen listening to the game on my transistor radio. When I heard that Manny Trillo was batting for her, I called to tell her. But, before I could get back to the radio... I'm surprised because Manny Trillo is not a home run hitter."
JOE SAID AS soon as the news of the $1,025 payoff hit the airwaves, ' their phone started ringing. "She had been getting calls from her girlfriends. You know how women are... news travels fast."
"I never, never in my life thought I would win," said Suzi, who has been sending in the Payoff coupons since the start of the contest. "About four years ago I won four tickets and I was excited. Oh my God! A thousand dollars. I won't be able to sleep."
Mrs. Siewera, a Philadelphian, said she had no plans on what she would do with the $1,025 jackpot, but hubby Joe was quick to reply, "Celebrate!"
Although Mrs. Siewera says all the Phillies are her favorite, she adds that Ttillo is "the most favorite." And... "the fellow that batted for me, I could give him a kiss over the phone. This is one night for me."
Frank Washington of Philadelphia won $75 and tickets on Larry Bowa's RBI double in the fifth inning of the Phillies-Padres game. Willie Eiland of Camden won $50 and tickets on a double by Garry Maddox.
Winners of four tickets each were Jack Dougherty of Wilmington, Christian Latt, T.J. Raphun and Nathaniel Ingram, all of Philadelphia.
To date, the Daily News has paid out $16,300.
Today's entry coupon appears on Page 55.