Philadelphia Inquirer - August 24, 1980
Here's why it's still a race
By Frank Dolson, Inquirer Sports Editor
"Bobby Walk is the guy who's held us together. Oh sure, Lefty (Steve Carlton) has been the glue and the savior, but Bobby's saved us, too. - Dallas Green
The race might nave been over now as far as the Phillies are concerned, if not for Bob Walk. It's that simple, that astounding.
A year ago, he was in Reading, which isn't far from Philadelphia as lar as the turnpike goes, but a million light-years away in baseball terms. How can you compare pitching in Reading Municipal Stadium in front ot 500 or maybe 1,000 spectators with standing on the mound in Veterans Stadium, surrounded by 35,000 to 40,000 screaming fanatics, facing a Stargell or a Winfield or a Hernandez? There is no comparison. It's a different world, a different feeling, an infinitely tougher challenge.
Somehow, Bob Walk has met that challenge; he has won nine big-league games in a year in which he never expected to see the big leagues, and, because of those nine victories, the Phillies are in a three-way race with the Pirates and Expos for the championship of the National League East.
The baptism
"Nine wins," said Larry Bowa the other day, "that's a lot of wins. He's pretty mature for a young kid, but he had to grow up here under some adverse conditions. He pitched against the Pirates. That'll make you grow up quick."
If it doesn't destroy you.
That's the wonder of Bob Walk. He didn't let it destroy him when Willie Stargell boomed a first-inning home run off him in his first big-league start, or when he struggled in Chicago in his second. He grew up under circumstances tha, would have torn down the confidence of a lot of young men. He matured while pitching on major league mounds against major league batters in the middle of a tough pennant race.
It wasn't easy. Walk – like so many young pitchers – let little things bother him. A bad pitch, a bad call, and he'd start wandering around the mound, visibly trying to regain his composure. It was noticeable that day in Chicago....
The transformation
"He'd keep walking around the mound," Phillies general manager Paul Owens said. "He'd walk and walk and walk. He was taking so long – I mean, he had the infielders like this..." And Owens leaned forward, then back, then forward, then back again, playing the role of an infielder waiting, waiting, waiting for the pitcher to throw the baseball.
"He'd get too upset at little things," Dallas Green said. "Herm (pitching coach Herm Starrette) and I brought him in here and sat him down and talked to him pretty good. He's a good listener. Next game, he went right out and started that no-nonsense, get-on-the-mound-and-let's-go type thing, and he's pitched like hell ever since. Some guys might've cracked and given up and said, 'The hell with it.' But Bobby listened to what we had to say and made it work for him. Everything wasn't a crisis to him anymore."
"He acts like he's dumb," said Bowa, "but he's dumb like a fox. In New York, somebody said, 'How come you didn't hit (before the game)?' "I forgot I was pitching,' he said."
The result
A kid who can maintain his sense of humor after being tossed into this pressure cooker obviously is not your run-of-the-mill rookie pitcher. All you have to do is watch Walk at work, and you see the signs of that new-found maturity learned under fire. Thursday's early KO was a perfect example. There was no stomping around the mound, no seemingly endless waits for the next pitch to be delivered, no signs of blowing his top over a close ball-strike call that went against him.
The Bob Walk who pitched against the Padres at the Vet tjiree days ago bore little resemblance to the Bob Walk who walked around the Wrigley Field mound less than three months before. That Bob Walk still wasn't sure he could pitch in the big leagues. This Bob Walk knows he can pitch in the big leagues.
He struggled mightily Thursday. He made some costly mistakes. But he kept his head. Virtually overlooked in the wake of the Phillies' 17-inning victory was the heads-up fielding play Walk made shortly before he was removed from the game, diving to his left to prevent a wild relay from sailing into the visiting dugout. "He saved two runs," Dickie Noles said. "We lose the game if he doesn't do that. To get where he was, to make that play, you really have to be thinking out there."
That's maturity: the ability to think, to act even when the line drives are whistling around the ballpark and the manager is on the top step of the dugout, about to give you the hook. Even today, Walk has a souvenir of that remarkable play – an arm scraped raw by his slide across the turf following his all-out dive for the ball.
You learn a lot about a pitcher, especially a young pitcher, when things aren't going so well. On Thursday, Walk learned something about himself. He could stay calm under adversity.
"I noticed that while I was out there," he said. "The first couple of hitters, I'd miss the first couple of pitches, then I'd throw what I thought was a strike, and he (the umpire) wouldn't give it to me. Still, I thought to myself, 'Just be calm. Don't get all excited because that'll just make things worse.' Before, I wouldn't have been able to tell myself that. I would've been out there thinking about everything that was going wrong."
Above all, what Bob Walk noticed following that last, short-lived start was a sense of belonging. He knew what he had done wrong; a day later he ticked off each mistake in gory detail. And he also knew that he could correct those mistakes. Back in June, shortly after he arrived here, he wasn't sure.
"The feeling after the first couple of games and after the last game were completely different," he said. "For instance, compare my first game (against the Pirates) to this one. Same-type games. I started out wild. They scored a lot of runs off me early. I came out of the games early. But after the first game I wondered, 'Do I have the ability to pitch here?' After this game I knew I had the ability, but I made some mistakes."
He carried those mistakes home with him after the game because that's the way he is. He went over them, again and again and again. All part of Bob Walk's on-the-job training.
"When I was at Reading or somewhere like that, and I had a couple of bad games, it was easier for me to kinda throw it off," he said. "But up here it bothers me more."
Up here, there's a big-league pennant race going on. Walk wants to do all hetan to help his new teammates stay in that race. They, after all, played a major role in helping him get over that big, first hurdle – with the support they gave him, on and off the field.
"I kinda wondered when I came up how the veteran ballplayers would react towards me," Walk said. "A lot of them came up to me the first day and said, 'Hey, just go out there and do your best and whatever happens, happens.' They didn't come up and say, 'Hey, kid, you better win.'
"In the first four, five games, I didn't exactly go out and beat the world. If there would've been any bad feelings about the young guy coming up, it would've really surfaced there. But it didn't. It would have been easy for a player to say, 'We're in a pennant race, and they bring up this young kid who can't throw strikes.' Maybe they thought it, but nobody said it. They gave me time to prove myself."
And Bob Walk made the most of it. As Dallas Green knows only too well, the Phillies wouldn't be close today without him.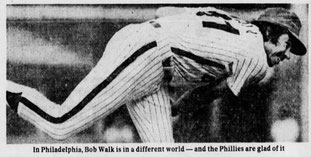 Phillies stumble again
Fall 3½ behind after 6-2 defeat
By Danny Robbins, Inquirer Staff Writer
Dallas Green gave the first problem, the return of Greg Luzinski (still pending), the back of his hand. "Don't ask about Bull," he said.
Then he addressed the second problem, his Phillies.
Dallas Green isn't yelling and cursing – yet. But he isn't enjoying what he has seen so far on this homestand with the West Coast teams, and last night's 6-2 loss at the Vet to the San Francisco Giants brought a little more of the lion out of this bear of a man.
"We're back to our nonchalant, non-concentrating, non-thinking baseball," he said. "The misplays didn't just happen here. They've happened a couple times. They've happened, really, since New York. We've overcome this once before. But we're in the middle of a pennant race, I believe."
The Phillies steamed out of New York last weekend with a five-game sweep of the Mets. But they have lost three of fives games on this home-stand, the last two in a row to the Giants. Last night's defeat, coupled with another win by the Pirates, shoved them 3½ games back in the National League East.
The Giants, to be sure, are not easy pickings at the moment. They are at least within sight of the top of the National League West. They have won 10 of their last 14 games, and last night's win edged them over the .500 mark for the first time since July 1, 1979. They are also 6-2 against the Phillies this year.
Last night, they were driven by Allen Ripley, a 7-6 pitcher who happens to be 3-0 against the Phillies this season. He kept the ball low and over the plate, got 14 ground-ball outs and limited the Phillies to seven hits and two unearned runs.
"I just make good pitches against them," he said. "I've been playing eight years, six in the minors and two up here, and I find that you own some teams while others beat the hell out of you. I can't complain. I'm 3-0 against the Phillies with something like one earned run in 20-something innings."
While he was owning the Phillies again, he also followed in the footsteps of Tom Griffin – who homered off Steve Carlton on Friday by poking a two-run triple in a four-run sixth inning against Larry Christenson, the Phils' starter.
Christenson wasn't up to the standard he set for himself in his grand return from the disabled list a week ago. On this night, he gave up seven hits and five earned runs in 5-2/3 innings.
"In the first three innings, I thought he threw very, very well," Green said, "and then I saw signs that he was (pitching) up. Of course, in all fairness to him, he's the guy we play around with in the rotation, the guy we set down for eight days."
And, in all fairness, an error put him in a 1-0 hole right away in the second inning.
It came with two out, after Mike Ivie had doubled and Rennie Stennett had walked. Johnnie LeMaster hit a bouncer to Manny Trillo, who wanted to flip to second for the force – but couldn't find Larry Bowa there. Perhaps Bowa had been put off by Trillo's first step, which seemed to indicate that he would make the play himself.
Whatever, Trillo made a rushed, wide throw to first when he saw that Stennett was going to reach second. Everybody was safe, and it was 1-0.
It was 2-0 in the third when, again with two out, Larry Herndon doubled and Milt May singled him home.
The Phillies got both runs back in the fourth, but not by stinging the ball. "It was like a nightmare," Ripley said later, "a fly ball here, a little bloop there."
Bake McBride reached on an error by Stennett and wound up on second with two away. The Phillies put runners at the corners when Garry Maddox dribbled a hit under third baseman Darrell Evans' glove. Bowa then doubled in a run by squirting a little fly up the line in left that just eluded a diving Terry Whitfield.
The Giants walked Bob Boone to fill the bases, and Christenson crossed them up by chopping a single deep into the hole between third and shortsop. LeMaster, however, made a fine stop on the fringe of the infield to allow only the lead runner to advance. And then Lonnie Smith, whose hitting streak was stopped at 12 games, struck out with the bases loaded.
The Giants got to work in the sixth with back-to-back doubles into the right-field corner by Evans and May.
After Ivie popped up, the Phillies walked Stennett intentionally to set up the proverbial double-play situation for the Giants' No. 8 and No. 9 hitters, LeMaster and Ripley. LeMaster accommodated them by tapping a ball to Mike Schmidt, who got the force at second, but LeMaster beat Trillo's throw to first.
Next, Ripley lined a 1-2 slider to left. Smith fell down trying to make a shoe-top catch, and the ball rolled to the wall. It was a two-run triple, a 5-2 game.
"I just swung and made contact," Ripley said. "Christenson had a super fastball, and he did me a couple of favors by not throwing it. He threw me one fastball down the middle, and it was in Boone's glove by the time I got a swing at it. Then he threw me another slider...."
"A double play wasn't turned," Green said, "or we could have been out of the inning, and then he makes a bad pitch to the pitcher."
Green wasn't too concerned by Smith's wrong move in left. "That's just one of those things that's gonna happen," he said. "At least he was diving."
Green was concerned by what the big picture was showing him.
"I hope I don't have to start screaming and yelling," he said. "I don't think I could go through that again. I certainly hope these guys know they're in a pennant race, and they must know it's August."
Then somebody asked Green if he could hand out fines. "I would be so damn rich," he replied, "that I'd own the club."
NOTES: The Phillies surpassed the 2-million level in attendance last night, their 60th home game. This is the fifth straight year the Phils have hit 2 million. The Phils drew 38,541 last night, for a season total of 2,021,774.... The Giants opened without their best hitter, rightfielder Jack Clark (.291, 22 homers, 79 RBIs), in the lineup again last night because of a bruised left hand. He was hit by a pitch in New York.... Dick Ruthven vs. Bob Knepper at 7:05 tonight, then the Dodgers come in for three games, starting tomorrow night. Nino Espinosa, Bob Walk and Steve Carlton will be the Phillies' starters.
Yea Cubs; boo, Phils on DH vote
By Allen Lewis, On Baseball
Cheers for Cubs general manager Bob Kennedy, who is under fire for the team's failure this season, but who voted his convictions at the recent National League meeting. Kennedy voted against adoption of the designated hitter despite having Dave Kingman and Cliff Johnson, two defensive liabilities who would be great assets as DHs.
Boos for the Phillies, who were dead-set against the DH in past votes but who abstained this year, although executive vice president Bill Giles said, "Philadelphia is in favor, but, after finding out we couldn't get it effective until 1982, we decided to wait until winter meetings."
It's not difficult to figure out why the Phillies suddenly have changed their minds. With a DH rule, they can get Greg Luzinski's bat in the game and keep his glove in the dugout.
Too bad president Ruly Carpenter and general manager Paul Owens don't see eye to eye with their manager, Dallas Green, who is against the DH, or with men such as Pirates general manager Harding Peterson and Dodgers president Peter O'Malley.
Peterson rejects the argument that the DH is the prime reason for increased attendance in the American League.
"The National league also increased its attendance over the last few years," says Peterson, "so who's to say that the DH was responsible in the AL? It takes too much strategy away from the manager. Who wants to see an Aaron or a Stargell waddle up to first base? I see no reason to change."
Peterson feels that way even though he has such DH candidates as Willie Stargell, Bill Robinson, Mike Easier, Bill Madlock and Lee Lacy.
O'Malley, who heads the most financially successful franchise in history, makes this point: "I suppose the next thing we'll be hearing is that the American League wants a designated-runner rule to go along with the designated hitter.... You don't build interest with gimmicks. You do it with good, solid competition."
One of baseball's great appeals through the years is Its records. The DH has tainted them. The DH will be followed by the DR and then, inevitably, by platoon baseball. We'll have a different game then, but it won't be a better one.
NOTES: On the second Sunday in August, the Cubs were hosting the Expos, the Phillies were playing a doubleheader in Pittsburgh, and the Yankees and Orioles were playing in New York. The ticker went but at Wrigley Field, and the Cubs never gave a thought to calling Pittsburgh or New York so that they could post a score. Not a single inning of any game – not even the White Sox game – was ever posted. The Cubs PR organization Just isn't with it.... Look for two of the umpires hired by the NL during last year's strike, as well as veterans Paul Pryor and Nick Colosi, to be retired after this season.
•
The answer to last week's trivia question: In 1950, Billy Goodman of the Red Sox won the American League batting title with a .354 average. He is the last major leaguer to win such a title while playing the outfield and all four infield positions in that season. He played 45 games in the outfield, 27 at third base, 21 at first base, five at second base and one at shortstop. Joe Manzo of Philadelphia was first with the correct answer.
This week's question: Since the mound was moved in 1893 to its present distance from home plate, 60 feet, 6 inches, how many lefthanded pitchers have won 30 or more games in one season?