Camden Courier-Post - August 4, 1980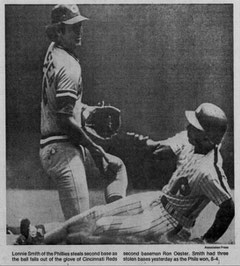 Phillies run over Reds
By Rusty Pray of the Courier-Post
PHILADELPHIA – The primary topic of post-game conversation yesterday was the lightning speed and base running ability of Phillies' leadoff hitter Lonnie Smith.
And rightfully so. Smith's contributions toward an 8-4 Phils win over the Cincinnati Reds before 41,328 sweltering fans in Veterans Stadium were manifold. The rookie leftfielder's Sunday afternoon included two hits, a walk, three stolen bases and three runs scored.
But, as important as Smith has become to the Phillies – you could easily say he is the legs of the lineup – his ability to run would matter little if the players behind him in the lineup were not doing whatever necessary to drive Smith home.
PETE ROSE, for instance, has had to make the substantial adjustment from hitting first in a lineup, a position he's held throughout his career, to batting second, a spot that requires a great deal of patience and a willingness to hit behind the runner.
"I've never been in a role before where I've been asked to make an out," Rose explained after using two of his three singles to drive in Smith. "When Lonnie 's leading off, I have to give myself up more. How many times have I given myself up lately to get him from second to third? Three? I'll do it three out of three times, as long as we get the runs."
 Perhaps the adjustments Rose has had to make can best be illustrated by yesterday's first inning. Smith opened with a walk off Reds starter Bruce Berenyi. Rose took a couple pitches while Smith studied Berenyi's move, then Smith stole second.
Rose, a natural spray hitter who rarely pulls the ball, followed the steal by pulling a grounder to the right side, moving Smith to third. Greg Gross, filling in for Bake McBride in right field, promptly doubled to left and – viola! – the Phils owned a 1-0 lead.
"I HAVE TO be super patient because he (Smith) runs on his own, so I can't rely on signs to tell me when he's going," said Rose. "With some pitchers, I'll go all the way to two strikes.
"At this stage in my career, I'm not going to be selfish. I know the situation. I've always been a leadoff hitter, but I don't care where I hit in the lineup as long as I get to hit. Too many guys, when they're switched from one spot to another in the order, try to alter their swing. I only know one way to hit.
"The only difference is, I'm more patient to give Lonnie a chance to make something happen."
The Smith and Rose Run Combine struck again in the third when Smith looped a check-swing single into right and successfully stole second – despite a pitch out – by knocking the ball from the glove of shortstop Dave Concepcion. Rose immediately sent a bouncing single into center, breaking a 1-1 tie and sending the Phils on their way to what would become an easy win.
AND, in a watershed fifth in which the Phils used three hits, four walks and a sacrifice fly to score six runs, it was Smith and Rose who began it all.
This time, Smith started the proceedings with a bunt single and his obligatory stolen base. It was the second time within a week Smith has stolen three bases in a game. Despite the fact Smith has only recently begun playing fulltime, he has the club leadership in steals with 20 and a streak of 10 straight stolen bases. Astonishingly, 13 of Smith's last 17 stolen bases have led to runs.
This one was no exception, Rose following with another RBI single to center. Walks to Gross and Mike Schmidt ended Berenyi's stay on the mound before reliever Mario Soto relinquished a sacrifice fly to Garry Maddox.
Manny Trillo was walked intentionally to reload the bases for Ramon Aviles, who again took Larry Bowa's place at shortstop. Soto walked Aviles to force in a run and make it 5-1, then fell behind Bob Boone, 3-1. And Boone ripped Soto's 3-1 pitch into the left-field corner for a three-run double that put the game away.
"WE WALKED nine guys and five of them scored," grumbled Cincinnati Manager John McNamara, whose slumping club had scored a total of five runs in its previous four games.
All those Phillie runs served to make Nino Espinosa's job that much easier. Espinosa, who was 1-2 in five starts since coming off the disabled list, left after six innings with an 8-2 lead to get credit for his second win. Ron Reed worked the final three innings for his seventh save.
PHIL UPS – Schmidt, who has been struggling at the plate and fighting a pulled groin muscle, remained after the game to take batting practice... Trillo and Aviles combined to turn four double plays... They had a total of eight putouts and 11 assists between them... Phils have 13 steals in their last 10 games... Smith has been caught stealing three times: once each by Tim Blackwell of the Cubs and Steve Nicosia of the Pirates, and once by San Diego pitcher Eric Rasmussen... Nolan, who had three hits, has a history of wearing out Espinosa... After singling in a run in his first appearance yesterday, Nolan was 5-for-8 with two doubles, a triple, a home run and six RBIs against Espinosa over two seasons... Phils are off today, begin three-game series against St Louis tomorrow night with Dick Ruthven scheduled to face John Fulgham.
Smith just beginning to burn on the bases
By Ray W. Kelly of the Courier-Post
PHILADELPHIA – Down in the Cincinnati dugout, the man whose powerful throwing arm always put fear in the hearts of would-be base stealers leaned forward and watched intently as Lonnie Smith, perhaps the fastest runner to wear a Phillies uniform in more than two decades, stole second base for the third time yesterday afternoon.
Johnny Bench shook his head and wondered if it wasn't just a matter of time before everyone playing this speed-hungry game would a world-class sprinter.
"That kid Smith might not have it so easy if you were in there," said the teammate next to Bench. He had obviously not taken into account the slow delivery of the Reds' pitcher. Bench knew it was making catcher Joe Nolan's job close to impossible.
There are some things you just can't stop," replied Bench. "Give an edge to guys who run like Smith and it's going to be hard times for a lot of young catchers coming up to the majors."
During his career, Bench never doubted his ability to gun down the speedsters.
Most roadrunners relied strictly on their own raw ability. The ones who learned to run with their heads as well as their feet were the ones to fear.
At the moment, Smith represented a potential problem for any opponent, a troublemaker on offense who changed the tempo and strategy of a game simply by getting on base. Yet, it might be just the beginning.
"The more I run, the more confident I feel," explained Smith. "It's kind of like a hitter. You get into a groove. Stealing becomes easier.
"I'm still a little hesitant running against pitchers I haven't seen before. But, I'm getting to know them. I figure that if I play every day, I'd be able to steal between 40 and 60 bases a year. I don't plan on going after 70 to 100 steals a year."
The difference between a player with 40 stolen bases and the record-setters like former Cardinal great Lou Brock isn't speed. And, as soon as Phillies rightfielder Bake McBride gets a chance to sit down and talk with Lonnie, that's the message he's going to pass along.
"When Lou and I were in St. Louis together, I knew he couldn't be that much faster than me," recalled Bake with a smile. "So, we timed each other. We measured and counted our steps in the dirt. We checked out everything and darned if I didn't run from first to second just as fast as he did.
"But you know what? He stole all the bases. There was one reason: He knew when to run. I still haven't learned."
There is a tendency among some people in baseball to explain such success by saying Brock was born with the instinct to know the exact instant to break for second base. The truth is, Sweet Lou became the best by making a lifetime project out of studying pitchers.
"He'd sit there in the dugout with a stopwatch, timing all kinds of things... how long a certain pitcher took during his delivery, how long it took for the ball to reach the catcher, how long the catcher took to release the ball. He had a formula in which he knew that if he started to steal at a certain point against some pitchers, it was mathematically impossible for him to be thrown out," said Bake.
"Right now, Lonnie Smith is going on pure, raw speed. If he studies the pitchers and works on getting a better lead off the bag, stealing will get easier and easier for him," he added.
Lonnie has already altered his running style to avoid the "skating" strides that tripped him up in the past. By lifting his knees higher, he no longer runs right out from under himself on Astro-Turf.
Smiling as a locker room guard handed him his infant son along with the message, "She says, 'You do the changing!'" Lonnie admitted he could be even better in the future.
"I haven't even stolen a base off Johnny Bench. I haven't worked up enough nerve to try," he said.
Bench grinned when he heard about that "Tell him to hurry," said Johnny with a chuckle. "Pretty soon, I'll be leaving town."
He didn't look sad about that. Not at all.
Snider recalls Brooklyn glory
By Gary Stein, Gannett News Service
COOPERSTOWN, N.Y. – Here in a quiet mountain village where the passing of time doesn't mean much anyway, the old Boys of Summer had another moment of glory yesterday.
And it might be one of their last.
"It was one of baseball's greatest eras," sighed former Brooklyn Dodger pitcher Carl Erskine. "But, yeah, it's possible that Duke may be the last to get in."
Duke Snider, one of the greatest of the legendary Brooklyn Dodgers of the 1950s, finally was inducted into the Hall of Fame after waiting through 11 years of eligibility.
Another star outfielder, Al Kaline of Detroit, was also inducted after being elected in his first year of eligiblity. Two others – former Phillies outfielder Chuck Klein and former Boston Owner Tom Yawkey – were inducted posthumously.
But the star of the show was the Duke – and no one knew him better than Erskine, who roomed with Snider when both first came up to Brooklyn in the late 1940s.
"Duke wasn't wild like a lot of people say, but he was young and full of zip," said Erskine, one of several former Dodgers among the thousands who jammed into the Hall of Fame to watch the impressive ceremonies. "He wasn't afraid to have a good time.
"Duke was moody. In a lot of ways, he was a spoiled brat. Pee Wee (Reese, former Dodger shortstop) was kind of like his uncle. He would take Duke out for a few beers, and tell him to get with it. And Duke would listen.
"Duke wasn't a bad guy. The thing he was always battling was this thing about potential. People always felt he should be so great. It was a real rock to carry."
Snider may not have been flawless, but there weren't many who could play up to his standards.
He finished with a .295 career batting average and 358 homers. Yesterday, in his greatest moment, he couldn't resist a chance to talk about the 1955 Dodgers, who won Brooklyn's only world title.
"We didn't like the Yankees," Snider grinned. "We disliked being bridesmaids to them... it ate at us for a long time.
"So many guys had role on that team. Pee Wee, well, all I can say is he deserves to be here. Erskine, he was the guy who kept things on an even keel in our room.
"Then there was the greatest competitor I've ever seen – Jackie Robinson. Roy Campanella was a stabilizer. He kept us loose. There are stories I could tell about him and Don Newcombe, and they're all true.
"I was lucky to be a part of that era. That was the Golden Era of baseball as far as I'm concerned."
From that Dodger era, Snider now joins Campanella, Robinson and Sandy Kouf ax in baseball's shrine. Barring a change of heart from the voters, no other Brooklyn Dodger will gain admittance.
"Pee Wee ought to be in," said Erskine.
"And I'm concerned about Gil Hodges. I think the Dodger representation in the Hall of Fame will be hollow without him, but I don't know if he'll ever get in."
Campanella and Koufax were among 23 Hall of Famers on the podium as Snider received his plaque.
"I want to thank God," Snider said, "for putting me in his master plan to be a Brooklyn Dodger and to be in the Hall of Fame."
For Hodges and Reese, the plan appears to be different. Hodges, who managed the Mets before his untimely death due to a heart attack, came close to election on a couple of occasions, but continues to slip back in the voting. Reese never really came close, and now is eligible only if voted in by the Veterans' Committee.
Kaline spent his entire 22-year career in Detroit, compiling 399 homers, 3,007 hits, a .297 batting average and a reputation as one of the most stylish and graceful players ever to compete.
He was steady but unspectacular, and, after, becoming the youngest batting champion ever in 1955 (age 20) when he hit .340, Kaline never approached that figure again.
But he was durable, dangerous and consistent. And he became one of only 10 men to be nominated to the Hall in the first year of eligibility.
"Sometimes I feel I'm one of the luckiest people in the world," said Kaline, who was in tears while making his speech to the crowd. "For 22 years, I was able to make a living playing a game that was my life."
Unlike Snider, who helped his reputation with many World Series appearances, Kaline appeared in only one in 1968, when at the age of 33, he hit .379 and led to Tigers to a seven-games decision over St. Louis.