Camden Courier-Post - August 8, 1980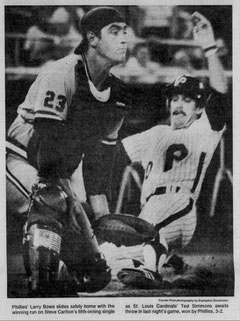 Carlton notches No. 17
By Rusty Pray of the Courier-Post
PHILADELPHIA – After the 14-0 pasting the St. Louis Cardinals applied to the Phillies on Wednesday, there was an understandable temptation to regard last night's game as something more than just one among 162 in a major-league schedule.
Would there be a carry-over effect? Would the Cardinals, buoyed by their bludgeoning of the Phils, take their momentum all the way to the top of the National League's East Division? Would the Phillies, demoralized and humiliated, pack it in and fade as fast as a Jerry Brown presidential candidacy?
Of course not.
IN FACT, in the risky business of measuring momentum, the Phils' 3-2 cut of those same Cards last night at least equals the significance of the sideshow of the previous evening.
"You get a little shaky about those kind of (one-sided) games," said Phillies Manager Dallas Green after watching Steve Carlton run his record to 17-6 with a well-constructed six-hitter. "You know they're freak games and they're games that really shouldn't worry you mentally, but they can depress a ballclub pretty quickly if you let them."
While Green was searching for the significance of winning after losing, the point remained that pitching and defense – not some sort of ironic twist of fate – brought a 12-game homestand to a successful 8-4 conclusion and sent the Phillies on a 12-game road trip within 3½ games of Montreal in the National League East.
CARLTON TOYED with a no-hitter until rookie Mike Ramsey beat out a chopper off the plate with two out in the fifth.
Ramsey's hit gave St. Louis a temporary 1-0 lead because Terry Landrum, another rookie, preceded him by reaching second on an error by Mike Schmidt and moving to third on Ken Reitz' slow bouncer to shortstop.
Carlton gave up another infield hit off the plate to Tommy Herr in the sixth, but by then the Phils had scored all their runs.
SPEAKING OF no-hitters, Cardinal righthander John Fulgham had a perfect game going until he walked Schmidt to open the fifth. Schmidt was forced by Garry Maddox, but Manny Trillo delivered the Phils' opening salvo, a double to the corner in left field.
Larry Bowa followed with a line drive near the left field line that Landrum intently chased. Maddox, on third, thought Landrum had a chance to catch the ball. Trillo, on second, was under no such illusion and nearly caught Maddox as the two sprinted home. Landrum's throw might have caught one of them, but Reitz tried to cut it off, missed it, and the ball rolled impotently to catcher Ted Simmons as Bowa moved to second.
"Manny had a better angle on it and he was running all the way," said Green. "Even (third base coach) Lee (Elia) couldn't tell. You're looking at the runners. You're not looking at home plate. You hear the clunk, then you look up and try to pick the ball up. He sees it in the air and you don't know how hard it's hit."
IT TURNED out to be alert base-running, because Carlton scored Bowa with a base hit to right. That, and a single to center by Pete Rose in the sixth, represented the sum of the Phillies' offense on this night.
Carlton, presented with the 3-1 lead, survived a seventh in which a ball hit by Reitz caromed off Schmidt and into the stands for a ground rule double. Carlton also survived an eighth in which a shot by Keith Hernandez ricocheted off Bowa's glove and into shallow left for a double. Carlton, however, did not survive the ninth.
George Hendrick opened the inning with a double that bounced off nothing except the wall in right center and, an out later, advanced to third on a fly to right by Reitz. Ramsey followed with an RBI single to right, bringing pinchhitter Steve Swisher to the plate. Carlton got ahead of Swisher, 1-2, but lost him, and Green decided to let Tug McGraw pitch to Herr. McGraw needed just one pitch to get Herr to bounce to Bowa, ending the game.
IF THE pitching was good, the defense was superb. Maddox made two fine catches in center. Schmidt went behind third to gun down Reitz, then barehanded a slow hopper and threw Simmons out.
There was, too, the catch made by St. Louis' Tony Scott, who picked a Trillo liner off the AstroTurf. But perhaps the finest play was one made by Rose, who dove headlong and slid across the warmup pitcher's mound near the Phillies' dugout to snare a foul pop off the bat of pinchhitter Keith Smith.
"That," said an admiring Green, "is what makes Pete Rose Pete Rose... All out, 100 percent effort on every play."
Tug heading for best season since 1976
By Rusty Pray of the Courier-Post
PHILADELPHIA – Dallas Green decided Steve Carlton had pitched enough baseball for one night right after Carlton walked Steve Swisher – a pinchhitter with a .125 batting average – to put two runners on with two out in the top of the ninth of a 3-2 game.
"It was not," Green later smiled, "the people's choice."
It certainly was not. But such decisions, popular or not, come with the job of managing the Phillies. So Green walked from the dugout with the boos of 31,397 Veterans Stadium fans raining upon him and signaled the bullpen.
"I just thought he had had enough," said Green. "I thought it was time to go get him."
When Green reached the mound, the conversation was short and to the point: "I said, 'I got McGraw. He said, 'Okay.'"
Apparently, not even the people who do talk to Carlton talk to him for very long.
Green, of course, was going with his hottest arm when he called Tug McGraw in from the bullpen, a time-honored practice that became a nasty habit for Danny Ozark.
That's not to say Green has handled his bullpen with Ozark's insensitivity. Green merely needed a lefthander to get an out, which is what the Phillies pay McGraw to do. And McGraw went about his work as efficiently as possible, using only one pitch to induce Tommy Herr into a game-ending ground ball.
The brevity of McGraw's 11th save, however, should not undermine its importance. With that one slider, McGraw closed out the win – Carlton's 17th – over the St. Louis Cardinals and concluded an 8-4 homestand that kept the Phillies within striking distance of first place in the National League's East Division.
"I've had good success coming in for Lefty," McGraw said. "You come into these games saying to yourself that you want to put this one away for Lefty. But once you toe the rubber and make the first pitch, you forget that kind of stuff.
"This time last year, it was one pitch and 'grand slam McGraw and they (the fans) are saying, 'Get that blankety blank out of there.'"
McGraw did have an uncanny affinity for throwing home run balls with the bases loaded last season, tying a National League record by permitting four grand slams.
But this year McGraw has avoided most all variations of the home run and has relieved well enough to make most people forget that, during spring training and the first weeks of the season, he and righthander Ron Reed were two of the more pressing questions the Phillies had to answer.
"I am," McGraw decided, "having a good year. The first week of the season I struggled a little bit – as most pitchers do – but I've been consistent after that."
McGraw has, indeed, quietly put together a fine season, one that could easily end as his best since 1976, when he helped the Phils to a division championship with seven wins and 11 saves in 58 appearances. Despite spending some time on the disabled list because of a tender arm, McGraw has managed to compile some consistently-impressive statistics.
"Don't," he moaned, "tell me. I hate stats, especially after last year."
It's no wonder. McGraw is among a number of Phillies who would rather forget last season. On this date a year ago, McGraw was 3-2 with a hefty 4.52 ERA and the Phils were 57-55, seven games back and fading.
As we all know, though, 12 months can make considerable difference. McGraw currently ranks second on the staff in appearances with 32 (Reed has been in 38 games). McGraw is 0-3, but leads the staff in saves and ERA (2.16). And, it no doubt has come to McGraw's great relief that neither of the two homers he has allowed has been a grand slam.
"I was in a good groove before I went on the diasbled list," McGraw said. "And now my stuff feels the same as it did before."
In fact, since coming off the disabled list July 17, McGraw has pitched superb baseball, appearing eight times, saving four games and not giving up a run in 10 innings.
And, whether McGraw wants to hear them or not, those kind of numbers would please any manager.
Magazine cites Walk
NEW YORK – Pitchers Steve Stone of the Baltimore Orioles and Bob Walk of the Philadelphia Phillies yesterday were named winners of Baseball Magazine's Achievements of the Month awards for July.
Stone won 14 straight decisions from May 5 to July 31 when he was defeated by the Texas Rangers 7-4. His streak of consecutive victories was the longest in the major leagues since 1974 and came within two of the American League record of 16 successive triumphs.
Walk, a rookie right-hander, won his first six games with the Phillies before being beaten July 20 by the Atlanta Braves 3-2.