Camden Courier-Post - Phillies '80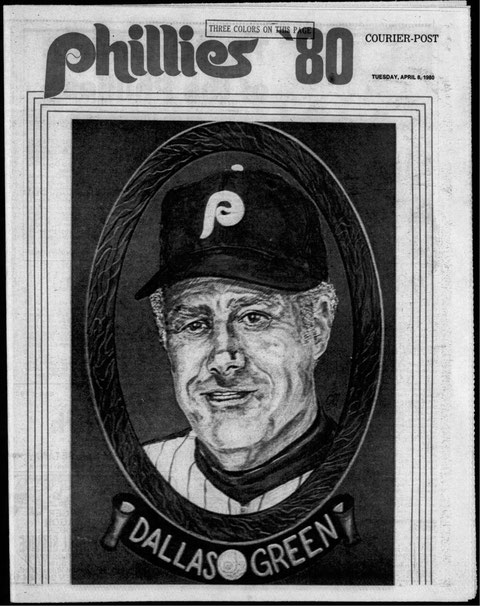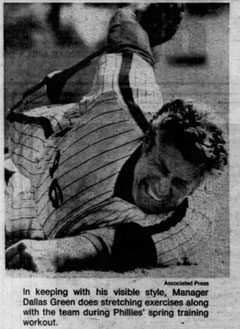 The 'Greening' of the Phillies
By Rusty Pray of the Courier-Post
It is early morning on a typical spring training day in Clearwater, Fla. In the club house the Phillies move quietly about, sipping coffee, talking softly with each other.
Their peace is suddenly shattered by a booming voice. "Let's Go!" it tells them, reverberating off the cinder block walls and evoking a general scraping of spikes in response…
It is past noon on a typical spring training day. Activity hums at Carpenter Complex, where the Phillies are spending their first nine days of spring training. On one field, pitching Coach Herm Starrette supervises his charges, occasionally interrupting their throwing with a word or two of advice.  On another, Mike Ryan, who has been brought in to work with the catchers, fires balls at the knees of one, teaching him to block pitches in the dirt. Elsewhere, Ruben Amaro, Bobby Wine or Lee Elia are hitting fungoes; Billy DeMars is counseling hitters...
IS late afternoon on the same spring training day. Most of the veteran players have gone and are by now well on their way to the third tee. The coaches are unwinding back in the club house, in no particular hurry to shower and dress. Out on the field, however, one remains, throwing batting practice to one of the younger players...
The voice that brought a typical spring training day to life belongs to Dallas Green, the same man who stayed to throw extra batting practice and who will be the last to see the day end. Green is the new manager of the Phillies, a job that may be likened to presiding over a trial of MOVE members.
Green did more than speak at sonic boom decibel levels and put in long hours since opening his first spring training camp. He did, more than hang corny posters that said "WE not I" oh the club house walls. He did more than unleash his army of coaches on unsuspecting players.
Green brought organization, a measure of enthusiasm and a sense of leadership to a team sadly lacking in all three. Green is no miracle worker. His organization works better on paper than in practice. His enthusiasm was not so infectious that his players suddenly took to chanting "Go Phillies!'' between wind sprints. And there is no guarantee that his leadership was or will be completely accepted.
BUT THE greening of the Phillies is on schedule, the programs and philosophies of the man, responsible for, the undertaking" seem to have taken hold.
By any stretch of the imagination, Green's task is not an easy one. After spending 10 years in -the front office as the Phillies' minor league director, he took command of a team in shambles last Aug: 31. Now, he must somehow find the spark that will reignite the fire that once made the Phillies one of the best teams in baseball.
The man he replaced, Danny Ozark, had soft-pedaled the club to consecutive National League Eastern Division titles the previous three years. But Ozark lost whatever grasp he had on the team last season, when injuries and insurrection reduced it to a shell of its former self.
When Ozark was fired, the Phillies were idling in fifth place, with nowhere to go but down. They improved slightly under Green's brief administration, winning 19 out of 30 games to finish fourth.
IN PERSONALITY and approach, Green and his predecessor could not be more different. Where Ozark was quiet, stoic, somewhat retiring. Green is boisterous, emotional, outgoing. Where Ozark believed in the laissez faire approach to handling players, Green is a disciple of pats on the back and kicks in the rump.
Green is riot a workaholic in the Dick Vermeil mold, but he is a well-organized man with a firm grasp of what it should take to turn the Phillies around. He says he is not a strict disciplinarian, but there is more drill sergeant than social director in him.
Perhaps what Green gives the Phillies that Ozark could not is stability. Green is a known quantity. The players – in fact anyone within earshot – know exactly where Green stands on any baseball issue. They don't have to try to guess what he's thinking. An important link in the all-important chain of communication between manager and player has been at least partially restored.
"The guys," says Green, "know I'm not going to change my personality."
Green took pains to impose his image on spring training. That's why be was so visible during workouts, why he hung signs, why he insisted his coaches supervise each drill.
"IF YOU WANTED to be truthful," observed leftfielder Greg Luzinski, "it's the same type workout. The difference is Danny would let you go on your own and he (Green) wants everybody to do everything together.
"Baseball's an individual game, but maybe there's times when you get into that situation too much. He admits he may be a little rah-rah, college prep with . the signs and stuff and, let's face it, we're not used to that."
Most of the pitchers seem to have fewer reservations concerning Green. That is, no doubt, because Green, a former pitcher, understands pitching and the handling of pitchers, an aspect of the game that was never one of Ozark's strong suits.
"There's an air of cockiness with the starting five," says lefthander Randy Lerch. "Last year, we had spurts of brilliance when we were healthy and now the guys are thinking, 'Hey man, let's stay healthy.'
"Last year we had a sense of being lackadaisical in spring training, just going through the motions. There's more intensity this year. Everybody is going through the drills and busting their tails.
"LET'S GIVE the credit for that to Dallas Green and the coaches. The coaches were very good last year, but when coaches don't have a power figure to back them up, there's not much they can do. Like if one of them came up to me last year and told me to do something, I could've told him to get lost and Danny wouldn't have done a thing."
While Green certainly has his shortcomings – a perhaps blind loyalty to the players he nurtured in the Phillies' farm system being one of them – his handling of the Steve Carlton incident early in camp was not.
Carlton's refusal to run with the other members of the pitching staff was seen as a weakening in Green's resolve, an early victory for the forces of anarchy. Actually, Green displayed considerable wisdom, not to mention restraint, by downplaying the whole thing.
Green correctly assessed that Carlton, who has his own extensive fitness program, does not need to run to win ballgames. And, Green acknowledged the fact that you cannot force leadership on someone.
THERE WILL, of course, be other, more serious, tests of Green's discipline. The Phillies, like all teams, will discover how far their new manager's rules can be stretched through the time honored process of trial and error.
But for now at least, the greening of the Phillies seems in full bloom.
1980 Phillies a team in transition
By Rusty Pray of the Courier-Post
Somehow, the 1980 Phillies give the impression they're largely the same group of under-achievers that last year limped and fretted their way to a frustrating fourth-place finish in the National League's Eastern Division.
Perhaps that's because General Manager Paul Owens failed to make a deal of any significance during a strike-shortened spring training. Or, maybe it's because the club's starting eight is unchanged, which does more than merely imply sameness. Everybody, for instance, has known since last October that Mike Schmidt would be the Phillies' third baseman, Larry Bowa their shortstop, Bob Boone their catcher...
That, however, does not mean the Phils of 1980 are merely clones of themselves. Their situation was anything but static during spring training. In fact, the team has undergone several changes – some significant, some subtle – since last season.
THE MOST obvious alteration is the manager, Dallas Green, who begins his first full season in the job after taking over for the ousted Danny Ozark last August. Green, whose approach to managing is sharply different from that of Ozark, brings to the Phillies a vocal, high-profile personality that may eventually generate a measure of enthusiasm among some of the more sedate players.
But Green is not the only change the Phillies have undergone. The 25-man roster the Phillies will present in their opener Friday against Montreal in Veterans Stadium will have some decidedly unfamiliar faces. Green, a former minor league director, has decided to keep several young players such as catcher Keith Moreland, pitcher Scott Munninghoff, infielder Luis Aguayo and outfielders Lonnie Smith and George Vukovich.
Gone are catcher Dave Rader, relievers Rawly Eastwick and Doug Bird, outfielder Mike Anderson and utility infielder Bud Harrelson, who filled in so capably for both Bowa and second baseman Manny Trillo a year ago. Gone is Steve Carlton's designated catcher, Tim McCarver, who will work behind a mike instead of behind a plate this summer. And, gone is that nagging feeling that the Phillies were getting somewhat long in the tooth, that their future had been mortgaged for the immediate gain of a possible pennant.
It should come as some comfort to Phillies fans that not one pitcher fell off a bicycle and broke his collarbone during spring training. Just such a mishap occurred last year to righthander Larry Christenson and it seemed to serve as an omen of things to come.
BY THE TIME the '79 season ground to a halt, the Phillies had sustained an astonishing array of injuries. Only Pete Rose among the regulars played in all 162 games. Trillo missed 46 with a broken arm; Greg Luzinski was out 26 with a leg injury; Boone was gone for 23 and underwent off-season knee surgery, Bowa was absent for 16. All together, the starting eight played just 74 games.
The pitching staff was decimated. Reliever Warren Brusstar injured his right shoulder and was out for the season... Christenson returned in May only to pull a groin muscle in July... Carlton took a club house pratfall -that cost him a few starts... Righthander Dick Ruthven tried to pitch with bone chips in his elbow and wound up undergoing surgery to have them removed... Lefthander Randy Lerch broke his right wrist... Nino Epsinosa developed a sore shoulder in September and has yet to fully recover...
"Last year," says Bowa, "we had 84 wins. Considering the guys we had out of the lineup, I don't see how we could've gotten more than that. I know the fans don't want to hear about the injuries. But, you have to admit, it was odd."
It was indeed. In fact, a strong case can be made that it was because of those injuries that the Phillies, who had won three straight East titles and were favored to take a fourth, faltered and finished 14 games behind the champion Pittsburgh Pirates.
"NOW THAT we're healthy again, anyone who picked us to win in 1979 should pick us again," Rose says.
It is true that, if the Phillies remain healthy, they have an excellent chance to regain supremacy in the East. There is perhaps no better defensive team in baseball, with four Gold Glove winners in Boone, Schmidt, Trillo and centerfielder Garry Maddox, and the presence of Bowa, who fielded a National League record .991, at shortstop.
The Phillies also possess the kind of offense that is capable of scoring five runs a game, which should be enough if the bullpen bounces back from a horrendous year.
Rose, whom Green will return to his rightful leadoff spot, is one of the game's truly great hitters. Schmidt is a bona fide slugger. Luzinski, who has undergone the most dramatic individual change, can hit for power and average. Rightfielder Bake McBride is at least as good as his .280 average of a year ago would indicate. Boone hit a career-high .286 last season.
STILL, the Phils desperately need a return to form from Luzinski, who shed 22 pounds after lumbering to a career-low .252 average (.187 in Veterans Stadium) with 18 home runs and 81 runs batted in last year. Judging by his newly sleek physique and a productive spring, the Bull seems ready to silence the boos that rained upon him during his year-long struggle.
It is, however, possible to differ with Rose's observation. Those who picked the Phillies to win last year need not arrive at the same conclusion for 1980 because the club's pitching picture is anything but clear.
Carlton, the dedicated non-runner, will win. But who knows how long Christenson can avoid further injury? Who knows if Ruthven is fully recovered from surgery? Who knows when Espinosa, who was put on the disabled list April 5, will return? Who knows if Dickie Noles has the kind of control it takes to win consistently in the major leagues?
If Christenson and Ruthven remain healthy and if Lerch cures his inconsistencies, the Phillies should have a decent starting staff. A replacement for Espinosa, who would be Noles, will not become an issue until May, when the season might end anyway because of the strike players have called to begin May 23.
THERE IS EVEN less certainty in the bullpen. Sure, short relievers Tug McGraw and Ron Reed will benefit from Green's experience at handling pitchers, but the Phils must find someone to take over for middleman Brusstar. Lerrin LaGrow, whom Owens signed as a free agent, or Noles may have to play Brusstar's role because Munninghoff, who pitched Doulbe-A ball last year, and Kevin Saucier are relatively inexperienced.
Another question facing the Phillies is Boone, whose knee may not be able to withstand the rigors of daily catching. With Rader traded to the Red Sox, Moreland, a good hitter with limited experience behind the plate, is Boone's only backup.
There is, however, one intangible that could have a major bearing on how well the Phillies fare this season: a sense of purpose. It is something the club did not have in 1979 and, indeed, may be the one ingredient the Phillies need to reverse their fortunes in the East.
"We owe it to each other," says Owens. "It's (winning this season) important because we've been so close. Everybody felt disappointed last year. I felt I couldn't have done one thing more to build a perfect club. We were all so sure... We could just feel it."
And that feeling may yet return.
Phils cannot cruise through 1980 run
By Ray W. Kelly of the Courier-Post
CLEARWATER, Fla. – The Phillies dream machine, having spent the better part of the past 12 months in the repair shop, is once again being rolled out to the National League starting line.
But, things have changed at the track since the now departed Danny Ozark enjoyed the pole position in the Eastern Division, convinced that he would spend the summer watching the opposition fading in his rearview mirror.
It never happened. And now people are wondering if Owner Ruly Carpenter hasn't invested his money in a Rolls-Royce – all show and no go.
The Phillies had all the options, including a super-charged Pete Rose. Yet, the team bounced through the season like an amusement park bumper car, coughing and wheezing its way to a fourth-place finish.
Suddenly General Manager Paul Owens found that when he tooled into the trade market, other executives were inclined to kick his tires and click their tongues.
Last year's cream puff was getting a little mileage on it. By the end of the 1980 season, all the starters would be over 30 years of age. And, you know what they say about trusting anyone with that kind of reading on the old odometer.
The end result was that Owens never got to add the horses to the pitching staff that he wanted so badly. No major overhaul. Just a tuneup and free-agent reliever Lerrin LaGrow.
If the Phils were going to wheel with the hot rod Pirates and a Montreal bandwagon that never seemed to chip its paint job, they would have to stop cruisin' on talent and start going into the corners hard.
The firing of chauffeur Ozark was the first step. Although, when lead-footed Dallas Green slid behind the wheel and began to put the hammer down, all he heard was a lot of knocking and gear grinding.
Since then, most of the players have gotten themselves revved up. If individual efforts were to decide the pennant, the Phils would win it going away.
A slimmed down Greg Luzinski, a strong Mike Schmidt, a dedicated Steve Carlton, a tireless Bob Boone and a dozen other personal triumphs may not be enough, however. The reasoning for this is twofold.
First, there is the undeniable truth that pitching is what makes a baseball team go. And, the Phils are already belching telltale smoke.
Warren Brusstar's shoulder problems make you want to cry. Nino Espinosa's over worked shoulder may take months to mend. Spring training's hottest prospect, Marty Bystrom, came up lame. And, the wait for Randy Lerch continues.
There are, of course, many good reasons to hope in 1980. But, when you're talking pennant, the word possible doesn't really breed total confidence.
Insofar as talent goes, the Phils will be a much improved club overall. Depth has been added to the bench. Which brings us to the point where fans are going to discover whether the Phillies are going to charge this season or merely spin their wheels.
It has to do with the different kind of driving Green is going to have to do this season.
The dugout will be housing a lot of talented, eager, enthusiastic players who aren't going to be so anxious to act as season-long cheerleaders for an eight-man team.
Green saw the folly of that type of approach last year and doesn't plan to make the same mistake. He will use people. And, when you put someone into a game, it means someone has to come out.
This will be especially true if problems in the pitching staff force the manager to use the "let's use everyone today" approach that worked so well for Pirate Manager Chuck Tanner last season.
Whether the prideful Phils can handle such common treatment remains to be seen. For, if the players are willing to sacrifice their egos and pull together, they may go far.
But, if they only give lip service to the words "WE NOT I" that Green painted on the side of his bandwagon, if the stars would rather shine than get grease under their fingernails. Veterans Stadium will once again be nothing more than a garage for a gas-guzzling luxury car.
And, we all know where those clunkers are ending up these days.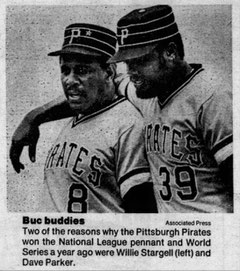 Pennsylvania clubs dominate N.L. East
By Rusty Pray of the Courier-Post
The National League's Eastern Division has been owned and operated by the Commonwealth of Pennsylvania for the last four years.
The Phillies, of course, won consecutive division crowns from 1976-78 and the Pittsburgh Pirates usurped the title – not to mention a world championship – last season. Indeed, the East has been so completely dominated by the two Pennsylvania teams that Gov. Dick Thornburg should consider making the division a campaign stop.
Nevertheless, the East remains baseball's most balanced division. Any one of four teams, in fact, has a legitimate shot at first place with only the Chicago Cubs and New York Mets completely unworthy of consideration. Exactly which one of the four – the Phillies, Pirates, Montreal Expos or St. Louis Cardinals – emerges on top at the end of the season will largely depend upon pitching and injuries. The team that gets the former and avoids the latter will be the team that wins. It's that simple.
THE National League's Western Division, on the other hand, should be a two-team race to the wire between the free-agent fortified Los Angeles Dodgers and the pitching-rich Houston Astros. The defending champion Cincinnati Reds have a faceless – and virtually armless – pitching staff, an unhappy right-fielder in Ken Griffey and an aging catcher in Johnny Bench. Of the other teams in the West – San Francisco, Atlanta and San Diego – only the Giants have any chance of contending.
Pittsburgh discoed to the East title a year ago, bogeying to the strains of Sister Sledge past Cincinnati to the National League pennant and Baltimore to a World Series triumph.
The Pirate family hasn't changed much since Willie "Pops" Stargell guided it in fatherly fashion to baseball's pinnacle. They did, of course, lose underrated pitcher Bruce Kison and infielder Rennie Stennett to free agency, Kison going to California and Stennett to San Francisco, but the nuclear Buc family remains intact.
The Bucs can still hit, they can still run and they still can't field. And, their pitching still consists of six innings from some anonymous starter and Kent Tekulve the only man ever mistaken for a strand of Prince spaghetti.
MAKE NO mistake, the Pirates' world championship of a year ago was no accident and, barring injuries or Tekulve coming down with a terminal case of malnutrition, they should repeat.
Co-MVP Stargell (.281, 32 homers, 82 runs batted in), Dave Parker (.310, 25, 94), Phil Garner (.293, 11, 59), Bill Madlock (.298, 14, 85), Tim Foli (.288) and Omar Moreno (.282, 77 stolen bases) are the players who made it happen last year for the Pirates.
Stargell of course, is a year older. But his real value lies in the locker room, where his influence is felt most. Parker is merely one of the most exciting players in the game, Moreno one of the swiftest and Madlock one of its purest hitters. Indeed, only Foli and Garner may have played beyond their normal capacity last season.
Starting pitching has been a traditional problem at Pittsburgh and this year the Bucs ha ve question marks in John Candelaria (14-9) and Don Robinson (8- 8), both of whom are coming back from serious injuries.
Most of all, though, there is Tekulve, one of the strangest looking and most effective relievers in the game. Last season, Tekulve went 10-8 with 31 saves. If he even approaches those statistics, the Pirates again will be the team to beat in the East.
•  ST. LOUIS: If the Cardinals get any kind of pitching this season, they are going to be extremely difficult to beat because they field the league's most formidable lineup.
Carrying the Cardinal lumber are first baseman Keith Hernandez, who led the league in hitting with a .344 average and shared the MVP award with Stargell; shortstop Garry Templeton (.314), the first player ever to get 100 hits in a season from each side of the plate; catcher Ted Simmons (.283, 26, 87), tight-lipped outfielder George Hendrick (.300, 16, 75), and well-traveled Bobby Bonds, the only major leaguer ever to hit 30 or more home runs and steal 30 or more bases on five different occasions.
However, for every tough out in the Cardinal lineup there is a pitcher on the mound who can't get anybody out. Indeed, 26 of the Cards' 76 losses a year ago came during the oppositions' final turn at bat. And pitching again will be the problem in St. Louis. The Cards' starters are nondescript and their bullpen is nonexistent after Mark Littell.
•  MONTREAL: If they hadn't had to play eight doubleheaders last September, the Expos might have beaten the Pirates to the playoffs.
Montreal, a team that had never before had better than a .500 season, came that close to taking the East. The Expos did it with pitching, their' staff 3.14 earned run average leading the majors.
And, therein lies the problem this season. Montreal lost its pitching instructor, Jim Brewer, to Oral Roberts University, and two of its ranking lefthanders – Rudy May, who defected to the Yankees, and Dan Schatzeder, who was traded to Detroit for outfielder Ron LeFlore. Moreover, the Expos must replace first baseman Tony Perez (.270, 13, 73), who went to Boston, and Dave Cash (.321), who was traded to San Diego.
LeFlore (.300, 78 stolen bases) now holds the key to Montreal's fortunes. If he blends well with Andre Dawson (.275, 25, 92) and Ellis Valentine (.276, 21, 82) the Expos will have formed a solid offensive nucleus. However, Warren Cromartie (.275) must make the transition from outfield to first base and Montreal again needs good seasons from third baseman Larry Parrish (.307, 30, 82) and catcher Gary Carter (.283, 22, 75).
•  CHICAGO: The Cubs' offense can be spelled K-O-N-G, as in leftfielder Dave "Kong" Kingman (.288, 48, 11 5), who led the majors in home runs a year ago. There are some other quality ballplayers such as Larry Biittner (.290), Bill Buckner (284, 14. 66) and ex-Phillies Barry Foote (.254, 16, 56) and Jerry Martin (.272, 19, 73), but the Cubs' future is no brighter than that of Chicago Mayor Jane Bryne.
•  NEW YORK: The Mets have a new front office setup with Frank Cashen, who patiently built Baltimore into a consistent winner, as their new general manager. But Cashen will work no "You Gotta Believe" miracles in Shea Stadium. With the exception of Lee Mazzilli and catcher John Stearns, the Mets are destined to remain as bad as they are boring for yet another season.
WESTERN DIVISION
•  LOS ANGELES: The Dodgers invested $5 million to insure they would not have the same problems this season as last, when they faltered badly in their pursuit of a third straight divisional title.
The considerable outlay for reentry draft rightanders Dave Goltz of Minnesota (14-13, 4.18 ERA) and Don Stanhouse of Baltimore (7-3, 2.84, 21 saves) should restore Los Angeles to the good graces of the Big Dodger in the Sky. The twoshould fit in nicely with a staff that includes Rick Sutcliffe (17-10), who was rookie of the year, Burt Hooton (11-10), Jerry Reuss (7-14) and Don Sutton (12-15).
First baseman Steve Garvey, working on a string of 672 consecutive games, is a superior hitter (.315, 28, 110), and he has plenty of support in second baseman Davey Lopes (.265, 28, 73, 44 steals), third baseman Ron Cey (.281, 28, 81) and left-fielder Dusty Baker (.274, 23, 88). Ex-Phillie Jay Johnstone replaces retired Manny Mota, baseball's all-time pinch hitting king, as top reserve bat.
Manager Tommy Lasorda has promised the Dodgers will return. And, they should make good on that promise, if for no other reason than they are this division's most complete team.
•  HOUSTON: Pitching is the name of the Astros' game and, on that basis alone, Houston has to be considered a serious contender.
In last winter's most celebrated free-agent move, the Astros gave righthander Nolan Ryan $1 million a year to bring his astonishing fastball to the Astrodome. That gives Houston a starting staff that includes Ryan (four no-hitters), strikeout king J.R. Richard (18-13) and 20-game winner Joe Niekro. The bullpen belongs to Joe Sambito (8-7, 22 saves).
The pitching is formidable, but the bats are feeble The Astros managed a team total of 49 home runs last year, which is exactly one more than Kingman's output. But Houston has some capable performers in third baseman Enos Cabell (.272), enigmatic centerfielder Cesar Cedeno (.262), Terry Puhl (.287), Jeff Leonard (.290) and Jose Cruz (.289).
•  CINCINNATI: The Pirates exposed the Reds' shortcomings – the most blatant being pitching – during last season's playoffs. It might seem foolhardy to dismiss a team that won the division a year ago; a team staffed by such quality players as George Foster (.302, 30, 98), Bench (.276, 22, 80), Dan Driessen (.250, 18, 75), Dave Collins (.318), Ray Knight (.318) and Dave Concepcion(.281,16,84).
But the pitching goes no deeper than Tom Seaver (16-6) and Mike LaCoss (14-8), which makes the Reds suspect.
•  SAN FRANCISCO: Dave Bristol has the unenviable task of turning the Giants into a contender, a job that may be likened to returning sanity to the economy.
Off-season hand injuries make first baseman Mike Ivie (.286,27,89) and shortstop Roger Metzger (.251) question marks while Jack Clark (.273, 26, 86) and Terry Whitfield (.287) are the only two consistent bats in the outfield.
Vida Blue (14-14) and John Montefusco (3-8) are excellent pitchers, but require more than token defensive support to win consistently.
•  ATLANTA: The Braves have slugger Bob Horner, who is quite capable of lifting the club out of the cellar if he plays an entire season. Last year, Horner hit .314 with 33 homers and 98 RBIs despite missing 40 games in a contract hassle.
Atlanta made a key addition when it acquired first baseman Chris Chambliss from the Yankees, picking up the lefthanded power they sorely needed But even the one-two punch of Horner and Chambliss will not be able to overcome a pitching staff comprised entirely of knuckle-bailer Phil Niekro (21-20).
•  SAN DIEGO: The Padres seem to be a favorite surprise pick. Every year, some poor soul hails them as a coming team, on the verge of contending.
That will not be the case this year.
NL OUTLOOK
EAST
1. Pittsburgh
2. PHILLIES
3. St. Louis
4. Montreal
5. Chicago
6. New York
WEST
1. Los Angeles
2. Houston
3. Cincinnati
4. San Francisco
5. Atlanta
6. San Diego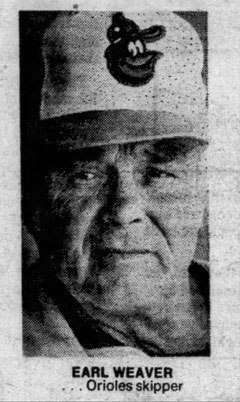 Brewers ready to take A.L. East
By Rusty Pray of the Courier-Post
In the decade of the 1970s, the American League was more like an exclusive country club than a conference, being dominated basically by three teams – the Oakland A s, Baltimore Orioles and New York Yankees.
The trio took turns taking the pennant and challenging the National League champion in the World Series. The A's won AL titles from 1972-74, the Yankees from 1976-78 and the Orioles opened and closed the decade with pennants from 1969-71 and last season.
Indeed, only Boston, which managed to win in 1975 and play Cincinnati in that watershed World Series, broke the chain of interlocking pennants among the A's, Yankees and Orioles.
The American League, however, most likely will discard that tradition this year. What, with the advent of the Milwaukee Brewers and Detroit Tigers in the Eastern Division, and the competitive balance among Texas, Calfiornia and Kansas City in the West, the AL may well provide fans with a welcome change of playoff scenery.
EASTERN DIVISION
•  MILWAUKEE: The Brewers are hoping a recovered Larry Hisle, who was limited to 26 games last year by a rotator cuff injury, will carry them further than their second-place flnish of a year ago.
But, even without a healthy Hisle as their designated hitter, the. Brewers' lineup is loaded with the solid bats of first baseman Cecil Cooper, third baseman Sal Bando, Don Money and the outfield of Ben Oglivie, Gorman Thomas (the league-leader with 45 home runs) and Sixto Lezcano. Shortstop Robin Yount and second baseman Paul Molitor form perhaps the league's finest double play combination.
The only questions the Brewers must answer this year lie in the pitching staff, which is singularly unspectacular, and the in the effect Manager George Bamberger's absence will have. The amiable Bamberger recently underwent heart surgery and Bob "Buck" Rodgers will manage the club until Bamberger recovers.
•  BALTIMORE: The Orioles won 102 games with pitching and the guile of Manager Earl Weaver last year. There is a strong suspicion, however – especially after Baltimore's nosedive in the World Series against Pittsburgh – that the Orioles are not as good as their record.
Their starting pitching was superb, though, with a pair of Cy Young Award winners in lefthander Mike Flanagan and Jim Palmer, and two capable hurlers in Scott McGregor and Dennis Martinez. Most of Weaver's offense comes from sluggers Ken Singleton (35 homers, 111 RBIs) and Eddie Murray (25, 99). Centerfielder Al Bumbry (37 steals) is an ideal leadoff man and outfielder Gary Roenicke (25 homers) adds punch. The only significant lineup change figures to be Kiko Garcia at shortstop for Mark Belanger and a new bullpen man to replace free agent Don Stanhouse, who signed with Los Angeles.
•  NEW YORK: The Yankees were everybody's favorite to repeat last season, but any real hopes of a fourth straight divisional title went down the drain when flamethrowing reliever Rich Gossage was side-lined by a freak clubhouse injury.
Later, the tragedy of team leader Thurman Munson's death cast a dark shadow over the club, and lirnped in a sad fourth, 13½ games behind the Orioles.
This year, the Yankees have more than a few new faces, beginning with Manager Dick Howser, who replaced Billy Martin... who replaced Bob Lemon... who replaced Billy Martin on Owner George Steinbrenner's managerial merry-go-round.
Rick Cerone has the unenviable task of trying to take over for Munson as the Yankees' catcher. Cerone was acquired along with lefthander Tom Underwood, an ex-Phillie, in a trade with Toronto.
Howser also has Reggie Jackson in right, Jim Spencer at first, Graig Nettles – perhaps the game's finest fielder – at third, Willie Randolph at second, Bucky Dent at short and a pitching staff led by Ron Guidry and Tommy John. Gossage is the bullpen.
•  BOSTON: With Bill Campbell disabled again, the Red Sox have added bullpen help (Skip Lockwood) and power Tony Perez and 40-year-old Carl Yastrzemski will split duties at first base and as designated hitter. Boston has excellent power in third baseman Butch Hobson and an outfield of Jim Rice, Fred Lynn and Dwight Evans, but there is little pitching beyond Dennis Eckersley, Mike Torrez and Bob Stanley.
Catcher Carlton Fisk is still troubled by an ailing elbow, which means Dave Rader, whom the Red Sox recently acquired from the Phillies, could well be Boston's No. 1 catcher for awhile.
•  DETROIT: Sparky Anderson works his managerial magic for Detroit now. The Tigers are even younger than last year, with college flash Kirk Gibson and Dave Stegman platooning in center. Another key is new third baseman Richie Hebner.
Lance Parrish is set behind the plate, as are Jason Thompson at first, Lou Whitaker at second, Alan Trammell at short and Steve Kemp in left. The pitching staff, however, has too many holes behind starters Jack Morris and Dan Schatzeder, especially since Mark Fidrych failed in another attempt to come back from arm problems.
•  CLEVELAND: The Indians beefed up their pitching by trading for John Denny from St Louis they gave up Bobby Bonds and Bob Owchinko from San Diego. It won't be enough.
•  TORONTO: The Blue Jays have a new manager in 64-year-old Bobby Mattick who, no doubt, will age as if his office were the Presidency. The pitching is mediocre, and the only real hitter in the lineup is . first baseman John Mayberry.
WESTERN DIVISION
•  TEXAS: The Rangers keep knocking on that country club door and this may be the year in which they finally gain entrance. Texas is loaded with experience at virtually every position and, now that zany Brad Corbett has stepped aside as owner, should have the stability that was always lacking in the franchise.
Texas is staffed by such players as Al Oliver (.323, 12, 76), whom the Phillies coveted during the Winter Meetings; Buddy Bell (.299, 18, 101); Pat Putnam (.277, 18, 64); Billy Sample (.292), and Jim Sundberg (.275), who might be the best defensive catcher in the league. Enigmatic Mickey Rivers (.293) can be the offensive spark, if he feels like igniting.
Perhaps the most important man on the team, however, is reliever Jim Kern, who went 13-5 with 29 saves and a 1.57 earned run average last year. How effective the starting pitching will be depends upon how well Jon Matlack recovers from elbow surgery and how long Gaylord Perry's seemingly ageless arm can hold out.
•  CALIFORNIA: The Angels captured baseball's weakest division with only 88 wins – four more than the Phillies, who finished fourth in the National League East – a year ago. It should take no more than that to win it this year, but the Angels are not likely to be holding twin eights at the conclusion of the season.
Gone is fireballing Nolan Ryan, who fled to Houston and a million bucks in the free agent draft and the Angels have replaced him with Kent Tekulve look-alike Bruce Kison. The Angels also acquired shortstop Freddie Patek, outfielder Al Cowens (.295) and spare infielder Todd Cruz from Kansas City in a deal that moved first baseman Willie Mays Aikens to the Royals. Aikens was a valuable fill-in when Rod Carew (.318) missed 50 games because of a broken hand. The rest of the lineup is set with young stare like third baseman Carney Lansford (.287, 19 homers, 79 RBIs) catcher Brian Downing (.326, 12, 75), second baseman Bobby Grich (.294, 30, 101) and MVP Don Baylor (.296, 36, 139).
•  KANSAS CITY: The Royals, who all but owned the division from 1976-78, gambled by sending Cowens and Cruz to the Angels for Aikens (.281, 21, 81) and infielder Rance Mullinicks.
New Manager Jim Frey, who replaces Whitey Herzog, has a veteran team led by third baseman George Brett (.329, 23, 107), perhaps the most gifted athlete in the American League. Brett led the league with 212 hits and was the first player in more than two decades to put together 20 doubles, 20 triples and 20 homers in one season.
He has capable company in centerfielder Amos Otis (.295, 18, 90), designated hitter Hal McRae (.288, 10, 74), catcher Darren Porter (.291, 20, 1 12) and leftfielder Willie Wilson (.315, 83 stolen bases). The pitching depends on Dennis Leonard (14-12), Paul Splittorff (15-17) and Larry Gura (13-12).
•  MINNESOTA: The Twins were in the pennant race much of last season despite losing half their roster because penurious Owner Calvin Griffith refused to part with big bucks to meet the salary demands of stars such as Carew.
Minnesota has lost more talent to free agency this year in pitcher Dave Goltz, who went to Los Angeles. That means the pitching staff goes into 1980 short one important arm. Jerry Koosman (20-13) is a year older and so is reliever Mike Marshall (10-15, 32 saves).
Outfielder Ken Landreaux (.305, 15, 83) established himself as a major league hitter and third baseman John Castino (.285) shared the rookie of the year award. But shortstop Roy Smalley (.271, 24, 95) must come back from a disastrous second half.
•  CHICAGO: The only sure thing about the White Sox is maverick Owner Bill Veeck will be holding another "anti-disco" promotion in hopes of hastening the destruction of Comiskey Park.
•  SEATTLE The Mariners picked up some potential in the trade that sent Jones to the Yankees. Outfielder Juan Beniquez and catcher Jerry Narron could develop into regulars and pitcher Jim Beattie will certainly be one of their starters.
•  OAKLAND: A travesty of a franchise that will remain merely a shell of its successful past as long as Charles O. Finley is owner. Billy Martin, always late of the Yankees, landed in Oakland as its new manager and is sure to convince the A's that hustle pays off.
AL OUTLOOK
EAST
1. Milwaukee
2. Baltimore
3. New York
4. Boston
5. Detroit
6. Cleveland
7. Toronto
WEST
1. Texas
2. California
3. Kansas City
4. Minnesota
5. Chicago
6. Seattle
7. Oakland
At last, Klein reaches Hall of Fame
By Doug Frambes of the Courier-Post
At long last the gates of Cooperstown have opened for the most productive hitter in the history of the Philadelphia Phillies. Chuck Klein, exiled from the Baseball Hall of Fame for lo these many years, now takes his deserved station among the best who ever played the game.
While 23 other former Phillies are enshrined, the truth is that only eight spent at least five years of their careers in Philadelphia. While the overall representation is rather sparse, there is nothing but quailty among the magnificent nine.
Perhaps the greatest was Grover Cleveland Alexander. When the Phillies gathered lor spring training at Birmingham, Ala. in 1911, Manager Red Dooin, who also was the team's first-string catcher, was anxious to see the highly-regarded recruit from Syracuse. But even Dooin, with a decade of big-league play behind him, could not have realized what was in store.
As a rookie "Alexander the Great," as the writers of that era described him, won 28 games. He continued to get better, winning 31 in the pennant year of 1915, following with years of 33 and 30 victories. In 1916, while pitching at Baker Bowl, even in the dead ball days a nightmare for burlers, Alex twirled 16 shutouts, a record still unchallenged.
The only three pitchers to precede Alexander into the Hall were Christy Mathewson, Walter Johnson and Cy Young. And "Old Pete," which was another of his nicknames, performed his mound magic although he was both an alcoholic and an epileptic.
Even preceding Alexander was Napoleon Lajoie, the first second baseman to be tapped. Located by a scout while playing in a league in the mill town of Woonsocket, R. I., Lajoie joined the Phils in mid-1896 and immediately showed his potential with a .326 average.
For the next four years he generally was regarded as baseball's greatest player. Besides being one of the game's foremost sluggers, he was eulogized for his matchless grace in the field.
Baseball, however, had off-field problems as far back as 1900. The difficulty then was that the new American League was stealing players. Lajoie wanted to remain with the Phillies, but a dispute with Owner Colonel Rogers over a $1,200 salary difference caused Lajoie to jump to the Athletics.
Rogers got an injunction to keep Lajoie from playing in Philadelphia, so he was sent to Cleveland where he had even greater years, finishing a 21-year career with a batting average of .338.
Next to be selected was 'Big Ed" Delehanty, who in 1896 smashed four home runs in a single game. In fact, it was Delehanty who indirectly caused the Lajoie problem. There was a team salary limit in those days, but the top talents were paid extra cash surreptitiously. Larry knew that his teammate was getting $1,200 more "under-the-table" money and all he wanted was equality.
Delehanty, one of five brothers to play in the majors, spent a dozen years with the Phillies, batting over .400 three times, Somewhat of a wild character, he still was an effective player with Cleveland, when he lost his life in 1903. Delehanty apparently was intoxicated when he plunged into Niagara Falls where his body was recovered a couple of days later.
Rather incredibly, in 1895 the Phillies took the field with three future Hall-of-Famers holding down the outfield posts. That year Delehanty hit .404, Billy Hamilton .389 and Sam Thompson .392.
Two teammates of Alexander's on the pennant-winning 1915 club have busts at Cooperstown. Eppa Rixey, a 6-5 southpaw who won 266 games in a career spanning two decades, gave Phillies rooters of the World War I era many a thrill.
Whatever problems the Phillies have had over the years, and there have been many, one spot which almost always has had a distinguished performer is shortstop. One of the first greats was Dave "Beauty" Bancroft, who as a rookie sparked the 1915 team to the flag.
Then came the dark days. Not another local hero found his way to baseball immortality until Robin Roberts was named in 1976. Robbie, the greatest favorite of the modern era, turned in six consecutive 20-game seasons, including a gaudy 28-7 in 1952.
Now, finally Klein has joined the others. Called up from Fort Wayne in late 1928, the Hoosier slugger gave evidence of his greatness by swatting .360. The next five years were among the greatest achieved by anyone to ever play the game.
His batting average in those years ranged between .337 and .386. He led the league in homers four times, runs scored three times, and in doubles and RBIs twice. While slugging was his forte, he also was the top base stealer in 1932, and in 1930 had 44 assists, a record unmatched before or since.
Like many others of the pre-Carpenter years, Klein was sold to Chicago while in his prime, but later returned to hit four homers in a single game. In 1941 he collected his 300th homer, a record achieved by only six previous players.
With the present collection of standouts, it appears likely that present day fans should live to see the list lengthened. But, the old-timers can glory in the deeds of those who already are secure in their fame.