Philadelphia Daily News - April 8, 1980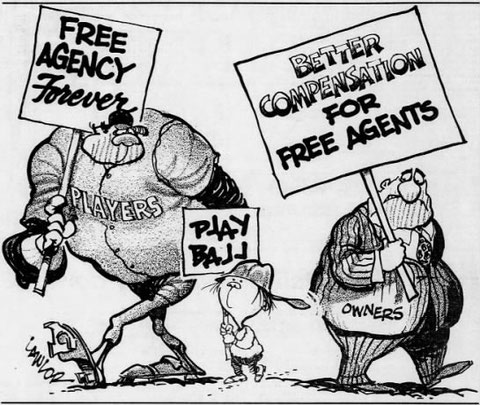 Freed Fills Righty Insurance Bill
By Bill Conlin
CLEARWATER – It has been a big spring for insurance policies.
There is strike insurance, which the owners reportedly will begin collecting at the rate of $1 million a day if a threatened player strike lasts more than two weeks.
There is pitching insurance, which Phillies Manager Dallas Green likes to think he has at Oklahoma City in the persons of young righthanders Jim Wright, Marty Bystrom and Bob Walk.
Yesterday, Paul Owens added right-handed bat insurance to the list.
The Pope picked up that old favorite from the Frank Lucchesi-Dick Selma era, Roger Freed. Freed, who has never been able to match his home-run heroics at the minor-league level during stints with the Baltimore, Phillies and Cardinal organizations, will sign an Oklahoma City contract when he clears waivers tomorrow. Freed, who was released by St. Louis last week, will be 34 in June. He split last season between Springfield and the Cards, hitting.222 for the former and.258 with 2 homers and 8 RBI for the latter.
"WE'LL HAVE HIM in the wings, the way we did Jay Johnstone," Owens said, citing his most famous signing of a released St. Louis player. "He'll give us some back-up bench insurance from the right side if we run into a problem with Keith Moreland getting hurt or something and he'll give Okie City some punch that they need."
On a day when the Tampa Bay area was inundated with more than two inches of rain and the Phillies did no outdoor work, The Pope reported no progress in his attempts to place former Phils Rawly East wick, Doug Bird and Mike Anderson.
"I talked to a couple more clubs but they apparently got scared off," said Owens, referring to the salaries of Eastwick and Bird. "Mike Anderson has agreed to go to Oklahoma City if we can't place him."
In another development, the on-again, off-again contract negotiations between Garry Maddox and the Phillies appear to be off-again.
"I won't say they've broken down completely," Owens said. "That may be too strong a phrase. But they're back to the point where we may be at another impasse. Unless they make an adjustment to their offer I'd say there's nothing left for us to do. We went up a little, they came down a little, but in Ruly Carpenter's opinion we're still too far apart. We owe them the courtesy of getting back to us. But if no further progress is made Ruly and I will have to step this thing up and try to do something with him."
TRADING MADDOX is not an idle threat The Phillies love Garry's unquestionable Gold Glove, but they don't give his offensive contribution to the club the same high marks.
"If he hit a lot of home runs it would be a different story, I could live with the kind of hitter he is," Dallas Green says. "But he's a singles-doubles hitter you can't do all that much with offensively because he doesn't execute. I can't bunt with him. I can't give him a take sign."
Maddox will bat third behind Pete Rose and Bake McBride when the season opens at the Vet Friday night. "That gives me speed in the top of the lineup," Green said. "It sets the table pretty good for Schmidt and Luzinski. I'm going with Bake in the two-hole because he's earned it. He's hot with the bat right now and pulls the ball. Bake's not much of a hit-and-run guy but he can flat-out hit, and in my opinion, he's a better hitter against lefties than righties."
Which will leave Mike Schmidt in the cleanup spot, Greg Luzinski fifth and Bob Boone sixth, followed by ex-No. 2 hitter Manny Trillo and Larry Bowa.
Boone is still a little stiff-legged in the wake of his September knee surgery, but Green seems to think his All-Star catcher is ready for the long haul.
"Bobby seems to think, and I'm inclined to agree with him, that with the usual April rainouts and open dates he'll get plenty of rest and will be able to go nine innings," Green said.
PHILUPS: Pete Rose will go north via the White House. Rose, who is honorary chairman of the 1980 U.S. Savings Bond Drive, will be picked up by an Air Force jet tomorrow morning and airlifted to Washington for a kickoff breakfast with President Carter... Ron Reed, Del Unser and Keith Moreland will leave camp early. With rain forecast again tomorrow, some of the athletes are getting itchy... Hey, Spring Training 1980, you were lousy. Maybe next year, baseball will get back to baseball.