Wilmington Evening Journal - April 8, 1980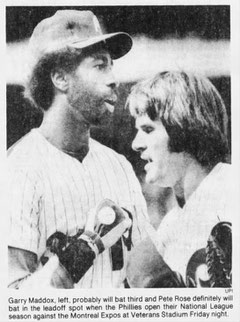 Maddox may bat in No. 3 slot
By Hal Bodley, Sports Editor
CLEARWATER, Fla. – With the Phillies' National League opener only three days away, Dallas Green is now wrestling with his batting order.
Right now, the rookie manager said yesterday, the only certainty is that Pete Rose will bat in the lead-off spot and Bake McBride second when the Phillies take on the Montreal Expos at Veterans Stadium Friday night.
"I'm tempted to bat Garry Maddox third," Green said. "I like to have that speed at the top. I hope to make my decision before we leave here."
As Green was mulling his batting order and worrying about his pitching staff after heavy rain washed out what was to be the fifth day of voluntary workouts, Player Personnel Director Paul Owens was signing veteran Roger Freed to an Oklahoma City contract. Freed was released several days ago by St. Louis.
Meanwhile, Maddox was denying a newspaper story that allegedly quoted him as saying negotiations for a new contract with the Phillies had broken off.
"I haven't seen the story," said Maddox, "but that surprises me. If anything, I would have to say that I am optimistic that we can work something out. I haven't talked to Jerry Kapstein (his agent) in a day or two, but the last time he filled me in on the progress of things he said there had been movement by both parties."
Maddox did, however, emphasize one thing. He does not want negotiations to linger on during the season.
"I said that in the beginning and I still feel that way," he repeated. "I just want to go out and play hard baseball once the season starts. And I obviously don't want to be traded, but that is one of their options."
If Green were to jot down his favorite batting order of the moment, it would be Rose, McBride and Maddox, followed by Mike Schmidt, Greg Luzinski, Bob Boone, Manny Trillo, Larry Bowa and the pitcher.
"That's the one I like," said Green. "It gives me speed at the top so I can play the kind of game I want to play. My real problem is the fact I do not have a typical No. 3 hitter. So, I have to make do with what I have.
"I plan to start Bake against both right-handed and left-handed pitchers at the beginning. There are certain left-handers he hits well, so I do not plan to platoon in the beginning."
Originally, Green had planned to have Trillo bat second to utilize the hit-and-run. Trillo, however, was unable to handle the role.
Steve Rogers, a right-hander, will open the season for Montreal against Steve Carlton Friday night. On Saturday afternoon, it will be left-hander Bill Lee against Dick Ruthven. Larry Christenson will start for the Phils on Sunday.
"One thing is for sure," added Green. "This strike has hurt the preparation of our pitchers. I don't think anybody is ready to go nine innings. The one good thing, I guess, is that I will be able to use a lot of pitchers in the early going."
Freed, 33, played his first major-league game for the Phillies in 1971 after being traded from the Baltimore Orioles' organization. He had spent most of his time in the minors, but has managed to get a little over five years of major-league experience.
With St. Louis last year, he hit .258 in 34 games.
The Phillies need a right-handed pinch-hitter with some power, but Green is not ready to say Freed is the answer.
"I am not about to make room for him on the team at this time," he said. "I am happy with the guys who are going to Philadelphia with us. They have busted their butts and earned the right. Roger will go to Oklahoma City and we will see what happens."
A 'dream' trip for Jim Angelo
By Hal Bodley, Sports Editor
CLEARWATER, FLA. – Jim Angelo sat in the Phillies' .clubhouse and his eyes became bright. "This is like a 'dream," Jim Angelo said. "Being in here and getting to meet all these players..."
About that time Pete Rose stopped and the introductions were made.
"Maybe I can get him to play for me when he retires," Angelo quipped.
Jim Angelo manages the Colonial-Wallace team in the Delaware Semi-Pro League. Over the winter he got the notion to bring his entire squad to Florida for its own "spring training."
Angelo and Tom Silicato, a 13-year veteran in the Phillies' minor-league system and the Colonial-Wallace second baseman, wrote letters to several teams and arranged a five-game exhibition schedule against minor-league clubs. Saturday, for example. Colonial defeated a combination of players from the Phils' Bend and Helena rookie league teams. On Sunday, the Cardinals' Johnson City club won 9-7 in 12 innings.
Most baseball people here can never remember a semi-pro league team coming all the way to Florida for a series of exhibition games.
"They tell me it's the first time it has ever been done," said Angelo. "When I coached Brandywine College (1977) we raised money and came down here to play some games. Then, when I became manager of Colonial-Wallace, I felt we could do the same thing."
The fact Angelo has signed several former major leaguers helped his cause in setting up the games. Silicato, well known in the Phillies' organization, got the ball rolling. Howie Bedell, the Phils' new minor-league director, rolled out the red carpet.
"I think it is a great idea," said Bedell. "We know they went to a lot of trouble to raise money to come down here, so we want to make their stay as pleasant as possible. The only problem we had in setting up games was determining just how good they are."
Angelo's former major leaguers are Dave May, Johnny Briggs and Chris Short. Joe Miller, Joe Grace, Ken O'Brien, and Walter Coppol paid their dues in the minors.
"I've loved every minute of this trip," said Short, who gave up only one unearned run in five innings of work on Saturday. "When I heard Jim was putting together a team with some former big leaguers on it, I gave him a call. I thought it would be nice to do a little pitching this summer."
This is Short's second trip to Florida this spring. Earlier, he spent two weeks in the Cincinnati Reds' camp as a pitching instructor.
MAY, WHO PLAYED WITH the Pirates in 1978 and tried unsuccessfully to make the Phillies last spring, helped I out the trip together. He also called an old friend, Johnny Briggs. and invited him to join Colonial-Wallace.
"It's great to get down here and see all my old friends again," said Briggs, who was a rookie with the Phils in 1964. "I'm having a lot of fun."
"We had hoped to play five games back home before we came down here." said Angelo, "but because of the weather, we only got in one. Still, I think most of the guys are in fairly good shape. The Semi-Pro League season does not open until the last Sunday in May, so it is Important that we keep playing practice games when we get home."
Angelo, who operates Colonial TV & Appliance on Lancaster Avenue, says money was raised for the trip with several dances and 50-50 raffles.
"We figured out that It would cost $110 per person because most of the players came in two vans," he said. 'The Phillies helped us get good motel rates."
Eight of the players never played professional baseball. They are Cubby Myers, Rick Widdoes, Mike Facciolo, Mark Santobianco, Bob Pedlow, Scott Hargest, Stan Plastlk and Rich Dennis. Even batboy Raymond Apaugh made the trip.
"I'm not foolish enough to think this Is really going to help us during the regular season," said Angelo. "What it does is give us team unity and that is something I am trying to mold with this group."
Baseball has always been Jim Angelo's hobby. He managed Little League and Babe Ruth League teams and won championships. After coaching Brandywine for the one year, be entered a partnership with Charley Wallace to field this team.
"Charley was unable to make the trip because of business," said Angelo. "But during the season, we split costs 50-50 for equipment, uniforms and umpire fees."
Angelo looked around the room again.
"You know one of my lifelong goals is to own a minor league team. I have talked to several owners and am obtaining as much Information as possible. That is my next step."
Meanwhile, Jim Angelo is enjoying "spring training" more than anyone. In fact, he doesn't even know there Is a players' strike.
Problems surround opening day
By Hal Bodley, Sports Editor
The baseball season opens tomorrow in Cincinnati as tradition dictates, but more than the usual on-the-field concerns intrude on the opening of major league baseball's 112th year.
Hanging over the heads of the 26 major league teams is the worry of a general players' strike called for May 23, a month and a half into the season, unless owners and players can agree to a new basic agreement.
The first game of the season pits Atlanta, which finished last in the National League West with a 66-94 record last season, against the Reds, who won the division with a 90-71 record.
Right-hander Tom Seaver, who wound up with a 16-6 record last year after recovering from a lower back strain, will pitch for the Reds against Atlanta Braves knuckle-bailer Phil Niekro, 21-20. Starting time is 2:30 p.m. EST, and a capacity crowd of 52,392 is expected at Riverfront Stadium.
The other opener tomorrow pits the Toronto Blue Jays, baseball's worst team last season with 109 losses, against the Mariners in the Seattle Kingdome at 10:35 p.m. EST. A pair of right-handers will do the pitching – Dave Lemanczyk, 8-10, for Toronto and Mike Parrott, 14-12, for Seattle – before an estimated opening-night crowd of 20,000.
Most of the other teams begin the season Thursday. In the National League, Chicago is at New York, Pittsburgh plays in St. Louis, Los Angeles is at Houston and San Francisco is at San Diego. The American League has Baltimore at Chicago, Boston at Milwaukee, New York at Texas, Detroit at Kansas City and Minnesota at Oakland.
On Friday, the remaining four teams open their seasons. In the AL, Cleveland is at California, and Philadelphia hosts Montreal in the NL.
Parties to the negotiations resumed talks today with the help of a federal mediator. The Major League Players Association has set midnight, May 22 as a deadline for reaching an agreement. If there is no new contract, the players will walk out the next day.
"We don't want to strike, and we don't feel there will be one," said Reds third baseman Ray Knight, the team's player representative. "They set a series of negotiation meetings, and we feel they're going to get together."
Off the field, the hottest issue is compensation for free agents. Owners want a player instead of a draft choice in return for a free agent Players like things the way they are.
On the field, the main concern could be whether cancellation of 82 exhibition games has allowed players to get fat and lazy.
"If guys can take three or four days off and still perform, that's up to them," said Manager Don Zimmer of the Boston Red Sox. Zimmer will start right-hander Dennis Eckersley, 17-10 last season, against Milwaukee on opening day. Because of the strike, Eckersley threw only 18 innings in four appearances in spring training.
"My legs are in good shape, my arm is OK, but my mind is not on top of the game," Eckersley said. "One game, though, can take care of the mind."
EMZEE poll:  Phils' pitching gets low mark
By Matt Zabitka
Dallas Green gets high marks and Phillies' pitching gets low marks in the annual EMZEE pre-season baseball poll.
One "grandstand manager" who went against the grain and painted the rosiest picture for the denizens of Veterans Stadium is politico Joseph P. "Jody" Ambrosino (R-Edgemoor Terrace), a one-time New York Yankees farmhand.
"As far as the Phillies' 1980 chances go, they're excellent," said Ambrosino, winner of 12 varsity sports letters (for football, basketball, baseball) at PMC (now Widener University). "They can't have the same bad luck they had last year. Everything bad seemed to happen to them last year – Greg Luzinski had an off season, Larry Bowa and Manny Trillo were out for about six weeks with injuries, pitchers were disabled with sore arms and accidents. It won't happen again.
"They have one of the finest catchers in the majors in Bob Boone. Pitching-wise, they have Steve Carlton, Dickie Noles, Kevin Saucier, along with Larry Christenson. And their bullpen isn't that bad.
"And I ask you, who's better than Mike Schmidt, Greg Luzinski. Garry Maddox, Pete Rose, Larry Bowa?
"Dallas Green is one manager who won't take any lip. Never has.
"I'm looking forward to seeing the Phillies on top (in the N L East), not St Louis or Montreal."
Others, looking down from the catbird seat, painted another type of picture:
HARRY DAVIES, Wilmington Matt Zabitka High baseball coach: "It all depends on their pitching. As they are now, I see them finishing third."
BILL LEGGE, Glasgow High baseball coach: "They need pitching. I think they could trade some of their bench for a front-line pitcher. It's still possible they could finish first standing pat. I think last year they got a little fat."
BRUCE CARLYLE, Delaware's assistant baseball coach: "If they can stay healthy they'll have a shot at it. But I'm not sure their pitching has improved enough. I still feel they're short one proven pitcher. With what they have, I see them finishing second to the Pirates.
BOB HENRY, manager of the Canada Dry team of the Semi-Pro League: "I definitely think they need another pitcher. They need at least a 15-18-game winner. If they could trade for a pitcher without disrupting the eight regulars I feel they have the talent to win the whole thing."
EDWARD J GURINGO. McKean High principal: "I don't think they'll win their division. They have the pitching to do it. Based on what I've read, Dallas Green has done a good job preparing the team for the season, but I still think there are too many question marks in the pitching department. At this point, I have to pick them third or fourth in the N L. East, behind Pittsburgh, St. Louis and possibly Montreal."
HARRY MILLER of Fairfax, Widener's head baseball coach: "I think they're starting eight players as good as any in the league. No doubt about it. But they'll win or lose with their pitching. Carlton will win his 15-to-20. But the question is how many will the other pitchers be able to win. I feel they'll make a deal for another pitcher. I see St. Louis, Pittsburgh and the Phillies fighting it out. And if the Phillies get any kind of pitching they'll win it."
BRIAN KELLEHER, Newark Country Club pro: "The old saying has it that you have to have the pitching and the Phillies don't have it. They have the infielders and outfielders, but not the pitching. Hitters get tired around September and they need the strong pitching to pick things up, to hold down the opposition. I like to see them win their division but on what they have now, I see them finishing anywhere from one to three.
WADE MATTHEWS, Concord High bead coach In football and boys' swimming: "I think the Phillies' front office as well as the front offices of the other pro teams in Philadelphia aren't spending the big money for the pro player who'll bring them a championship. Okay, so the Phillies are paying Pete Rose $800,000 a year. I think acquiring Rose was a bad investment. Sure, he attracted fans, but he alone couldn't win a championship for the Phillies. For the money the Phillies put out to get Rose, they could've acquired two very good players who might've helped them more. I don't think the players last year played as well as they could, because of Rose. He got all the attention and ink. I think that took some cohesion out of the team."
HARRY ANDERSON, former Phillies outfielder: "I think the Phillies have a pretty good shot with the players they now have. I feel they're capable of going all the way.
GUS HIGHFIELD, McKean High baseball coach: "If their pitching holds up, they can win it. But I'd like to see a trade for another pitcher.
FRANK AIELLO, St. Elizabeth High baseball coach: 'Just the way they are is good enough for them to win the pennant. They have a good shot as anyone of winning their division and the World Series. People are worried about their pitching, but when the season starts they'll be as ready as anyone else.
MIKE WALSH, sports commentator for Channel 2 CableVision: "I can't imagine how or why a team that finished fourth last year can stand pat without making any changes, other than in managers. I should think they would want to change something else, other than a manager. I wouldn't bet a lot on them winning. They should change prescriptions. They're going with the same formula as last year, so they should finish in the same place – fourth.
BOB FISCHER, St Mark's High baseball coach: "I see them coming back. I really do. I think they have some quality ball players. After experiencing a rough 1979, I see them definitely winning their division, even with their pitching being so severely criticized. I think they have a solid enough club to do the job. I also think Dallas Green is showing good leadership, setting good standards. Dallas will take them anywhere they want to go."
SPOOK JACOBS of Milford, former major league infielder: "I don't see them doing too much unless they come up with an improvement in their pitching staff, which is loaded with ifs. They have one proven pitcher in Steve Carlton."
BOB BARLOW, manager of the Marta team of the Semi-Pro League: "They'll go as far as their pitching takes them. I think with Dallas Green running the club a full year and using his relief pitchers a little differently – using Tug McGraw and Ron Reed for short relief instead of bringing them in early, tike Danny Ozark used to do – will improve the pitching.
SIG ETTINGER, owner and operator of the Phillies' main ticket outlet in New Castle County: "I think getting rid of Doug Bird, Rawly Eastwick, Buddy Harrelson and Mike Anderson was a good move. It gives the younger players a chance. Gives them more incentive. If the Phillies stay healthy, they could win their division. Of course, pitching is still a question mark."
And that's how the Phillies' Phanatics, Delaware variety, paint the 1980 edition of the Green Machine. As for EMZEE, the perennial pessimist, he sees the Phillies finishing fourth, provided there Is a baseball season this year. EMZEE also reserves the right to change his opinion on Sept. 1.