Wilmington Morning News - April 8, 1980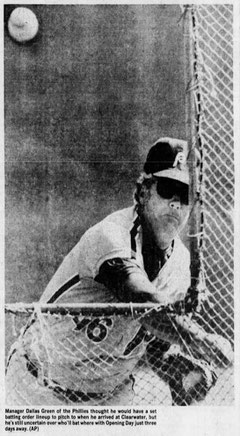 Who hits where?
Dallas Green still hunting for ideal Phils' order
By Hal Bodley, Sports Editor
CLEARWATER, Fla. - When Dallas Green came to spring training six weeks ago, one thing he wasn't worrying about was his batting order.
Now, as the Phillies prepare to break camp tomorrow afternoon, the rookie manager is wrestling with with the batting order he thought was set in his mind.
"I'm tempted to bat Garry Maddox third," Green said yesterday as heavy rains washed out what was to be the fifth day of voluntary workouts. "I like to have that speed up at the top. I hope to make my decision before we leave here."
While Green was mulling his batting order and worrying about his pitching staff, Player Personnel Director Paul Owens was signing veteran Roger Freed to an Oklahoma City contract. Freed was released several days ago by St. Louis.
And at the same time, Maddox was denying a newspaper story that allegedly quoted him as saying negotiations for a new contract with the Phillies had broken off.
"I haven't seen the story," said Maddox, "but that surprises me. If anything, I would have to say that I am optimistic that we can work something out I haven't talked to Jerry Kapstein (his agent) in a day or two, but the last time he filled me in on the progress of things he said there had been movement by both parties."
Maddox did, however, emphasize one thing. He does not want negotiations to linger on during the season.
"I said that in the beginning and I still feel that way," he repeated. "I just want to go out and play hard baseball once the season starts. And I obviously don't want to be traded, but that is one of their options."
Originally, Green had planned to have Manny Trillo bat second to utilize the hit-and-run. Trillo, however, was unable to handle the role and now probably will hit seventh.
If Green were to jot down his favorite batting order of the moment, Pete Rose would lead off, witi Bake McBride second. Maddox would be in the third slot, followed by Mike Schmidt, Greg Luzinski, Bob Boone, Trillo, Larry Bowa and the pitcher.
"That's the one I like," said Green. "It gives me speed at the top so I can play the kind of game I want to play. My real problem is the fact I do not have a typical No. 3 hitter. So, I have to make do with what I have."
Regardless of what happens to the remainder of the order, Green said Rose will lead off, followed by McBride.
"I plan to start Bake against both right-handed and left-handed pitchers at the beginning," said Green. "There are certain left-handers he hits well, so I do not plan to platoon in the beginning."
Steve Rogers, a right-hander, will open the season for Montreal against Steve Carlton Friday night. On Saturday afternoon, it will be left-hander Bill Lee against Dick Ruthven. Larry Christenson will start for the Phils on Sunday.
"One thing is for sure," added Green. "This strike has hurt the preparation of our pitchers. I don't think anybody is ready to go nine innings. The one good thing, I guess, is that I will be able to use a lot of pitchers in the early going."
Rain is forecast for today and if that holds true. Green said the pitchers would throw under the stands at Jack Russell Stadium and the remainder of the team will work out across the street in an armory.
Freed, 33, played his first major-league game for the Phillies in 1971 after being traded from the Baltimore Orioles' organization. He had spent most of his time in the minors, but has managed to get a little over five years of major-league experience.
With St. Louis last year, he hit .258 in 34 games.
The Phillies need a right-handed pinch-hitter with some power, but Green is not ready to say Freed is the answer. "I am not about to make room for him on the team at this time," he said. "I am happy with the guys who are going to Philadelphia with us. They have busted their butts and earned the right. Roger will go to Oklahoma City and we will see what happens."
EXTRA POINTS – Rawly Eastwick, one of four Phils' veterans cut on Friday, returned to Philadelphia yesterday to await word on where he might be playing in 1980... Owens is trying to' find a team for him... Outfielder Mike Anderson, in the same boat, was preparing yesterday to join Oklahoma City... ''I've heard that Toronto might be interested in me, but nothing is definite," said Andy. "Oklahoma City breaks camp tomorrow, so I guess I will go with them."