Pittsburgh Post-Gazette - August 11, 1980
Bucs sweep Phillies to forge tie for 1st place
By Charley Feeney, Post-Gazette
The Pirates, after sweeping the Phillies, 7-1 and 4-1, yesterday in a doubleheader at Three Rivers Stadium to extend their winning streak to seven, moved into a tie for first place with the Montreal Expos.
Happy news for Bucco fans. But it was the Phillies who were yesterday's newsmakers. The Phillies, losers of 10 consecutive road games, including a four-game weekend sweep in Pittsburgh, heard thunder in the skies and from their manager between games.
The thunder heard around the Tri-State area ranked second in noise to the blistering verbal attack Phillies Manager Dallas Green gave his players in the clubhouse after the opening loss. Moments after the second game ended, Phillie relief pitcher Ron Reed, who is a 6-foot-6, 225-pounder, reportedly nearly came to blows with Green, who is 6-5, 240, in the runway between the dugout and clubhouse. There was no confirmation of this scuffle.
Green was calm after the second game defeat and said: "I don't think this club will quit. I really don't."
The Phillies are in third place, six games back, but, two years ago, the Pirates came back after being down by 11 games.
"I kept telling people this was not a make-or-break series," said Green, who, a year ago, replaced Danny Ozark as manager. Green, a former major-league pitcher who never made it big, was the Phillies' farm director before he became manager.
Green sat in the manager's office in the visiting clubhouse after the sweep and spoke calmly to members of the media. When asked about his tongue-lashing between games, Green said: "When you do it my way, you have a tendency to hurt feelings, but I say what I'm going to say and forget about it. If the players would do the same, everything would be all right."
Green would not say he meant Reed.
"I might not be doing it the right way," Green said, "but it's the only way I know. I think the other way (Ozark's way?) was tried, very unsuccessfully."
The tone of Green's voice could have been misleading. Was this the same man who, a few hours earlier, shouted so loud at his players that newsmen outside of the locked clubhouse were able to get Green's voice on tape.
Here are excerpts of Green's tirade:
"You tell me you can do it, but you keep giving up... look in the mirror... if you don't want to play here, get in my (expletive) office and say: 'I don't want to play' because I don't want you to play... you got to stop being so cool because, if you don't, you're gonna be (expletive) buried... get off your rears..."
The blast did not have immediate results, but Green said he felt the Phillies played well in the second game.
Their only offense was a home run by Bake McBride in the seventh inning off Don Robinson, who went seven despite a slight muscle pull in his leg. Grant Jackson and Kent Tekulve, who got his 100th career save, locked it up.
Mike Schmidt, the Phillies' cleanup hitter is in a one-for-21 skid, but he is still a respected hitter. He drew six walks in the four-game series. The Phillies are playing without Greg Luzinski, who is out with a bad knee.
The Pirates played yesterday without Dave Parker, whose left knee is swollen again. It is not known when Parker will be able to play on an every-day basis without fluid forming on the knee.
"I've played hurt a lot of times," Parker said. "Some people didn't appreciate it. Some did. I got to get the muscles around the knee area stronger."
The Pirates won the opener behind Jim Bibby, who is 14-2. He struggled in the heat to complete his fifth game.
Green's anger at the Phillies' inept play probably started when leftfielder Lonnie Smith played Willie Stargell's fly ball into a triple in the second inning of the opener. It led to two runs.
Randy Lerch, who is 3-13, stuck around until the sixth, and Tim Foli's three-run double off Dickie Noles put the Phillies in slumberland.
In the second game, Lee Lacy belted a solo homer off Tug McGraw in the eighth for the last run of the day. Mike Easler drove in a run with a sacrifice fly off Dan Larson in the third inning, and Dale Berra, subbing for Foli at short in the second game, hit a run-producing single in the fourth.
After Easler's bloop double to left off Reed in the seventh drove in Phil Garner, Stargell drew an intentional walk.
Before making a pitch to Stargell, Reed stood between the mound and home plate, and it appeared he started shouting at someone in the Phillies' dugout.
The incident may have carried over after the game, leading to the near fight between Reed and Green. There was no confirmation, however, that any blows were thrown. Just rumors that the two had to be separated by players and coaches.
There is no rumor to the Phillies' slide.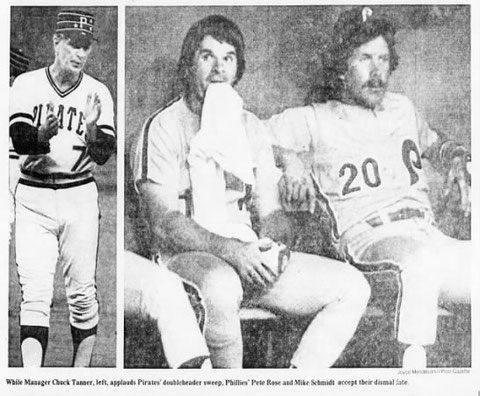 Bibby Ends Slump
By Steve Hecht, Post-Gazette Sports Writer
Jim Bibby had been in a slump. In two prior pitching starts before yesterday, he had come back empty-handed – one loss and one no-decision.
Most pitchers in baseball would not consider that much of a slump, but, most pitchers are not winning these days with the consistency of Bibby.
When he ended his "slump," defeating Philadelphia, 7-1, in the first game of yesterday's doubleheader, he raised his record to 14-2. His winning percentage of .875 is the best in baseball. Since joining the Pirates' starting rotation on July 10, 1979, Bibby is 23-4.
With credentials like that, can the Cy Young Award be far behind?
"Hey, when I go out and pitch I'm not thinking about Cy Young," Bibby said after yesterday's route-going performance. "I'm only thinking about winning the particular ballgame that I'm in. Besides, 'Lefty' may have something to say about the award."
"Lefty" is Phillies hurler Steve Carlton, who is currently 17-6 with an earned-run average of 2.23. Bibby's ERA after yesterday's nine-inning stint fell to 2.87. Carlton has seven complete games, Bibby five. The two pitchers each will start approximately 10 more games this season.
Pirates' Manager Chuck Tanner said earlier this season that Bibby definitely has to be considered for the Cy Young Award. As the wins continue to mount, it gets harder to argue with Tanner.
"When Bibby's pitching, there's a certain confidence on our team. You can see it," Pirates' leftfielder Lee Lacy said.
"I think he's had only one really bad outing all year," said catcher Steve Nicosia, Bibby's batterymate yesterday. "Right now, Bibby is as consistent as any pitcher around. When he's out there, we've got a good feeling. I'm sure the Phillies have the same feeling when Carlton goes out there for them.
"It's no real secret why he's winning," Nicosia added. "He's getting them out when he has to. He's done that all year. That's why he's winning."
In going the distance against the Phillies, Bibby scattered eight hits. He struck out five and walked three.
Bibby was able to get the big out when he had to. The Phillies left nine men on base.
The 6-foot-5, 250-pound right-hander estimates he lost seven to eight pounds in yesterday's 90-degree heat and humidity. He changed uniforms three times.
"I was getting a little tired toward the end," Bibby allowed. "If we didn't have the big lead, I probably wouldn't have completed the game."
Regardless, he would have won. Afterall, he was overdue.