Camden Courier-Post - August 17, 1980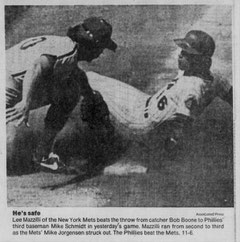 Phils' offense crumbles Mets
By Rusty Pray of the Courier-Post
NEW YORK – A week ago, the Phillies' offense was suffering from an acute case of anemia. So weak were the bats during four, straight losses in Pittsburgh, that Manager Dallas Green might have considered ordering them put out of their misery.
But the attack began recovering in Chicago and now, after three days of strenuous exercise here, a miracle recovery has been effected. Yesterday, the Phillies again mugged the Mets, this time, by a score of 11-6. The Phillies lineup transformed a wind-blown Shea Stadium into a private shooting gallery, strafing five New York pitchers for 19 hits, including home runs by Mike Schmidt (No. 32) and Manny Trillo (No. 4).
The afternoon's work brought the Phillies' production to an awesome three-game total of 27 runs and 49 hits (five homers, four doubles and one triple).
"I knew," said Green, "we weren't as bad offensively as we had shown over that period of time. I'm not real sure we're as good as we're showing right now, but we're swinging the bats real good and everybody seems to be doing it.
"FOR AWHILE, the top part of the order carried us. But, right now, the bottom half is hitting well and we're getting good run production."
Pinpointing the reason for the sudden good health of the offense is at least as difficult as discovering the cause of the malaise. Green doesn't know why... Schmidt, who currently could get a hit with a bat manufactured by Ronzoni can't figure it out... Even Pete Rose, who yesterday singled, doubled and drove in a run, is at a loss to explain the phenomenon.
"That's baseball," he shrugged. "Why did I hit in Pittsburgh and go 1-for-11 in Chicago? The unusual thing about the last three games here is, it wasn't just one or two guys. It was everybody in the lineup."
Indeed, during the last three days the entire lineup has hit... and hit... and hit. Consider the following: Lonnie Smith is 6-for-12; Rose 6-for-13; Schmidt 8-for-14; Trillo 4-for-11; Garry Maddox 7-for-14; Larry Bowa 5-for-14, and Bob Boone 6-for-13. The only guy not hitting is Bake McBride, who is 1-for-13 and, no doubt, wondering where he went wrong.
"IT IS just something that happens," said Boone, who drove in three runs with two singles in the most recent laugher.
Oh. That explains it.
In truth, the Phillies received some help from the Mets, who stumbled around the field while the Phils were handing Bob Walk, now 9-2, a 7-2 lead after four innings.
"We caught a couple breaks early that really helped turn the game around," said Green.
Agreed Boone: "It was really kind of an ugly game all the way around. The infield was really hard and the ball took some crazy bounces."
THE FIRST four innings contained more gaffes than a Jimmy Carter acceptance speech. The two third basemen, Schmidt and Joel Youngblood, divided four errors equally, but their fielding problems were not isolated cases.
Hits fell in front of, and beyond, Met infielders with boring regularity. Throws – when they were made at all – generally went to the wrong bases. Put another way, the Mets outfielders – Steve Henderson, Lee Mazzilli and Claudell Washington – could have passed for Larry, Moe and Curly on this day.
Poor Craig Swan. He came off the disabled list Friday and had the misfortune of starting yesterday's game for the Mets. The righthander somehow retired the first four hitters without incident before Trillo took him beyond the wall in left center in the second. Things went downhill from there, reducing Swan's lifetime record against the Phillies to 2-9.
Perhaps the secret to the Phils' sudden success is Walk, for whom they've scored an average of 5.2 runs in each of his 17 starts.
"Every time I get out there, they score runs and play good defense," he said. "It's fun."
Today, the Phillies will attempt to continue the good times in a double-header for Steve Carlton and Randy Lerch.
PHIL UPS – Rose now needs 12 more hits to tie Tris Speaker on the all-time hits list with 3,515... Maddox finished the afternoon 4-for-5... Trillo went 2-for-2 and now is hitting.325... Schmidt was 3-for-4... Washington had four hits for the Mets... Islanders beat Flyers, 8-5, in a post-game softball meeting… Phils have won five of six and are 5-5 on road trip... Mets pitchers this afternoon are Ray Burns and Roy Lee Jackson.