New York Daily News - August 17, 1980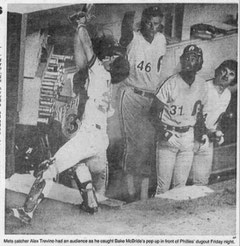 Swan gets ripped in 11-6 loss
By Frank Brown
The Phillies' utter devastation of the Mets continued yesterday. After amassing 18 runs and 30 hits in the first two games of this five-game set, they pounded out 10 more off Craig Swan alone to ruin the righthander's comeback and bury the Mets, 11-6.
Keying the Phillies' fifth victory in six games were a two-run homer by Mike Schmidt, four hits and two RBI by Garry Maddox and 7⅔ innings pitched by Bob Walk, who breezed to his ninth triumph in 11 decisions.
The only bright spot for the Mets was a four-hit performance by Claudell Washington. But otherwise, it was a day of bad pitching, awful fielding and the usual lack of hitting that has become common by New York in this series.
Swan, who made his first start since July 16 and sought his first victory since June 11, got off to a masterful start but a dreadful finish.
In his first inning since being disabled by stiffness in his right shoulder, he needed just 12 pitches to dispatch the Phillies. He got Lonnie Smith on a first pitch grounder to Frank Taveras at shortstop, nailed Pete Rose off a 1-2 pitch on a grounder to Doug Flynn at second and struck out Mike Schmidt with a 3-2 fastball.
ONCE AGAIN, THOUGH, he became his own enemy. In the second, Swan served up a home-run pitch to Manny Trlllo, who also homered Friday night in the Phillies' 8-0 romp. After getting Bake McBride to pop his first pitch to Joel Youngblood at third, he delivered a 3-1 home-run ball to Manny Trillo. It was Trillo's fourth this season and the 19th of the year against Swan, who gave up 20 in 35 games last season.
The blast over the left-centerfield fence by Trillo was the first of three consecutive hits by the Phils. Garry Maddox followed with a lazy single to center and moved to third on a similar single by Larry Bowa. Then Bob Boone's hopper bounded into leftfield off Youngblood's glove, the error allowing Maddox to score with the second run of the inning.
The score stayed at 2-0, however, when Phils' starter Bob Walk hit into a double play.
IT DIDN'T STAY 2-0 for long. The Mets, who wasted a first and-third, two-out chance in the first when Steve Henderson hit into an inning-ending force, pulled even in their second with the help of two errors by third baseman Schmidt.
Walk got himself in trouble by issuing a leadoff pass to Mike Jorgensen, who had come to the. plate with only one hit in his last 12 at-bats and just two in his last 24. Alex Trevino followed with a grounder that went through Schmidt for an error that put runners on first and second. They stayed there while Doug Flynn hit a fly ball to right, but moved up on a sacrifice bunt by Swan.
Jorgensen and Trevino scored when Schmidt made a wild throw past first on a slow grounder by Youngblood, who reached second while the Phillies were tracking down the ball. But Walk put out the fire by getting Taveras on another fly ball to McBride in right.
The Phils got him back the lead with two runs in their half of the third. It started when Smith tripled to right-center and scored on a single to left by Rose. Schmidt added a single to left and one out later Trillo got his second hit of the game a single to right on which Claudell Washington unleashed a perfect throw to get Schmidt at third after Rose crossed the plate.
MADDOX REACHED on Youngblood's second error in as many innings and took second, while Trillo raced to third on the the throw from left. But the runners died there when Bowa tapped to Jorgensen at first.
The Mets got runners to second and third on a single by Mazzilli, a walk to Henderson and a double steal while Jorgensen was striking out, but Trevino hit a fly ball to leave the Phils ahead 4-2 entering the fourth.
It was 7-2 by the time that frame was over and 9-2 by the time the Phils were out in the fifth.
Swan turned into a human sacrifice, leaving after 3⅔ innings with seven runs against his record, including another home run – a two-run drive by Schmidt that gave the National League leader 32 for the season and tied Swan's home-run allowance from last year.
Prior to Schmidt's blast, the Phils made it 5-2 when Boone singled, moved to second on a sacrifice by Walk and breezed into third when no one was there to cover the bag. He scored from there on a sacrifice fly by Smith, then Rose singled prior to the towering blast to left-center by Schmidt.
SWAN, QUITE CLEARLY, had had enough. He had thrown 67 pitches and left Dyar Miller and John Pacella to pitch the rest. Pacella gave up two more runs, both of them scoring on a single to center by Boone to make it 9-2 as the Phillies' hitting rampage continued.
And it went on with no sign of letup, though Phils' manager Dallas Green was substituting freely by the time the Phils added two runs in the sixth and made it 11-2. Those runs came on a double by Maddox that delivered Schmidt, who had singled for his third hit, and Del Unser, who had doubled in his first at-bat after replacing Rose at first base.
Then, finally, in the seventh, Pete Falcone came out of the bullpen to get the Phils in order for the first time since the long-departed Swan did it in the first.