Camden Courier-Post - August 3, 1980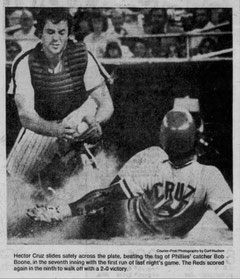 Reds Edge Phillies as Carlton loses
By Rusty Pray of the Courier-Post
PHILADELPHIA – "When you get two runs off Lefty and one is on a broken-bat hit and the other on a ball the shortstop dives for, you can't say anybody's at fault. All you can say is Mike LaCoss beat Lefty tonight."
With those words, Johnny Bench said about all there was to say concerning the Phillies' 2-0 loss to the Cincinnati Reds last night before 43,244 fans in Veterans Stadium.
LaCoss, whose stunning 14-8 record as a rookie last season has been followed by frustration this year, shut out the Phillies on seven hits and beat Steve Carlton, whose record against the Reds is now 1-3. He is 15-5 against the rest of the National League.
"Lefty didn't do too darn bad," said Phillies Manager Dallas Green, who chalked up the loss to good pitching. "We didn't get much offense together, but give credit to the guy who pitched.  I thought we'd get him early because I didn't think he was throwing that good.  But he got his act together and pitched out of the one jam he had to pitch out of."
Indeed, the only threat the Phillies managed against LaCoss, who went into the game with a 5-9 record and a 5.20 earned run average, came when Greg Gross opened the eighth with a pinch single to left field.
The Reds had, by then, scored their allotment of runs for the night, so the Phillies needed another base runner. They got one, an out later, when Pete Rose singled to left.
That gave Bake McBride, who reached a career high in RBIs (62) on Friday night, and Mike Schmidt a shot to drive in the runs and tie the ballgame. But LaCoss induced both into hitting fielder's choice ground balls, and that was it.
Despite five walks and some lapses in concentration. Carlton put together eight well-crafted innings. His work perhaps may best be exemplified by the manner in which Carlton got the last out in the sixth inning.
There were two on and two out when Carlton fell behind lefthander Dan Driessen, 3-0. Carlton got a strike with a fastball on the outside corner, then threw Driessen two curveballs. Driessen waved at the first and swung and missed at the second, making himself the eighth of Carlton's 10 strikeouts and keeping the game a scoreless deadlock.
As Bench so astutely noted, the Reds' runs were hardly something to feature in the 1980 highlights film. The first came in the seventh on a ball Ramon Aviles, playing shortstop in place of Larry Bowa, dived for and gloved behind second base. The other crossed the plate in the eighth when Driessen snapped his bat in half and still managed to sling a single into right after Dave Conception had tripled off the wall in center field.
"It (the win) was no gift," sighed LaCoss.
There were several ways the Phillies could have prevented Hector Cruz, who opened the seventh with a single, from scoring the only run LaCoss would need.
After Cruz singled, LaCoss attempted a bunt toward first. Pete Rose, who would later make an astonishing play by spearing a George Foster line drive, caught LaCoss' bunt on the fly, but could not double Cruz, who strayed only a few feet from first. Had Rose let the ball drop, he probably could've gotten a double play.
"You can trap on that play," said Green. "But Pete was on the ball so fast, it was just reaction. Plus, you don't know where the other runner is."
The play would not have to be viewed in hindsight had Carlton not put Cruz on second anyway by walking Dave Collins. A strikeout later, Ray Knight sent a 0-1 pitch bouncing toward center field. Aviles intercepted it with his headfirst dive, then tried vainly to flip to second baseman Manny Trillo.
Aviles did, but not before Cruz rounded and headed for home. Trillo, perhaps startled, bounced a throw to the first base side of the plate, Cruz safely sliding beneath Bob Boone's tardy tag.
"If the throw from second is good, you got him nailed and it's still a 0-0 ballgame," Bench said. "Who's to say what's going to happen?"
"No one. Perhaps it is enough to say the Reds, who lead a charmed life whenever they face Carlton, and LaCoss, who has had anything but a charming season, simply escaped with one.
"It was," added Green, "a case of good pitching getting to you."
Case closed.
PHIL UPS – Bake McBride extended his hitting streak to nine games with a sixth-inning single... Pete Rose went into the game needing two runs to tie Eddie Collins for 10th place on the all-time list with 1,818... Lonnie Smith had hit in seven of eight going into last night, going 13-for-37 for .351 average... Since coming off the disabled list July 17, reliever Tug McGraw has pitched 9 inning over seven appearances, allowing five hits and no runs… Carlton's 10 strikeouts gave him 191 for the season, easily the best in the major leagues… Since coming to Philadelphia, Pete Rose has had little success against his former teammates...He went into last night's game hitting .195 for the season, .230 lifetime against Reds pitching... Nino Espinosa is scheduled to pitch against Bruce Berenyi in series finale this afternoon.
Injury leaves Bull's future hanging in limbo
By Ray W. Kelly of the Courier-Post
MEDFORD – Is Greg Luzinski's career over?
A lot of people, including the Phillies slugging left fielder himself, are pondering that question these days. And, not without good reason.
Luzinski knows that recent surgery on his injured right knee was merely a stopgap measure designed to give him a fighting chance to help the team during what it hoped to be a stretch drive toward the pennant.
It's almost a forgone conclusion that once the season is over or the Phils are out of contention – if he's fortunate enough to have the knee hold up that long – The Bull will have to decide whether to have the knee almost completely reconstructed.
That will not be an easy decision. Perhaps the worst knee injury anyone in the Phillies organization ever encountered was the one suffered by pitcher Wayne Twitchell during the mid-1970s.
Twitchell twisted his knee so badly while playing basketball that doctors described the damage as something usually reserved for the more brutal sport of football. Luzinski's isn't quite so bad, but it's close enough to prompt comparisons by medical people.
What concerns Luzinski the most is not the severity of the problem, but what the final outcome of the surgery might be in terms of future playing time.
"It all depends on whether they (the doctors) make it worth my while," said the big guy as be lay in bed at home, his leg encased in one of the medical wonder machines brought over from Veterans Stadium.
"If the operation betters my situation... if it gives me a chance to play another five or six years, then okay. I'm for it.
"But, if we're talking about gambling on another one or two years, forget it! I won't do it for nothing."
People should understand that, at this point in time, the last thing Greg wants to think about is another trip to the operating room. The memory of the operation on the same knee back in 1974 is an ugly one filled with pain. And, only the people who have undergone the agony and frustration of months of similar rehabilitation can comprehend Luzinski's reluctance to endure the same thing all over again.
"I told myself six years ago that I'd never do it again," he said. "Sure, the whole thing doesn't seem so bad as times goes by. But, I got a pretty good reminder this past week."
That's when team physician, Dr. Phillip Marone made three small incisions in the knee and removed what was later described by people close to Luzinski as, "enough junk to fill a coffee cup." A total of 3 tubes (150cc) of blood and other fluid was also drained from the knee, which still needs to be strengthened through the relocation of ligaments.
"Everybody says minor surgery when they talk about what I had," said Greg. "When it's done to you, it doesn't seem minor at all.
"Oh, I'm feeling better. They say three to four weeks and I'll be back playing. Dr. Marone has been pretty good when it comes to saying how long things take. I hope he's right."
Word is that rapid recovery from this surgery is expected. And, that there is hope that Luzinski will be able to do some running by next week. Complicating matters, however, is that fact that because of inactivity, Greg is having a difficult time checking his weight,
That could be an important factor in determining just how Jong the Phils cleanup hitter can perform without encountering more problems with swelling and fluid buildup.
As for his possible contribution to the team, it's no secret that Luzinski is a "streak hitter," who usually has to play for a while before finding his "stroke" and going on an offensive tear. He has not had a great deal of success in the past coming off the bench cold in the role of pinch hitter. And, to expect him to come off such a layoff and begin hitting is not only unrealistic, but also unfair to a man who has given the Phillies and their fans nine years of first class baseball.
There is, of course, the possibility that in order to keep the stress on the knee to a minimum Luzinski might be shifted from the outfield to a less strenuous position.
"Yeah, where am I going to go?" asked , Luzinski.
This year? There is no easy answer. With Pete Rose at first base, the choices are limited. Either he returns to left field or becomes the team's number one pinch hitter. Although, as one fan joked, "If Luzinski wasn't hurt, wouldn't it be ironic to see him being put into leftfield (for Lonnie Smith) for defensive purposes."
Luzinski's fate over the long haul, however, would appear to boil down to two options – either he moves to the American League and uses his prowess to bat in the role of a designated hitter or he retires.
"Right now, I don't even want to think about it," said Greg. "Everything will hinge on what the doctors say. I'll probably talk to them during the coming week about rebuilding the knee. Then I'll have a better idea of what the (post season) surgery might mean in the way of how many more years I could play.
"I don't want to leave the Phillies or this area. But, I'll have to see what they (the Philly brass) have to say. I have no idea what's in store. My contract runs through 1981, but they could trade me if they wanted to.
"I don't want to think about it. I'm not thinking about it. As for being a designated hitter, I guess I could adjust. Other guys have adjusted."
One of the things that tie Greg to this area is his tennis and racquetball complex in Cherry Hill. But, the main motivation for wanting to remain here is not business.
Luzinski is a product of the Phillies' organization. He has spent his entire career trying to do more than give the area a "winning" team, which he has done. What he wants to do is to help the Phils go all the way.
He could retire tomorrow and live comfortably the rest of his life because he's always been a lot smarter than people suspected. Yet, he's struggling to come back this season.
Whether this turns out to be his last hurrah is something only the medical men can determine. If there is a future in baseball, Luzinski will take it.
But, if the doctors want to patch him together long enough to get him through 1981, the big guy just may call it a day.
"I'm not upset," he said. "When I think of J.R. Richard (hospitalized Houston Astro pitcher) I realize just how lucky I've been."
Four set to enter Hall of Fame
COOPERSTOWN, N.Y. (AP) -Things always seemed to come easy for Al Kaline. He never played a day in the minor leagues. At 21, he became the youngest batting champion in American League history. He performed as if born to hit and field.
And now he has made the Baseball Hall of Fame on his first try.
In contrast, there is Duke Snider, who also enters baseball's shrine today. It took Snider 11 years to make the Hall, even though he was just as accomplished a ballplayer as Kaline.
Although both Kaline and Snider made the game look ever so simple, neither found it all that automatic.
"Baseball was never easy for me," said Kaline, the star right fielder of the Detroit Tigers for 22 seasons. "Everybody thought I was a natural but they just didn't know. They didn't know about the nights I'd take a bat through the lobby and swing it in front of a mirror to find out what I was doing wrong.
"I wasn't as good a player as I wished I'd been," he added. "I strived to be the best but I fell short."
If so, he didn't fail by much Kaline's credentials rival almost anyone's. Kaline had a .297 lifetime average with 3,007 hits and 399 home runs. In 1 955, he won the AL batting championship with a .340 average, making him the youngest – by one day over Ty Cobb – ever to capture the league title.
So impressive was Kaline as an all-around player – he was as good in the field as at bat – that he was named on 340 of 385 ballots by the Baseball Writers Association of America. Only nine other players – Ted Williams, Stan Musial, Bob Feller, Willie Mays, Jackie Robinson, Sandy Koufax, Ernie Banks, Warren Spahn and Mickey Mantle – were inducted in their first year of eligibility, which comes five years after retirement.
"When you realize only nine other players have ever, gone in on the h . first ballot," he said, "it makes it more meaningful. Sometimes I question my right to be in that company."
Snider must have been wondering if he ever would get to Cooperstown.
"I'd been sweating it for' 11 years," said the onetime star center fielder with the Brooklyn and Los Angeles Dodgers. "I was worried if I didn't make it this year I never would make it.
"Sometimes, there's a leveling off for a guy after some years and he doesn't make it. My votes kept going up each year and I was only 16 votes shy the year before, so I wondered if I didn't make it this year if that would happen to me."
With 407 home runs, including five straight seasons with 40 or more homers, a .295 career average, and 11 World Series homers, a National League record, it's a wonder it took so long for "The Duke of Flatbush" to be recognized by the BBWAA voters.
As if those numbers weren't enough, Snider was the consummate outfielder, as steady afield as contemporaries Willie Mays and Mickey Mantle when the three, dominated the position in New York – and the majors – through the 1950s.
"That was a lot of fun, reading everyday about who was better, hearing the fans argue about Mickey and Willie and myself," he recalled. "We used to kid about it when we saw each other.
"One guy would say, 'I've got you by five RBI, and the other would answer, 'I've got you by 10 percentage points.'
But, even though he warranted comparisons with Mantle and Mays, it wasn't that easy for Snider either.
"I'd like to be remembered as a complete ballplayer and a hard' worker," noted Snider. "I'd like kids to know how hard you have to work to make it to the major leagues."
And to the Hall of Fame. Snider feels he might have gotten in sooner if not for a mid-career injury.
"I had my sights set at 500 homers and 3,000 hits," he said, "but I had knee surgery at 31. Otherwise, I would have gotten there.
"I didn't have the numbers some of the others did."
Snider and Kaline each work as sportscasters, the Duke for the Montreal Expos and Kaline for, naturally, the Tigers. In a sense, they are accompanied by a cohort into the Hall – the late Russ Hodges.
Hodges receives the Ford C. Frick Award for baseball broadcasting. Hodges, who died in 1971, is best remembered for his call "The Giants win the pennant! The Giants win the pennant..." when Bobby Thomson hit his "Shot Heard 'Round the World," a pennant-winning home run for the New York Giants in a 1951 playoff game against the Brooklyn Dodgers.
The 18-man Veterans Committee chose National League slugger Chuck Klein and Boston Red Sox owner Tom Yawkey, both of whom were honored posthumously.
Klein spent 17 years as one of the game's finest power hitters, playing for the Philadelphia Phillies, Chicago Cubs and Pittsburgh Pirates. In 1932 he was the NL's Most Valuable Player and, in 1933, won the Triple Crown. In 1930, he drove in 170 runs yet finished second to Hack Wilson, who knocked in a record 190.
Klein also led or tied for the NL crown in homers in 1929, '31 and '32, in RBI in '31, in runs-scored in 1930-32 and in hits in 1932-33.
He died in 1958.
Yawkey, one of the old-line baseball owners who treated his charges like family, bought the Red Sox in 1933 for $1 million. He rebuilt Fenway Park, still the team's home.
The Red Sox won pennants for Yawkey in 1946, 67 and '75 but lost the World Series each time in seven games. He died in 1976.
Also being honored with the J.G. Taylor Spink Award for outstanding reportage by a baseball writer are Bob Broeg of St. Louis and the late Tommy Holmes of New York.
Klein booster psyched up for today
PHILADELPHIA (AP) – Edward "Dutchy" Doyle is a purveyor of sports memorabilia with the most treasured of his possessions being a "Chuck Klein" T-Shirt.
The Philadelphia man will be wearing it, reverently, when Klein, a Philadelphia Phillies star of the late 1920's and '30s, is inducted posthumously into the Baseball Hall of Fame today.
Doyle, 58, has been waging a 10-year campaign to place the former Phillies' outfielder among baseball's elite, and two years ago he enlisted the help of Klein's sister-in-law, Virginia Torpey of Lawndale.
Philadelphia Mayor William Green presented Doyle and Mrs. Torpey with a proclamation declaring today "Chuck Klein Day" in the city.
Doyle, a former baseball and basketball coach at St. Joseph's Preparatory School, will have that proclamation in hand and his version of a 21-gun salute nearby when he attends Klein's induction.
"We're going to do it up right. There will be 42 of us wearing these (Chuck Klein T-shirts) when Chuck finally makes in today. I just wished he could have lived to be there himself," Doyle explained.
Klein was chosen to be honored by the Veterans Committee of the Hall of Fame last January. Among baseball circles, from the office of Commissioner Bowie Kuhn on down, there is a concensus that "Dutchy' Doyle's efforts made the difference.
"I made a pest of myself in a lot of places. But I wasn't going to back off. Chuck Klein has better credentials than a lot of guys who have been in the Hall for years," said Doyle, the author of four sports he paid "vanity publishers" to print.
Doyle said his campaign for Klein's selection started in 1969, some 39 years after Klein batted .386, hit 40 homers, knocked in 170 runs and batted safely in 135 of the 156 games the Phillies played in 1930.
"The greatest year any player ever had," said Doyle.
When Doyle taught English he had his students write letters to the Hall of Fame, to newspapers and to the management of the Phillies, plugging Klein. Doyle said he and Mrs. Torpey "hit one out of the park for Chuck" when they turned out more than 1,000 letters to Hall of Fame officials and sportswriters in 1978.
It may have been inevitable that Doyle should grow so fond of Klein. He said he grew up at 15th and Tucker Streets – "right back of third base at Baker Bowl," in Doyle's words – during Klein's heyday with the Phillies.
"Many a time," Doyle said, "Mom had me play hooky from school so I could go with her to a ball game. Not that I objected, understand."