Philadelphia Inquirer - August 3, 1980
Bench, slow to start, carved out his place
By Allen Lewis, On Baseball
In each of the first two games Johnny Bench played against the Phillies, he popped out once and struck out. In his first five games against the Phillies in late August and early September of 1967, he got just one single in 15 times at bat, striking out seven times. But he had Phillies manager Gene Mauch predicting that we were looking at a future Hall of Famer.
In the first 65 years of the 20th century, there were four catchers generally agreed upon as the best. There was Mickey Cochrane, Bill Dickey, Gabby Hartnett and Roy Campanella, each an outstanding catcher and hitter. I saw all four play in their prime, and I think Johnny Bench of the Cincinnati Reds is better.
Three weeks ago, Bench broke the all-time career home run record for a catcher with his 314th as a catcher and 347th as a big leaguer. Although his career batting average won't match the other four, three of whom played in the days when .300 hitters were much more prevalent, his power figures surpass those of any catcher who ever lived.
In 1970 and 1972, Bench led the National League in homers with 45 and 40. No other catcher has led either major league before or since. In 1970, 1972 and 1974, Bench led the NL in runs batted in, amassing 148 in 1970, a record for a catcher and a total only 18 other players in history have surpassed. Campanella approached it with 142 to lead the NL in 1953, but no other big league catcher has ever led his league in RBIs. Campanella is also the only catcher besides Bench to hit as many as 40 homers in a season.
Of the five great catchers in this century, Cochrane was the best base runner and the one with the least power. None of the other four was the base-running equal of Bench, and none exceeded his defensive skills.
Barring injury, Bench this season will tie Dickey's major league record by catching 100 or more games for the 13th season, but he won't break the all-time record for games caught, set by Al Lopez at 1,918 shortly after World War II. He'll miss that by a few hundred games, because this may be Bench's last year as a regular in the most difficult position in the game.
At 32, Bench is the oldest remaining player from the Big Red Machine of th. 1970s. He is the only Red who played 100 or more games in every season in the 1970s. He did so despite surgery for a lesion on his lung after the 1972 season and surgery for an ailing left shoulder after the 1975 season. And that's only some of the punishment he's taken.
As he said recently, "My foot got all swollen up once, and I went to the doctor for X-rays. He said my foot wasn't broken, but that the X-rays showed five old breaks I didn't even know about."
About a year before Bench came along, Randy Hundley of the Cubs perfected the technique of catching with one hand, protecting the bare one from the breaks and bruises that for generations had maimed catchers. But Bench has always been a master at one-hand catching, and was the first to perfect the method of blocking the plate while reaching for a throw and making the one-handed tag at home like an infielder.
Had Bench come along a decade or so sooner, he probably would have ended up as a manager, and doubtless a very good one. In addition to his extraordinary talents with glove and bat, John Bench exudes that, indefinable quality of class. Hopefully, he will play a few more years in other positions if he goes through with his resolve to quit catching. When he finally takes off that uniform for the last time, baseball will be poorer. We aren't likely to see another Johnny Bench.
Answer to last week's Trivia Question: The New York Giants won 17 straight games on the road in 1916 to set the all-time major league record. That same season, the Giants set the all-time major league record for consecutive victories with 26, and all were at home. Despite those two streaks, which accounted for exactly half of their wins that year, the Giants finished fourth. Morton Gerofsky of Philadelphia was first with the correct answer.
This week's question: Before Mike Schmidt, Del Ennis set the record for career home runs with the Phillies. Whose club record did Ennis break back in 1956?
Bowa joins the Phillies' wounded
By Jayson Stark, Inquirer Staff Writer
What's another day for the Phillies without another injury to worry about?
Larry Bowa is the latest member of the Trainer's Room All Stars. Bowa's calf problem turned out to be more bothersome than expected, and he was unable to start at shortstop last night.
Bowa hurt himself attempting a suicide-squeeze bunt Friday night. He fouled the ball off his calf, and "it cramped up on him," Dallas Green said.
Bowa left the game, but Green expected at the time that Bowa would be able to play last night. But the shortstop came to the park early, tested it and "just couldn't run," said coach Billy DeMars. So Ramon Aviles filled in.
NOTES: The three biggest reasons the Phillies have turned it around on this home stand are: 1) Lonnie Smith and Pete Rose have hit again, 2) Tug McGraw has made four straight scoreless appearances out of the bullpen, and 3) Keith Moreland has really helped offensively. Smith is hitting .333 for the home stand (with 10 runs scored), and Rose is at .294. On the last road trip, Smith hit .188 and Rose .184. Meanwhile, McGraw's line for the home stand; Four appearances, 5 innings, two hits, zero runs, five strikeouts. Moreland was 8-for-17 (.471), with four RBIs in six games.... Bob Boone was back in the line- up last night, though. Boone has . caught every game Steve Carlton has . pitched this season.... The Phils are 22-14 (.611) in games Smith has started. They are 14-5 in games More- land has started, including his one game at third base.... The Reds aren't sure yet how serious Bill Bonham's latest shoulder injury is. Bonham couldn't start Friday because he felt pain in the shoulder as he was warming up. He has made one start since May.... Nino Espinosa (1-2) vs. Bruce Berenyi (2-1) this afternoon.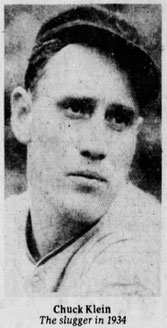 Klein, at long last, receives his due
By Frank Dolson, Sports Editor
"When I was a kid," Hall of Fame slugger Ralph Kiner reminisced the other day, 'I saved up my money to buy a bat. The first bat I ever bought was a Chuck Klein model. I didn't know if he was a righthanded hitter or a lefthanded hitter...."
But Kiner, who grew up on the West Coast long before big league baseball was played in California, knew that Chuck Klein could hit a baseball – far and frequently. Everybody who followed the game in those days knew that. From 1929 through 1933, his first five years with the Phillies, Klein averaged 224 hits, 46 doubles, nine triples, 36 homers, 132 runs scored and 139 runs batted in per season. His batting average for that period was .359.
Klein was one of the most feared lefthanded hitters of his, or any era. But in those years the Phillies played their home games on Broad Street and Lehigh Avenue in a bandbox of a ball park called Baker Bowl. The tin fence in right field was only 280 feet away and later, when Klein's playing days had ended, that fact apparently, was held against him by Hall of Fame voters. Despite Klein's unparalleled first five years in the big leagues, despite his 300 career home runs, his National League-record 170 RBIs for a lefthanded hitter in 1930, his four batting streaks of 20 games or better, his lifetime batting average of .320 and his lifetime slugging average of .543, it wasn't until this year that he made baseball's Hall of Fame.
Today, the late, great Phillies outfielder will be inducted into the Hall, along with Duke Snider, Al Kaline and former Boston Red Sox owner Tom Yawkey. Those who saw him In his heyday will tell you it's about time.
Red Smith, one of the nation's great sports writers who started his career in Philadelphia, wrote at the time of Klein's death, 22 years ago, "It used to be said in jest that the Philadelphia newspapers of the early '30s kept a headline standing in type to eliminate the expense of constant resetting. It read: 'Klein hits two as Phils lose.'
"Philadelphia readers," Smith added, "didn't have to be told that the number 'two' referred to home runs, not singles."
Whether he played his home games in Baker Bowl or Yellowstone Park, Klein's slugging feats were extraordinary. As Kiner put it, in talking about his boyhood hero, "It doesn't make any difference where you play, you've still got to hit the son-of-a-gun."
The fact is, of course, that many Hall of Famers benefited by playing their home games in parks that were perfectly suited to their talents. For example, Mel Ott, one of the greatest lefthanded home run hitters of all time, played in the Polo Grounds, with its 257-foot right-field line. Ott hit 323 (63.2 percent) of his 511 homers there.
Surely, Klein got no great help from William F. Baker, the man who owned the Phillies at the time. In those years it was permissible under baseball rules to change the contours of a ball park in mid-season. Baker changed the Bowl, but he did it to hinder Klein, not to assist him.
As baseball historian Fred Lieb wrote in his book, "Baseball As I Have Known It" (Coward, McCann & Geoghegan, Inc., New York, 1977): "When Chuck Klein, Baker's young outfield slugger, began hitting home runs at a Ruthian pace in 1929, Baker ordered an additional screen of 20 feet added to the screen which already stood atop the right-field fence at Baker Bowl. Baker professed his abhorrence for 'cheap home runs' and said if Chuck Klein wanted to enter the wholesale home runs market he should earn his homers. Klein suggested the cheapness was on the other side, that Baker didn't want a 50-home-run player on his team because of the salary he would have to be paid. Even with the higher screen, Klein hit 43 home runs in 1929 and 40 in 1930."
By today's standards – by any standards – Klein's formal induction into the Hall of Fame today in Cooperstown, N.Y., is long overdue. Inquirer baseball writer Allen Lewis, a member of the Hall of Fame Veterans Committee that elected Klein this spring, wrote: "Klein could do the four things that make superstars. He could run (20 stolen bases, high in the National League in 1932), throw (44 assists in 1930, a league record that still stands), hit and hit with power." As Lewis, who championed Klein's cause in front of the Veterans Committee, concluded after reciting the slugger's long list of achievements, "It's difficult to imagine what else is needed to qualify the greatest hitter in the history of the Phillies for admission to Cooperstown."
Offense deserts Carlton
LaCoss carries Reds with 2-0 shutout
By Jayson Stark, Inquirer Staff Writer
Steve Carlton has won 16 games and lost six. By anybody's definition that's not too shabby. You won't find Carlton at the Pitchers' Trading Post this morning, trying to swap his year for Dave Goltz.
But if there is such a thing as a guy going 16-6 and hardly getting a break, it is happening to Steve Carlton.
The Phillies have scored eight runs in his six losses. Carlton also has three no-decisions. The Phils got two runs in his first. They got one run in his second. In the other, Carlton left with the lead in the ninth, but the bullpen lost it.
"I think a few pitchers I know would settle for 16-6," Dallas Green conceded after the Reds manufactured a pair of late runs to beat Carlton, 2-0, last night. "But it could be a helluva lot better.
"Hell, he really hasn't been out of one ball game. Well, the Montreal game (a 6-1 loss) got away from him at the end. But I really left him in too long in that one."
When this year is over and they think about what might have been, they will think, for sure, about last night.
Carlton was simply outdueled by the Reds' Mike LaCoss (6-9). Not necessarily outpitched, but, out-dueled. LaCoss, who had been 2-5 in his previous 19 outings, hardly had a jam to work out of.
Carlton took a two-hit shutout into the seventh himself. But Hector Cruz, whose RBI single helped beat Carlton in a 10-inning game in Cincinnati last August, led off the seventh with a single to left.
LaCoss then popped up a bunt. But Pete Rose picked it out of the air so fast he didn't have time to consider letting it drop and getting Cruz off the base paths.
"He was on the ball so damn quick, it was just reaction," Green said. "Plus, he doesn't know where the other runner is, because he's charging so quickly."
That could have been crucial, because after Carlton walked Dave Collins and fanned Ron Oester, Ray Knight bounced a curve ball up the middle.
Shortstop Ramon Aviles made a tremendous diving stop on it. But he couldn't get it out from under his stomach to flip it to Manny Trillo, so Cruz pumped all the way from second and hooked around Bob Boone's tag at the plate.
"I never stopped," Cruz said. "I was watching Russ (Nixon, the third-base coach). And when he told me to go I went all the way. I got a good jump, too.
"I knew he (Boone) got the ball before I got there. But when I slid I stayed all the way down on my back. I just got the very last part of the plate."
That was one run. Then Dave Concepcion tripled in the eighth, and Dan Driessen singled him in, even though Carlton sliced his bat into two pieces. Driessen carried the handle all the way to first with him.
LaCoss' toughest jam came in the eighth, lie had allowed only four singles (three of them ground balls) before then, and the Phils had gotten only two runners to second.
But Greg Gross led off the eighth hitting for Carlton and stroked one of his computerized singles to left. Lonnie Smith flied out. But LaCoss got a sinker a little up and away to Rose, and Rose roped it to left for a single.
So LaCoss had to get Bake McBride and Mike Schmidt, who have 134 RBIs between them. And he did. McBride chopped a sinker to Knight, who turned it into a force at second.
Then Schmidt bounced another sinker to Concepcion, who got another force. LaCoss stranded Garry Maddox at third in the ninth, and that did it. His last shutout came on the second day of the season.
"He hasn't pitched well at all," catcher Johnny Bench said. "You look at his record (5-9, 5.20, 141 hits in 109 innings before last night), and that's pretty obvious.
"But tonight his control was the thing that did it. He had a real good sinking fastball and a real good sailing fastball. We mixed in some sliders, and he used them all great. Control had to be the difference."
Carlton didn't have such bad stuff himself (10 strikeouts). But it was an uncharacteristic lack of control that almost did him in. He walked five and had to strand 12 runners.
Carlton wasn't missing by much on a lot of the walks. "Cincinnati's a pretty disciplined team," Green said. "I mean, they'll strike out, and they'll do some free swinging at times. But they have a pretty good idea of the strike zone."
Carlton, who is 9-17 lifetime against Cincinnati, now has lost as many times to the Reds this year (three) as he has to the rest of the league combined.
But in the three defeats, he has fanned 26 and allowed only 16 hits and seven earned runs in 21 innings.
"Hey," Bench said, "when you score two runs off Lefty, and one of them is a broken-bat single to right and the other one is a ball the shortstop dives for and can't throw, you can't fault anybody. Mike LaCoss just beat Lefty tonight, that's all."
The invisible man in blue
By Frank Dolson, Sports Editor
He was lugging a suitcase out of the press entrance at Shea Stadium. The way Steve Fields was carrying it, it must have been a heavy suitcase. Once outside, the umpire walked a few dozen steps, placed the suitcase on the pavement and began looking around. There were no cabs in sight.
A scout for a major league team happened to be leaving the ballpark at the same time. He didn't know Fields, but he recognized him.
"He's probably going to the airport," the scout said. "Should we give him a lift?"
"Sure," I replied. "Why not?"
"I guarantee you," he said, "if Bruce Froemming and some of those other guys find out I took Steve Fields to the airport they won't talk to me."
Fields, you see, was one of eight minor league umpires who took big league jobs when the major league umps went on strike. But that was in April of 79, more than 15 months ago. Surely, you wouldn't expect grown men to carry a grudge that long, especially when many of them must know, deep in their hearts, that they would have done precisely what Fields – and the others they refer to deprecatingly as scabs – did.
Spoiled little boys
You'd think, since they're supposed to work as a team, they'd be big enough to quit acting like spoiled little boys and to start acting like human beings to their co-workers.
No such luck. A year and three months after the strike, the bitterness, the resentment remain.
Even that might be tolerable, if they didn't permit their feelings to affect their performances. But it appears at times that some of these men whose job it is to uphold the honor, the integrity of "the national game" are more interested in showing up "the scabs" than getting a play right.
A recent incident at Veterans Stadium was the topper. Jeff Leonard of Houston hit a ball into the right-field corner and raced to third. The Phillies argued that the ball had bounced over the fence, hit something in foul territory, then bounced back for what should have been a ground-rule double. The man who appeared to be in the best position to see what happened, second-base umpire Fred Brocklander, wasn't consulted by the others for the simple reason that they're not on speaking terms with him. According to some players, one of the veteran umps told Brocklander, "Keep your bleeping mouth shut."
Trying to smile
The bitterness didn't end there. After the game, a shouting match erupted in the umpires' room.
So it goes in the not-so-wonderful world of post-strike umpiring in the big leagues.
"When I was working with some of these guys in the minor leagues, if something happened (on the field), you'd talk about it," Steve Fields was saying the other day. "Now, nobody says anything – unless it happens to them. Then they talk among themselves. Nobody comes in and says, 'Hey, you got the play right.' Or, 'You got it wrong. You should've done this.' I tell everybody, 'I'm a deaf-and-dumb mute. I don't hear nobody and I can't talk.'"
Fields spoke those words with a smile. If he felt any of the bitterness toward the established umpires that they felt toward him, he certainly didn't show it. Here he was, a couple of hours before working the first game of the Phillies-Reds series at the Vet, in a hotel room near the stadium. His co-workers were somewhere else. Fields wasn't sure where. He would see them in the umpires' room. They would not say hello. He would put on his umpiring gear, work the game, return to the dressing room, put on his street clothes and leave. They would not say good-by.
Difficult to accept
"The hardest part for me to get over," he said, "is that most of these guys I'm working with in the National League, I've known 'em. I worked with them in the minor leagues before. And now they act like they don't know who you are. It's hard to accept that... but you just make up your mind to do it, to accept that that's the way they are. And that's just what I do.
"They don't bother me and I don't bother them, and you just go out on the field and do as good as you can and they do as good as they can because all the guys I've worked with – and I've worked with all of them in a year and a half – they're all good umpires. It's just a shame the situation is the way it is."
On those rare occasions that Fields winds up in the same hotel, or on the same plane with his co-workers, they look through him as if he were a pane of glass.
"They see you around the hotel lobby, it's like you're not there," he said. "You're a non-person, an invisible man. It's weird. But hell, they're not going to drive me nuts, because I can take care of myself. I can make friends. If they don't want nothin' to do with me, fine. But I ain't going to quit. I'll put up with it either till they release me or till I can retire."
He'll put up with this, as unpleasant as it can be at times, because he put up with so much more for the 11 years he worked in the minor leagues, struggling to get his break.
"You really got to like the game to stay in it for 11 years in the minor leagues," Fields said.
Surely, he wasn't in it for the money. According to Fields, he made $700 a month his last year in the International League, plus $33 a day expenses. By counting the pennies, he might – just might, mind you – put $1,000 in the bank at the end of the season.
"What I really don't understand is, I spent 11 years in the minor leagues," he said. "That's 11 years of your life, and these guys wanted you to say no (to the chance to work in the big leagues). When I was in the minor leagues, I had nothing. I had no pension. I had no insurance. Eleven years of my life wasted. If I said no, that's what it would have been – 11 years of my life just shot. You know you'll never get a chance again.
"I've worked with guys in the minor leagues who've been around so long that after a while they get so they don't give a damn. They walk out on the field in the International League, and they don't care if they get the play right or wrong. That's probably what would've happened to me (if he had stayed in the minors a few more years)."
Instead, he got a phone call last spring from Blake Cullen of the National League office. "He says, 'Steve, we need eight umpires – four in the National League, four in the American League. We've chosen you for the National League. We want to know if you accept.' I say, 'How long do l have to think about it?' He says, 'We have to find bodies fast.'"
Fields called his father and asked for advice. "Steve," his dad told him, "you get the opportunity, you better take it because you'll probably never get another one."
And he took it. Counting expenses, he wound up making $9,000 in his final year in Triple A. "Here," he said, "we get $73 per diem and this year we went up to $22,000 (in salary). That comes out pretty close to $40,000. That's $31,000 difference. What was I supposed to do, live like a bum the rest of my life?
"In the minor leagues, nobody knows who you are. You get to the big leagues, everybody's your friend."
Except the guys you work with.
Fields smiled. He preferred to think of his friends, not his enemies.
"Back at home, people are unbelievable," he said. "They want you for speaking engagements. Guys call you, want to take you to the country club – guys I haven't seen in years. They were just 'hello buddies' to me.
"You know, ain't one of those 52 guys (the veteran umpires) wouldn't have done what I did. if they'd been stuck in the minor leagues 10, 11, 12 years, ain't no way that you could tell me that when the chance came, they would've said, 'Hey, I ain't doing it.'"
But it was Fields who had to make the quick decision. It was Fields who said yes. It was Fields who had to spend more than a month working major league games with amateur umpires. And now it is Fields, and the seven others, who have to travel by themselves, stay in hotels by themselves, eat by themselves.
Still, it's the big leagues – such as they are for an umpire who decided to take advantage of his one, big break.