Philadelphia Daily News - August 6, 1980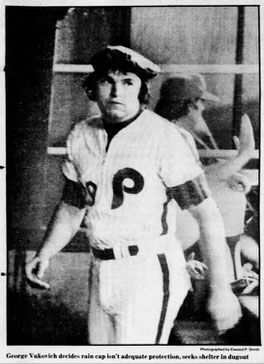 Green: Rainout Won't Affect Phils Rotation
By Bill Conlin
Nobody had to sit around the Vet until 3 a.m. this time waiting for a drowning baseball game to go down for the third time.
Only Noah could have waited out this storm and it is doubtful his ark could have handled the spectacular mini-version of Hurricane Allen which turned South Philly into a wading pool last night.
There were several hundred crazies belly-surfing on the infield tarp and artificial grass when the umpires gave the order to abandon ship. It looked like a free swimming period at Camp William Penn. Nobody argued. This one was a Zamboni-drowner.
Give St Louis pitchers Pete Vuckovich and Bob Sykes the Pied Piper Award. Vuckovich started the water circus with several classic belly-slides, Sykes followed and everybody in the ballpark under 30 poured onto the field to partake in what appeared to be a reptilian fertility festival.
AFTER THE DELUGE, the subject in Dallas Green's office was pitching. To help improve their understanding of the game, some writers wondered why the manager would choose to pitch Steve Carlton tomorrow night against the Cardinals. Why not give him an extra day of rest and lead off the re-e-e-eally big series in Pittsburgh Friday night with his ace?
It is an interesting topic only because few writers are geared to handle an early August rainout on the heels of an off-day. And since a Horsehide Curtain of silence fell across the clubhouse last month, Green's office is the embattled literati's any port in a storm. Guys huddle there like passengers in a spaghetti Western train station, waiting for Clint Eastwood to barge through the door, guns blazing.
Surely, the rainout would enable Green to come back with Dick Ruthven tonight and legitimately hold Carlton out until the first game of the series with the reeling Bucs.
"Lefty stays the same." Dallas said. "Dick will start on Friday. He aired it out pretty good warming up. I entertained the thought of it (holding Carlton back). But you know I don't like to do that."
Some managers like to match certain pitchers with certain teams. Gene Mauch once made a 19-game winner out of Art Mahaffey by making sure he never missed a start against the Cubs, Mets and Colt 45s. Jim Bunning never missed the Pirates or Giants (Willie Mays and Roberto Clemente often sat out when Bunning pitched) and Chris Short never missed a turn against the Dodgers.
WHEN THE PHILLIES broke camp in Clearwater, Danny Ozark could give you his rotation through Mother's Day. It looked neat and inflexible, written line after line on yellow legal paper. But three rainouts and two injuries into April and the best-laid pitching plans of the Wizard of Oze read more like a Chinese menu. And there weren't always enough rested arms available from Column A, while the guys clustered in Column B, the Jim Kaat and Jim Lonborg types, wondered if they'd pitch an inning before the All-Star break.
Pitchers are creatures of habit. They live their seasons within the taut confines of the rotation. A civilian's five-day work week has no relevance to a starting pitcher. A guy like Carlton, who pitches every fifth day, spends two hours working. The rest of his time in uniform is divided between recovery and preparation for the next start.
"Lefty's training habits and his preparation physically depend on his knowing when he's going to pitch," Green said. "We've got to beat St. Louis; they're the guys we're playing Thursday. I don't believe in matching this guy up with that team if it means changing the rotation to do it. It's important to keep Lefty in a fifth-day situation at this time of the year. He's in the 200-innings-pitched category (193.1) and innings pitched at this time of year begin to get critical. Pitchers are finicky enough without switching them and flip-flopping guys."
RANDY LERCH WILL have the honor of opening the four-game weekend bash in Three Rivers Stadium. The last time the baffled left hander pitched, he and his manager wound up in the clubhouse with time on their hands.  Lerch left in the third inning of a start against the Astros. Green was ejected in the sixth inning. It was a propitious time for pitcher and manager to have a leisurely chat and that's what they had.
"We reached a pretty good understanding, had a pretty good exchange of ideas," Green said."I don't want to bury him. I don't want him to bury himself. But he's got to regain the confidence of his teammates, his confidence in himself, go out with the proper demeanor and approach and have some success. If he gets his act together two, three, four times Randy can turn his season around in a hurry. He's got the third-most innings pitched on the ballclub. It's not like we've given up on him."
It's also not as if Lerch is a stranger to the art of rising to occasions. Two years ago, he pitched brilliantly in a must-win game in Montreal and survived a rocky start to hit two home runs in the division clincher in Pittsburgh.
"I'm convinced it's nothing mechanical with Randy, that right now it's all mental," Green said.
PHILUPS: If you want to extract a blank stare and a non-answer from Dallas Green, ask him what he plans to do with leadoff sensation Lonnie Smith when Greg Luzinski returns from knee surgery. "It's two weeks before he's even eligible or thinking about getting ready to come back to play," the manager said. "I know what I'm gonna do but I'm not telling you guys. Hell, we might have five different things happen between now and then."... Larry Christenson is throwing his fastball at near-maximum velocity and he could come off the DL toward the end of the upcoming road trip, perhaps in time to pitch a game in an Aug. 17 doubleheader with the Mets. But Green appears to be leaning toward using the ill-starred righthander out of the bullpen. "I think he could be a strikeout guy coming in fresh with his fastball," Green said. "I was thinking in that direction during spring training, but it looked like we needed starters more than anything else."... Left-handed phenom Mark Davis won his 15th game for Reading over the weekend. The Phils probably will fight off the urge to call him up in September and send him to the Instructional League. Davis will be in the hunt to make the varsity next spring ... If Bob Sykes can find a dry uniform, he'll oppose 8-1 rookie Bob Walk tonight.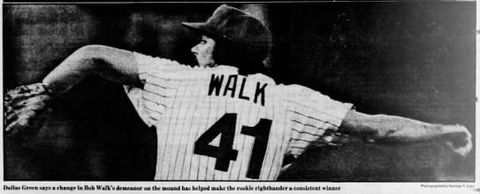 Walk Proves He's for Real
Whiz Kids '80 By Stan Hochman
Second of three parts
Gary Carter hit a fly ball to medium right field and Rodney Scott tagged up at third, revving his engine.
Bob Walk scurried behind home plate to back up the play. Here came Scott Here came Bake McBride's throw, trailing blue-sparks.
Bob Boone caught the ball, whirled and tagged the sliding Scott Double play. End of threat, end of inning.
Walk looked like a flamingo in heat, dancing on one leg, flapping his arms wildly. He snatched his glove and hurled it at the AstroTurf.
"And then," Walk confessed, "I felt kind of funny. I looked down, I didn't know what to do with the glove. So I kicked it into the dugout.
"I did the whole thing without thinking. Spontaneous. It was a big play, a great play, a break for me."
THE PHILLIES WOULD like to think that Bob Walk does everything without thinking, that he is in some kind of dream-like twilight zone.
Not because it makes a better story... the very last thing the Phillies are interested in is providing better stories for the media.
But if Walk is dreaming it would help explain why he is 8-1 in the National League, when two years ago he had trouble getting people out in Peninsula, and four years ago his arm was so sore he couldn't scratch his mustache.
The game, they'd like you to know, simply ain't that easy. For references: see Randy Lerch, Scott Munninghoff, Dan Larson, et al.
If the Phillies want to think Walk is a trifle goofy, he will go along with that charade too. The National League is a strange, new forest to him, and he often bumps into the trees, absent-mindedly.
"Ah, maybe it's because I do things," Walk said. "Like it's my turn to hit, and I'm wondering if they'll have me bunting, and I'll go to the on-deck circle without my bat.
"Another time, they had to tell me to get out there, on-deck. Because I'm not used to hitting. Once, I took the weighted warm-up bat out there. Somebody asked me what I was gonna hit with. Another time I walked to the bullpen and didn't take a baseball to warm up with. Once I took my jacket, but I forgot my glove.
"MY MIND IS ON other things, the important things. So, sometimes, I don't think about the little things. And, I suppose, that's where I get a little bit of a reputation for not having it all upstairs."
Walk has it all upstairs. And, more importantly, he appears to have it all downstairs too.
"What I like about him," said Tug McGraw, "is the way he pulls his belt two notches tighter when he gets in trouble. Literally. He doesn't stand out there saying, 'Oh, shoot, what have I done?' He seems to be saying, 'Awwww right, let's get 'em out.'"
That's terrific, but it wasn't that long ago-that Bob Walk's toughest opponent was Bob Walk.
"I don't think I'm throwing the ball any better than a year ago, or two years ago," Walk said. "But the mental part... now... I'm much more in control of myself.
"I've got a lot better concentration. The people who have a lot of talent and don't make it, it's the lack of concentration that stops 'em. The one thing the Phillies have always stressed, and they still do, is to keep my composure.
"If things started going bad, I'd come un-glued. I wouldn't get mad at any other person other than myself. I'd walk somebody. I'd get so hissed off I couldn't continue pitching. So, I'd start walking more people. Then guys started getting hits. The madder I got, the worse my pitching got."
YOU CAN'T BLAME Walk for getting trapped that harsh cycle. It is all so new to him. He never even made his high school team until, his senior year, and then it was as a shortstop.
"We had two guys who were a lot better. You know how it is in a small town. They did all the pitching, Little League, Babe Ruth League, Legion ball. Both of them signed pro contracts, but they're out of baseball now, I think.
Any way, we got a new coach my senior year, in high school and I finally made the team. Plaved shortstop the first third of the season. And then this guy finished the basketball season and he came out.  He was a shortstop and a .380 hitter.  I was a .240 hitter.
"So, I wound up pitching.  But I never started.  Then I went to junior college (College of the Canyons) and had some success.  I guess I was 11-4 my first year and set a school record in strikeouts.  It hasn't lasted.  Some 5-9 guy broke it recently.
"The Angels drafted me and offered me $2,500.  That was easy to turn down because I had another year to go in junior college.  But it almost cost me dearly.  That second year, I hardly pitched at all.  I sprained a ligament or a tendon in my elbow in the third game and didn't pitch anymore.
"For some reason, the Phillies drafted me. I couldn't even throw a baseball. So, they didn't sign me. But they drafted me again, that summer. I don't know what they saw in me. The scout kept calling and asking me, 'How's your arm?' I'd tell him it was coming along, even though I hadn't thrown at all.
"FINALLY, THREE or four months after they drafted me, he called and said, 'Maybe you better go down and throw some.' I said, 'Yeah, it feels all right.' So they said they'd get me a few innings in a Sunday League game. You know, old guys who play on Sundays. Guys wearing cut-down Levis and old cleats.
"So I went down there, warmed up, and to my surprise, there was no pain. Pitched two innings, got 'em out, and they signed: me. For $8,500. 1 had a full scholarship to go to Cal State at L.A. but it wasn't the $8,500 that made me turn pro. I just didn't know if my arm was gonna hold together. I figured, let me take one shot at it, go ahead and try it."
That first spring, Walk zipped through Clearwater like a tornado.
"I pitched 21 innings down there and gave up one run," he recalled. "I was really impressive. Had maybe three walks. They seat' me to Spartanburg and after four games I was 2-and-2. They thought, 'Well, hey, he's a little more advanced than we thought, let's send him to Peninsula.
"I started thinking I could make it to the big leagues.  A month later, I was wondering if I could pitch at all, anywhere. My first game in. Peninsula I pitched well, eight innings, no decision. The next game I had some soreness in i my elbow. They took me out of the game in the first inning, sent me to a doctor who said I had a little tendinitis.
"I RESTED A couple of weeks, then threw batting practice for two weeks.  I was wild my first start, got hit my next start.  I had gotten out of my rhythm, my groove.  It happens when you don't pitch in a ballgame for a month.  It got to me.  I thought they'd been too hasty, moving me up.
"My last game I was in the clubhouse, throwing things around, yelling, "I'm leaving.  I can't get anybody out. But I cooled down, decided to stay with it.
"They sent me back to Spartanburg to get my act together. The first three or four games were rough. Then I got on the right track and won my last four."
The rest is pleasant history. Walk was 13-8 in Peninsula in 1978 ("I knew the ballparks, the towns, the people") and 12-7 at Reading last year ("I thought I pitched consistently the whole year").
He started this season 5-1 at Oklahoma City and was summoned when Larry Christenson's elbow turned to shrapnel. Walk walked off the plane and onto the mound. Well, it seemed that way. The opposition? A bunch of guys in black-and-gold uniforms. A Sunday League team it wasn't.
"Maybe I was a little in awe," Walk admitted. "I went out there thinking maybe I could go a couple of games without giving up a homer.
"And then Willie Stargell hit one. And Bill Robinson hit one that Garry Maddox caught near the wall. I started trying to make perfect pitches. I wondered if every time they hit the ball was it gonna be a homer?"
THE NEXT TlME out, Walk had a better idea. The Cubs couldn't hit it out of Wrigley Field if he held onto the ball. So he held it and held it and held it.
"Dave 'Kingman is gonna hit homers off anyone," is the way Walk remembers the slo-mo nightmare. "But Biittner hit one.
"I didn't want to walk another guy. I threw a batting-practice fastball down the pipe. I slowly realized that if I got the ball over the plate I could compete.  After that, every game I got a little better, a little better.  Until the San Diego disaster.  That shook me up bad.  It was a giant step backward.
He then started against a scorching Montreal (winners of 26 of 37) and blitzed through eight innings of four-hit pitching.  That's the night he spiked his glove and drop-kicked it into the dougout.  That's the night Dallas Green said the game was a "make-or-break" affair for his rookie righthander.
"He didn't tell me," Walk said softly.  "I went out there thinking that, no matter what happens, just go out and pitch. If I win, I win. I wasn't gonna let anything bother me. I got a couple of breaks that game. Including that play at the plate.
"And I started thinking, 'Hey, if I can hold the league-leading Expos to one run, maybe the San Diego game wasn't the real me.' I wanted to go out the next game and have a good game to prove it was no fluke. And after the New York game I knew I was a big-league pitcher."
GREEN SAYS HE'S not surprised at the way Walk has adjusted to life in the fast lane.
"He's handled his homework, learned his lessons well," Green said. "If he'd continued to pitch and act the way he did the first three games, he might not have gotten over the hump.
"I give (pitching coach) Herm Starrette credit for talking to him. And Bob accepted the criticism and learned from it.
"What hurt him mainly was his demeanor on the mound. I'm a bug on that. But we always expected good things from him. He's always had great stuff. Plus, the bottom line, he's got good innards."
Good innards, good outtards. A firm grip on the baseball, a firm grip on himself, in what is still a trip through Fantasyland.
"Every place we go is a new experience," he said. 'It's just a thrill to walk in the door of the Astrodome. I spent that whole day wondering what the Astrodome looked like. At first, it seems like a real big theatre, like you'd expect to see a movie."
Stare at the roof and it has an excellent chance of falling in on you. But Walk handled Houston and he squirmed through more jams than Mrs. Smucker to beat Cincinnati.
"I'M NOT REALLY a thinking pitcher' right now," he said. "I'm kind of like a robot. But 1 am getting a little more comfortable, starting to do my own thinking.
"It's fun though. We came from three runs down twice to beat Houston.  That's the game Sauce (Kevin Saucier) came bouncing back to the dugout (after stranding a key runner on third).  I really like that.  And I like it when Pete Rose throws the ball down real hard after we get a big third out."
Robots don't spike their gloves after a big play at home plate.  Robots don't forget the baseball when they go out to warm up.
Bob Walk is for real.  Nobody has dreamed up that 8-1 record, nobody has imagined his raw enthusiasm.  Just check the spike marks on his glove.
Tomorrow: Keith Moreland.
J.R. Making Progress
HOUSTON (UPI) – The Houston Astros team physician reported yesterday that partially paralyzed pitcher J.R. Richard moved the fingers on his left hand and the toes on his left foot for the first time since suffering a stroke a week ago.
Richard, 30, was moved from an intensive care unit into a private room, and Dr. Harold Brclsford described the ailing pitcher as having regained enough strength to stand with aid and put weight on his left leg.
Richard underwent emergency surgery July 30 to have a blood clot removed from a neck artery. Doctors said-blood flow had been disrupted to the side of his brain which controls the left side of his body.
Brelsford said Richard was making "good progress" and showing more alertness.