Philadelphia Daily News - August 7, 1980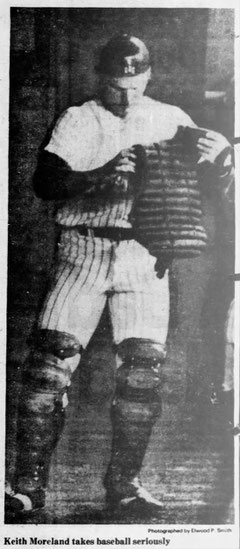 Feisty Moreland Aims To Catch On with Phils
Whiz Kids '80 By Stan Hochman
Last of three parts
He has a Huck Finn face and a Mickey Finn temper. And one day last summer, Keith Moreland raised more dust than anyone had seen in Oklahoma City since the great drought of '06.
"I went nuts," is the way Moreland remembers it.
"We were at home, playing Denver. I had a chance to drive in my 100th run. We're getting beat, 14-2. One pitch bounces up there, one is over my head, one is way inside, and he calls me out. I went crazy.
"I got kicked out. Cost me some dough. But I got my money's worth. Put on a real show."
He looks like Tom Sawyer and plays golf like Tommy Bolt.
"I HAVE," HE CONFESSED sheepishly, "a ton of bent 5-irons. Miss a shot, I'll wrap a club around a tree. See, I hate to lose. Whether it's baseball, golf, cards, or anything. I guess one of the worst things I ever did was throw a backgammon set against a wall."
The dice do not always come up double-six for Moreland. He did not always drive the runner home from third in Oklahoma City, even though it seemed that way.
"If we ever needed a hit needed a run-scored." Mike Ryan said, "I'd look up, and if Moreland was at bat, I'd relax and say, 'That's the guy I want up there." Game on the line, he was at his best."
Ryan managed Moreland in Oklahoma City in 1978. Last year, the strawberry-blond, freckle-faced catcher wound up with 109 RBI and 21 game-winning hits before the Phillies summoned him in September.
"I like driving in runs," Moreland said. He said it the way guys say they like strawberry ice cream, mushroom pizza or chili dogs, the words splashed with saliva.
"Everybody likes to drive in runs. And I don't know if I do anything different with men on base. You have to realize I was hitting fourth down there. Lonnie Smith was leading off. Orlando Gonzalez was in front of me too and he had 160 or 165 hits.
"ALMOST EVERY TIME I GOT up there, one of the first three guys was on base. That helps. Plus, I just like to hit with men on base."
When Bob Boone's knee blew out Moreland hit .375 last September. This year, he is hitting .326, playing occasionally as Boone battles back from surgery.
"Keith loves to play," Ryan said. "He is just a natural hitter. He can look bad on one pitch and come right back and rope the next one. He makes contact on some of the toughest pitches you'll ever see. Just flicks at 'em."
Moreland has hit wherever he's played, including the Texas State fairgrounds, with 80,000 on hand to watch Texas-Oklahoma in football. It is his catching that concerned people, mainly because he is so new at it.
"He's adequate," Ryan said, in that blunt Irish way of his. "He can do the job for you. He won't embarrass you. He may not look like the most polished receiver, but he'll get the job done. He's got good instincts, he retains well. You tell him something, it sticks. I see Keith Moreland as an everyday catcher down the road."
Boone is 32, last year's All-Star catcher. If the road isn't blocked, it is certainly cluttered. Waiting on the shoulders, shoulder-to-shoulder are Ozzie Virgil and Don McCormack.
Moreland puts a tight rein on his bronco eagerness and praises Boone with Texas-style phrases.
"BOB BOONE IS A PHENOMENAL player," Moreland said. "In great physical condition. He is professional in every way. If there's anything I have to ask him, he's more than happy to answer. He wants to win, he is a winner. He plays hard every time out and we can't win without him."
There is an ironic similarity in their careers. Both started as third basemen. Moreland went from walk-on to All-American at Texas.
"I had a football scholarship to Texas," he said. "They told me when they recruited me I could play baseball and miss spring drills, but only if I was a regular in baseball.
"One year, though, I should have come back as a starter in football, but they'd dropped me to third string because I'd missed spring practice.
"Anyway, I was just a walk-on in baseball. I was an infielder. Third turned out to be the only place I could play. The guy playing short is now playing pro ball in the Seattle organization. The guy playing second is in Triple-A. That left third base.
"What kind of fielder was I? I could hit! Ahhhh, I had good hands, soft hands. I couldn't have become a catcher if I didn't have decent hands."
The Phillies stuck him behind the plate in the Florida Instructional League, sensing a horse of another fire department.
"My second full year," Moreland recalled, "they'd brought three catchers down there. One got hurt, one had to go home. They were down to one catcher. They asked me, 'You wanna try it?'
"IT WOULD GIVE ME ANOTHER position besides third and first. Danny Ozark came down to watch us play. And that winter I got invited to the big-league camp as a catcher, after only catching 15 games. They sent me to Double-A the next year and I struggled. I thought maybe my career was on the downhill side.
"But I kept hitting. And then I realized that if I kept hitting, they'd find a way to move me up the ladder.
"I worked at catching. But in the beginning, I spent so much time running back to the screen, all my teammates ever saw was the number on my back.
"I remember Bru (Warren Brusstar) was pitching and he'd beat my thumb to a pulp with that sinker he throws. I got to enjoy it, everything about it. At third base, half the time I'd be asleep, wondering about my next at-bat Catch and you can't do that."
He rode that potent swing to the big leagues, where he faces the toughest role of all, part-time catcher.
"I know I've got to improve," he said. "I want to learn more every year, even if I play 10 more years. I watch the best-fielding shortstop in the league take 100 ground balls every day, so I know you have to work.
"Not being an everyday player is toughest on a catcher, though. If you don't catch for 20 days, it takes you at least a couple of innings to get the feel of things. Getting set, not moving too quickly and giving the pitch away.
"I TRY TO STAY READY. I MAKE sure I run. I do a lot of throwing. Once a month I work on blocking balls in the dirt Not 100-mile-an-hour pitches, but somebody throws 'em at me, to see which way they spin, which way they bounce. I catch batting practice every two weeks for 10 minutes to keep from blinking. And, mainly, I watch Bob Boone."
He is 6-feet tall and the press guide says he weighs 200 pounds. Someone has rounded off the number. Dallas Green makes sure the number does not get too round.
"He's been super," Green said. "I can stay on his butt because he has a tendency to get heavy. He knows that when I get on his butt there's the suspicion he might not be working hard enough. So, he works twice as hard. He's got a great makeup, a tough Texan that wants to win.
"I think he can be as good as a lot of everyday catchers in the big leagues. He may not be in the Top 10, but he can play here. And his bat will carry him over the rougher humps."
Green has been using Moreland, Lonnie Smith, Bob Walk in key spots, mainly because Boone, Greg Luzinski and Larry Christenson were hobbled.
"Not that there's anything against older guys." Moreland said, "but it is satisfying to see the younger guys get a chance.
"DANNY, HE DIDN'T LIKE young guys. We knew it. Your chances were slim and none. Dallas, he brought the younger guys in. Now, if we can gain respect, we'll contribute. A World Series, that's a dream of mine.
"If I've made any progress it's in keying down. I'm still gonna get angry, but I'm not gonna bust helmets and embarrass myself or the team. It's strange. I'm not a yeller or a screamer. But I've done more of that this year than when I was an everyday player.
"I watch Pete Rose. I've never seen anybody go out there day in and day out and compete as hard as he does. I don't care whether the guy is 21 or 39."
The Young Turks have helped on the field, and in the clubhouse, filling a vacuum with joyful enthusiasm.
"I think that's a misdemeanor," Moreland said, borrowing a phrase from the Danny Ozark book of quotes.
"You don't have to have a family thing. It's a team game. Guys go out and play hard, you can win.
"I watch Mike Schmidt hit a homer the other day, he was excited. I see the Bull, supposed to be non-emotional, start a comeback year with a home run opening night, he was excited.
"A lot of guys keep it inside them. Maybe they're not all rah-rah guys, but this isn't football, with pre-game speeches and pep rallies.
"If we play as hard as we can, I know we're gonna be all right."
Phils Dealt A Bad Hand
By Bud Shaw
One temptation was to hold a midnight meeting in one of those places that sells amnesia by the glass, for this was an evening begging to be forgotten.
Dallas Green sat there, dabbing sweat from his eye with a piece of gauze but nobody thought to ask if he'd considered using the stuff for eye patches.
On a night when the Penthouse Pets saved thousands of people the price of next month's issue during a benefit Softball game, the Phillies played an X-rated game of their own, losing to the St. Louis Cardinals, 14-0, and prompting all those bad jokes about touchdowns and extra points.
It was a slapstick routine with more than the obligatory measure of pathos and when it finally ended the Phillies looked as stunned in the locker room as they had on the field, which is to say it was so quiet you could hear a base hit drop.
"It was just one of those nights." said Green. "There's really not much to say. It was a helluva time to have it but we had it and it's over. We'll get 'em tomorrow.
"AS A PITCHER, it's an awful thing to have happen. I know because I had a few games like that myself. But as a team it's just as bad. It's just demoralizing."
Demoralizing is being down, 5-0, before you even get a chance to drop your gloves. Demoralizing is watching Bob Walk struggle through a first inning in which he threw 42 pitches and being able to count how many of those actually reached Bob Boone's glove. Demoralizing is looking up at a clear sky and realizing that Mother Nature is not a Phillies fan.
Bob Sykes has now pitched 19⅔ consecutive scoreless innings against the Phillies and was the beneficiary of last night's disaster, holding the Phils to three hits, one each by Lonnie Smith, Bob Boone and Larry Bowa. Sykes is 2-0 against the Phils, beating them, 1-0, back in July, and there's reason to believe he would have gotten along just fine with 13 less runs last night.
"The guy's pitched pretty well against us." "aid Green. "So I'd have to say he looked good. Of course, having a 14-run lead helps any pitcher."
The Cardinals didn't have 14 runs to play with all at once. It only seemed that way. They used four hits, three walks and a throwing error by Boone to lead, 5-0. shortly after the national anthem, and scored seven more runs in the third inning to finally convince any remaining optimists that the price of admission did not include the guarantee of anything even resembling a resurrection.
WALK GAVE UP three straight hits to open the fateful third before Green trotted in Kevin Saucier. That's when it became apparent that this was not going to be a one-man disaster.
Mike Phillips said hello to Saucier with an RBI-single to make it 7-0. With runners on first and second, Sykes laid down a bunt that bounced off the turf harder than most of the full-swing contact the Phillies made during the course of the evening.
Saucier made the appropriate play by trying to cut down the lead runner at third, throwing a perfect strike to Mike Schmidt, who was last seen checking his glove for a hole the size of a baseball. The ball rattled around near the seats along the third base line and even Lonnie Smith's speed couldn't prevent two runs from scoring.
"I don't have any excuse," said Schmidt "I just lost the ball. I sort of saw it vaguely. I stuck out my glove and it sailed right on by. I really wasn't trying to miss it."
Saucier stayed around long enough to allow three more hits and two more runs and when the inning mercifully ended, the Cardinals had their fingers grasped firmly around a 12-0 lead.
"They were smoking," said Green, whose night was fittingly capped by the knowledge that Montreal beat the Mets, dropping the Phils a full 4½ games out of first place.
"EVERYTHING THEY HIT was a shot and when we did break a few bats, those fell in there, too. I considered lifting Walk in the first but I wanted to give him one more batter after that error. I was hoping he'd regain something as he's done in the past. He had a game like this against San Diego but we were able to get him out before something like this happened."
If you're stuck for a silver lining in this cloudy story, it may be that Walk will be ready to pitch one of the games in the weekend series with the Pirates. He was expected to miss the Pittsburgh series, only because he was expected to go more than two innings last night.
"There's a possibility Walk could come back Sunday," allowed Green. "I really didn't plan it that way. I'm not going that good."
Neither was Walk, but he had lots of company. Warren Brusstar, Dan Larson and Dickie Noles all came out of the bullpen when they probably would have preferred to stay there.
Brusstar was touched for two hits and one run, Larson three hits and the 14th and final run. Only Noles prevented what could have been the worst shutout loss in Phillie history, a 16-0 thrashing by the Chicago Cubs back in 1929.
"Nights like this," said Bob Boone, "are just too ridiculous to worry about We just have to forget it and come ready to play tomorrow."
Another glass of amnesia, bartender.
PHILUPS: Bob Walk is 8-2. He gave up eight runs, seven of which were earned.... Steve Carlton (16-6) vs. John Fulgham (3-3) tonight... The Cardinals had 16 hits... Lonnie Smith stole his 11th straight base and 21st of the season in the fourth inning but had his streak stopped in the sixth... Attendance was 31,629... The Pirates swept a doubleheader against the Cubs and lead the Phils by two games.
4 Winners In Contest
There were four winners last in the Daily News Home Run Payoff contest. In the fourth inning of the Phillies-Cardinals game, Charles Hurst of Perkiomenville. Pa., won $10 plus four tickets to a Phillies game on a single by Lonnie Smith.
Winner of tickets only were Edward P. Burns of Reading. Peter J. Brasso of Philadelphia and Helen Brooks of York, Pa.
So far the Daily News has paid out $13,800.
Today's entry coupon appears on Page 24.