St. Louis Post-Dispatch - August 7, 1980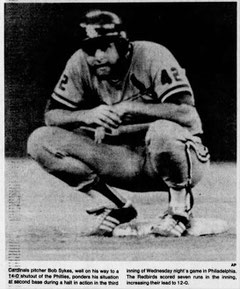 Cards Enjoy Best Of Times In Philly
By Rick Hummel of the Post-Dispatch Staff
PHILADELPHIA – Cardinals Manager Whitey Herzog risked incurring the ire of some of his regular starting pitchers when he moved three of them back a day in the rotation and kept lefthander Bob Sykes in his normal spot after Tuesday night's rainout here.
That Sykes would start Wednesday night against the Phillies and John Fulgham, who was rained out Tuesday, would pitch tonight, meant that Bob Forsch, Pete Vuckovich and Silvio Martinez would all have to wait a week between turns and starting pitchers hate to have their routines tinkered with. But, again, Herzog, as he has been so often since taking over the Cardinals June 9, was right, at least Wednesday night.
Sykes, who has a 5.57 earned-run average against the rest of the National League, still has not been scored on in 19⅔ innings by Philadelphia this season after a three-hit, 14-0 shutout victory Wednesday.
"I don't know why," said the Phillies' Bake McBride of Sykes' singular success. "I think most pitchers get psyched up against the Phillies. But, yeah, he's a good pitcher. We haven't scored any runs against him, have we?"
It was an outcome hardly in doubt. The Cardinals scored five runs in the first against rookie find Bob Walk (now 8-2) and seven more in the third against Walk and Kevin Saucier. They had 16 hits, four by Ted Simmons and three each by Tom Herr and Ken Oberkfell.
Sykes was most appreciative, considering his dreary nothing for five performance at bat, and rather metaphorical, albeit slightly off target.
"I knew I had 14 runs to work with," he said. "If they told you you were going to win the Nobel Prize if you wrote a good article, I guarantee you you'd write the best article of your life," said Sykes. Sorry, Mr. Pulitzer.
Though he is but 5-8 for the season (with two shutouts against the Phillies), Sykes is the only lefthanded starter the Cardinals have other than 41-year-old Jim Kaat, and Herzog said he wants to see as much of him as possible the rest of the way.
"He's one of the things we have to find out about," said Herzog. "We've, still got to find out whether the guy can do it. He teases you. But so far, he's done pretty good."
Simmons said it now is only a matter of consistency for Sykes. "Only" is a rather large four-letter word, but Simmons said, "If he pitches like be did tonight seven out of 10 times, he's going to win 70 to 80 percent of the time."
Asked to elaborate on those percentages, Simmons said, "He'd be 7-3, 14-6, 21-9. You've got a big-league pitcher out there, that's what you've got."
Sykes, who had gotten acquainted with the Veterans Stadium turf by diving facefirst across it during the previous night's rainstorm, permitted only singles by Lonnie Smith in the fourth, Larry Bowa in the fifth and Bob Boone in the eighth.
"It's all mental now," he said. "I know I can get the ball over the plate. If I throw a change-up, I know it's going over Before, I hoped it would go over."
Sykes had had a relapse in his last start at San Francisco, when he walked eight batters in 5 innings, but he attributes that to "lack of concentration."
The 25-year-old lefthander said he was surprised to learn he wouldn't be bumped back because of the rainout. "I thought he'd take me out of the rotation for a start," said Sykes. "I'm happy he didn't. I just want the ball every fifth or sixth day."
The beard Sykes began growing when he entered the rotation in New York about two months ago has reached maturity. There is identity in it, he said. 
"When I'd step out of the dugout in St. Louis, nobody, knew me," Sykes said.
They have known Simmons for 12 years. Four hits begat four runs batted in Wednesday. "I'm swinging the bat good," he said. "I've been swinging the bat good all my life.
"I couldn't hit the ball any better than I did tonight."
But what did it all mean? "You just take it one day at a time and play every game to win," said Simmons. "But we have to win about 14 in a row to catch up."
He shook his head. "We haven't had our team together all season because somebody always has been severely hurt. It's been rather difficult.
"But even with those obstacles, we've played some pretty special baseball at times."
Wednesday night was perhaps the best of those times.