Broadcasters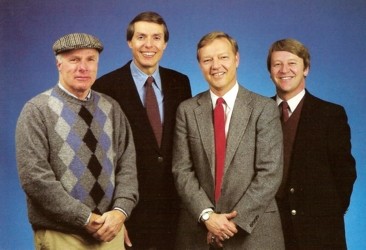 The Phillies' announcing team in 1980 featured two future Hall of Famers. Richie Ashburn was belatedly enshrined in 1995, some 33 years after his final season, as a centerfielder whose best seasons came with the Phillies. Harry Kalas was bestowed the Hall of Fame's Ford C. Frick award in 2002.
Andy Musser and Chris Wheeler were home-grown announcers. Musser, who had joined the crew in 1976, had been announcing for various teams for over a decade in both Philadelphia and San Diego. Wheeler, who was a member of the front office in various public relations capacities, was added to the crew in 1977.
Tim McCarver (the only one not pictured to the left) retired after the 1979 season and joined the crew for the 1980 season. He would rejoin the team as a special September call-up, in order that he would achieve the distinction of playing in four separate decades (his first MLB action was with the St. Louis Cardinals in 1959).
Steve Silverman was the producer of Phillies baseball, both on TV (flagship station was WPHL- Channel 17) and on the radio (flagship station was KYW 1060 AM).