Tim McCarver - Broadcaster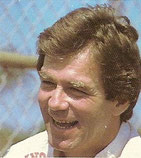 James Timothy McCarver
Born:  Memphis, Tennessee 10/16/41
Following his retirement after the 1979 season, Tim McCarver entered the Phils' broadcast booth for the 1980 season. Other than a quick September callup with the Phils to give McCarver the distinction of playing in four different decades (he began his career with the Cardinals in 1959), McCarver has been in the broadcasting business ever since.
With an easy-going, storytelling style that most like (though there are also some vehement detractors), McCarver has become a beloved color analyst. Following several seasons with the Phillies, McCarver has also called games for the New York Mets, the New York Yankees, and the San Francisco Giants. He also also been lead color analyst for the Fox Network, working with Joe Buck. In prior years, he also called games with Joe Buck's father, Frick Award recipient Jack Buck, as well as Al Michaels, Jim Palmer and Ralph Kiner.
Along with his announcing duties, McCarver has also authored three books and hosts a nationally-syndicated sports interview show.
As a player, McCarver was a two-time All-Star catcher who, unfortunately, was best remembered as Steve Carlton's "personal catcher" in his last years with the Phillies. In a rare feat for a catcher, McCarver led theNational League in triples in 1966 with 13. Over his 21 seasons, McCarver finished with 1501 hits in 5529 at-bats for a .271 average along with 97 home runs and 645 RBI.
The thing about McCarver that I remember during the 1980 season was his hysterical laughter when the Phils finished off the Astros in the 1980 NLCS. Andy Musser, who was calling the play-by-play, was shouting "The Phillies win the Pennant!" after Garry Maddox' catch, but McCarver's histrionics could be heard alongside of Musser's call.