Harry Kalas - Broadcaster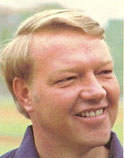 Harry Norbert Kalas
Born:  Naperville, Illinois 3/26/36
Died:  Washington, D.C.  4/13/09
The smooth, rich baritone of Harry Kalas is one of my fondest childhood memories, watching hundreds of baseball games in the 1980s. It's almost hard to imagine, for someone my age or younger, anyone else being the Phillies play-by-play announcer, even though another Hall-of-Famer, By Saam, was the number one announcers even during Kalas' first years with the Phils.
Born just outside of Chicago in Naperville, Illinois, Kalas graduated from Naperville High School in 1954 and the University of Iowa in 1958. While a Cornhusker, Kalas majored in speech, radio and television. Following a stint in the army, Kalas became the sports director of KGU radio in Honolulu, as well as a broadcaster for the Hawaii Islanders of the Pacific Coast League. He followed that up by becoming part of the Houston Astros' broadcast crew in 1965. He called games for Houston through the 1970 season.
Coming to Philadelphia in 1971, Kalas replaced the popular Bill Campbell on Phillies broadcasts. However, he soon won over the Philly faithful with his combination of a rich voice and genuine excitement for the Phillies. Kalas would call games with Richie Ashburn for 26 years until Whitey's death in 1997, and with Andy Musser from 1976 through the 2001 season, a total of 25 years. Kalas acted as emcee for both the opening of Veterans Stadium in 1971, and the final game at the Vet in 2003.
In 2002, Harry the K received the ultimate accolade for his life's work by being presented with the Ford C. Frick Award for broadcasting excellence from the Baseball Hall of Fame. Though not officially considered a "Hall of Famer" per the rules, those receiving the Frick Award are considered Hall of Famers nonetheless. Kalas was deeply moved by the contingent of Phillies fans that went to Cooperstown to see one of theirs be honored at the Hall of Fame. In addition, Kalas was named Pennsylvania Sportscaster of the Year 18 times (1978, 1980-90, 1992-96; 2002), and has been awarded both regional and national Emmy Awards for his broadcasting excellence. He was named a member of the Broadcast Pioneers of Philadelphia Hall of Fame, and their Man of the Year in 2004.
In recent years, there has been friction between Kalas and fellow Phillies announcer Chris Wheeler, leading some to speculate that Kalas would be leaving the Phillies. However, Kalas was still the Phils' lead announcer entering the 2006 season
Along with his work for the Phillies, Kalas has been a fixture at NFL Films since 1975, and has also been a play-by-play NFL announcer for Westwood One. He has also called college basketball and Notre Dame football games.
Signature Calls
·          "65,000 plus on their feet here at Veterans Stadium. The Tugger needs one more ... Swing and a miss! Yes, he struck him out! Yes, they did it! The Phillies are world champions! World champions of baseball! It's pandemonium at Veterans Stadium! All of the fans are on their feet. This city has come together behind a baseball team! ... Phillies are world champions! This city knows it! This city loves it!" (Note:  This call was not done live as the team broadcasters were not allowed to call the World Series games back then.  This was a re-creation done after the Series.)
·          "Swing and a long drive, there it is, number 500! The career 500th home run for Michael Jack Schmidt!"
·          One strike away; nothing-and-two, the count to Hinske. Fans on the their feet; rally towels are being waved. Brad Lidge stretches. The 0-2 pitch — swing and a miss, struck him out! The Philadelphia Phillies are 2008 World Champions of baseball! Brad Lidge does it again, and stays perfect for the 2008 season! 48-for-48 in save opportunities, and let the city celebrate! Don't let the 48-hour wait diminish the euphoria of this moment, and the celebration. And it has been 28 years since the Phillies have enjoyed a World Championship; 25 years in this city with a team that has enjoyed a World Championship, and the fans are ready to celebrate. What a night!